F1/IndyCar: Aston Martin F1 and Andretti Autosport celebrate International Women's Day
–Press Release–
Aston Martin (AML) and the Aston Martin Aramco Cognizant Formula One™ Team (AMF1) joined forces today to host a series of special events celebrating International Women's Day.
The events – panel discussions and workshops moderated by AvaTrade Chief Analyst Kate Leaman – took place at Aston Martin Works, the British marque's iconic heritage site in Newport Pagnell.
Speaking to an audience of young female students from the local community, panellists included AMF1's Chief Information Officer, Clare Lansley, Aston Martin Director of Accounting, Banking and Tax, Fiona Forster, Cognizant's UK&I Head of People Susie Gahan and Senior Manager, Delivery Excellence, Meghana Gothoskar plus AMF1 Driver Ambassador Jessica Hawkins.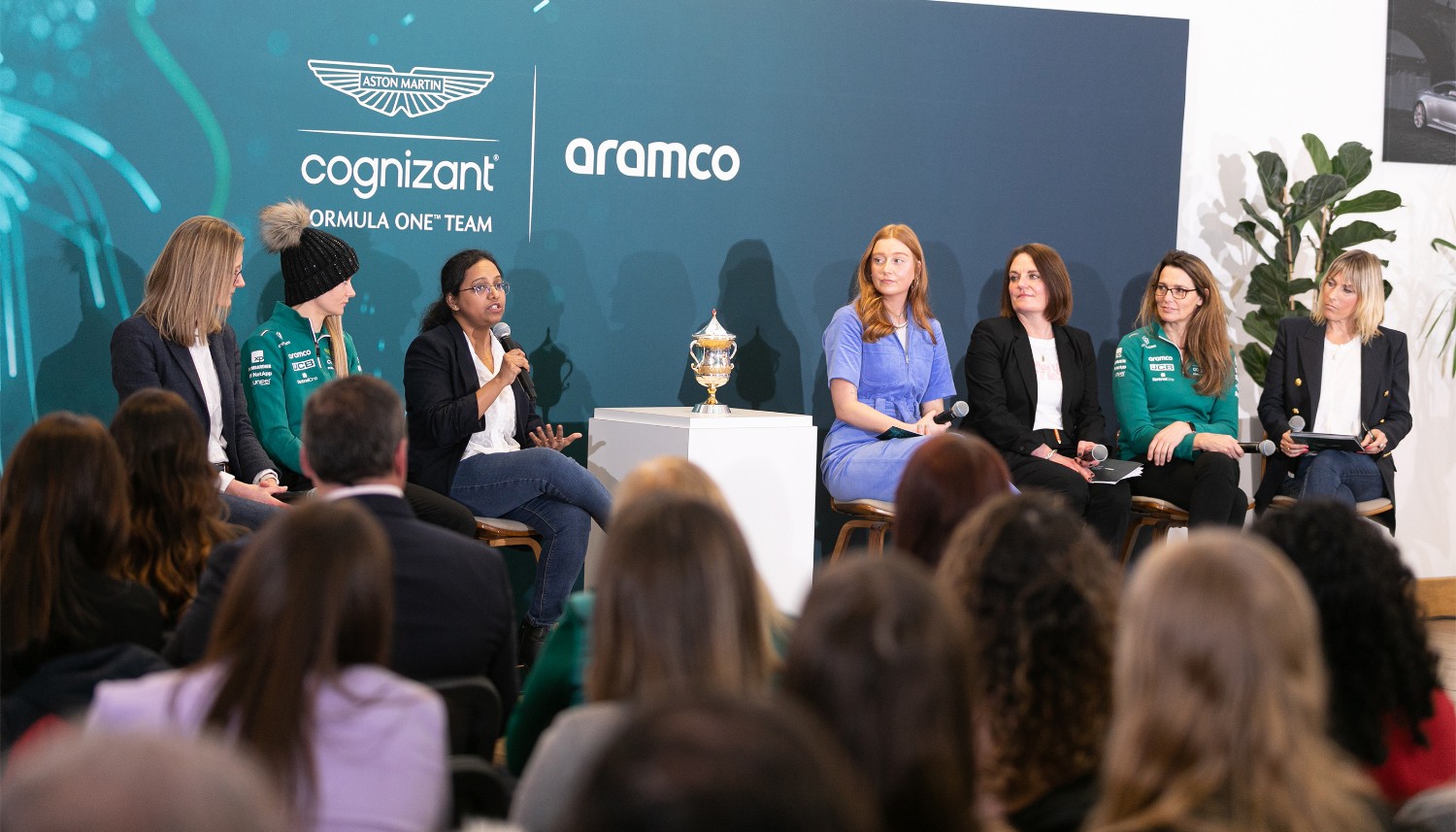 The aim of the day was to underline AML and AMF1's commitment to celebrating the women who work for each company, raise awareness for workplace diversity and inclusion, and showcase female talent, underlining the possibilities and career opportunities that exist within the automotive, motorsport and technology industries.
#EmbraceEquity
This year's IWD theme is #EmbraceEquity – the notion of giving people the specific assets and expertise they need to be successful, rather than simply providing everybody with the same opportunities. The day's discussions will focus on that nuance, looking at ways to further conversations around equity within the workplace and the importance of diverse thinking within the industries, emphasising that it is not a level playing field for everyone.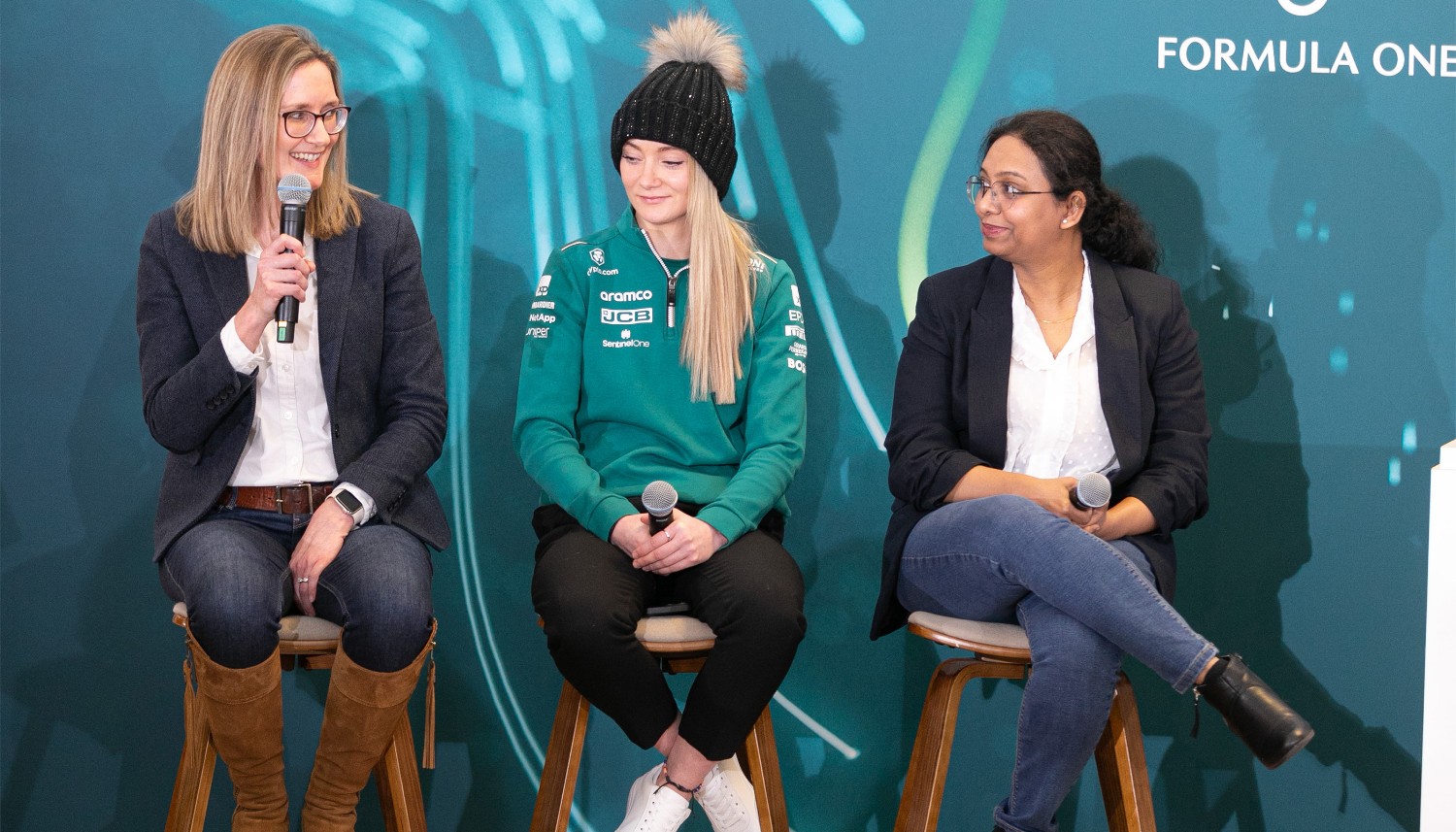 Kate Leaman, AvaTrade's Chief Analyst and panel moderator, said: "Empowering women in the financial world is not just a responsibility, it's a necessity. With AvaTrade moderating a live panel with Aston Martin F1 on International Women's Day, we take another step towards a more equitable and inclusive future."
Clare Lansley, AMF1 CIO, said: "I'm so proud that both AML and AMF1 were joined today by leading female representatives from the likes of Cognizant, NetApp and AvaTrade. It showed the unity of purpose we all share; and how, as dynamic brands across the automotive, motorsport and technological landscapes, we can signal effective change on a very broad scale. To be joined by an audience of engaged and interested young women, and to demonstrate to them that careers in our industries are achievable, was such a great opportunity. I hope we have shown the progress we are making and the path the industry still need to tread in order to achieve equity."
Simon Smith, Aston Martin Chief People Officer, said: "We were delighted to host the Aston Martin and AMF1 International Women's Day event at Aston Martin Works. Aston Martin is committed to increasing female leadership within the company and inspiring young women to consider a career within the automotive sector. We recognize that people come from a variety of backgrounds, so true inclusion and belonging require equitable action. Through initiatives like this event, we are not only demonstrating our ongoing commitment to creating a more diverse and inclusive society, but also recognizing the invaluable contributions of women in our companies today."
Shameka Young, Global Head of Diversity & Inclusion at Cognizant, added: "Cognizant was proud to have two panelists participate in this important conversation today, and to sit alongside brands that care as much about gender diversity and inclusion as we do. Female leaders are a powerful force, and it's so important for an audience of younger women to see that modelled, and to feel like there is a place for them in technology. I hope it inspires women – and their male allies – to keep pushing for equity."
Sonya Mathieu, Partner Senior Director, NetApp UK&I, said: "At NetApp, we are proud to be a trusted cloud data services partner of AMF1 and are delighted today for our experts to have shared their exciting journeys from school to university to delivering the data solutions that are making Aston Martin a winning Formula One team. By sharing our career journeys and our routes to STEM careers, alongside Aston Martin CIO Clare Lansley and other partners, we hope to inspire and equip young women into becoming the engineering and technical experts of tomorrow."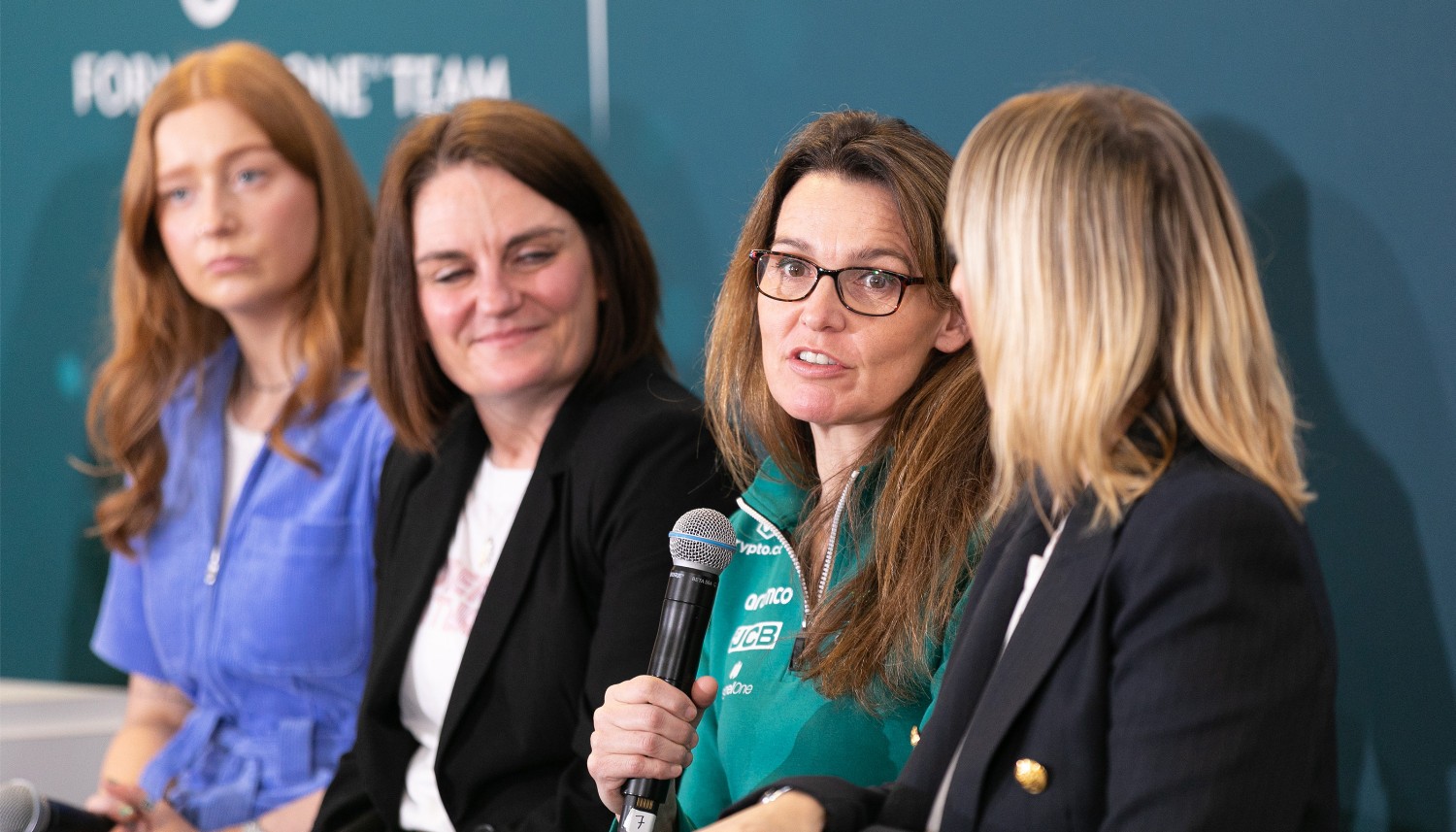 Gainbridge and Andretti Autosport Celebrate Women's History Month with Special Guests and Livery at INDYCAR Season Opener
Andretti Autosport joined Gainbridge in recognizing and celebrating Women's History Month by amplifying the voices of elite athletes Annika Sörenstam, Destanni Henderson, Gigi Fernández and Elizabeth Montavon at the NTT INDYCAR SERIES season opener in St. Petersburg, Florida.
Each athlete's organization including The ANNIKA driven by Gainbridge at Pelican, Indiana Fever, Billie Jean King Cup by Gainbridge and Parity was prominently displayed on a special livery across the rear wing of the No. 26 Gainbridge Honda driven by Andretti Autosport veteran race winner Colton Herta.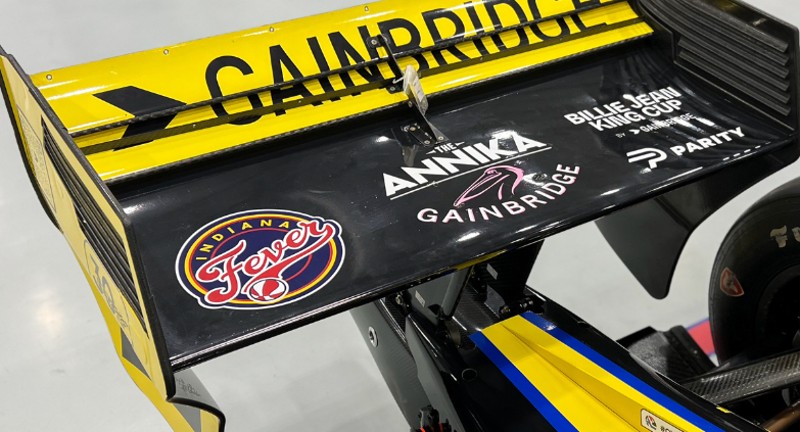 "In recognition of Women's History Month, we are excited to showcase our partnership with four premier women's sports properties on the livery of the No. 26 Gainbridge Honda," stated Mike Nichols, Chief of Sponsorship Strategy and Activation for Group 1001. "We are honored to be joined by elite athletes representing each organization to celebrate their accomplishments while helping us elevate the sponsorship platform of women's sports."
Annika Sörenstam, a professional golfer whose 15-year, Hall-of-Fame career changed the trajectory of women's golf, will host the penultimate LPGA event of the season, The ANNIKA driven by Gainbridge at Pelican, held at the Pelican Golf Club in the Tampa Bay area in November. In addition to joining Gainbridge and Andretti Autosport for the race weekend, the iconic pro golfer and founder of The ANNIKA Foundation will also give the official command as the Grand Marshal of the Firestone Grand Prix of St. Petersburg.
"I'm so proud to have The ANNIKA driven by Gainbridge at Pelican logo featured on Colton Herta's No. 26 Gainbridge Honda alongside three other elite women's sports organizations," said Sörenstam. "I'm grateful to Gainbridge for giving women the platform to shine at the first NTT INDYCAR SERIES race of the season in Saint Petersburg. I'm also excited to meet Destanni Henderson and Elizabeth Montavon and to see my friend, Gigi Fernández. Bringing women together during the start of Women's History Month is a great way to spotlight the growth of women in sport."
Joining Sörenstam will be Destanni Henderson, a professional basketball player for the WNBA's Indiana Fever, Gigi Fernández, a professional Hall of Fame tennis player representing the Billie Jean King Cup whose achievements include 17 Grand Slam Doubles Championships and two Olympic Gold Medals and Parity athlete and professional water skier Elizabeth Montavon, a nine-time National Champion, three-time All American, US Open Champion and member of the elite women's slalom roster. 
"We are honored to join Gainbridge in highlighting these four incredible athletes and the top-tier organizations that they represent this weekend in St. Petersburg," said Marissa Andretti, Vice President, Andretti Autosport and Managing Director, Andretti Technologies. "Their elite talent and many successes push the boundaries for women everywhere and we are proud to amplify such a powerful message. Building meaningful partnerships within the motorsports industry that have a positive societal impact is a top priority at Andretti Autosport and we are proud that Gainbridge not only shares that passion but has also allowed us to be a part of their celebration of Women's History Month."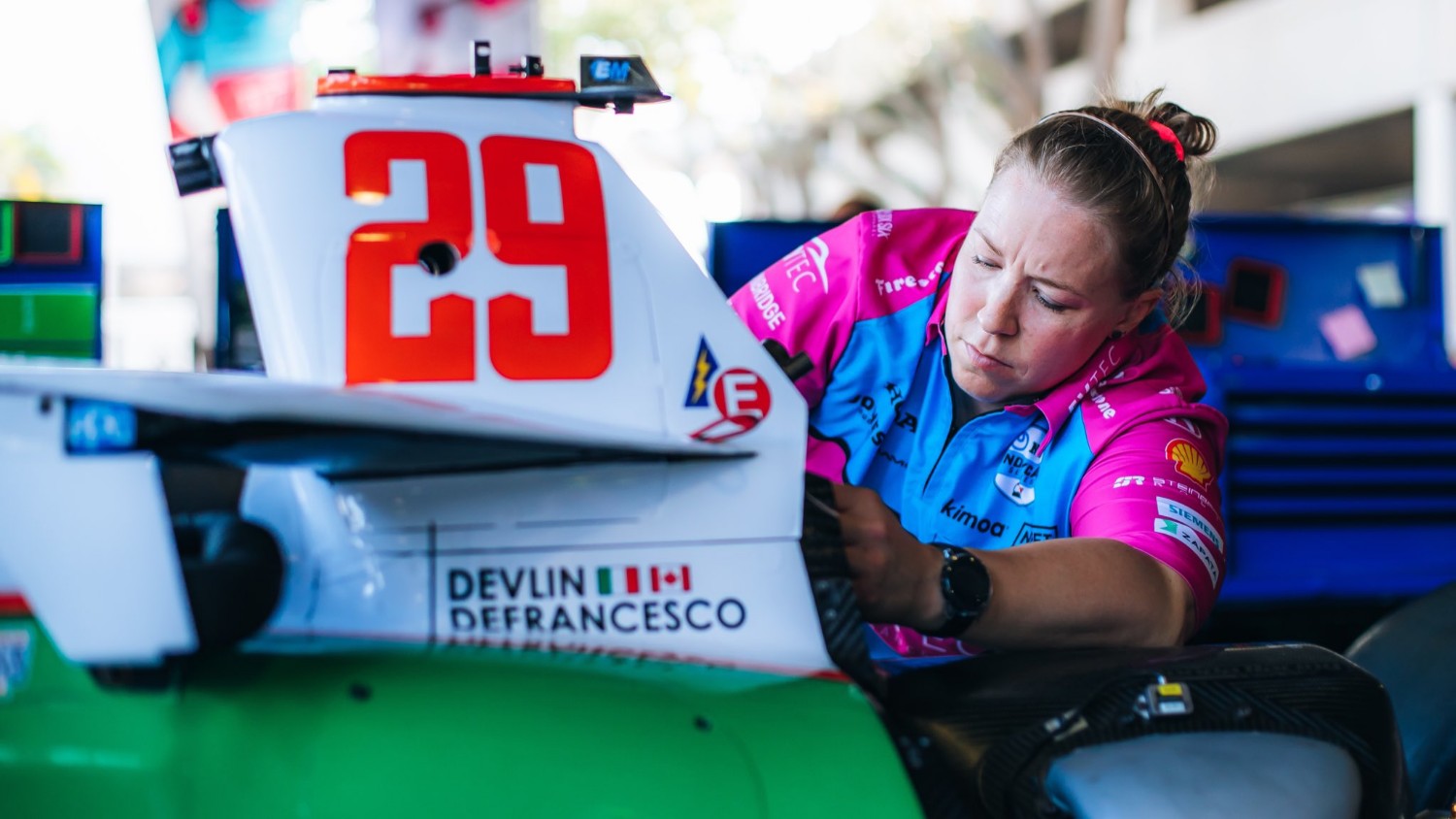 Gainbridge's special livery honoring Women's History Month made its debut March 3-5 as the NTT INDYCAR SERIES hits the streets of St. Petersburg for the season opener.