Supercars: Shane van Gisbergen wins first Gen3 Supercars race
(Update)
Shane van Gisbergen's stunning Supercars season-opening win is under threat with confirmation a protest has been lodged over his team's cooling tactics.
Motorsport Australia said an official complaint was lodged by rival teams Tickford Racing – whose driver Cam Waters finished in third – and Walkinshaw Andretti United – who had driver Chaz Mostert finish fourth.
It is understood the concerns stem from Triple Eight's use of dry ice during the team's one-two finish in Newcastle on Saturday.
Race authorities have also claimed the team breached driver cooling system rules in both van Gisbergen and second-placed Broc Feeney's cars.
Under Supercars rules, cooling systems need to be "mounted within the cockpit utilizing the mounting points designated in the GSD for the passenger seat".
Van Gisbergen has been a vocal critic of the pedal box heat inside the new Gen3 Camaro this weekend, complaining his feet felt "on fire" during practice on Friday.
Rival Chaz Mostert labelled heat inside the cars as a "duty of care" issue before race authorities later confirmed teams could add more heat protection in the cockpit ahead of the season opener.
But whether or not dry ice is considered part of that extra protection remains under deliberation.
Red Bull Racing made no secret of their use of dry ice during van Gisbergen's pit stop, with the product visible in pit lane while they spoke about it on team radio.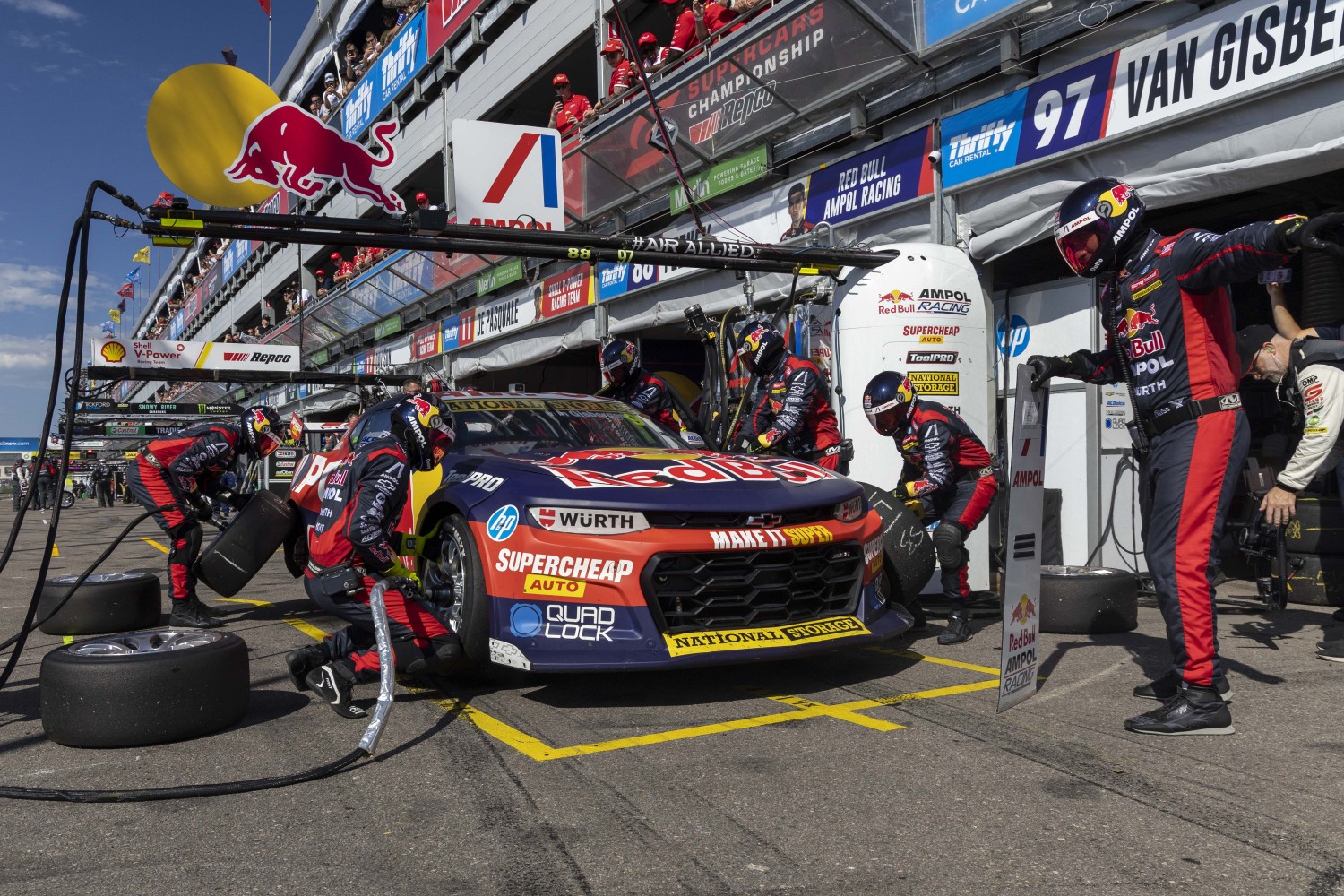 A stewards hearing took place on Saturday night, with the race result potentially altered should there be a successful outcome.
A decision will be handed down on Sunday morning.
---
March 11, 2023
A new year with new cars has set a new challenge for Repco Supercars Championship drivers, a challenge which Shane van Gisbergen (No. 97 Red Bull Ampol Chevrolet Camaro) has conquered in winning Race 1 of the 2023 Supercars season at the Thrifty Newcastle 500.
The victory is van Gisbergen's 76th of his sparkling career, and second on the streets of Newcastle, where Triple Eight Racing Engineering has now won four of seven races on the temporary street circuit.
Sophomore phenom Broc Feeney (No. 88 Red Bull Ampol Chevrolet Camaro )concluded a 1-2 finish for the Red Bull Ampol Chevrolet Camaros, while Cam Waters (No. 6 Monster Energy Ford Mustang) was the leading Mustang, finishing third in his Monster Energy Ford.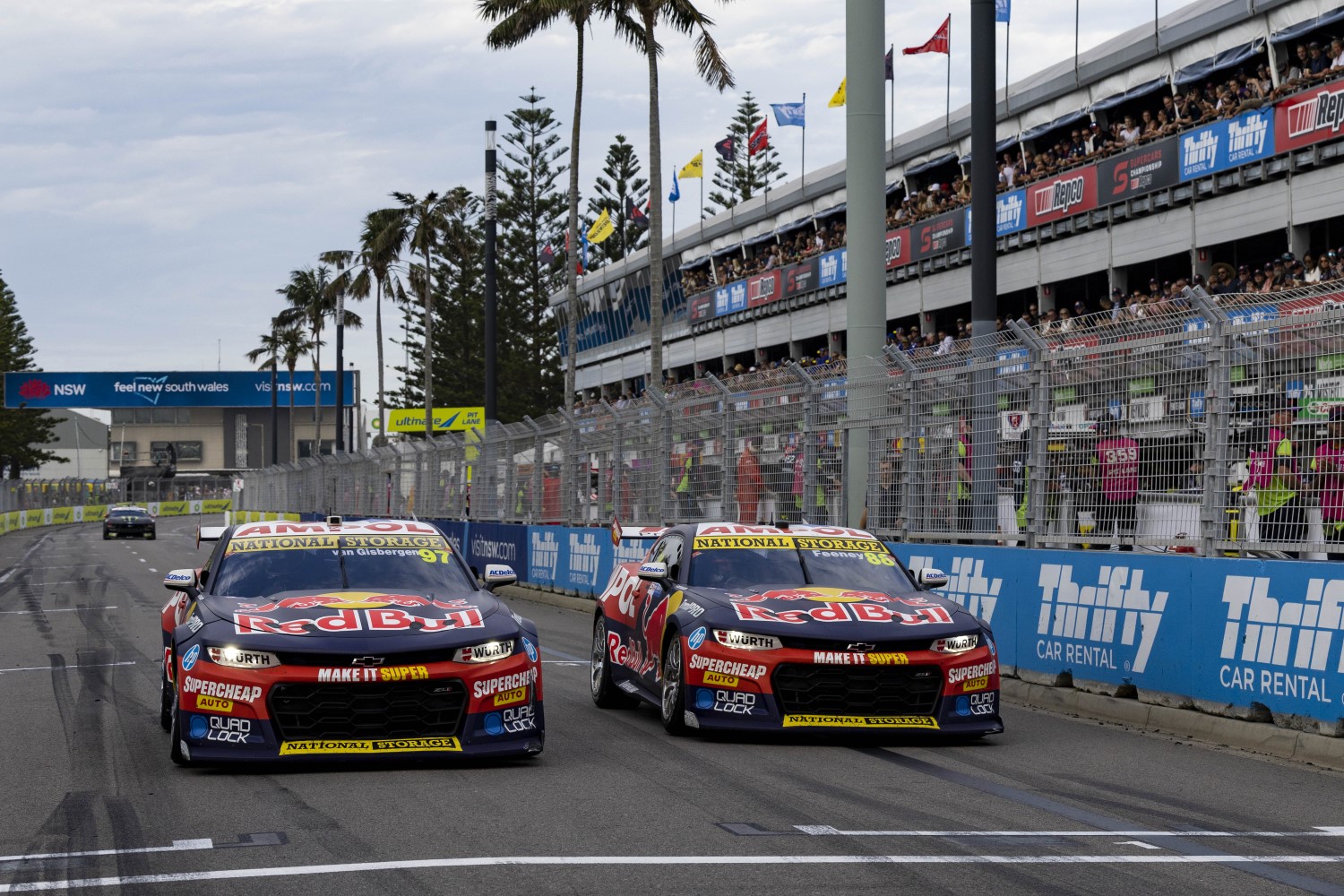 Chaz Mostert (No. 25 Mobil 1 Optus Ford Mustang) finished fourth in Walkinshaw Andretti United's first race in Ford Mustangs, while Race 1 pole sitter Brodie Kostecki (No. 99 Coca-Cola Chevrolet Camaro) finished fifth in his Coca-Cola Camaro.
Kostecki led the opening third of the race as drivers came to terms with racing their Gen3 machinery on the narrow streets of Newcastle. Clever strategy allowed van Gisbergen to take the lead on Lap 35 through pit stop cycles, and the Kiwi used impressive pace to outrun his competitors for the majority of the remaining 60 laps.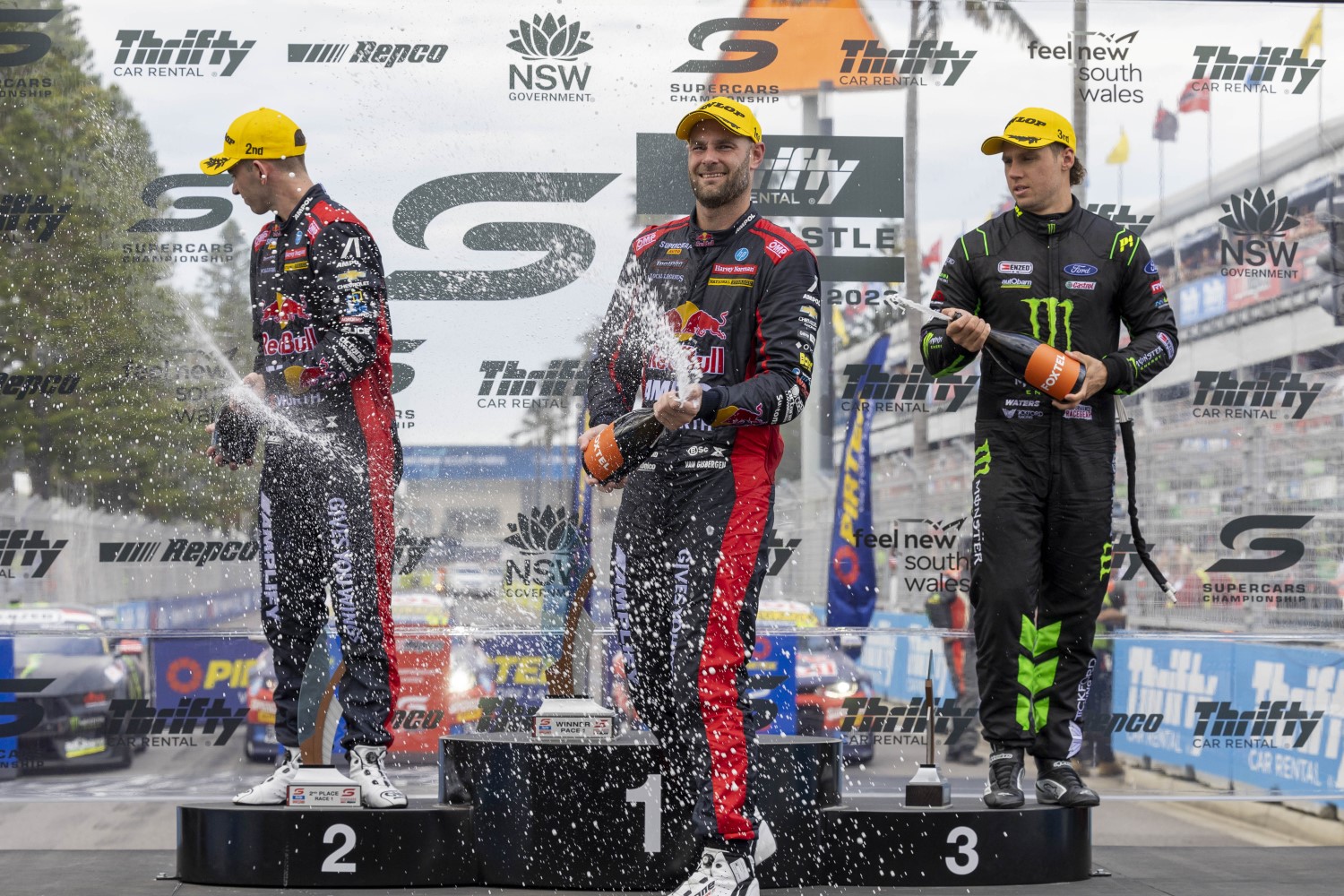 Qualifying Note
Brodie Kostecki. The #99 Coca-Cola Camaro driver was the first-ever driver to claim pole position in the Gen3 era of racing in the Repco Supercars Championship.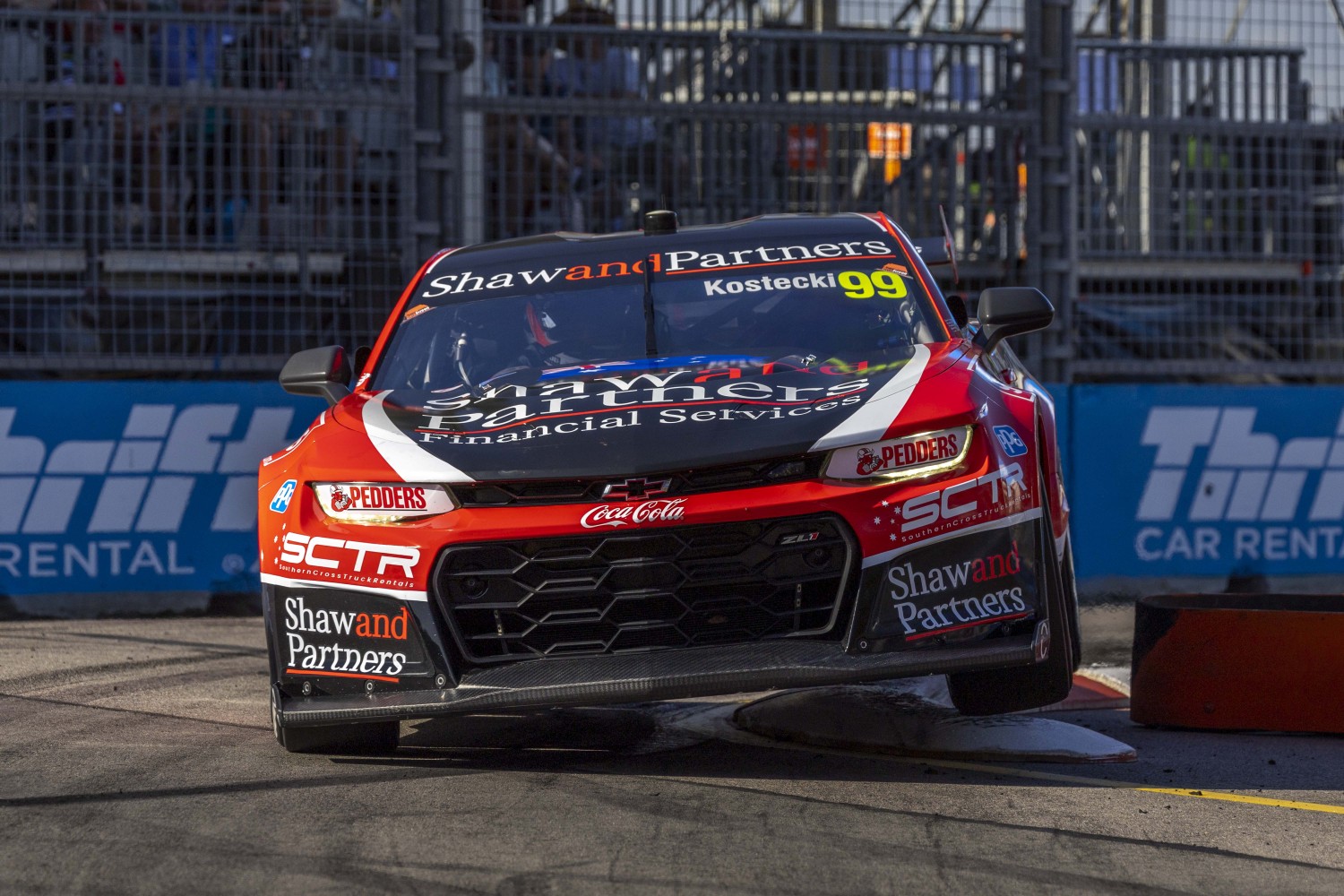 The 25-year old Perth-born Erebus driver mastered the Thrifty Newcastle 500 street circuit in the single-lap Shootout, and lined up alongside the Ford Mustang of Cam Waters for the historic first race between Camaro and Mustang.
The first seven spots on the grid were split between Camaro and Mustang – four Camaros and three Mustangs filling the top spots on the grid.
Race 1 Results
| | | | | | |
| --- | --- | --- | --- | --- | --- |
| POS | NO. | DRIVER | TEAM | BEHIND | POINTS |
| 1 | 97 | Van Gisbergen | Red Bull Holden Racing Team | +0.000 | 150 |
| 2 | 88 | B. Feeney | Red Bull Holden Racing Team | +14.741 | 138 |
| 3 | 6 | C. Waters | Tickford Racing 1 | +19.746 | 129 |
| 4 | 25 | Mostert | WAU Racing Pty Ltd | +27.395 | 120 |
| 5 | 99 | B. Kostecki | Penrite Racing – Erebus | +33.187 | 111 |
| 6 | 9 | W. Brown | Penrite Racing – Erebus | +37.282 | 102 |
| 7 | 8 | Heimgartner | Brad Jones Racing | +38.233 | 96 |
| 8 | 18 | Winterbottom | Team 18 | +44.339 | 90 |
| 9 | 20 | S. Pye | Team 18 | +50.244 | 84 |
| 10 | 5 | Courtney | Tickford Racing 1 | +1:02.513 | 78 |
| 11 | 34 | J. Le Brocq | Matt Stone Racing | +1:02.614 | 72 |
| 12 | 26 | Reynolds | Penrite Racing | +1:03.311 | 69 |
| 13 | 17 | Davison | Shell V-Power Racing Team | +1:09.520 | 66 |
| 14 | 19 | M. Payne | Penrite Racing | +1:12.946 | 63 |
| 15 | 56 | D. Fraser | Tickford Racing 2 | +1 Lap | 60 |
| 16 | 3 | T. Hazelwood | CoolDrive Racing | +1 Lap | 57 |
| 17 | 14 | B. Fullwood | Brad Jones Racing | +1 Lap | 54 |
| 18 | 11 | A. de Pasquale | Shell V-Power Racing Team | +1 Lap | 51 |
| 19 | 55 | T. Randle | Tickford Racing 2 | +1 Lap | 48 |
| 20 | 31 | J. Golding | PremiAir Subway Racing | +1 Lap | 45 |
| 21 | 96 | M. Jones | Brad Jones Racing (2) | +1 Lap | 42 |
| 22 | 35 | C. Hill | Matt Stone Racing | +1 Lap | 39 |
| 23 | 4 | J. Smith | Brad Jones Racing (2) | +3 Laps | 36 |
| 24 | 400 | Slade | PremiAir Subway Racing | +5 Laps | 33 |
| NC | 2 | Percat | WAU Racing Pty Ltd | +45 Laps | 0 |