NHRA: Brittany Force Leads Top Fuel After Day 1 in Gainesville
The fans who jammed Gainesville Raceway for the opening day of pro qualifying at the 54th annual Amalie Motor Oil NHRA Gatornationals got more than what they paid for with a thrilling day of qualifying for the season-opening event in the Camping World NHRA Drag Racing Series.
The 2023 NHRA season kicked off at Gainesville Raceway in strong fashion, with Chevrolet topping the charts with three provisional No. 1 qualifiers. Starting the year where she left off, Brittany Force powered her Monster Energy/Flav-R-Pac Chevrolet Top Fuel dragster to the top of the charts with her 3.699 ET at 336.99 MPH in Q1 after a rain-shortened evening.
In Pro Stock, Erica Enders also picked up where she left off, racing her Elite Motorsports Chevrolet Camaro SS to the top of the leaderboard with her 6.538 ET at 208.84 MPH run.
FlexJet Factory Stock Showdown saw 2022 champion David Barton also occupied the top spot in his COPO Camaro after Q2, crossing the finish line with his 7.738 ET pass at 177.30 MPH and setting low ET in both sessions.
Currently, Brittany Force, Bob Tasca III, Erica Enders, and Steve Johnson are the leaders in Top Fuel, Funny Car,  Pro Stock, and Pro Stock Motorcycle respectively. Pro Stock and Pro Stock Motorcycle racers completed both of Friday's scheduled runs but a persistent rain shower prevented the nitro cars from getting their second crack at the Gainesville Raceway surface (except for Alexis DeJoria, who was the only Funny Car driver to run before the rain hit).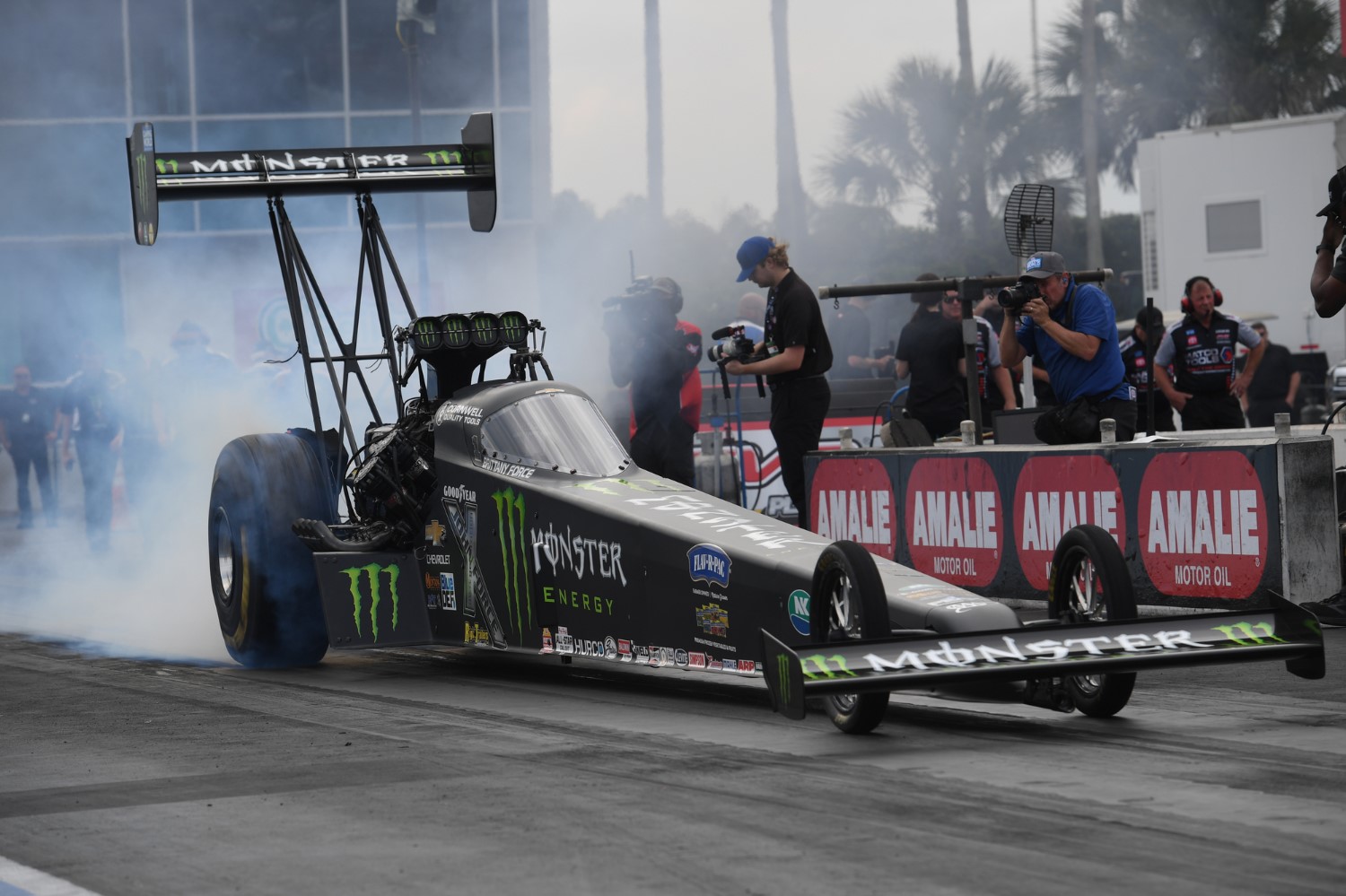 Reigning world champ Force is in a familiar spot with her David Grubnic-tuned Monster Energy dragster as last year's 10-tome polesitter is in the No. 1 spot after one session with a 3.699 pass at 336.99.
"It felt really good just to come out first race of the season, first run and to go to the top," said Force, "Pretty incredible. It's, David Grubnic and all these guys. We spent a lot of hours testing a lot of days testing to get us here, but it looks like we're already moving right into this season. It's a good start in that run, and we're motivated for the weekend, and not just the weekend, but this season.
"This is a special racetrack for me. My first win in 2016 was here and I've been chasing it first when I mean Super Comp and A/Fuel, and we finally got it done in a Top Fuel car in 2016, so it's a very special place. But also as a kid growing up, this is one of the racetracks my sisters and I always came to. We love coming out watching my dad and the Gatornationals was one that we never missed."
Doug Kalitta, in his newly canopied mac Tools entry sits second with a 3.723 followed by the sublimely cool looking Dodge Power brokers of Leah Pruett at 3.724.
Clay Millican tuned up for his first appearance in Saturday's Pep Boys All-Star Top Fuel Callout with a fine 3.728.
The remaining quick top eight is rounded out by Antron Brown (3.734), Steve Torrence (3.735), Austin Prock (3.779), and local favorite Josh Hart (3.783).
Bob Tasca III in #1 Qualifier in Funny Cars
Eleven Funny Cars qualified in the three-second zone front by Tasca's Motorcraft/Quick Lane Mustang and new tuners Aaron Brooks and Todd Okuhara. Tasca, who was the star of pre-event testing, clocked a 3.888 to lead the field.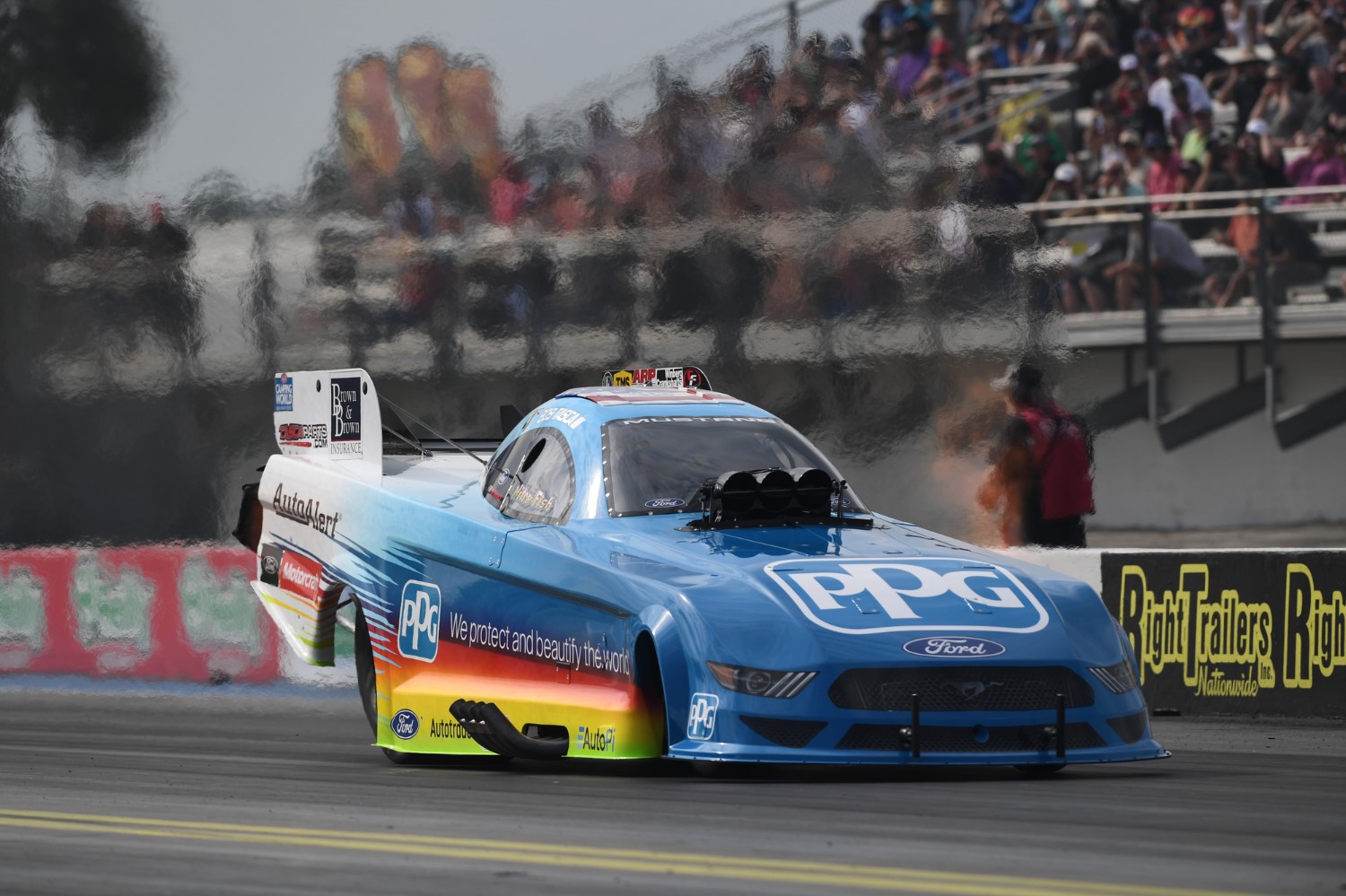 "To win the championship, you're going to run really, really good at the end of the season," said Tasca, "and most of those tracks, not all of them, but most on conditions where if you're not running mid to low 80s, you're not in the conversation, and my car [last year] could run 3.87 like you could set a stopwatch to it., but we were in no danger of running 3.83 And this car is capable of running 3.83 tonight, and we can see it with early numbers; you can see it in speed.
"We ran334 miles per hour on Tuesday here [in testing] and that's as fast I've been in two and a half years, so it's a very different attitude on the race car. And I love it, quite frankly, I love the attitude of the team. I love the work ethic."
Sixteen-time world champ John Force is a hundredth back of Tasca with a 3.898 with J.R. Todd (3.900), and Matt Hagan (3.908) on their heels.
Robert Hight, in the new-look Flav-R-Pak Camaro, is fifth at 3.911, followed by Ron Capps (3.912), Chad Green (3.935) round out the quick eight.
Paul Lee (3.960), Tim Wilkerson (3.980), and Alexis DeJoria, one of only two Funny Cars to get a pass in Q2 before than rain (3.997) fill out the sub-four-second club.
Close competition has been a hallmark of the Pro Stock class since its inception in 1970 but the 2023 Gatornationals event is shaping up to be one of the tightest fields in recent years. After two of four sessions, there is just .052-seconds separating all 16 qualifiers.
Erica Enders is the No. 1 qualifier in Pro Stock
Not surprisingly, reigning and five-time world champ Erica Enders is leading the field with a 6.538 in her Johnson's Horsepowered Garage Camaro while Matt Hartford anchors the field at 6.590 seconds.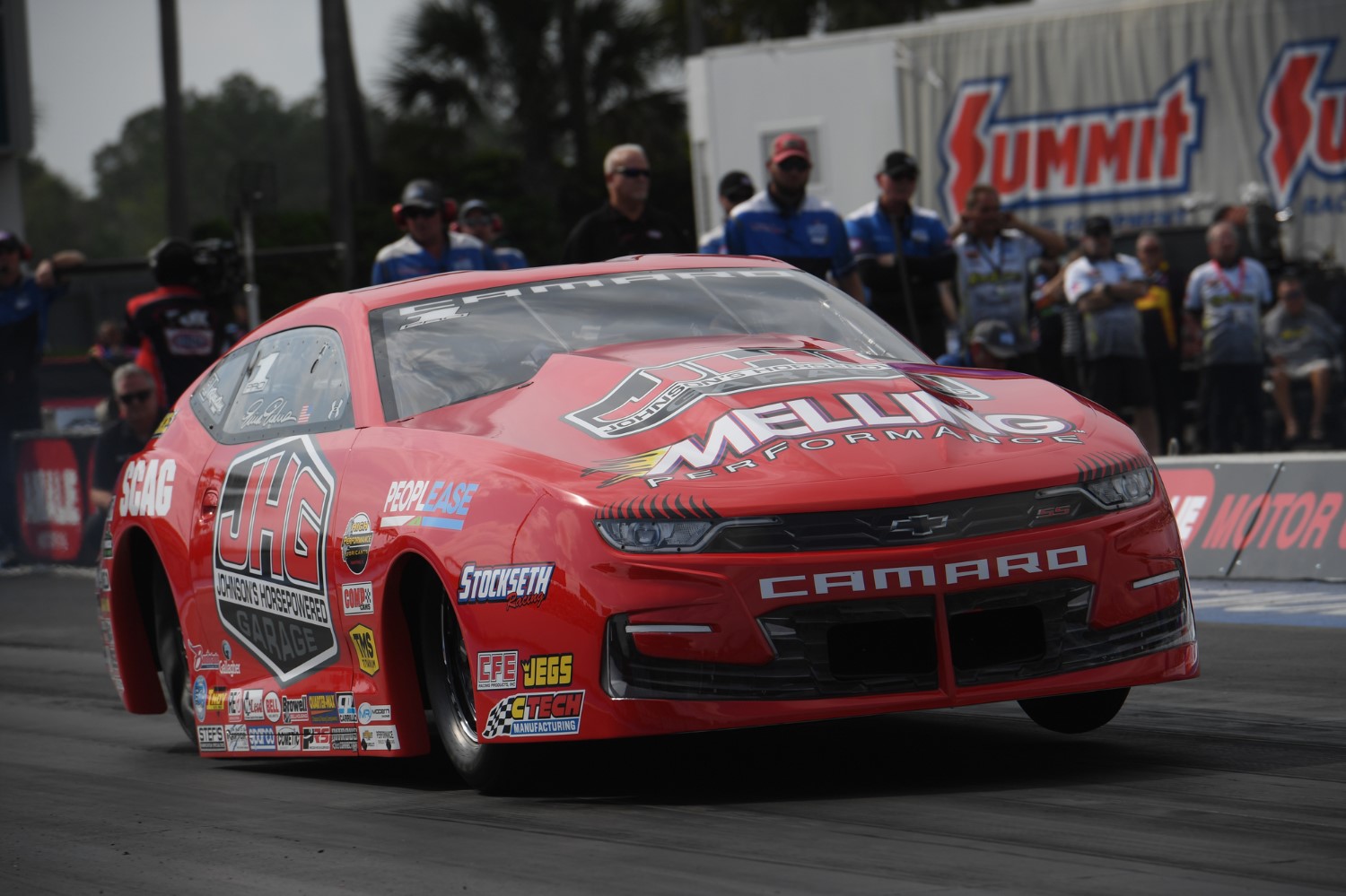 Enders, who won ten events last season, is hoping to score her first victory in Gainesville. Last year, she opened the season with a victory in Pomona.
"As far as my to-do list, we can start off with winning the Gatornationals," said Enders. "I'm thrilled to be the provisional No. 1 qualifier tonight. We had one extra month in the off season so we're ready to go to battle and to defend our title."
"It is definitely huge to start off on the right foot," said Enders. "I was thinking while I was sitting in the car that was only my fourth run since November of last year. We did not do any off-season testing. We made two hits at Bradenton before coming here. We spent the winter in the shop working on the engines looking for more horsepower. We didn't have a great first run. Decent, but I had a couple of mishaps, and our tune was just a little bit off. We came back, fixed everything up, and wanted to do really well for that night session. We were able to put our JHG car on top, and that's all that matters to me."
After Enders, the next six drivers in the field have collected 6.55-second time slips including reigning rookie of the year Camrie Caruso, world champs Bo Butner and Greg Anderson, Aaron Stanfield, and Cristian Cuadra.
Steve Johnson is the No. 1 qualifier in Pro Stock Motorcycle 
Johnson, who got off to a strong start last year and was in championship contention for most of the season, had a solid day with his Suzuki entry. The class' most tenured rider made a pair of 6.7-second runs including a 6.746 to lead the field. After missing out on last year's title, Johnson is eager to pick up the fight in what is his 36th season on the tour.
"[Last year] I shot myself in the head; I feel like I could have won the championship and that's all I want for my team and for myself. We did zero testing this off season and I ran the same as I did in Pomona [last November]."
Johnson has qualified No. 1 seven times in his career and was only seeded outside the top half of the field once in 15 races last season. In order to maintain the top spot, he'll have to hold off a fleet of fast bikes that includes rookie Chase Van Sant, who has been impressive so far with a 6.747. Van Sant is riding the same WAR Suzuki that carried Karen Stoffer to a win in Gainesville last season.
Another newcomer, Gaige Herrera, is also hovering near the top spot with a 6.749 on the Vance & Hines Suzuki while reigning champ Matt Smith holds down the No. 5 spot at 6.776 on his Denso Suzuki.