NHRA: Force, Capps, Coughlin, and Herrera lead final Gatornationals qualifying
It isn't an exaggeration to say that Saturday's crowd at the 54th annual Amalie Motor Oil NHRA Gatornationals was one of the largest ever to see a drag race in person and the stars of the Camping World NHRA Drag Racing Series responded with a phenomenal show to help set the fields for Sunday's final eliminations.
Qualifying for the 2023 season-opening AMALIE Motor Oil NHRA Gatornationals has been completed, setting the ladders for Sunday's eliminations at Gainesville Raceway in Gainesville, Florida. Team Chevy led the way in Top Fuel, with Brittany Force setting the stage as the No. 1 qualifier, her 43rd in NHRA, and facing Keith Murt No. 16 in Round 1
Force held onto the No. 1 spot in Top Fuel with her Friday 3.699, but her David Grubnic-tuned Monster Energy team put an emphatic punctuation mark on their first pole of the season by having the quickest car of both of Saturday's sessions with respective runs of 3.744 and 3.718. It's the 43rd No. 1 of her young career, which spans just 213 events.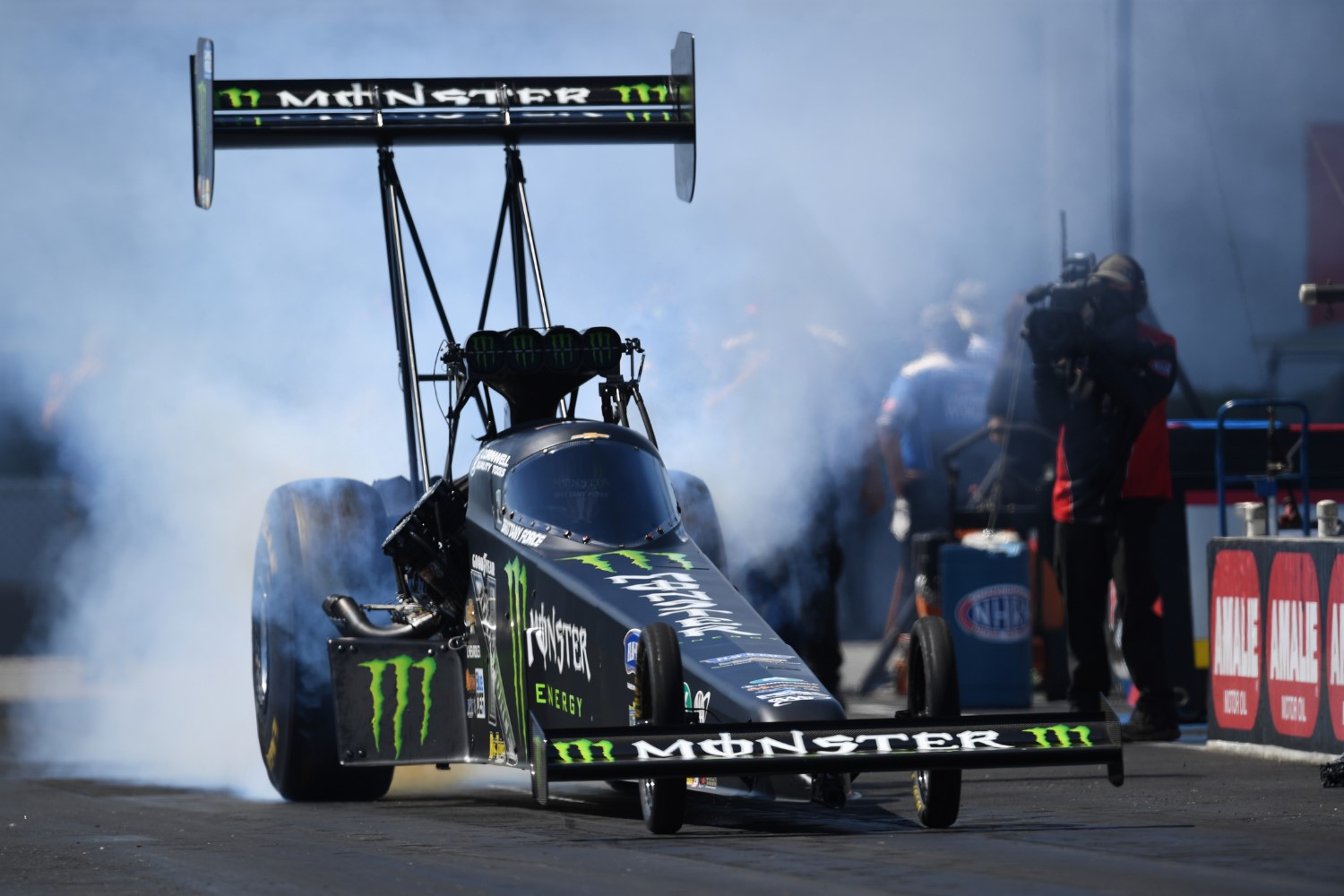 Although Force lost in the semifinals of the Pep Boys All-Star Top Fuel callout when she uncharacteristically smoked the tires, the run didn't count for qualifying anyway and she closed qualifying with the two quickest runs of the two days and maximum qualifying bonus points.
"It's pretty cool to be able to accomplish that with your team," notes Force on her 43rd No. 1 qualifier in 213 races. "No. 1 qualifiers are always great as long as we deliver on Sunday. That's the main thing. We struggled with that in the past; we'd have all these No. 1 qualifier hats. We'd grab points, but then we would struggle so bad on race day. The game plan coming into the last few seasons is we wanted to do both, and we definitely turned things around last season where we ended up with the championship. So same game plan coming into this season, and we'll have to deliver tomorrow."
"It was a bummer to lose out on the All-Star Callout, but we got the No. 1 qualifier. We felt good going into [the Callout] and got to the semifinals, but we got beat, so our bigger focus now is raceday tomorrow. We'll put today behind us, and got in that last qualifying session which was good, solid run for us.
"It's outstanding, to be in different conditions run in and still be able to run that. We missed it the one time in the Callout, but we all feel pretty good. Last season, it was such a strong season for us and now we're pulling out this season with a No. 1 on our car., and that's what this team has been chasing since we started in 2019 as a team, and we finally got it done."
Steve Torrence, whose four-year reign as world champion was ended last season by Force, stepped up to a 3.723 to take the No. 2 spot. Doug Kalitta, also a semifinal loser in the Callout, sits No. 3 with 3.723 with Leah Pruett (3.724), Clay Millican (3.728), Antron Brown (3.734), Callout champion Josh Hart (3.748), and callout runner-up Mike Salinas (3.751) rounding out the quick eight.
Keith Murt sits in the field's final spot with a 3.988 and draws Force in round one.
Ron Capps is the No. 1 qualifier in Funny Car
Capps waited until the final session to take the No. 1 spot with a 3.874 in a frantic final qualifying session where John Force (3.878), Robert Hight (3.879), Friday leader Bob Tasca III (3.885), and defending event champ Matt Hagan (3.890) all also ran in the 3.8-second zone. Capps also started his 2022 championship season with a first-race No. 1 berth last season in Pomona.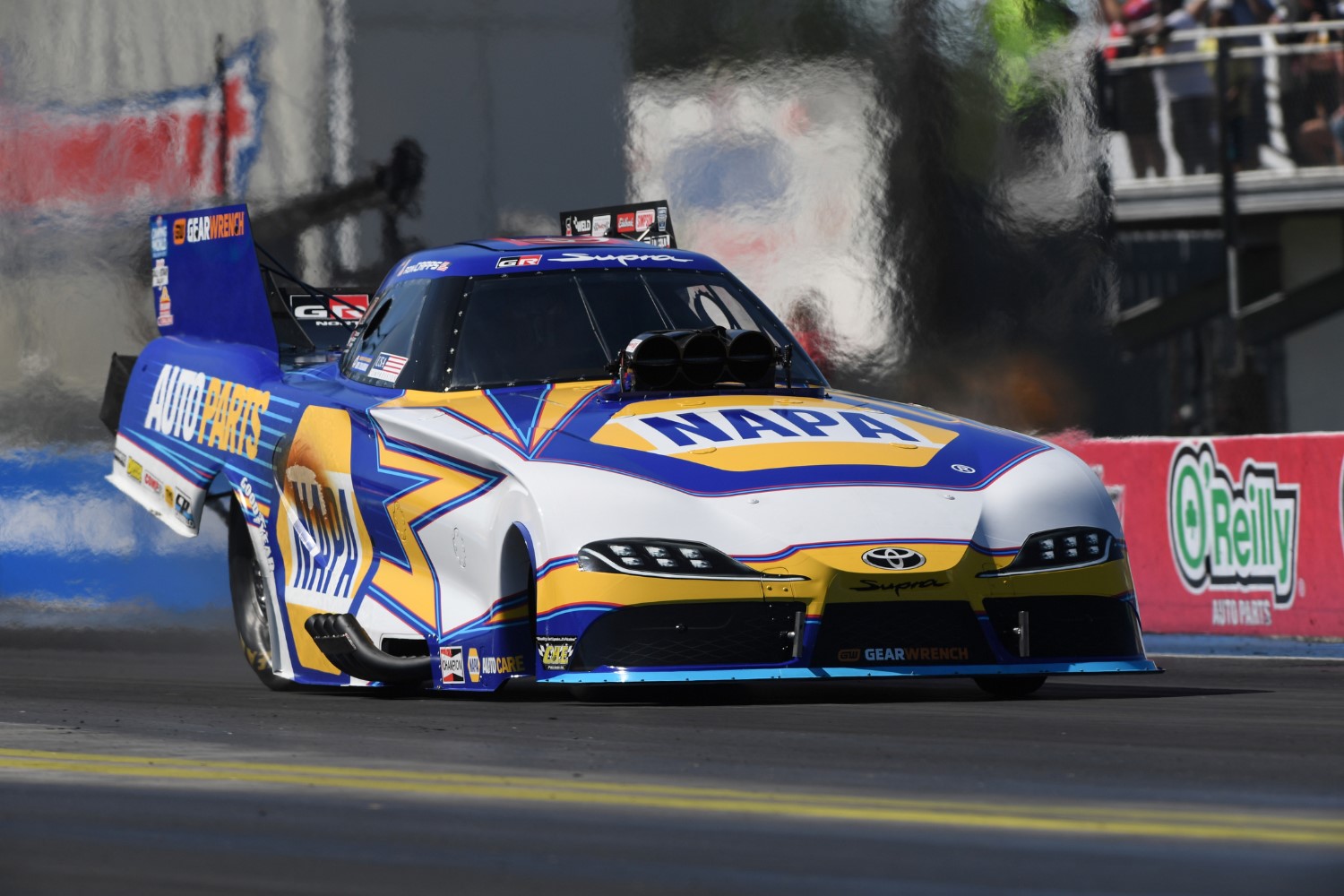 "We all talked about how tough it was gonna be how close it was gonna be and you saw it in the last session," said Capps. "We know how hardcore and pissed off a lot of the drivers are that didn't win the championship that had a run for it, and pretty much all those teams today that made those runs down the track near the end.
"I'm almost embarrassed by how good my life is right now. Last year I end up winning Indy for the first time in my career then we win the Callout in the same weekend and then we go on to win the championship and it's just a dream year. So it's almost like how do you top that? But we show up here and we come from behind and we lay down low e.t. and it wasn't by much — we're not gonna brag about it and it's a big day tomorrow — but, my gosh, what a way to start the year."
J.R. Todd slotted sixth with the first of the 3.9-second runs at 3.900 in the DHL Surpa, followed by Chad Green (3.922) and NHRA Finals winner
Cruz Pedregon (3.933) to round out the top eight.
Twelve of the 16 drivers quailed in the three-second zone with Alexis DeJoria (3.954), Paul Lee (3.960), Blake Alexander (3.969), and Tim Wilkerson (3.980) all running quicker than four seconds.
Troy Coughlin Jr is the No. 1 qualifier in Pro Stock
Coughlin Jr. moved past Friday's low qualifier Erica Enders to claim the top spot in a very competitive Pro Stock field. Coughlin and Enders each clocked matching 6.515 elapsed times, but Coughlin scored the top spot based on speed, 212.29 to 211.73. Coughlin, who previously won the Gainesville Super Gas title in 2013, has now been the low qualifier three-time in his career, including the last two events. Coughlin enjoyed a breakthrough season in 2022 with a pair of Pro Stock victories on his way to a career-best fourth-place finish. He'll race fellow Ohio-based racer Larry Morgan in round one on Sunday morning.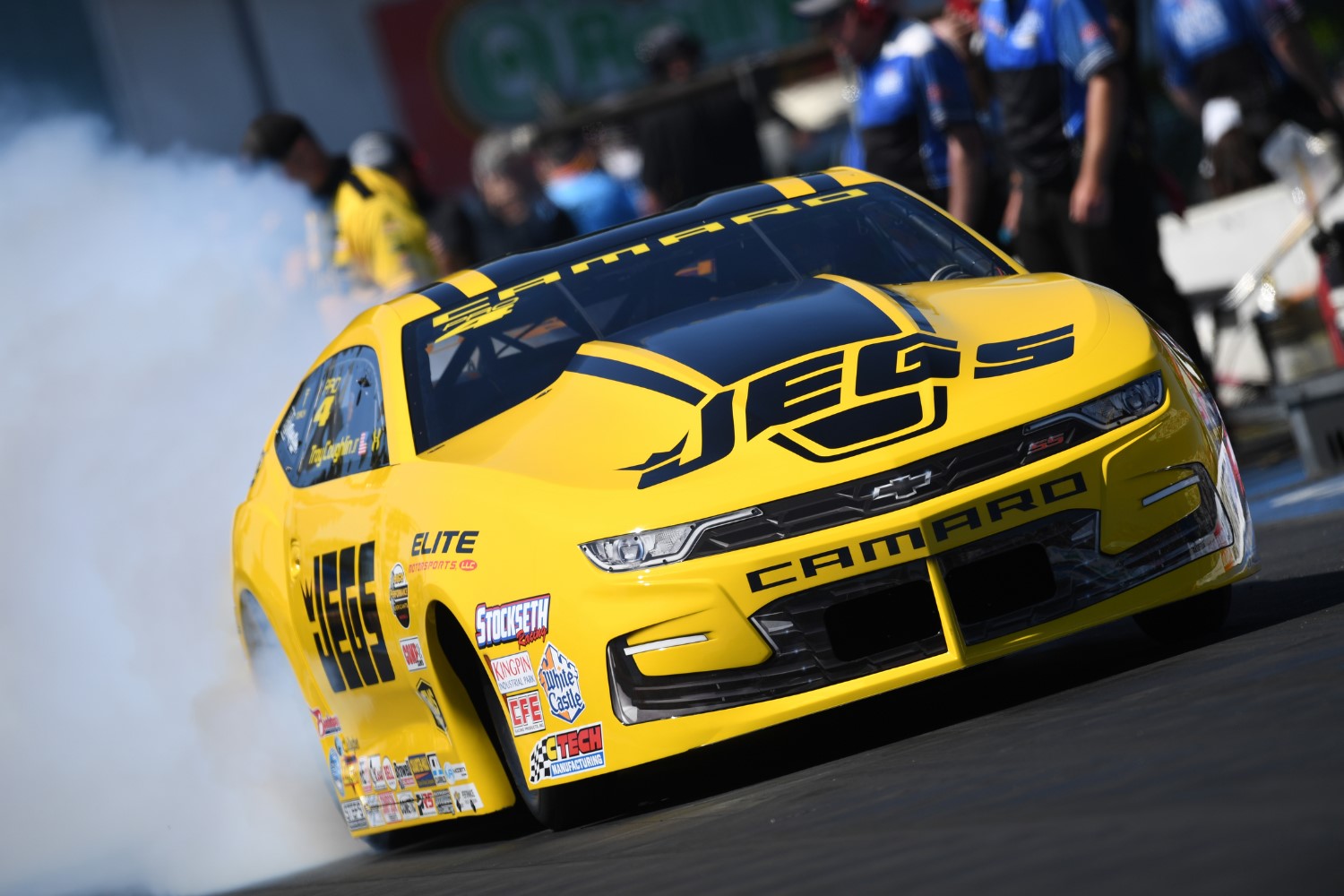 "We're just getting started," stated Coughlin Jr. "We hope we can build off of it. It's a testament to the boys in the engine shop. They've worked hard on the dyno. It's a long, seven days a week job for those guys. They work hard, a lot of research and development, a lot of hours that go into that. My family had a similar deal with that with Coughlin Brothers Racing. So we have an idea of the time that it takes and the effort that it takes. Big kudos to them. To have a pole right off the bat, that's a huge honor."
"I'm very proud of what we've done so far. Kudos to Elite [Motorsports] and everyone on our team," said Coughlin. "They all work hard and we are a complete family. The guys in the engine shop never stop working. I wish everyone could come to our shop and experience it firsthand. It's just such an honor to be a part of.
"I'd like to think we're just getting started and we can build off of what we've done here in qualifying. What's a family without the occasional fight? I'd like to see all eight elite cars win the first round and then make sure we put two of them in the final but that's not always possible. I just hope I'm the one bringing home a Wally tomorrow."
Enders got knocked from the top spot but she's in a prime position to win in Gainesville for the first time in her career. Enders won ten events last season on her way to a fifth title but was knocked out in round one by Bo Butner in Gainesville. As the No. 2 seed, she'll race new teammate Jerry Tucker in round one.
The close field stretches from Coughlin's 6.515 to 6.575, and the top half of the field includes Mason McGaha, Aaron Stanfield, Dallas Glenn, Kyle Koretsky, Cristian Cuadra, and Bo Butner. Glenn made the biggest move of the day. The defending Gainesville winner struggled through the first three sessions, and then made a stellar run in the final session with a 6.524 to move into the top half of the field and secure three bonus qualifying points.
Gaige Herrera is the No. 1 qualifier in Pro Stock Motorcycle
Herrera, in his first event as a member of the Vance & Hines team, has been particularly impressive with a string of near-record-setting runs. Herrera came into the final session as the top qualifier with a 6.688 elapsed time and then improved slightly with a 6.685 to secure the top spot. Herrera also rode the new Gen III Hayabusa body to a track record speed of 203.49 mph. Herrera is scheduled to race Ron "the Rat" Tomorrow in round one.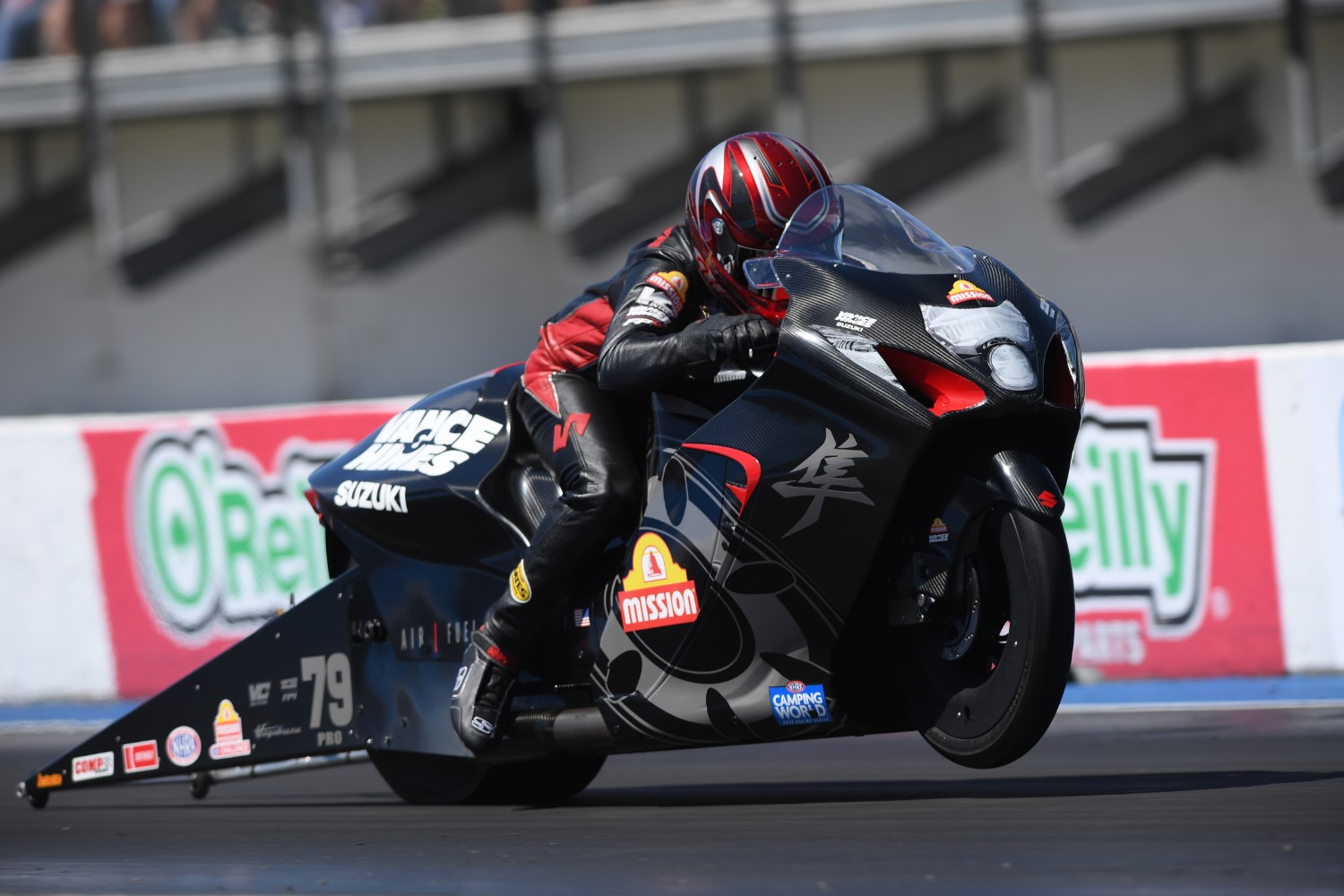 "I honestly don't have words for this," said Herrera. "Just being here with the best team in Pro Stock Motorcycle is a dream and then to run 6.68 on back-to-back runs and then go 203 [mph]. It's been an awesome journey so far. It's still not real to me. When I got that phone call from Andrew Hines [Vance & Hines crew chief] in November it took a while to sink in. Then I got my new leathers and realized I'd be riding the best bike in the class.
"On race day, I'm thinking there will be more pressure but I know I just need to cut a good light, get the bike from A to B, and hopefully turn on win lights. Testing went really well and so did qualifying. Now, I'm just trying to make them proud. Big thanks to the Vance & Hines Mission Suzuki team."
Herrera isn't the only fresh face that is lighting up the Pro Stock Motorcycle class this weekend. Rookie of the Year contender Chase Van Sant is the No. 3 seed in his debut with a 6.747 on his Trick Tools Suzuki, which is the same WAR Racing-prepared bike that Karen Stoffer rode to a victory and a record 6.66 at last year's Gatornationals. Van Sant will be paired with another young gun, Richard Gadson, in round one.
Six of the 16 Pro Stock Motorcycle qualifiers, including Herrera, Van Sant, Marc Ingwersen, Kelly Clontz, Gadson, and Tornow, are seeking their first NHRA wins. On the other end of the spectrum is Eddie Krawiec, who is looking to join the short list of NHRA racers with 50 wins. Krawiec rode his Vance & Hines Suzuki to a ninth-best 6.803 and will racer Hector Arana Jr.'s GETTRX Buell in round one.