Supercars: Shane Van Gisbergen schools Mostert to win Race 2 in Newcastle
Paybacks are indeed a bitch.
After the Walkinshaw Andretti United (WAU) team protested Shane Van Gisbergen's win in Race 1 Saturday for using Dry Ice in the wrong location in the car that resulted in van Gisbergen being disqualified, he was out for blood.
In Race 2 on Sunday, after starting 5th, Van Gisbergen hunted down WAU's driver Chaz Mostert for the lead and gave him a schooling he won't soon forget when he passed the Mustang driver for the lead with 10 laps to go and pulled away to win Race 2 by 4.4992s.
Van Gisbergen — who was stripped of his Race 1 win just hours earlier — put a late move on Mostert to steal the lead.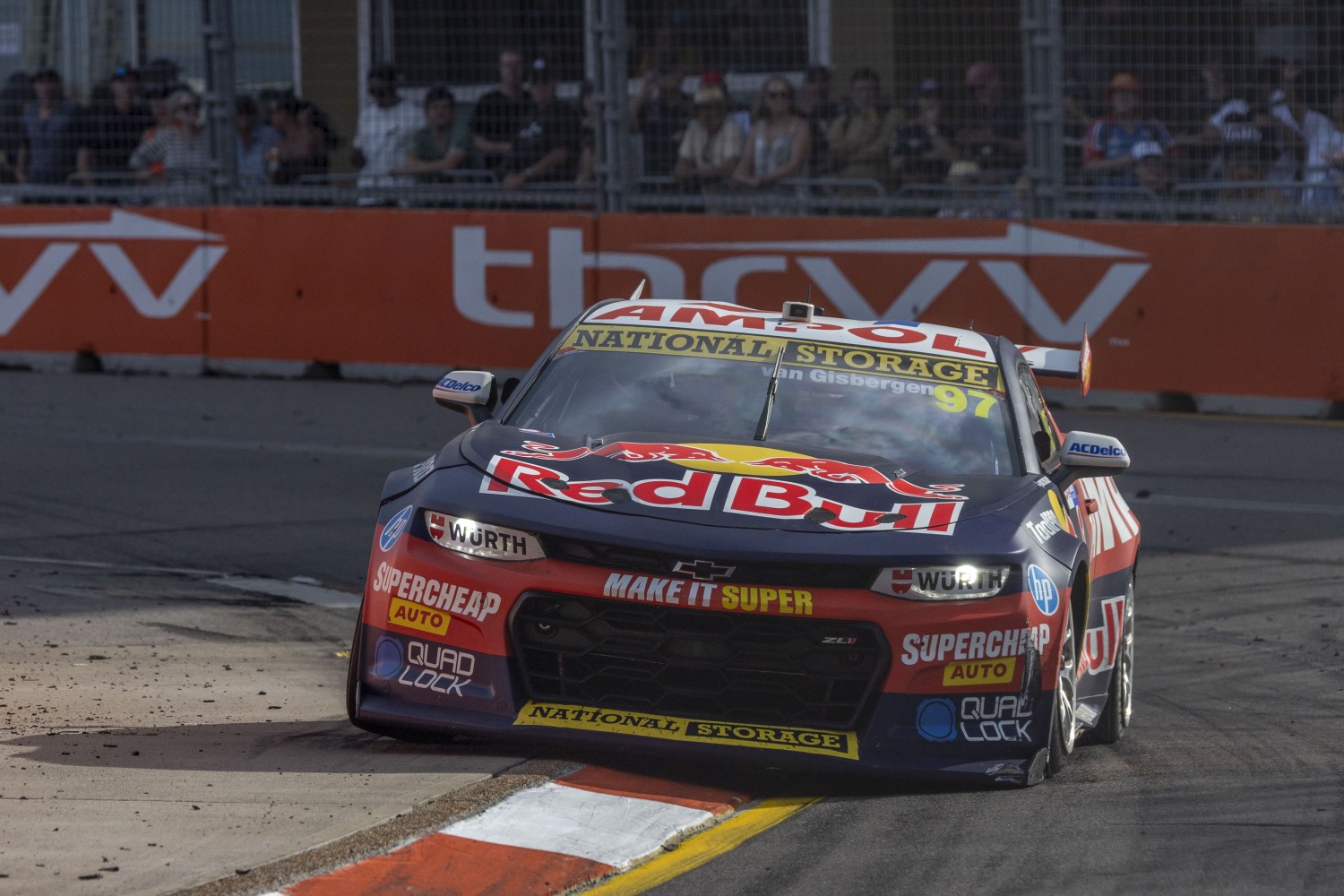 The two drivers made contact twice on lap 85, the first at Turn 9 helping van Gisbergen into the lead.
From there, the New Zealander raced away to a 4.4s victory, some 24 hours after he took the Race 1 checkered flag first.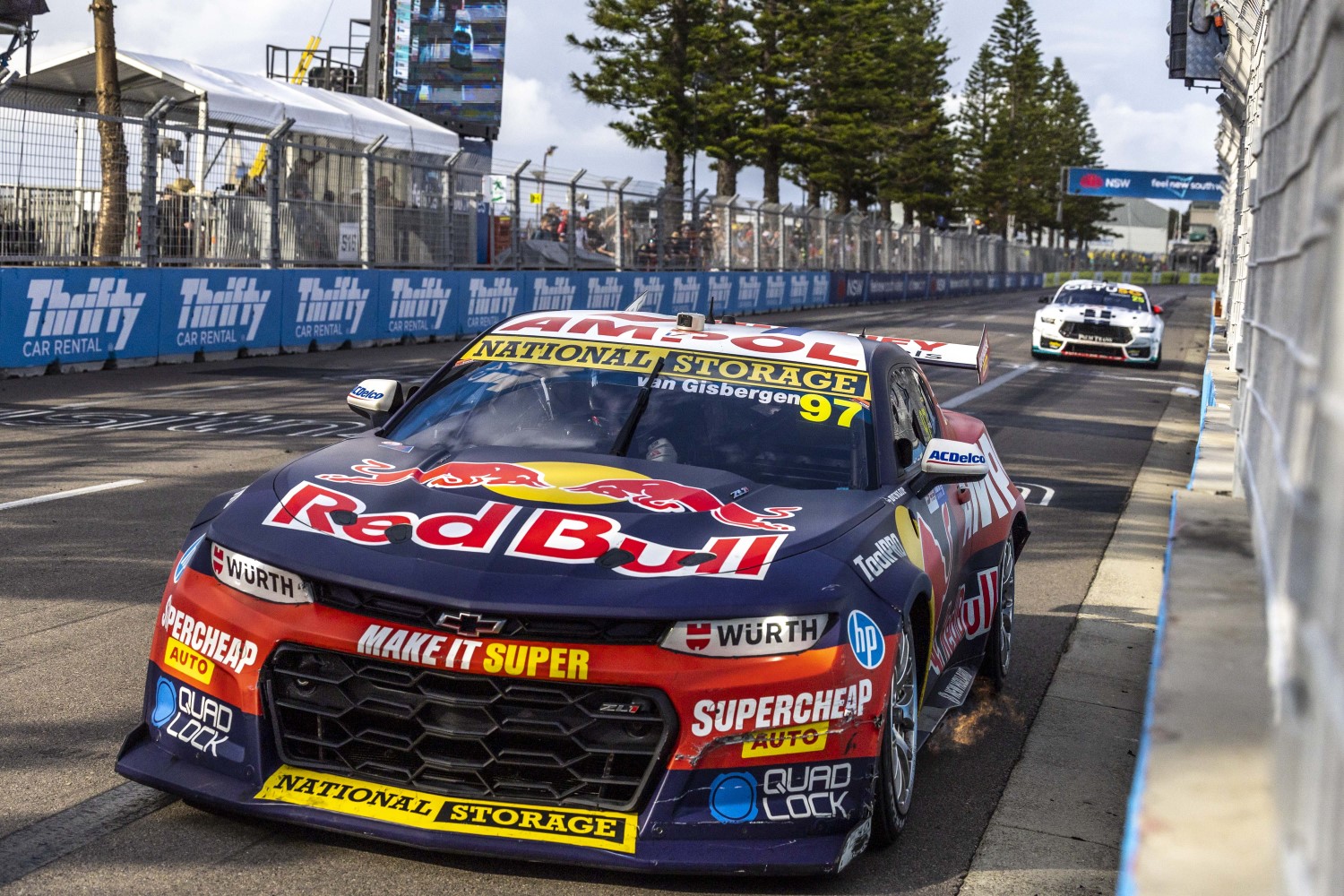 It was his 76th career victory and first in a Camaro after yesterday's DSQ.
After the race, a pissed off Shane Van Gisbergen for losing his Saturday win for the location of his dry ice to cool his burning feet (the Gen3 car has a heat issue)  refused to answer questions from the media. It was not that his team used dry ice, it was where they placed it that caused the disqualification.
It also denied Walkinshaw Andretti United a first-up victory with its new Ford Mustangs, having raced Commodores for 33 years.
Second ensured Mostert will take a 45-point lead to Albert Park after Cam Waters made a costly error midway through the race.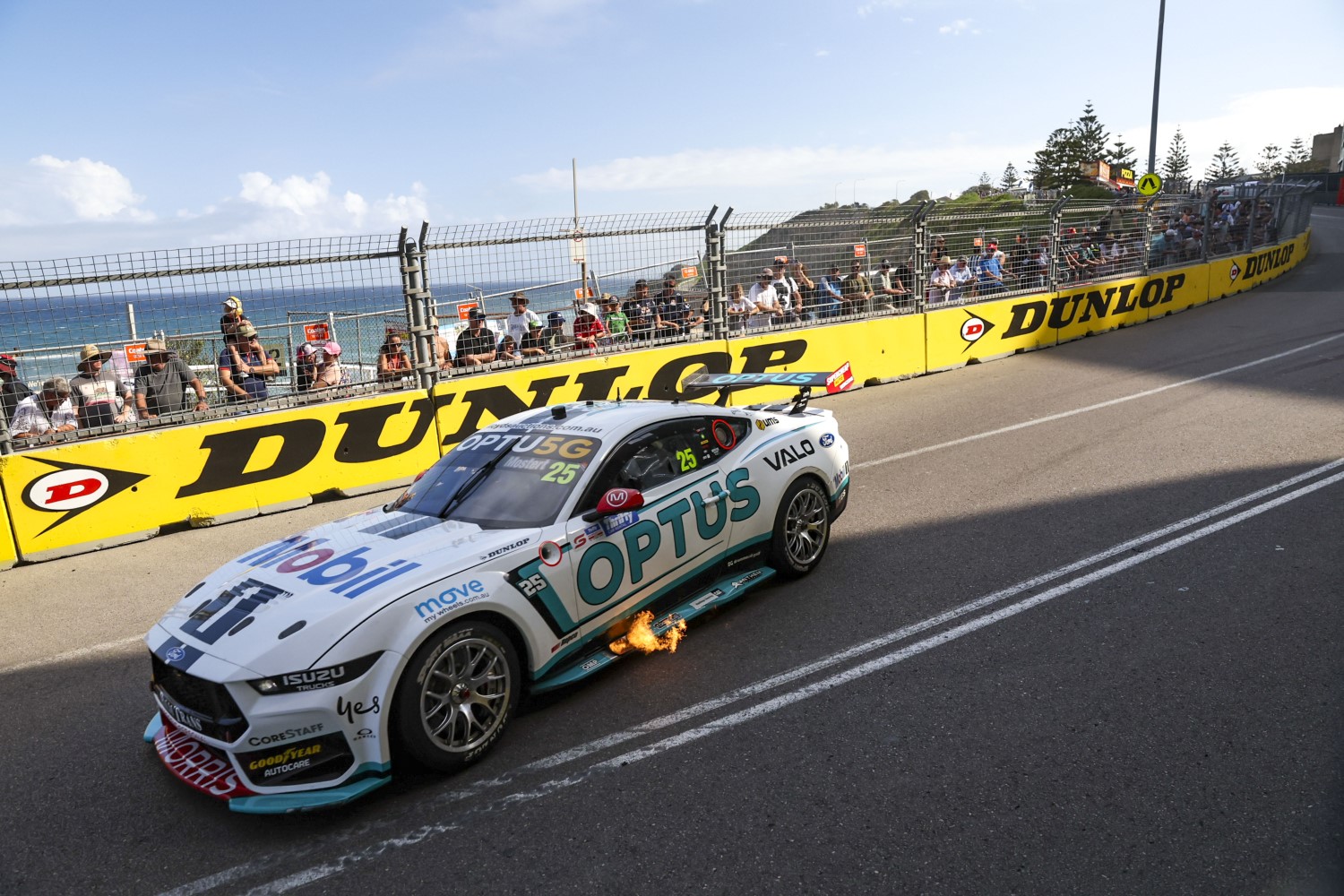 Chasing Mostert for the effective lead, Waters clipped the wall at Turn 9, suffered steering arm damage and came home 12th.
Waters' points lead lasted all of eight hours, having inherited Saturday's victory after the double Red Bull Ampol exclusions.
Pole-sitter David Reynolds came home a distant third for Penrite Racing, with James Golding an impressive fourth in his #31 Nulon Racing Camaro.
Mostert won the race to Turn 1 versus Reynolds, with Waters (#6 Monster Mustang) jumping Golding.
Behind them, the crashing Declan Fraser (#56 TRADIE Ford) ultimately saw the race suspended, with the pit wall dislodged.
After a 20-minute stoppage for wall repairs, Mostert led the field to green, with Reynolds and Waters completing a Ford one-two-three.
Mostert slowly pulled away from Reynolds; behind them, drivers began to peel off for their first stops.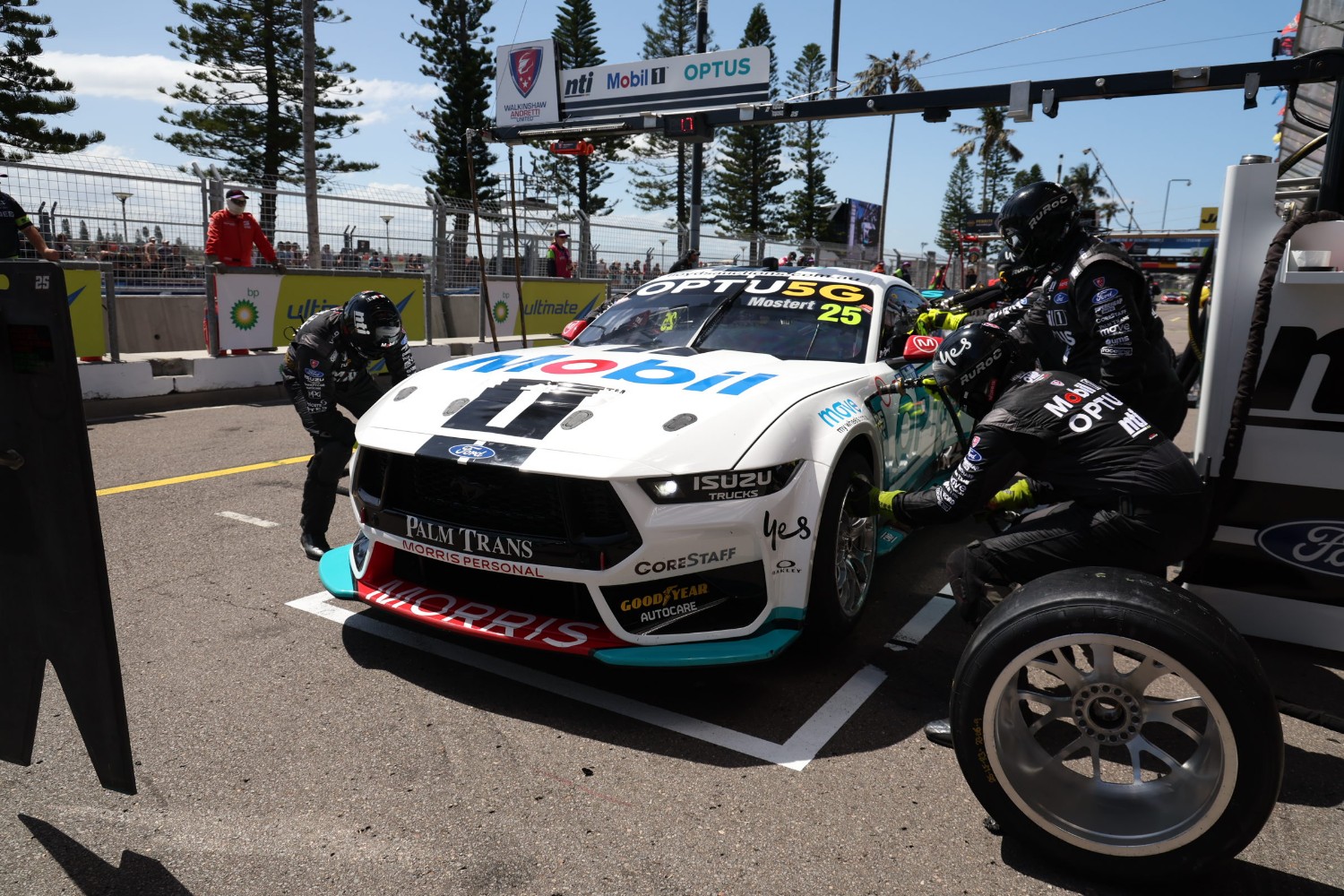 WAU brought Mostert in from the lead — with the margin 1.6s — on lap 23, with Waters 4.4s behind Reynolds.
Golding held van Gisbergen at bay until the reigning champion pounced at Turn 8.
Waters and Reynolds stopped on laps 29 and 30 respectively, the latter rejoining behind Broc Feeney (#88 Red Bull Ampol Camaro) in effective fourth.
Differences in fuel loads taken on at the first stops saw Mostert enjoy a 6.3s lead over Waters once van Gisbergen stopped on lap 38.
However, Waters quickly began to eat into Mostert's lead, with the two Fords joined at the hip by lap 47.
All the while, Reynolds cleared Feeney for third at Turn 11 on lap 39, with van Gisbergen later moving past his teammate.
On lap 48, Waters clipped the inside wall at Turn 9, but avoided a fate akin to teammate James Courtney (#5 Snowy Rivers Caravans Mustang) in the Shootout.
Tickford brought Waters in on the following lap, with Mostert 12.4s ahead of Reynolds, who was under pressure from a racy van Gisbergen.
Waters was consigned to a long stop as Tickford mechanics checked over the bruised #6 Monster Ford. Van Gisbergen, meanwhile, overtook Reynolds at the final corner on lap 51.
Van Gisbergen began to reel in Mostert's margin at a rate of knots, with Waters dropping into the midpack due to his slow stop.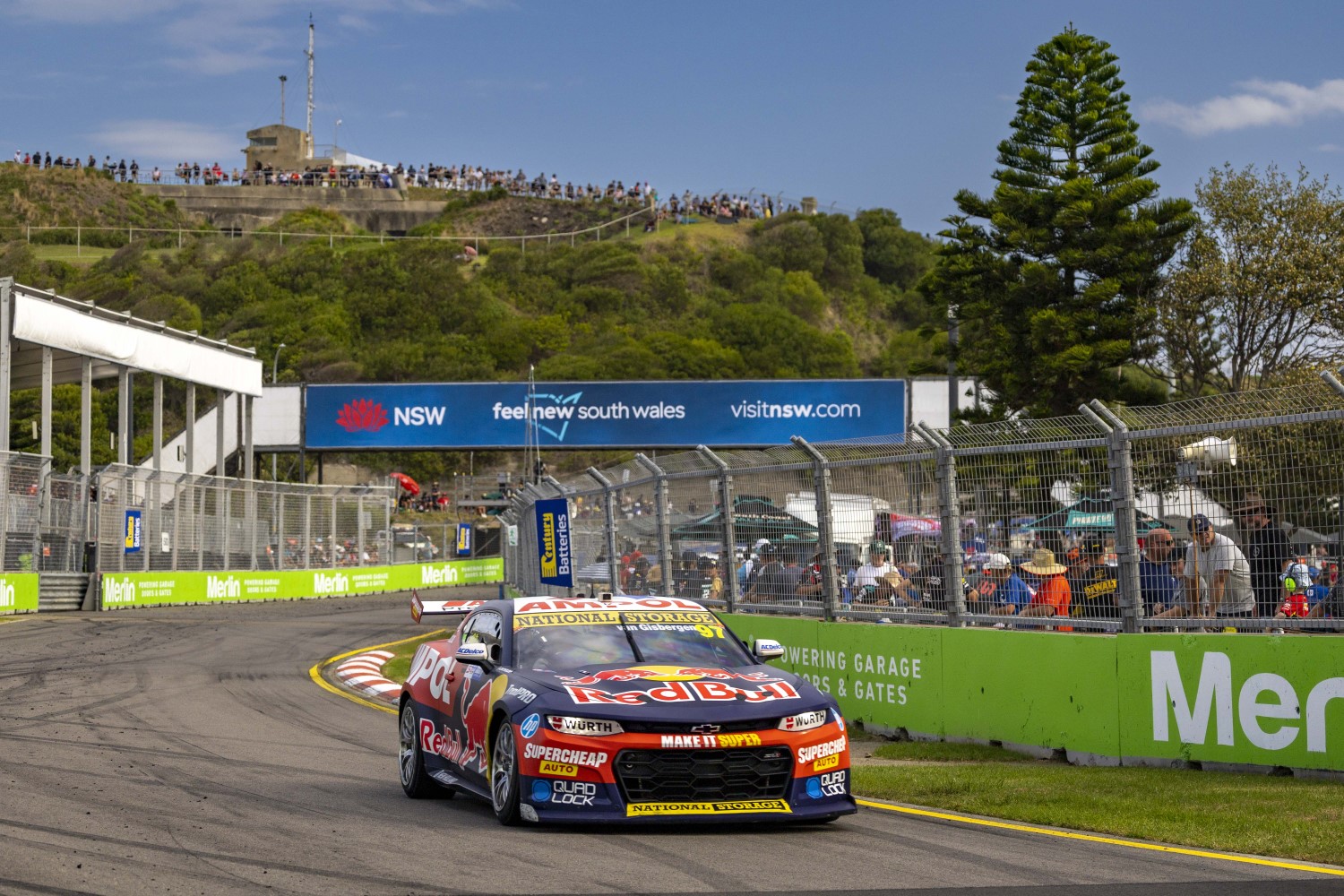 On lap 58, Mostert was brought in for his second and final stop, having caught van Gisbergen's teammate Feeney. By that time, the margin had been slashed to six seconds.
On lap 62, Todd Hazelwood (#3 CoolDrive Mustang) was pushed into the Turn 9 barriers by Thomas Randle (#55 Castrol Mustang), but managed to return his #3 CoolDrive Ford to the action.
As van Gisbergen caught traffic, Mostert powered in fast laps on his new tires. On lap 68, Penrite Racing brought in Reynolds, who had lost over 12 seconds to van Gisbergen.
Reynolds emerged 2.3s behind Golding, who in turn was 19.6s adrift of the rampant Mostert. On lap 71, van Gisbergen made his final stop.
It set up a 25-lap sprint to the end, with Mostert 8.6s ahead of the #97 Red Bull Ampol Camaro. Golding was 11.5s behind van Gisbergen, with Reynolds closing on the Nulon Camaro.
On lap 72, Reynolds had a look at Golding at Turn 11. On the following lap, Reynolds pounced at Turn 2, and regained a podium position.
Cameron Hill (#34 Truck Assist Camaro) nudged the Turn 1 barriers on lap 76, but managed to rejoin the race and avoid triggering a Safety Car.
By lap 83, van Gisbergen had a clear view of Mostert, the duo having negated thick traffic. On lap 85, van Gisbergen made his move at Turn 9.
Mostert appeared to return to the racing line, but instead, was shuffled wide by van Gisbergen. In response, Mostert hit van Gisbergen at Turn 11.
From there, the tire advantage for van Gisbergen showed, the #97 Camaro taking the checkered flag by 4.4992s.
Feeney was fifth ahead of Brodie Kostecki (#99 Coca-Cola Camaro) and Andre Heimgartner (#8 R&J Batteries Camaro).
Mostert leads Kostecki by 45 points heading to Albert Park, with Waters 58 points behind in third. Van Gisbergen is 11th, 126 points down.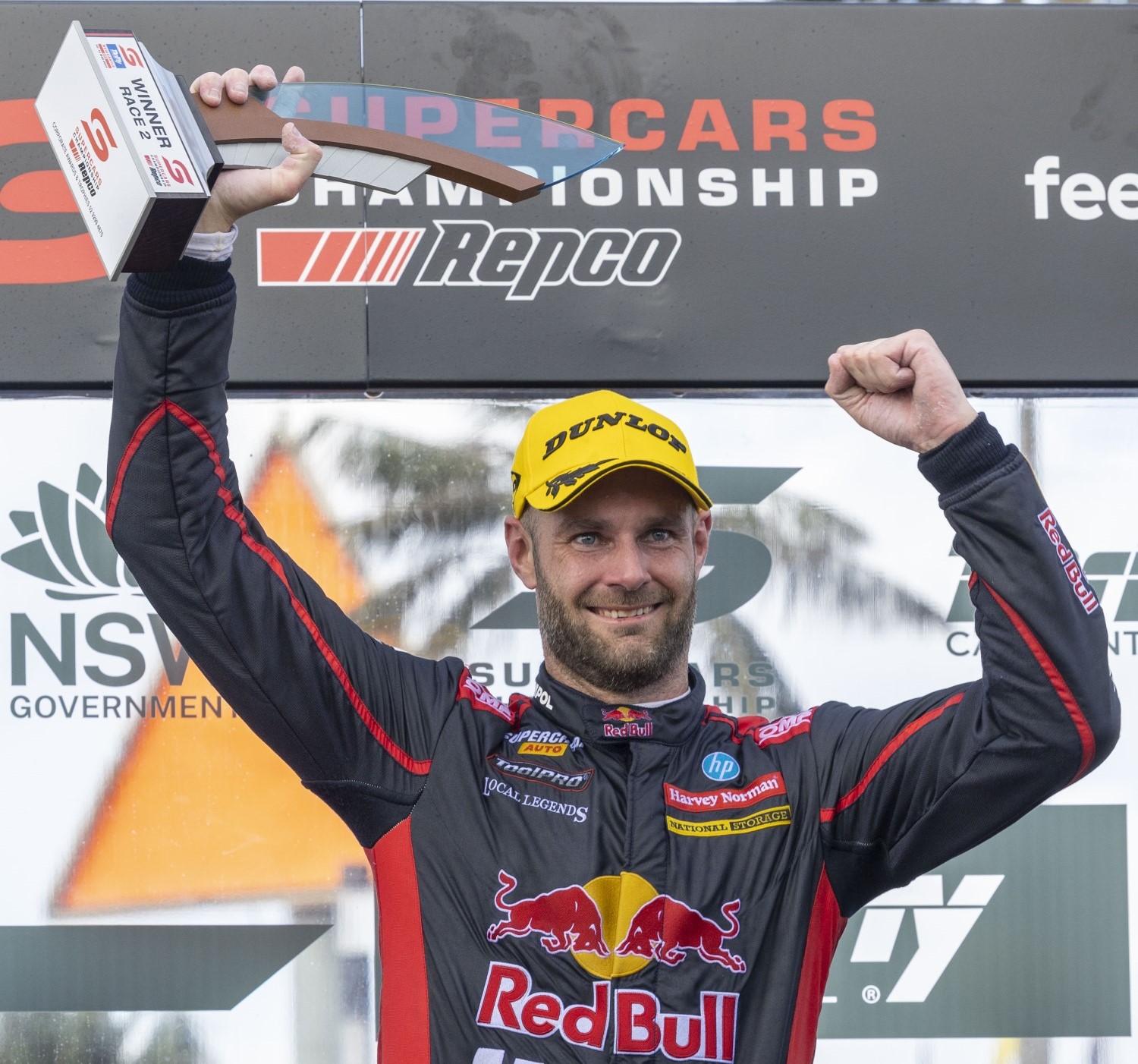 Supercars' return to Newcastle was a hit with fans, with a combined crowd of 167,197 attending the three-day event, the highest attendance figure since the inaugural Newcastle 500 in 2017.
Race Results – 89 Laps
| | | | | |
| --- | --- | --- | --- | --- |
| POS | NO. | DRIVER | TEAM | BEHIND |
| 1 | 97 | Van Gisbergen | Red Bull Holden Racing Team | +0.000s |
| 2 | 25 | Mostert | Walkinshaw Andretti United Racing Pty Ltd | +4.499 |
| 3 | 26 | Reynolds | Penrite Racing | +25.140 |
| 4 | 31 | J. Golding | PremiAir Subway Racing | +27.090 |
| 5 | 88 | B. Feeney | Red Bull Holden Racing Team | +27.660 |
| 6 | 99 | B. Kostecki | Penrite Racing – Erebus | +28.609 |
| 7 | 8 | Heimgartner | Brad Jones Racing | +33.325 |
| 8 | 34 | J. Le Brocq | Matt Stone Racing | +46.962 |
| 9 | 400 | Slade | PremiAir Subway Racing | +54.441 |
| 10 | 18 | Winterbottom | Team 18 | +58.977 |
| 11 | 14 | B. Fullwood | Brad Jones Racing | +1:04.161 |
| 12 | 6 | C. Waters | Tickford Racing 1 | +1:15.563 |
| 13 | 9 | W. Brown | Penrite Racing – Erebus | +1 Lap |
| 14 | 19 | M. Payne | Penrite Racing | +1 Lap |
| 15 | 3 | T. Hazelwood | CoolDrive Racing | +1 Lap |
| 16 | 11 | A. de Pasquale | Shell V-Power Racing Team | +1 Lap |
| 17 | 20 | S. Pye | Team 18 | +1 Lap |
| 18 | 55 | T. Randle | Tickford Racing 2 | +1 Lap |
| 19 | 17 | Davison | Shell V-Power Racing Team | +1 Lap |
| 20 | 4 | J. Smith | Brad Jones Racing (2) | +1 Lap |
| 21 | 35 | C. Hill | Matt Stone Racing | +1 Lap |
| 22 | 96 | M. Jones | Brad Jones Racing (2) | +1 Lap |
| 23 | 2 | Percat | Walkinshaw Andretti United Racing Pty Ltd | +2 Laps |
| NC | 5 | Courtney | Tickford Racing 1 | +89 Laps |
| NC | 56 | D. Fraser | Tickford Racing 2 | +89 Laps |