NHRA: Salinas, Hagan, Coughlin, and Herrera win at Gatornationals
Gaige Herrera scored his first career win in Pro Stock Motorcycle and was joined in the Amalie Motor Oil NHRA Gatornationals winner's circle by Mike Salinas, Matt Hagan, and Troy Coughlin Jr. as the 2023 NHRA Camping World Drag Racing Series season kicked off at Gainesville Raceway.
Pro Stock Motorcycle
When Eddie Krawiec joined the Vance & Hines team, it took more than a year for him to win his first national event title. In fact, Krawiec won the 2009 championship without the benefit of a national event victory. Brothers Matt and Andrew Hines, who later combined to win nine championships, also didn't win in their debut with the powerhouse Vance & Hines team. There will be no such waiting period for the newest member of the team as Herrera cleaned house in Gainesville to put the team's Mission Foods Suzuki in the winner's circle at the 2023 season-opener.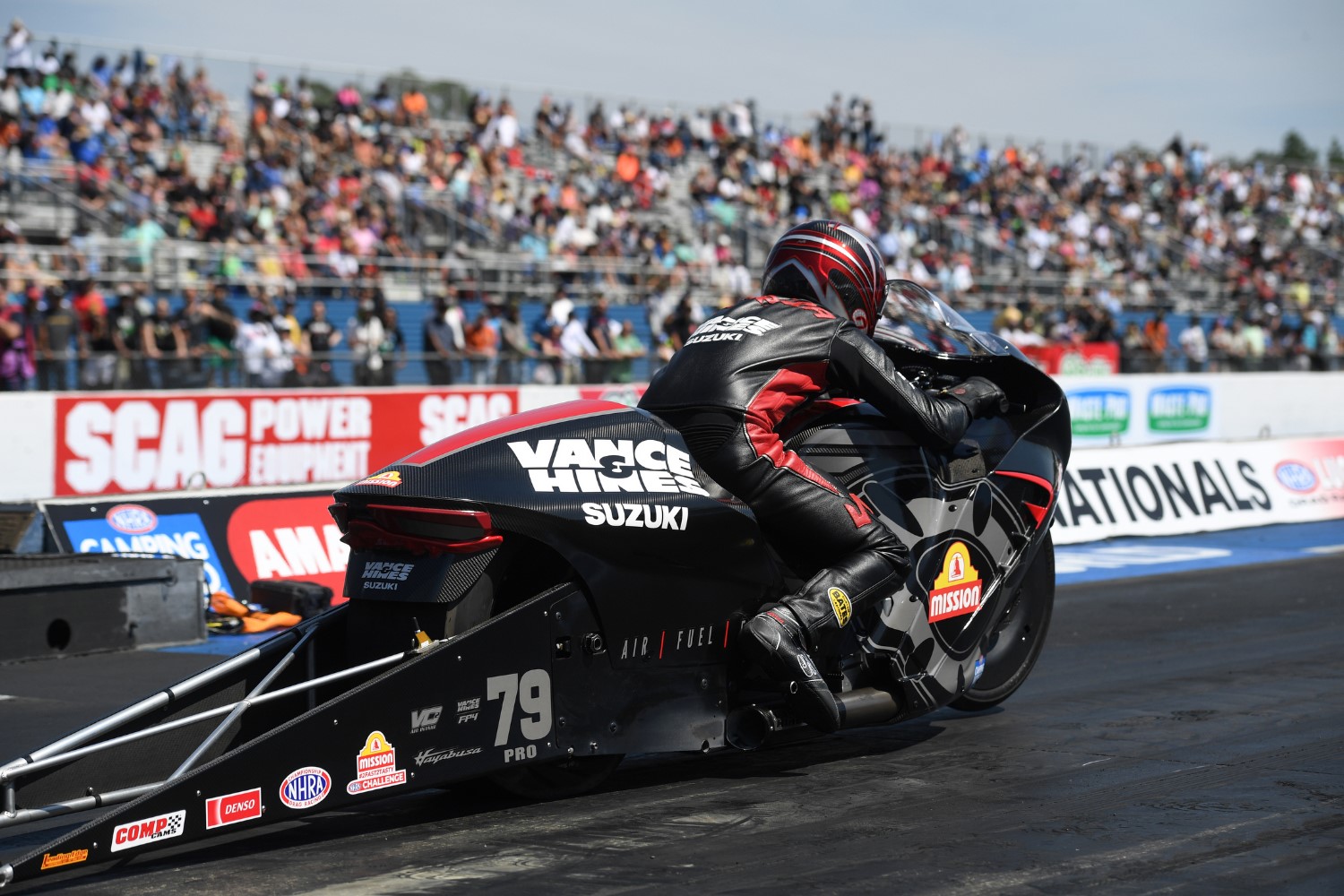 "Racing for the Vance & Hines is a dream. They are an awesome team to work with," said Herrera. "They helped me out a lot as far as riding the bike and knowing what to do, and it's showing.  Right now, I'm at a loss for words. I still can't believe I'm holding this Wally [trophy]."
Herrera competed in six events last season but didn't enjoy much success. That changed in Gainesville where he ran the table by qualifying No. 1, setting low elapsed time and top speed of the event, and winning the final round against Angie Smith. Herrera left first in the final, and quickly pulled away to seal the win with a 6.706 to easily cover Smith's 6.845. The win was not only the first for Herrera, but also the first for the new third-generation Suzuki Hayabusa body.
Herrera, a fourth generation racer, earned max points in Gainesville with his 6.685 qualifying effort, and his four race-day wins against Ron Tornow, Eddie Krawiec, Jianna Evaristo, and Smith.
You never want to race your teammate, but [the quarterfinal round against Eddie Krawiec] put a lot of pressure on me. He's one of the greatest out here. To line up next to him was a lot of weight. I was hoping we'd race in the final, but that's not how the cards played out. I grew up watching Eddie and Andrew and to be at this level with all these great competitors is awesome. If you had asked me end of last season if I'd be racing the Gatornationals, much less on a Vance & Hines bike I wouldn't have believed it."
Top Fuel
Salinas, who won four times in 2022 and led the standings at several points during the season before having to settle for a fifth-place finish, is off to another flying start with his first victory at the Amalie Motor Oil NHRA Gatornationals, wheeling his black dragster to a narrow victory over four-time world champ Steve Torrence.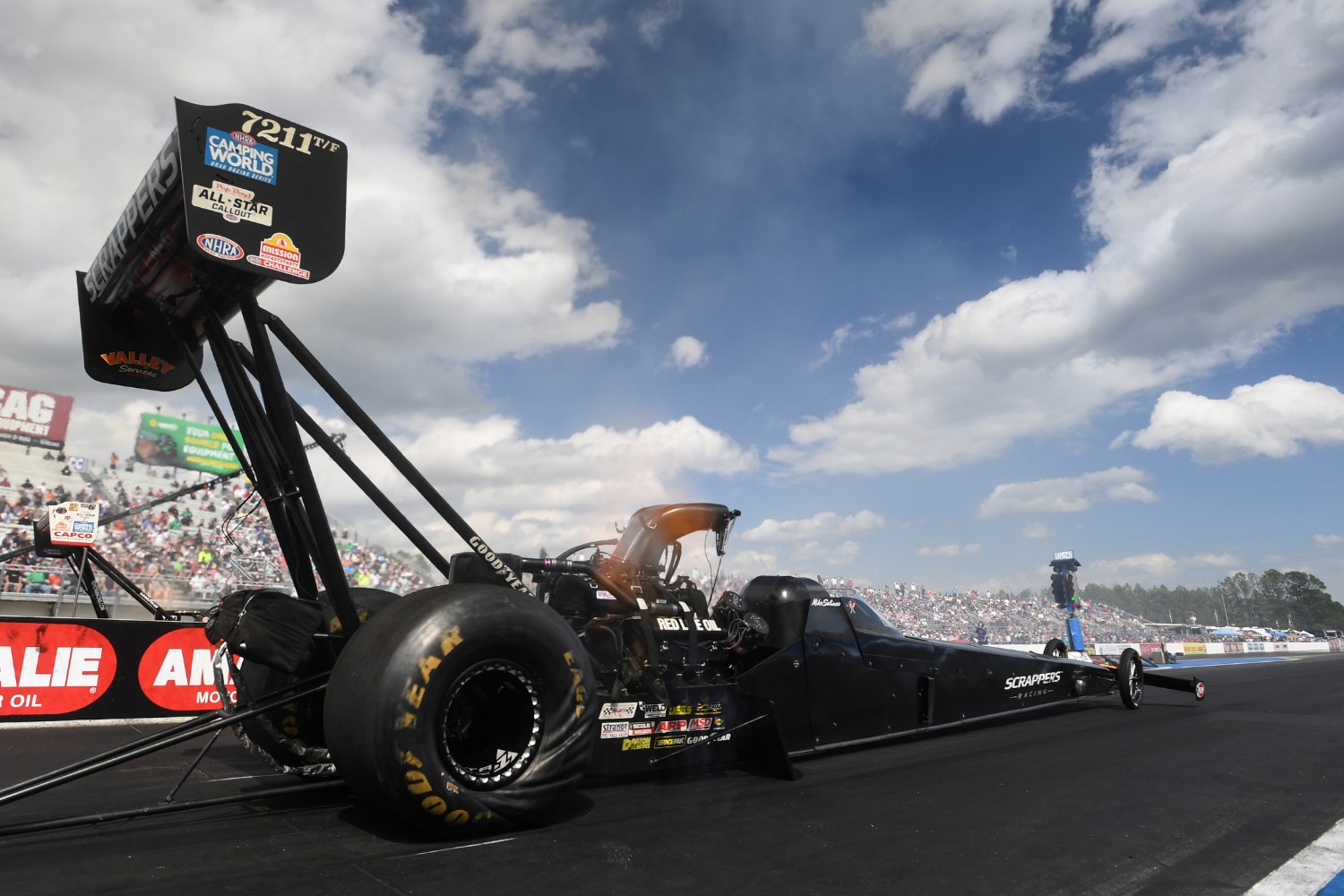 Torrence got the jump on Salinas at the Tree, but Salinas' Rob Flynn-brewed horsepower carried him past to eke out a win by .002-second, 3.700 to 3.754, for his eighth career win. Salinas had a strong weekend as he also was runner-up in Saturday's Pep Boys All-Star Top Fuel Callout.
Said Salinas, "We were pretty disappointed when we left Pomona, so in the offseason, basically, I told my guys 'You've got a long offseason, I need you to go find me some horsepower. Find me some mile-per-hour, and let's not talk until it's time to go racing. I don't care what you do how you do it, find it.' And evidently, they found it. We came in, we did some testing —  amazing numbers, world record numbers. So we knew we had something really good for the class.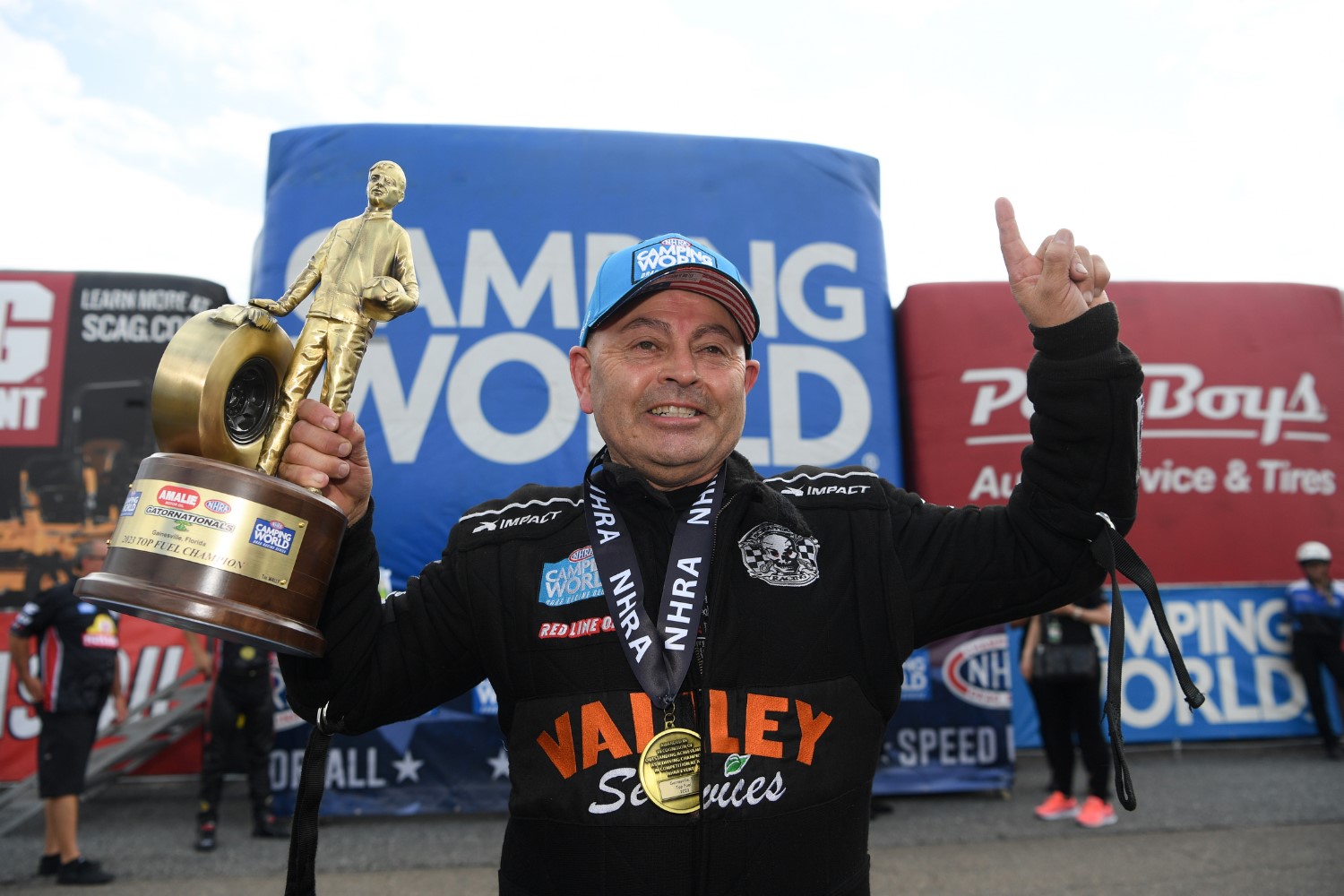 "Lane choice was really important for us today and honestly, I drove my car past the finish line every run to keep it. The car was so good. I could hear Steve next to me [in the final], but the car was just amazing."
After placing just eighth in qualifying with a 3.75 best, the Scrappers Racing machine blasted to runs of 3.66, 3.69, and 3.72 to defeat Justin Ashley, reigning world champ Brittany Force, and Leah Pruett to reach his 16th career final.
Torrence and the Richard Hogan-led "Capco boys" defeated Scott Palmer, Tony Schumacher, and Doug Kalitta with a trio of slowing passes of 3.68, 3.74, and 3.77 to make the money round, his 82nd in Top Fuel.
Funny Car
Three-time NHRA Camping World Funny Car Champion Matt Hagan of Christiansburg, Va., scored his second straight NHRA Amalie Motor Oil Gatornationals drag racing title Sunday by driving his Tony Stewart Racing (TSR) Direct Connection Dodge Charger SRT Hellcat Funny Car to victory at the legendary Gainesville Raceway in the 2023 NHRA season-opening national event.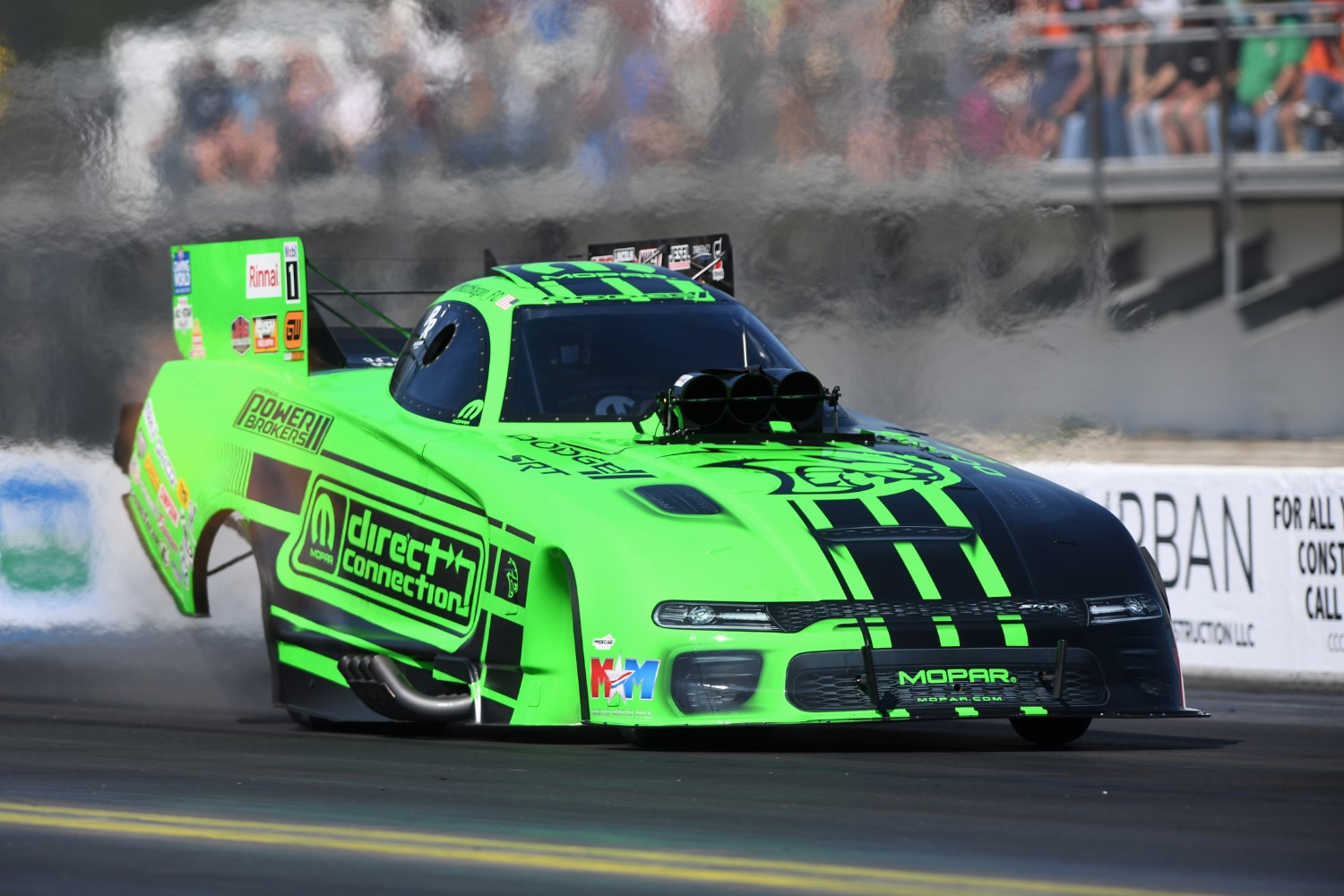 Hagan, who qualified fifth Saturday in the 16-car field, defeated former NHRA World Champion J.R. Todd in the Funny Car final with a 3.926 at 329.34 miles per hour to claim his 44th career NHRA Funny Car crown, moving him to fourth all-time in NHRA Funny Car victories. In an exciting Funny Car finale, Hagan and Todd battled side-by-side through half track before Todd's car smoked the tires and Matt went on to take the win light.
Earlier in eliminations, Hagan defeated Tim Wilkerson, Bob Tasca and Alexis DeJoria to advance to the final round against Todd.
Hagan gave credit for the victory to his Dickie Venable-led TSR crew, as the team debuted a new chassis and engine parts in the season opener.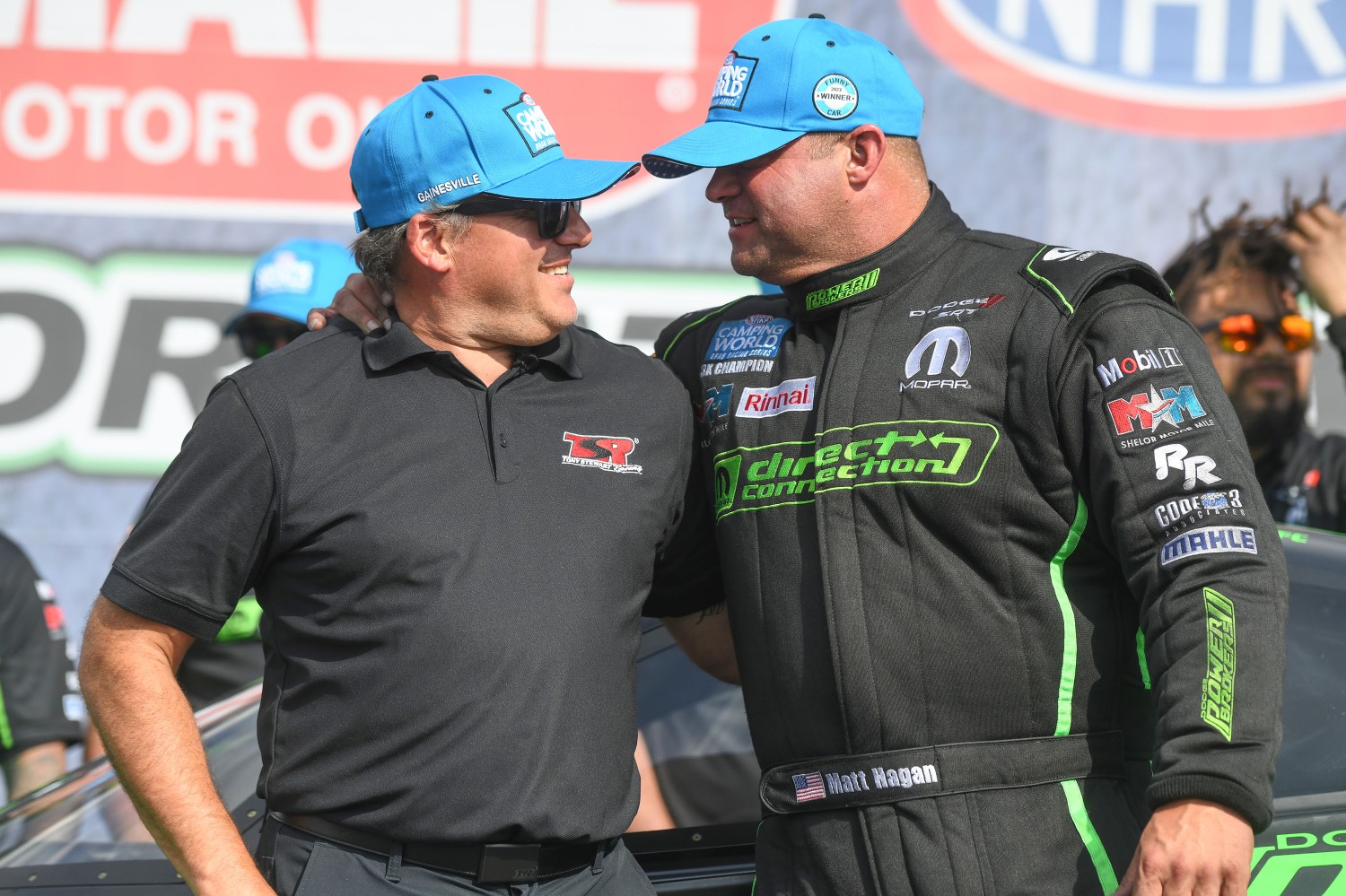 "It's super special to win the Gatornationals again," said Hagan. "I tried my whole career to win here, and we just got the first one last year. Can't say enough about Dickie Venables (crew chief) and the crew today. It's Dickie's birthday and this win is a present for him. We had the entire crew come back this year which is rare in motorsports. We have a new chassis which I had to get accustomed to with a different steering setup and clutch position in the new car, but testing helped me get used to it. We thought we had a good car after testing and it says a lot with Dickie's experience and the crew's effort.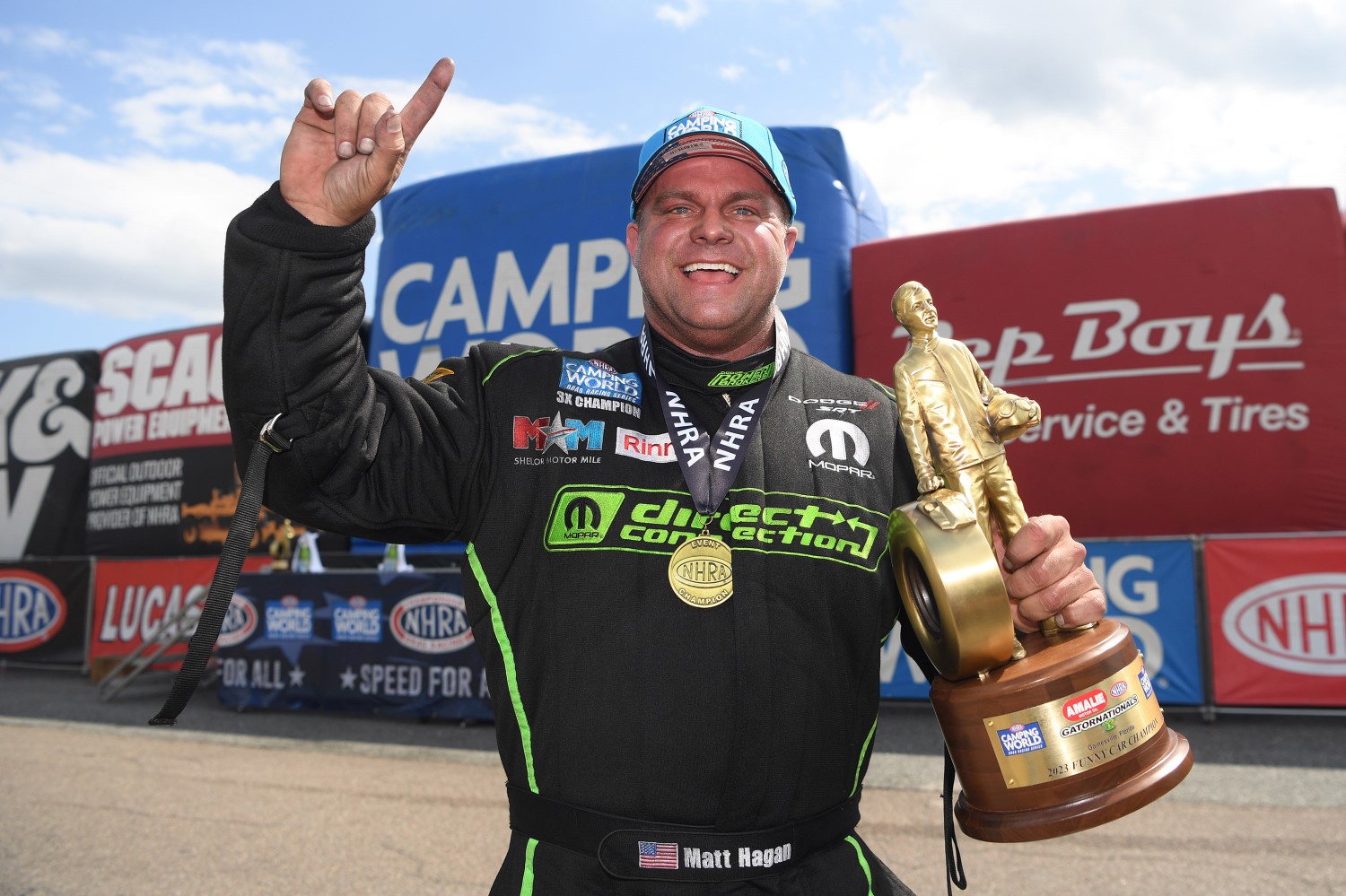 "I knew J.R. (Todd) was going to be tough in the final, and he poked his nose out ahead a bit early and then we drove around him for the win. I can't thank Dodge and Mopar enough for their assistance with our TSR squad. The Direct Connection Dodge SRT Charger Hellcat ran awesome today. It was great to win Tony's first Wally here last year and this one is very special too. It's different to start the whole season at Gainesville after decades starting at Pomona. Winning my 44th NHRA national event is very special when you have legends like John Force, Ron Capps and Robert Hight in front of me. Now, with this win, it a super way to start the 2023 season. We hope to continue it next race at Phoenix."
Hagan became the first driver to win the Gatornationals Funny Car title back-to-back since Ron Capps did it 16 years ago (2006-07), defeating 2021 Gatornationals winner J.R. Todd in the final. After identical reaction times, Todd was ahead by two-hundredths of a second at 330 feet but his DHL Toyota backfired the blower and Hagan raced to a 3.91 victory.
The win, Hagan's 44th, gives him sole possession of fourth place on the all-time Funny Car wins list, breaking a tie with Tony Pedregon and leaving him behind only John Force, Ron Capps, and Robert Hight.
"I knew it was going to be a good race and honestly J.R. poked out there in front of me, and when you can see someone, it ain't good, and then something happened over there to him and we drove around him and turn on the wind light," said Hagan. "I just can't say enough about Dodge and the support they give here with TSR. This Power Brokers Funny Car is just running strong.
"It's just it's an honor to just even be in that caliber of drivers is incredible. it's a huge honor for me to be able to be  fourth all the time."
Hagan qualified his "sublime lime" Tony Stewart Racing/Dodge Power Brokers Charger No. 5 with a 3.89 and birthday boy Dickie Venables tuned him to a trio of 3.8-second passes to reach the final, the 81st of his career, sitting down the Mustangs of Tim Wilkerson and Bob Tasca III, then stopping Alexis DeJoria in the semifinals, 3.89 to 3.91.
Pro Stock
Todd, looking for his first win since this event two years ago, put his Jon Oberhofer- and Todd Smith-tuned DHL Toyota into his 42nd career final, 23 of which have come in Funny Car.
After qualifying sixth with a 3.900, Todd and Co. were consistently quick with passes of 3.89, 3.91, and 3.90 to defeat Blake Alexander, a broken Robert Hight, and Chad Green.
Coughlin Jr. was one of the breakthrough stars of the 2022 season with a pair of wins in Pro Stock and a fourth-place finish. Now, he's been quick to maintain that momentum by winning the first title of the year. After qualifying his JEGS.com/Elite Camaro on the pole position, Coughlin mowed his way through the field to score the win including a victory against fellow young gun Mason McGaha in the final round. Coughlin slowed from his earlier 6.5-second pace to a 6.637 in the final, but had enough in the bank to cover McGaha, who rattled the tires and slowed to a 6.765 in his Harlow Sammons Camaro.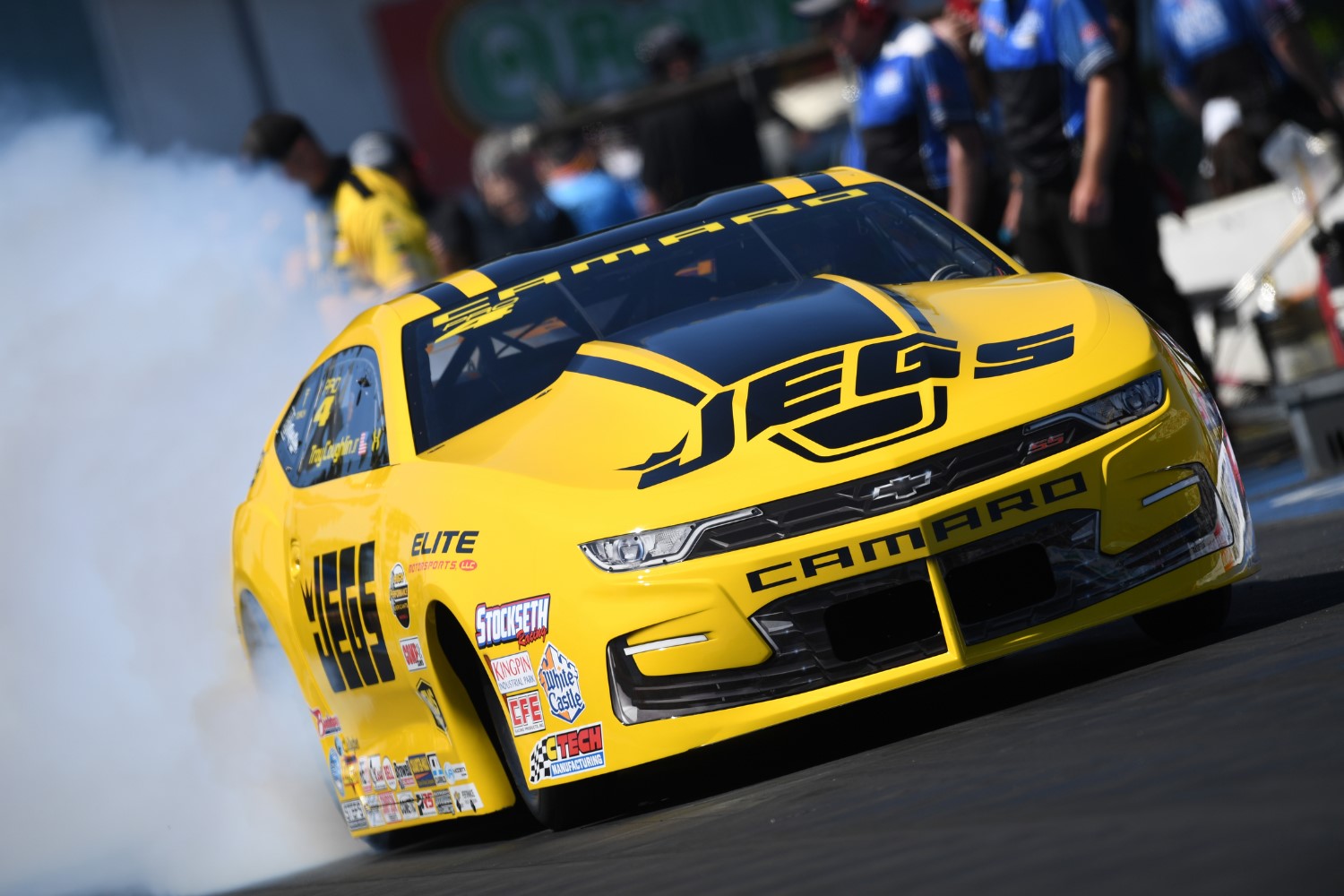 "I was a little fired up today. The first couple of rounds didn't show it but I picked it up later on," said Coughlin. "At Elite Motorsports, it's a little newer than the JEGS so-called legacy. It doesn't date back to 1960 but it's the same type of honor to me. You look at Erica [Enders] she's a five-time world champion and you're driving for a team that wins championships. They have that same demeanor when they drive through the gates. They expect to win. They expect to dominate."
Coughlin was the top qualifier for the second time in his career with a 6.515 and then powered past Larry Morgan, Deric Kramer, and defending event winner Dallas Glenn to reach the final round. The multi-faceted Coughlin now has 11 career wins in Pro Stock, Top Alcohol Dragster, Super Comp, and Super Gas.
"In the final, I let the clutch out and just thought, 'hold on, I hope we can make it out of low gear here.' I was just trying to pull the cogs and keep him honest and get there first and it worked out," Coughlin said. "We were a little late [to the staging lanes] but we're Elite Motorsports and we're one big family. That's the coolest thing about it. When one car is out, we all work together."