F1: How Formula One is zooming in popularity in India
–by Deepti Patwardhan for Red Bull–
As India shows renewed interest in again hosting an F1 race, we look at India's growing audience of F1 fans through the eyes of those who have been working closely in the sport in the country and worldwide.
After eight long years, Oracle Red Bull Racing and David Coulthard were back to dazzle the Indian audience. The 13-time Formula 1 Grand Prix winner drove one of the team's championship winning cars at Mumbai's popular Bandra Bandstand during the Red Bull Showrun on 12th March 2023.
Coulthard drove the RB7 – Sebastien Vettel's 2011 championship-winning car – on the streets of Mumbai. Oracle Red Bull Racing were the only team to win the Indian Grand Prix in the three years of its existence, from 2011 to 2013.
In the past, the racing giant has put on quite a show for the Indian audience, be it the Bandra-Worli Sea Link run in 2009, taking to the streets of Delhi in 2011, famously conquering the world's highest road at Khardung-la or the Hyderabad Showrun in 2015. But the latest event comes on the back of a historic F1 season for Oracle Red Bull Racing. While the team won their first Constructor's World Championship since 2013, the team's driver Max Verstappen recorded the largest points haul (454) in a single season in F1 history.
The showrun – which saw over 20,000 people attend in live audience – also comes at a time when the sport has exploded into life once again. F1 attracted a total of 5.7 million fans in attendance in 2022 over the 22 races. It also smashed US TV viewership records, with an average of 1.21 million viewers per race.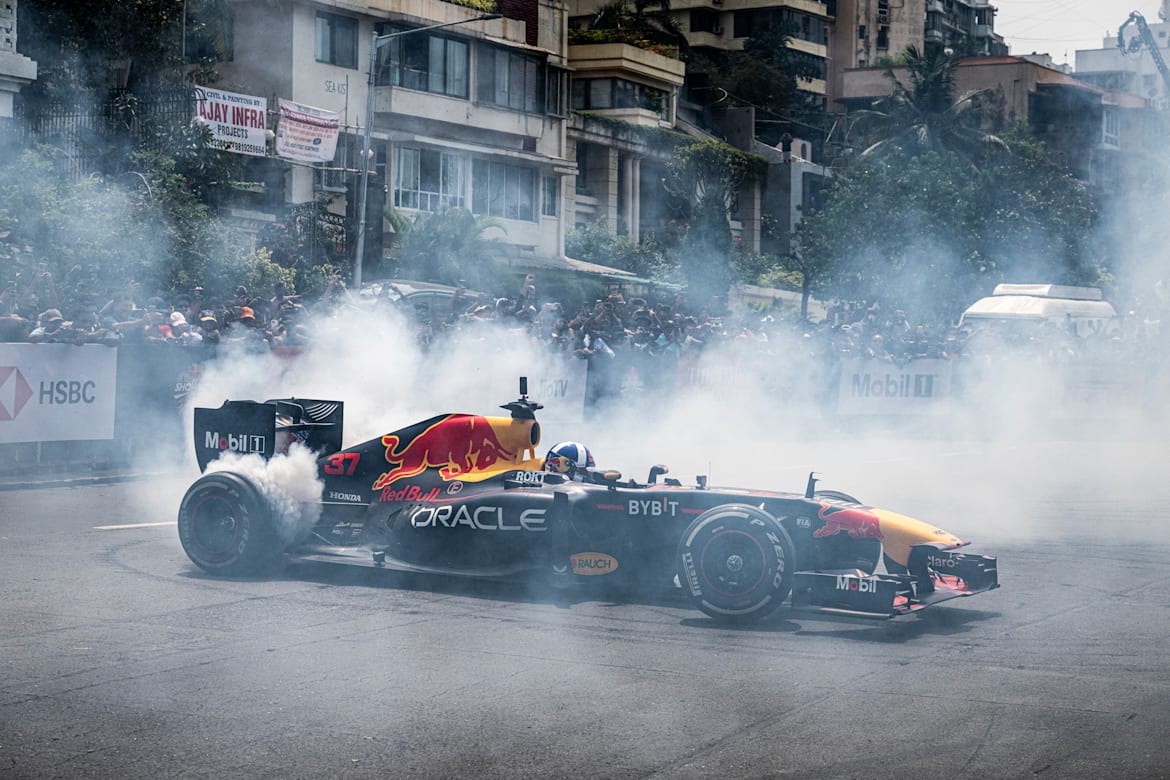 As the popularity is surging, the F1 fan demographic is also expanding. Younger audiences and women are engaging with the sport like never before. According to a Nielsen survey in 2019, India was among the top five countries by the number of fans (31.1m). In November 2022, F1 Chief Executive Stefano Domenicali told Reuters that women made up around 40% of F1 fans.
"If we look at before the pandemic, the last non-Covid years, 2019 versus last year 2022, the audiences at the track were up 36 %, which is a huge jump," says Karun Chandhok, the former Indian F1 driver who is now on the Sky Sports broadcast team. "I think in India there's still good interest in the sport. People have enjoyed watching the races, enjoyed watching the battles."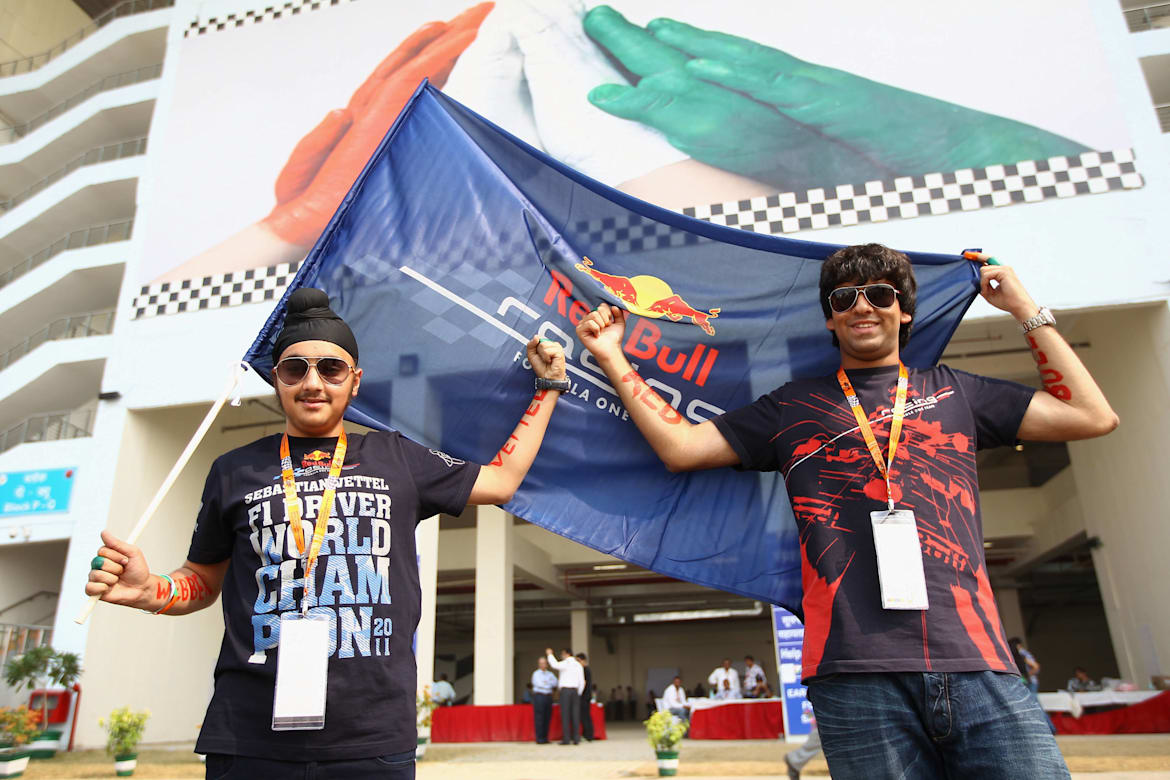 F1 in particular and motorsport in general has always had its share of die-hard supporters. But the sport's expanding appeal is mainly down to its increased social media presence and the launch of Netflix documentary series Formula 1: Drive to Survive (commonly called DTS) launching in 2019. The Netflix series, Karun believes, "humanized" the sport that earlier ran the risk of being viewed as too mechanical.
"The DTS first season aired in 2019 and was based on the 2018 season," says Abhishek Takle, an Indian freelance sports journalist who has covered F1 closely, from the paddock, for close to a decade.
"That sort of conveyed the human stories behind F1. Ultimately what we look for in sport is human stories. It doesn't come across as obviously in F1 as it does in let's say tennis. In tennis, you can see the emotions on the player's face, you can see the strain that they go through. But in F1, they are all cocooned in their car, all you can see is the tops of their helmets. In Drive to Survive, you see the human stories of not just the drivers, but also the mechanics and everyone else involved. That was key in getting people to engage with it."
According to F1, the docuseries topped Netflix's viewing rankings in 33 countries when it was released in 2022 and attracted the biggest audience to date and breaking into the weekly Top 10 in 56 countries, including India. It was peak sporting action meets reality TV, with its interplay of characters and heightened drama.
"Drive to Survive has become the bridge to enter the sport," says Mithila Mehta, who runs a podcast on F1, called Inside Line, along with fellow F1 journalist and husband Kunal Shah.
Under former F1 boss Bernie Ecclestone, the sport lived in its fortress of fabulousness and exclusivity. Teams and drivers were not allowed to post any race or behind-the-scenes content on social media. But when US-based Liberty Media took over the sport in 2016, they came in with a digital-first approach and ran with it. They gave never-seen-before access to the sport. Fans can now follow F1 through various digital platforms and in a multitude of forms, be it live races, highlights, videos of flash points, gifs, memes; you name it.
"Last few years again we have seen a massive resurgence among Indian fans," adds Mithila. "For many years, the demographic that F1 was targeting and audience they were speaking to were European men, kind of an older age group. In the recent years, F1 has done a lot to make itself relatable. Newer graphics, newer stories. Just the way they have packaged the sport, they are trying to cater to newer, younger audiences. A lot of women are now interested in the sport."
The F1 Twitter handle has more than nine million followers. A Nielsen survey in 2022 said 77 percent of the new fans were under the age of 35.
"The sport has picked up massively and is ever-growing in markets like America and Asia," says Niharika Ghorpade, an Indian F1 journalist and writer who has been covering the sport up and close since 2015. "With more content available on digital mediums like YouTube and Instagram, the fan base is no more a niche. The old fans always follow the sport from the technical perspective and from the motorsport perspective. The new fans are still getting there. But I do expect F1 to grow exponentially in the future, especially in India."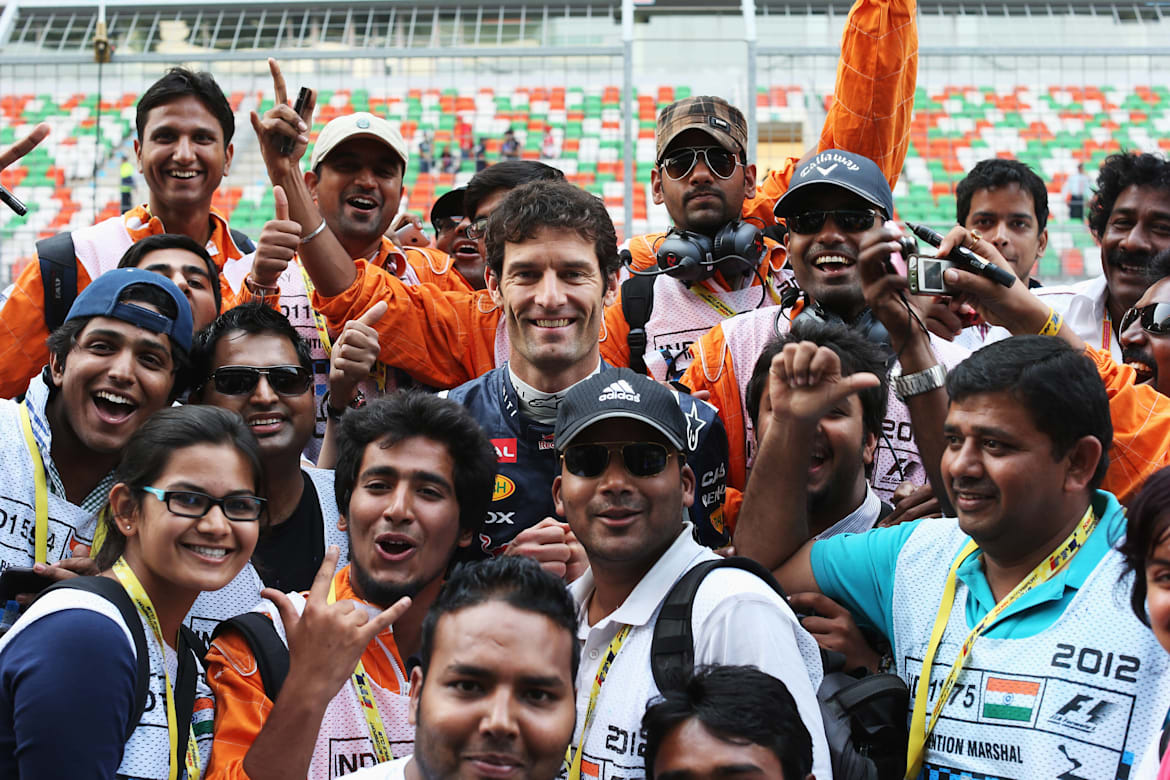 While the new owners, Liberty Media, did their best to open up the sport and make it more accessible than ever, ultimately it was the blockbuster 2021 season that sealed the deal. The reigning king Lewis Hamilton and young upstart Max Verstappen fought one of the closest and fieriest championships in recent history. Verstappen clinched the title in the last race, the Abu Dhabi GP, under dramatic circumstances. It attracted an audience of 108.7m viewers, which was 29% higher than the same race in 2020.
"When you have these big driver rivalries is when you see a large influx of fans," says Indian comedian and F1 fan Azeem Banatwalla. "Like we had Max vs Lewis a couple of years ago. Effectively you are rooting for individuals, so you will have a preference of one or the other. In the early 2000s, the rivalry between (Michael) Schumacher and (Mika) Hakkinen was the one that brought my generation of people in."
As is the case with Grand Slam tennis or European football Leagues, F1 has found a broad fan base in India even though there is no Indian representation in the sport anymore. "Eventually you are looking at the gold standard, the absolute peak performance of the sport," says Azeem. "Anybody who has any interest in the sport wants to see it played at the highest level."
It seemed that the country was making inroads in the cut-throat world of F1 when Narain Karthikeyan won a seat with Jordan in 2005. Karun joined the grid in 2010 with Hispania Racing. The Force India team, later re-launched as Sahara Force India, competed in F1 from 2008 to 2018. India also hosted a Grand Prix, at the Buddh International Circuit, from 2011 to 2013.
"If I rewind the clock to the phase between 2009 and 2014, it was a real boom for India," says Karun. "We had two Indian drivers with Narain and myself, we had an Indian team, we had an Indian race, and there was a huge amount of interest in having Indians in the sport. That's gone a little dormant and quiet since then. If you look at interest levels in India, they went a little quiet. And then DTS has helped to drag it back up."
But the motorsport culture in India is not as entrenched as it is in some of the European countries. That means there is no one way to be an F1 fan in the country.
While F1 writer Abhishek Takle, enamored by racing, spent evening arranging cycle races in his apartment building, Niharika Ghorpade grew up in a racing-crazy family who spent most weekends on a karting track. Her brother, Parth Ghorpade, has gone on to become a professional racing driver. For Azeem, who runs a F1-based YouTube stream titled The Sidepod with fellow comic Rohan Joshi, the introduction to F1 came through video games. Celebrities like Ranveer Singh, who was spotted at the 2022 Abu Dhabi GP, are initiating the sport to a different demographic.
F1 TV Pro launched in India in February 2023 with this target audience in mind. Along with broadcast of all 23 race weekends, including practice sessions, qualifying sessions, races and F1 Sprint events, the channel also gives access to driver onboard cameras, team radio channels, as well as in-depth pre- and post-race analysis, and an extensive content library containing more than 2,000 hours of archive footage.
"India is a connected market, it's a sophisticated market, it's a very strong mobile market," F1's director of media rights Ian Holmes was quoted as saying by Reuters in February. "We may seek to do a more sort of traditional linear type deal in due course, but we're very comfortable and confident with F1 TV. There are a lot of very knowledgeable and passionate fans in India."
It also gives the Indian fans an avenue to follow Jehan Daruvala and Kush Maini, two of the country's drivers competing in Formula Two. F2 is a feeder series for F1 and runs on the same racetracks as F1, often on the same race weekends as well.
Young urban Indians are now socializing over F1, be it at home or at sports bars, and engaging with the sport through social media.
Now as the most populous country in the world, India remains an important market for the FIA (Fédération Internationale de l'Automobile), the international governing body for motorsport, including F1. And the revival of interest in India was apparent as the country hosted a Formula E Race in Hyderabad in February 2023. Importantly, the E-Prix, the pinnacle of electric vehicle racing, was held on a street circuit, a better way to take the action to the audience and create a buzz in the city.
The legendary Sachin Tendulkar, cricketers Deepak Chahar, Shikhar Dhawan, Yuzvendra Chahal and Tollywood stars like Nagarjuna lent star power to the event.
"It's been a decade since a World Championship race has been held in India. So, even though this is a new format, to have a World Championship race is always good for the country and the fans alike," Narain Karthikeyan said of the Hyderabad E-Prix.
"The Gen 3 Formula E cars is the spectacle for the viewers. You can finally see some speed live and on screen. Slowly but steadily, it will gain a fanbase in India and worldwide. EVs (electric vehicles) are the new buzz in the auto world. It is highly relevant in the world of technology and the automobile world."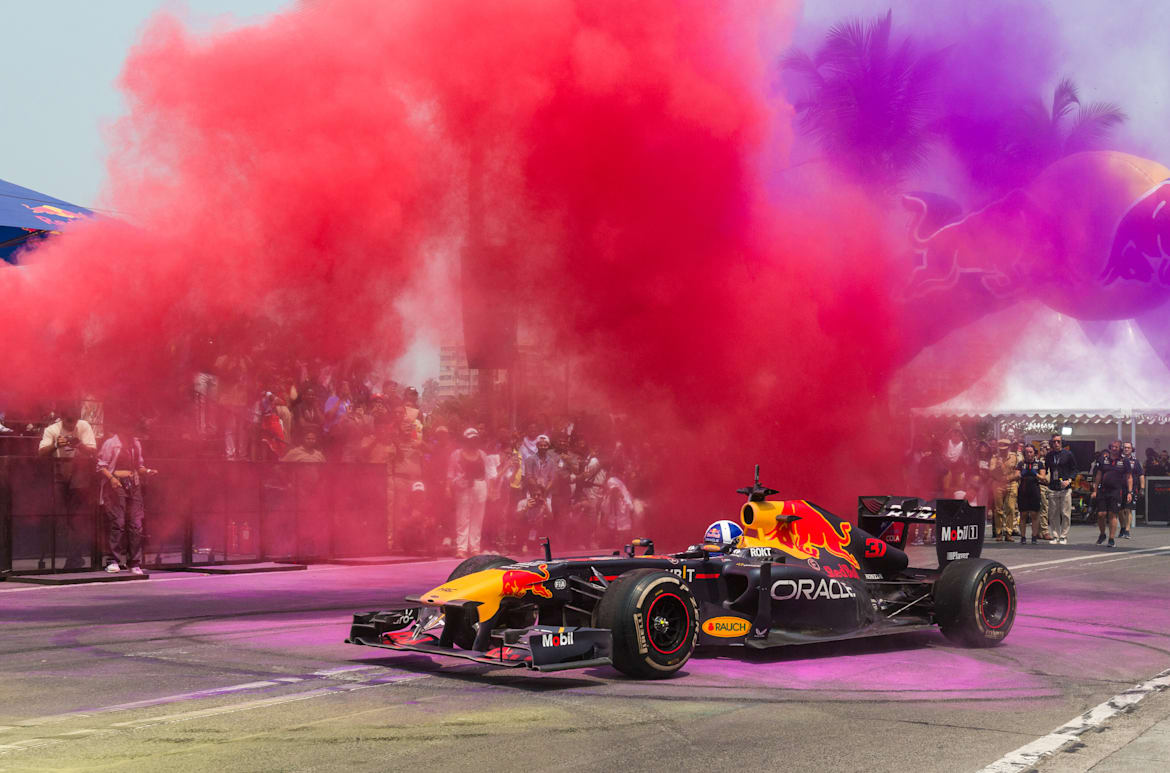 During his visit to Hyderabad for the E-Prix, FIA president Mohammed Ben Sulayem reasserted India's importance in the scheme of things.
"As the FIA, we are international. If we want to grow motorsport and mobility, we have to reach all markets," Ben Sulayem told Autocar India. "It doesn't make sense to me that the two biggest countries in the world – India and China – with all of their manufacturers have just 8,000 [competition] license holders of motorsport, whereas some countries like Finland, which has less than six million population, has over 12,000 [license holders]."
Growing motorsport in India and China was one of the manifesto pledges for Ben Sulayem during his 2021 election bid. To that end, he has elected FMSCI (Federation of Motor Sports Clubs of India) chief Akbar Ebrahim as president of the FIA's International Karting Commission in 2022.
In addition to the Formula E race, India is also set to make its MotoGP debut in September 2023.
Even as the FIA and F1 is on a mission to become more inclusive, India is rediscovering its love for motor racing.