IndyCar: Team Penske runs 1-2 in Barber testing Monday
(Update)
–by Mark Cipolloni–
This article has been updated with photos below.
---
March 13, 2023
–by Mark Cipolloni–
Many of the IndyCar teams ventured to Barber Motorsports Park Monday for a test day before heading to Texas Motor Speedway for the next IndyCar race on April 2nd.
Team Penske's Scott McLaughlin turned the fastest lap in his #3 Penske Chevy, beating teammate Will Power by 0.2069s.
Team Penske has always excelled at Barber, which puts a premium on having the best shock package.  Team Penske has the best shocks.
Scott McLaughlin did have a spin into the pea gravel at the Museum corner but, except for soiling his undies, was no worse for wear.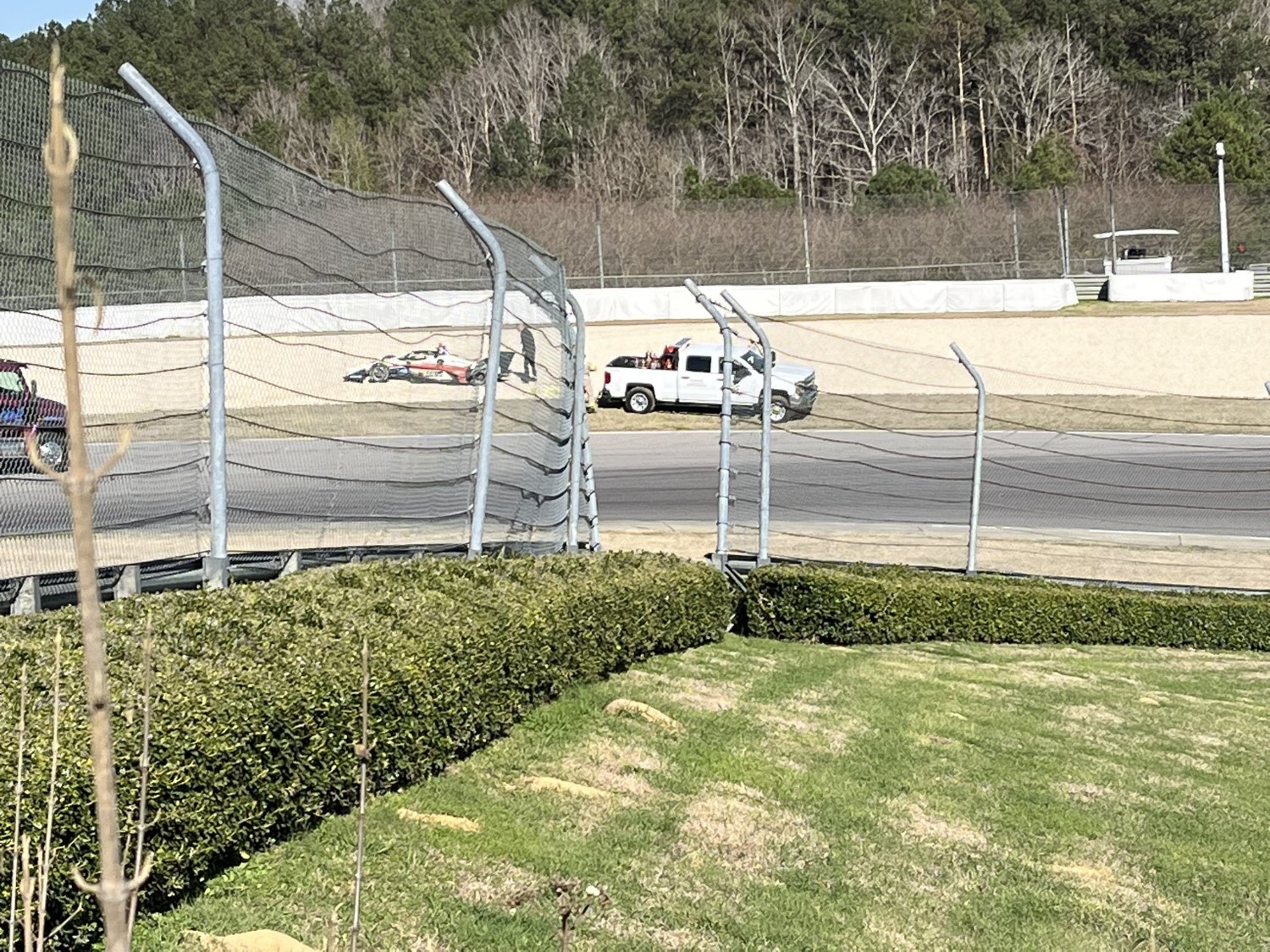 Christian Lundgaard was 3rd quick for Rahal Letterman Lanigan Racing, 0.3s behind.
Alex Palou was 4th for Chip Ganassi racing, 0.35s behind while another Team Penske car driven by Scott McLaughlin rounded out the top-5 0.53s behind.
Former F2 driver Juri Vips, driving in place of Jack Harvey who was still not cleared to drive, was 1.24s off the pace in his #30 RLL Honda.
16 cars in total set times.
Monday IndyCar Barber Test Results
| | | | | | | | | |
| --- | --- | --- | --- | --- | --- | --- | --- | --- |
| Pos | No. | Driver | Time | Behind | Gap | Laps | Team | Engine |
| 1 | 3 | Scott McLaughlin | 1m06.2224s | 0.0000s | 0.0000s | 104 | Team Penske | Chevy |
| 2 | 12 | Will Power | 1m06.4293s | 0.2069s | 0.2069s | 97 | Team Penske | Chevy |
| 3 | 45 | Christian Lundgaard | 1m06.5254s | 0.3030s | 0.0961s | 81 | Rahal Letterman Lanigan | Honda |
| 4 | 10 | Alex Palou | 1m06.5702s | 0.3478s | 0.0448s | 72 | Chip Ganassi | Honda |
| 5 | 2 | Josef Newgarden | 1m06.7525s | 0.5301s | 0.1822s | 46 | Team Penske | Chevy |
| 6 | 11 | Marcus Armstrong | 1m06.7669s | 0.5445s | 0.0144s | 82 | AJ Foyt | Chevy |
| 7 | 18 | David Malukas | 1m06.7758s | 0.5534s | 0.0089s | 93 | Dale Coyne | Honda |
| 8 | 8 | Marcus Ericsson | 1m06.7793s | 0.5569s | 0.0035s | 40 | Chip Ganassi | Honda |
| 9 | 15 | Graham Rahal | 1m06.7867s | 0.5643s | 0.0074s | 79 | Rahal Letterman Lanigan | Honda |
| 10 | 9 | Scott Dixon | 1m06.8050s | 0.5827s | 0.0184s | 76 | Chip Ganassi | Honda |
| 11 | 06 | Helio Castroneves | 1m07.1478s | 0.9254s | 0.3427s | 83 | Meyer Shank | Honda |
| 12 | 55 | Benjamin Pedersen | 1m07.2393s | 1.0168s | 0.0915s | 96 | Chip Ganassi | Honda |
| 13 | 30 | Juri Vips | 1m07.4666s | 1.2442s | 0.2273s | 91 | Rahal Letterman | Honda |
| 14 | 78 | Agustin Canapino | 1m07.5519s | 1.3295s | 0.0853s | 84 | Juncos Hollinger | Chevy |
| 15 | 51 | Sting Ray Robb | 1m08.7250s | 1.3580s | 0.0285s | 84 | Dale Coyne/RWR | Honda |
| 16 | 60 | Simon Pagenaud | 1m07.6740s | 1.4517s | 0.0937s | 92 | Meyer Shank Racing | Honda |
Scenes from Barber