Rumor: London Docklands trying to land an F1 race
(Update)
This rumor is downgraded to 'pure speculation' today.
Formula One is not in talks about a London street race despite plans being drawn up for a track in the east of the city, ESPN  hears.
Sources have told ESPN that these plans have not been discussed with F1, who do not think the proposed area is the right place to host a race in the city — a race anywhere in London at this stage still seems far-fetched.
---
March 14, 2023
–by Mark Cipolloni–
Formula 1 has had a wet dream of racing in downtown London since Bernie Ecclestone tried when he was in charge of the sport. He failed, but now another effort has emerged.
Revitalized plans have emerged for the London Grand Prix as The Times reports that a proposed circuit plan is in place as talks with Formula 1 and efforts to find the necessary funding remain ongoing.
It is reported that as part of a £250million scheme to redevelop the Royal Docks area in East London, a 3.6 mile, 22-turn circuit has been included in the plans, which has been likened to Montreal's Circuit Gilles Villeneuve, home of the Canadian Grand Prix, featuring long straights and heavy braking zones.
Design consultants Dar and the LDN Collective are leading the proposal, which would reportedly also include floating grandstands and floating constructions which could then provide hospitality, entertainment and food over a race weekend, the circuit said to allow for a capacity of 92,000.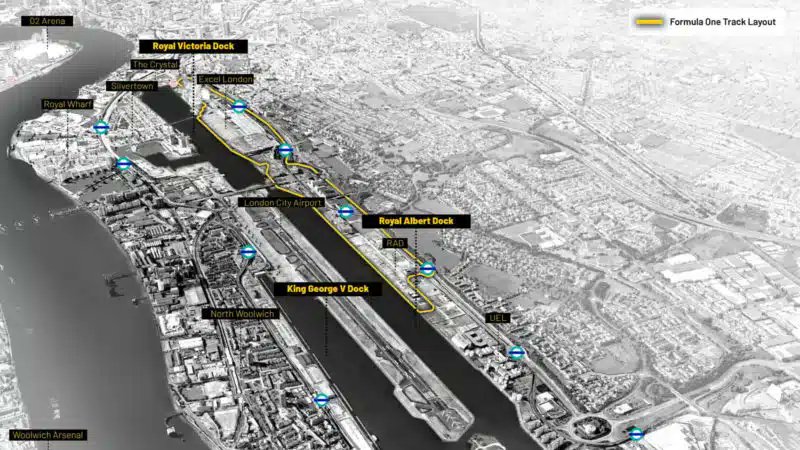 According to the report, the race could come as early as 2026 in a best-case scenario.
Once the tree-huggers get wind of this, they will do everything in their power to kill it.
A grand prix in London proposed by Ecclestone was backed by Mayor Sadiq Khan in 2021; however, it was met with backlash from environmentalists (tree-huggers).
Formula E has a race in London, with the first two years seeing it held at Battersea Park.
However, since 2021, it has raced around the Royal Victoria Dock and ExCeL London, the same location as the newly proposed F1 track.
So, perhaps there is hope.