F1: Austrian GP renewed through 2027
–by Mark Cipolloni–
The Red Bull Ring will continue to host the Austrian Grand Prix until at least 2027 following a four-year extension to its contract.
The last race under the current agreement, set to take place 30 June – 02 July 2023, will celebrate the 10th anniversary of the Austrian Grand Prix's return to the Formula 1 calendar, and feature an F1 Sprint for the second consecutive year.
"The Austrian Grand Prix brings together the perfect mix of a challenging track, high-speed racing, and a beautiful venue for our fans," said Stefano Domenicali, "so I am delighted that we will be coming back to the Red Bull Ring until at least 2027 under this new agreement.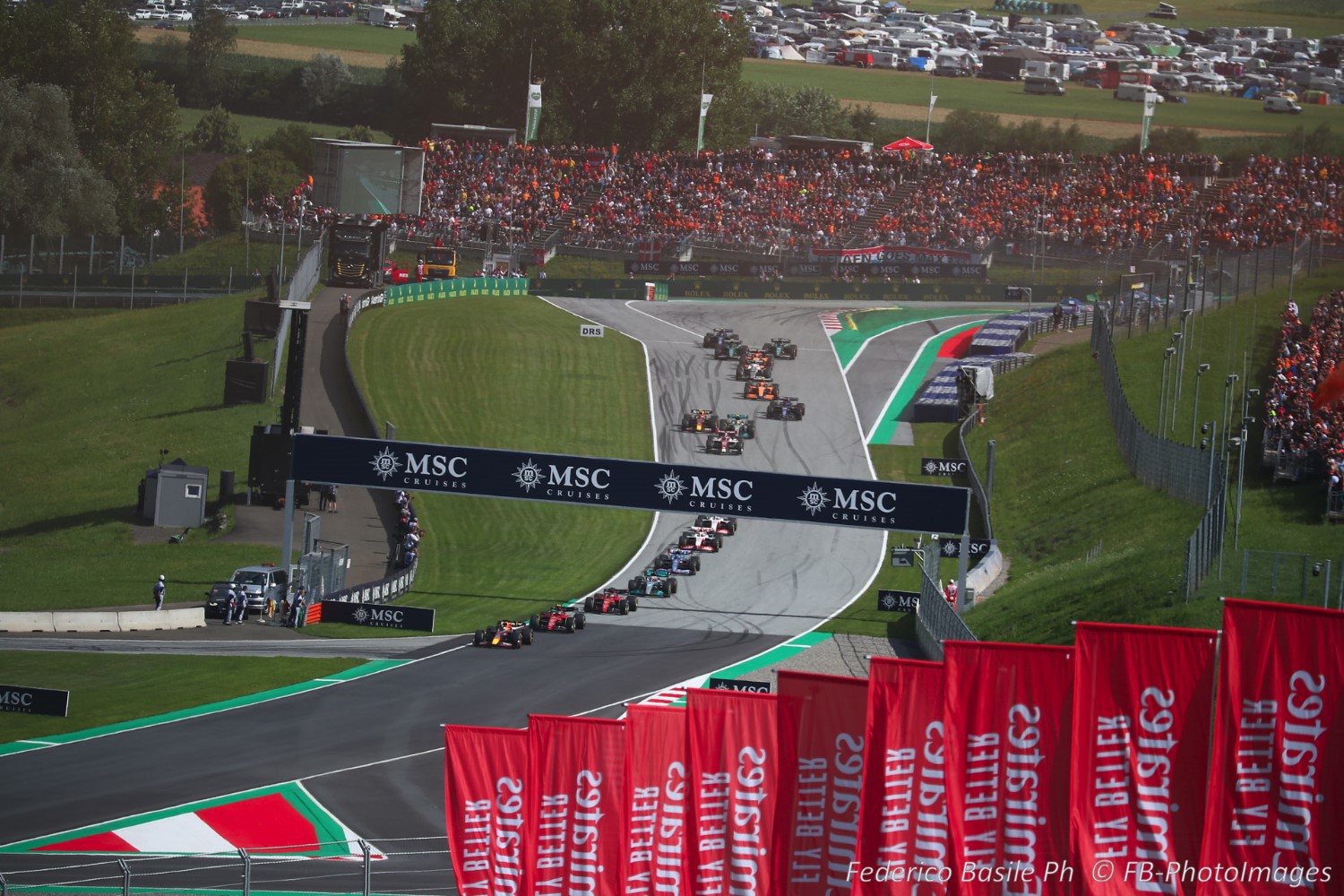 "As we celebrate the 10th year since our return to Spielberg, I would like to thank everyone involved in this renewal, especially the promoter and Red Bull and I want to pay tribute to Dietrich Mateschitz for the love, passion, and vision he brought to Formula 1 that has ensured the continued success of the event and the huge enthusiasm for our sport in Austria and around the world."
"We are proud of the special partnership we have with Formula 1," added Erich Wolf, General Manager of Projekt Spielberg GmbH & Co KG, "and we are absolutely delighted to be welcoming the top class of motorsport to the Red Bull Ring for a further four years.
"In signing this contract extension, Formula 1 has made a strong commitment to Austria, Styria and the Murtal region. As we enter the tenth year of our partnership with Formula 1, we want to celebrate this milestone with all the great fans of the sport and to thank them for their loyalty and the tremendous atmosphere they help to generate. Everyone is invited to experience another great race weekend at Spielberg in 2023."
2023 F1 Event Statistics (Updated)
| | | | | | | | | | | |
| --- | --- | --- | --- | --- | --- | --- | --- | --- | --- | --- |
| Rnd | Date | Event | Circuit | Contract Good Thru | Annual Hosting Fee | Length (km) | Length (Miles) | Turns | Location | Laps |
| 1 | March 5 | Bahrain Grand Prix | Bahrain International Circuit | 2036 | $45M | 5.412 | 3.363 | 15 | Sakhir | 57 |
| 2 | March 19 | Saudi Arabian Grand Prix | Jeddah Street Circuit | 2030 | $55M | 6.175 | 3.837 | 27 | Jeddah | 50 |
| 3 | April 2 | Australian Grand Prix | Albert Park Circuit | 2035 | $40M | 5.279 | 3.280 | 16 | Melbourne | 58 |
| 4 | April 30 | Azerbaijan Grand Prix | Baku City Circuit | 2024 | $55M | 6.003 | 3.730 | 20 | Baku | 51 |
| 5 | May 7 | Miami Grand Prix | Miami International Autodrome | 2031 | Collab | 5.410 | 3.362 | 19 | Miami | 57 |
| 6 | May 21 | Emilia Romagna Grand Prix | Imola | 2025 | $20M | 4.909 | 3.050 | 21 | Imola | 66 |
| 7 | May 28 | Monaco Grand Prix | Circuit de Monaco | 2025 | $15M | 3.340 | 2.075 | 19 | Monte Carlo | 78 |
| 8 | June 4 | Spanish Grand Prix | Circuit de Barcelona | 2026 | $25M | 4.655 | 2.892 | 16 | Montmeló | 66 |
| 9 | June 18 | Canadian Grand Prix | Circuit Gilles Villeneuve 14 turns | 2031 | $30M | 4.361 | 2.710 | 14 | Montreal | 70 |
| 10 | July 2 | Austrian Grand Prix | Red Bull Ring | 2027 | $30M | 4.326 | 2.688 | 10 | Spielberg | 71 |
| 11 | July 9 | British Grand Prix | Silverstone Circuit | 2024 | $25M | 5.891 | 3.660 | 18 | Silverstone | 52 |
| 12 | July 23 | Hungarian Grand Prix | Hungaroring | 2027 | $40M | 4.381 | 2.722 | 14 | Mogyoród | 70 |
| 13 | July 30 | Belgian Grand Prix | Circuit de Spa-Francorchamps | 2023 | $25M | 7.004 | 4.352 | 19 | Stavelot | 44 |
| 14 | August 27 | Dutch Grand Prix | Circuit Zandvoort | 2025 | $32M | 4.459 | 2.771 | 14 | Zandvoort | 72 |
| 15 | September 3 | Italian Grand Prix | Autodromo Nazionale di Monza | 2025 | $25M | 5.793 | 3.600 | 17 | Monza | 53 |
| 16 | September 17 | Singapore Grand Prix | Marina Bay Street Circuit | 2028 | $35M | 5.063 | 3.146 | 23 | Singapore | 61 |
| 17 | September 24 | Japanese Grand Prix | Suzuka International Racing Course | 2024 | $25M | 5.807 | 3.608 | 18 | Suzuka | 53 |
| 18 | October 8 | Qatar Grand Prix | Losail International Circuit | 2032 | $55M | 5.380 | 3.343 | 16 | Losail | 57 |
| 19 | October 22 | United States Grand Prix | Circuit of the Americas | 2026 | $25M | 5.513 | 3.426 | 20 | Austin | 56 |
| 20 | October 29 | Mexico City Grand Prix | Autódromo Hermanos Rodríguez | 2025 | $25M | 4.304 | 2.674 | 17 | Mexico City | 71 |
| 21 | November 5 | São Paulo Grand Prix | Autódromo José Carlos Pace | 2025 | $25M | 4.309 | 2.677 | 15 | São Paulo | 71 |
| 22 | November 18 | Las Vegas Grand Prix | Las Vegas Street Circuit | 2033 | Collab | 6.120 | 3.803 | 17 | Las Vegas | 50 |
| 23 | November 26 | Abu Dhabi Grand Prix | Yas Marina Circuit, | 2030 | $40M | 5.554 | 3.451 | 21 | Abu Dhabi | 55 |
| | | | |   |   | Averages  | 3.227 mi. |  18 |   |  60 |