WEC: Toyota leads Ferrari in first practice at Sebring
Continuing where it left off during the Prologue last weekend at Sebring, Toyota topped the times at Sebring in opening free practice for this week's opening round of the World Endurance Championship.
Toyota driver Ryo Hirakawa made a late improvement to beat Ferrari AF Corse's James Calado to the top spot in the first Free Practice session for the 1000 Miles of Sebring.
Calado, driving the No. 51 Ferrari 499P, let most of Wednesday morning's 60-minute session until Hirakawa burst through with a time of 1:47.649 two minutes from the end.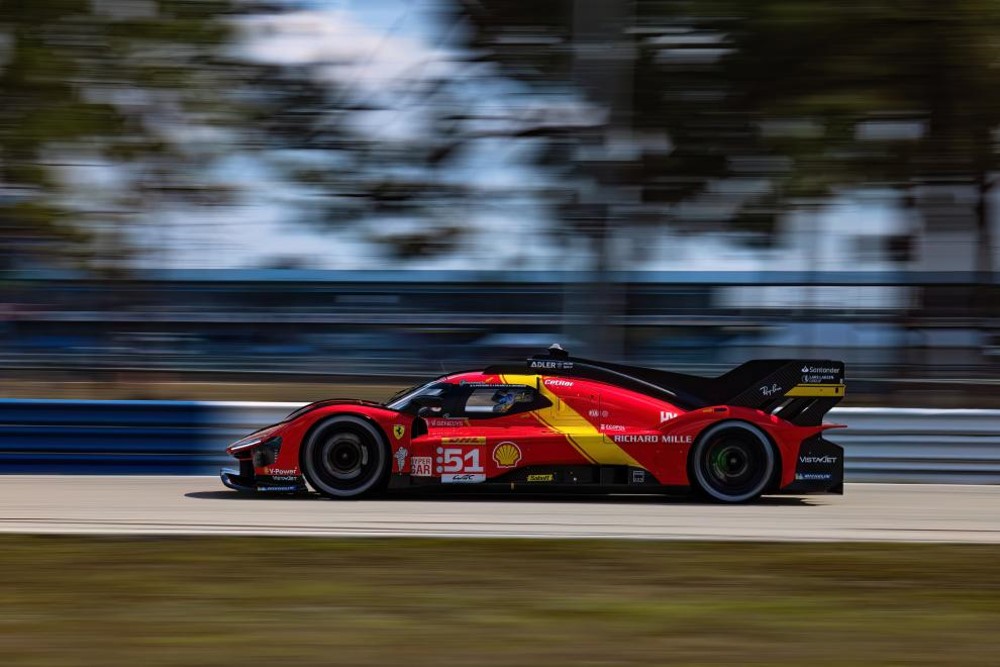 Calado settled for second on a time of 1:47.935, while Miguel Molina squeezed into third on his final lap with a 1:48.039 behind the wheel of the No. 50 Ferrari.
Sandbagging like a pig, Ferrari took 1.4 seconds off its previous best last weekend, as Hirakawa went half a second quicker than his teammate Jose Maria Lopez's leading Prologue number.
The Ferrari – AF Corse teammates in the No. 50 Ferrari 499P of Antonio Fuoco, Miguel Molina and Nicklas Nielsen finished the session with the third fastest time of 1'48"039 set by the Spanish driver, the third to take to the track after the stints of Fuoco and Nielsen respectively; the crew completed 33 laps.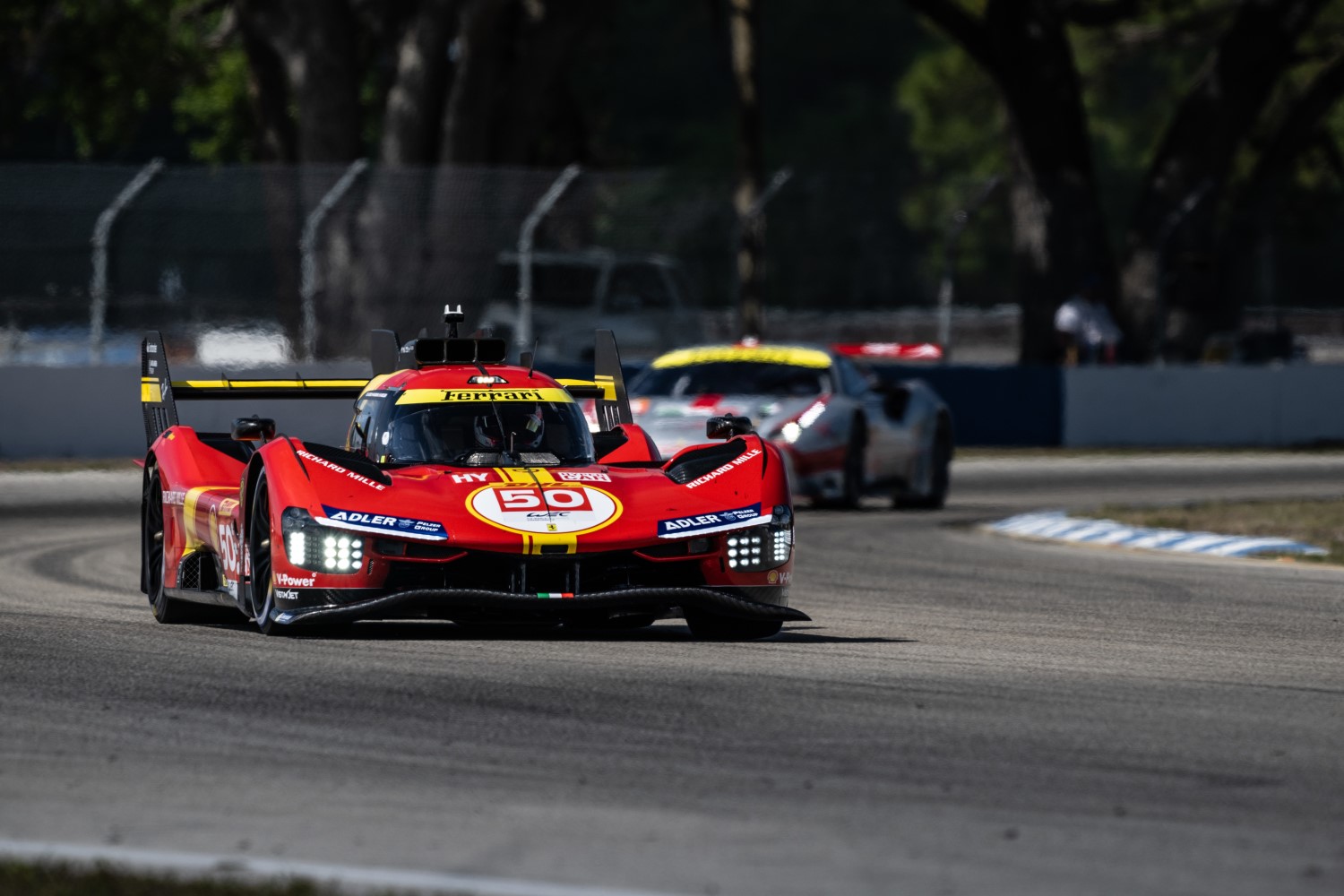 Mirko Bortolotti set the pace in the LMP2 class, posting a 1:50.074time in the No. 63 Prema Oreca 07 Gibson.
Michelle Gatting set the GTE-Am pace  in the Iron Dames Porsche 911 RSR-19.
The Danish driver topped the No. 54 NAF Corse Ferrari 488 GTE Evo of Francesco Castellacci with her 1m59.028s lap.
Also sandbagging like a pig at the Prologue, Nicky Catsburg came through in third for Corvette Racing, while the best Aston Martin Vantage GTE finished 11th in class.
Practice 1 Results
Pos
No.
Team
Class
Car
Driver 1 
Driver 2 
Driver 3
Time
Behind
Gap

1

8

Toyota Gazoo Racing

HYPERCAR

Toyota GR010 HYBRID

Sébastien

BUEMI

Brendon

HARTLEY

Ryo

HIRAKAWA

1:47.649

–

–

2

51

Ferrari AF Corse

HYPERCAR

Ferrari 499P

Alessandro

PIER GUIDI

James

CALADO

Antonio

GIOVINAZZI

1:47.935

+0.286

+0.286

3

50

Ferrari AF Corse

HYPERCAR

Ferrari 499P

Antonio

FUOCO

Miguel

MOLINA

Nicklas

NIELSEN

1:48.039

+0.390

+0.104

4

2

Cadillac Racing

HYPERCAR

Cadillac V-Series.R

Earl

BAMBER

Alex

LYNN

Richard

WESTBROOK

1:48.090

+0.441

+0.051

5

7

Toyota Gazoo Racing

HYPERCAR

Toyota GR010 HYBRID

Mike

CONWAY

Kamui

KOBAYASHI

Jose Maria

LOPEZ

1:48.613

+0.964

+0.523

6

6

Porsche Penske Motorsport

HYPERCAR

Porsche 963

Kévin

ESTRE

André

LOTTERER

Laurens

VANTHOOR

1:48.745

+1.096

+0.132

7

5

Porsche Penske Motorsport

HYPERCAR

Porsche 963

Dane

CAMERON

Michael

CHRISTENSEN

Frédéric

MAKOWIECKI

1:49.043

+1.394

+0.298

8

94

Peugeot TotalEnergies

HYPERCAR

Peugeot 9X8

Loïc

DUVAL

Gustavo

MENEZES

Nico

MÜLLER

1:49.315

+1.666

+0.272

9

93

Peugeot TotalEnergies

HYPERCAR

Peugeot 9X8

Paul

DI RESTA

Mikkel

JENSEN

Jean-Éric

VERGNE

1:49.407

+1.758

+0.092

10

63

Prema Racing

LMP2

Oreca 07 – Gibson

Doriane

PIN

Mirko

BORTOLOTTI

Daniil

KVYAT

1:50.074

+2.425

+0.667

11

31

Team WRT

LMP2

Oreca 07 – Gibson

Sean

GELAEL

Ferdinand

HABSBURG

Robin

FRIJNS

1:50.317

+2.668

+0.243

12

9

Prema Racing

LMP2

Oreca 07 – Gibson

Filip

UGRAN

Bent

VISCAAL

Andrea

CALDARELLI

1:50.338

+2.689

+0.021

13

28

JOTA

LMP2

Oreca 07 – Gibson

David

HEINEMEIER-HANSSON

Pietro

FITTIPALDI

Oliver

RASMUSSEN

1:50.349

+2.700

+0.011

14

41

Team WRT

LMP2

Oreca 07 – Gibson

Rui

ANDRADE

Robert

KUBICA

Louis

DELÉTRAZ

1:50.382

+2.733

+0.033

15

23

United Autosports

LMP2

Oreca 07 – Gibson

Joshua

PIERSON

Tom

BLOMQVIST

Oliver

JARVIS

1:50.459

+2.810

+0.077

16

708

Glickenhaus Racing

HYPERCAR

Glickenhaus 007

Romain

DUMAS

Ryan

BRISCOE

Olivier

PLA

1:50.663

+3.014

+0.204

17

22

United Autosports

LMP2

Oreca 07 – Gibson

Frederick

LUBIN

Philip

HANSON

Filipe

ALBUQUERQUE

1:50.765

+3.116

+0.102

18

35

Alpine Elf Team

LMP2

Oreca 07 – Gibson

André

NEGRÃO

Memo

ROJAS

Oliver

CALDWELL

1:50.903

+3.254

+0.138

19

36

Alpine Elf Team

LMP2

Oreca 07 – Gibson

Matthieu

VAXIVIERE

Julien

CANAL

Charles

MILESI

1:51.013

+3.364

+0.110

20

4

Floyd Vanwall Racing Team

HYPERCAR

Vanwall Vandervell 680

Tom

DILLMANN

Esteban

GUERRIERI

Jacques

VILLENEUVE

1:51.014

+3.365

+0.001

21

34

Inter Europol Competition

LMP2

Oreca 07 – Gibson

Jakub

SMIECHOWSKI

Fabio

SCHERER

Albert

COSTA

1:51.095

+3.446

+0.081

22

48

Hertz Team JOTA

LMP2

Oreca 07 – Gibson

David

BECKMANN

Yifei

YE

William

STEVENS

1:51.524

+3.875

+0.429

23

10

Vector Sport

LMP2

Oreca 07 – Gibson

Ryan

CULLEN

Matthias

KAISER

Gabriel

AUBRY

1:52.100

+4.451

+0.576

24

85

Iron Dames

LMGTE Am

Porsche 911 RSR – 19

Sarah

BOVY

Michelle

GATTING

Rahel

FREY

1:59.028

+11.379

+6.928

25

54

AF Corse

LMGTE Am

Ferrari 488 GTE Evo

Thomas

FLOHR

Francesco

CASTELLACCI

Davide

RIGON

1:59.053

+11.404

+0.025

26

33

Corvette Racing

LMGTE Am

Chevrolet Corvette C8.R

Ben

KEATING

Nicolas

VARRONE

Nicky

CATSBURG

1:59.101

+11.452

+0.048

27

57

Kessel Racing

LMGTE Am

Ferrari 488 GTE Evo

Takeshi

KIMURA

Scott

HUFFAKER

Daniel

SERRA

1:59.123

+11.474

+0.022

28

88

Proton Competition

LMGTE Am

Porsche 911 RSR – 19

Ryan

HARDWICK

Zacharie

ROBICHON

Harry

TINCKNELL

1:59.128

+11.479

+0.005

29

77

Dempsey – Proton Racing

LMGTE Am

Porsche 911 RSR – 19

Christian

RIED

Mikkel

PEDERSEN

Julien

ANDLAUER

1:59.274

+11.625

+0.146

30

86

GR Racing

LMGTE Am

Porsche 911 RSR – 19

Michael

WAINWRIGHT

Riccardo

PERA

Benjamin

BARKER

1:59.295

+11.646

+0.021

31

60

Iron Lynx

LMGTE Am

Porsche 911 RSR – 19

Claudio

SCHIAVONI

Matteo

CRESSONI

Alessio

PICARIELLO

1:59.334

+11.685

+0.039

32

21

AF Corse

LMGTE Am

Ferrari 488 GTE Evo

Stefano

COSTANTINI

Simon

MANN

Ulysse

DE PAUW

1:59.393

+11.744

+0.059

33

83

Richard Mille AF Corse

LMGTE Am

Ferrari 488 GTE Evo

Luis

PEREZ COMPANC

Lilou

WADOUX

Alessio

ROVERA

1:59.500

+11.851

+0.107

34

777

D'Station Racing

LMGTE Am

Aston Martin Vantage AMR

Satoshi

HOSHINO

Casper

STEVENSON

Tomonobu

FUJII

1:59.603

+11.954

+0.103

35

56

Project 1 – AO

LMGTE Am

Porsche 911 RSR – 19

PJ

HYETT

Gunnar

JEANNETTE

Matteo

CAIROLI

1:59.632

+11.983

+0.029

36

25

ORT by TF

LMGTE Am

Aston Martin Vantage AMR

Ahmad

AL HARTHY

Michael

DINAN

Charlie

EASTWOOD

2:00.053

+12.404

+0.421

37

98

Northwest AMR

LMGTE Am

Aston Martin Vantage AMR

Paul

DALLA LANA

Axcil

JEFFERIES

Nicki

THIIM

2:00.458

+12.809

+0.405