WEC: Ferrari shocks Toyota with pole at Sebring
–by Mark Cipolloni–
Antonio Fuoco turned a lap of 1m45.067s in his #50 Ferrari 499P to win the pole for tomorrowms 1,000 miles of Sebring World Endurance Championship season opener.
After Toyota dominated all the practice sessions, a crash by the fastest of the two cars, the #7, set the Japanese team back.
Brendon Hartley qualified the #8 Toyota 2nd quick, 0.214s behind the Ferrari.
The repaired #7 Toyota, at the hands of Kamui Kobayashi, was 3rd, 0.481s behind.
the #51 Ferrari 499P was was quick, with Alessandro Pier Guidi at the wheel.  His lap of 1m45.874s was 0.908s slower than his teammate.
Alex Lynn put Cadillac squad Chip Ganassi Racing fifth in the highest-placed LMDh car, ahead of the two LMDh-spec Porsche 963s from Porsche Penske Motorsport.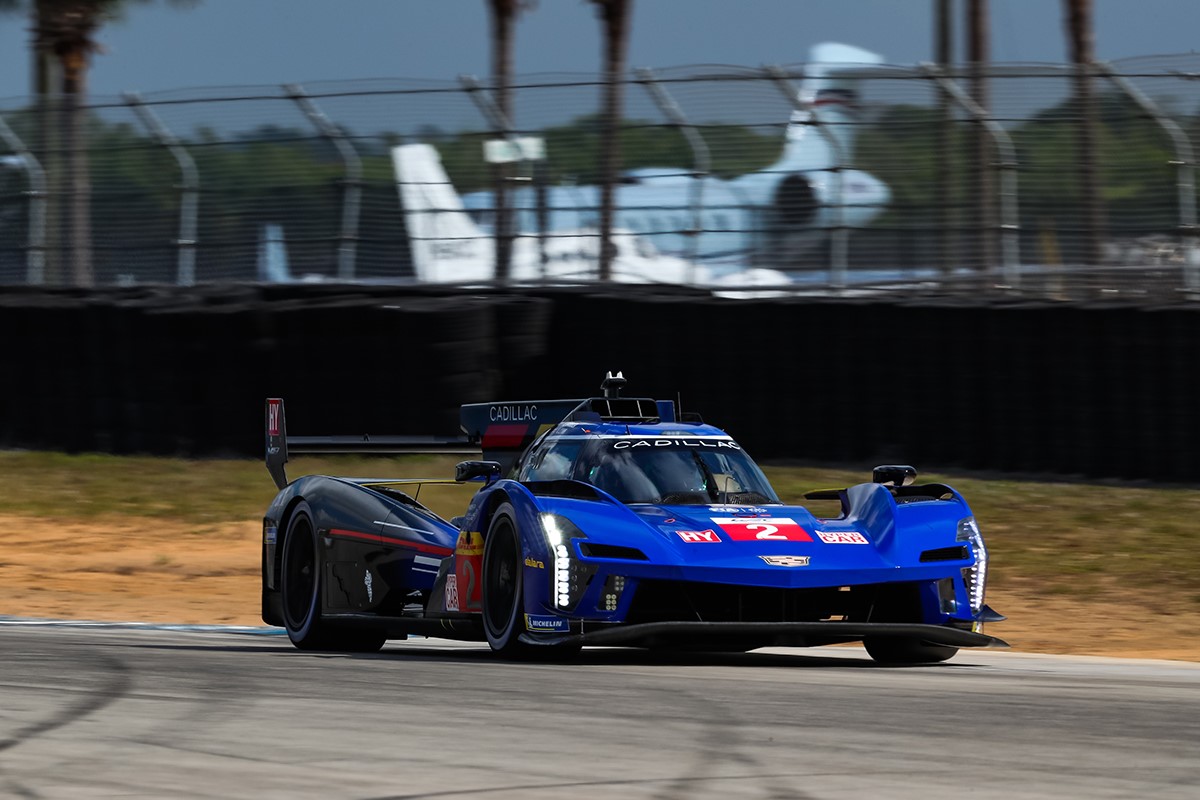 Peugeot qualified eighth and ninth, with the French manufacturer's best hybrid-powered 9X8 LMH car ending up 2.3 seconds off the pace..
Oliver Jarvis won LMP2 pole for United Autosports in the #23 ORECA 07-Gibson he shares with Tom Blomqvist and Josh Pierson.
A best time of 1m49.974s from Jarvis was enough to beat Jotams #28 ORECA of Pietro Fittipaldi by 0.093s.
Sarah Bovy won the GTE-Am pole for Iron Dames. Bovy and Corvette Racing's Keating exchanged several lap times run with only Bronze-rated drivers. The Iron Dames driver ultimately won the pole with a time of 1m58.949s.
The 1000 Miles of Sebring takes the green flag Friday at 12 p.m. ET.
Qualifying Results
| | | | | | | |
| --- | --- | --- | --- | --- | --- | --- |
| Pos | No. Drivers | Team | Cat | Time | Behind | Gap |
| 1 | 50 A. FUOCO / M. MOLINA / N. NIELSEN | Ferrari AF Corse | HYPERCAR H | 1:45.067 | 0.000 | 0.000 |
| 2 | 8 S. BUEMI / B. HARTLEY / R. HIRAKAWA | Toyota Gazoo Racing | HYPERCAR H | 1:45.281 | 0.214 | 0.214 |
| 3 | 7 M. CONWAY / K. KOBAYASHI / J. LOPEZ | Toyota Gazoo Racing | HYPERCAR H | 1:45.548 | 0.481 | 0.267 |
| 4 | 51 A. PIER GUIDI / J. CALADO / A. GIOVINAZZI | Ferrari AF Corse | HYPERCAR H | 1:45.874 | 0.807 | 0.326 |
| 5 | 2 E. BAMBER / A. LYNN / R. WESTBROOK | Cadillac Racing | HYPERCAR H | 1:46.082 | 1.015 | 0.208 |
| 6 | 6 K. ESTRE / A. LOTTERER / L. VANTHOOR | Porsche Penske | HYPERCAR H | 1:47.193 | 2.126 | 1.111 |
| 7  | 5 D. CAMERON / M. CHRISTENSEN / F. MAKOWIECKI  | Porsche Penske  | HYPERCAR H | 1:47.210 | 2.143 | 0.017 |
| 8 | 94 L. DUVAL / G. MENEZES / N. MÜLLER | Peugeot | HYPERCAR H | 1:47.455 | 2.388 | 0.245 |
| 9 | 93 P. DI RESTA / M. JENSEN / J. VERGNE | Peugeot  | HYPERCAR H | 1:48.205 | 3.138 | 0.750 |
| 10 | 708 R. DUMAS / R. BRISCOE / O. PLA | Glickenhaus | HYPERCAR | 1:49.164 | 4.097 | 0.959 |
| 11 | 4 T. DILLMANN / E. GUERRIERI / J. VILLENEUVE | Floyd Vanwall | HYPERCAR | 1:49.329 | 4.262 | 0.165 |
| 12 | 23 J. PIERSON / T. BLOMQVIST / O. JARVIS | United Autosports | LMP2 | 1:49.974 | 4.907 | 0.645 |
| 13  | 28 D. HEINEMEIER-HANSSON / P. FITTIPALDI / O. RASMUSSEN | JOTA | LMP2 | 1:50.067 | 5.000 | 0.093 |
| 14 | 31 S. GELAEL / F. HABSBURG / R. FRIJNS | Team WRT | LMP2 | 1:50.155 | 5.088 | 0.088 |
| 15 | 36 M. VAXIVIERE / J. CANAL / C. MILESI | Alpine Elf Team | LMP2 | 1:50.174 | 5.107 | 0.019 |
| 16 | 48 D. BECKMANN / Y. YE / W. STEVENS | Hertz Team JOTA | LMP2 | 1:50.218 | 5.151 | 0.044 |
| 17 | 41 R. ANDRADE / R. KUBICA / L. DELÉTRAZ | Team WRT | LMP2 | 1:50.291 | 5.224 | 0.073 |
| 18 | 22 F. LUBIN / P. HANSON / F. ALBUQUERQUE | United Autosports | LMP2 | 1:50.408 | 5.341 | 0.117 |
| 19 | 9 F. UGRAN / B. VISCAAL / A. CALDARELLI | Prema Racing | LMP2 | 1:50.417 | 5.350 | 0.009 |
| 20 | 10 R. CULLEN / M. KAISER / G. AUBRY | Vector Sport | LMP2 | 1:50.710 | 5.643 | 0.293 |
| 21 | 63 D. PIN / M. BORTOLOTTI / D. KVYAT | Prema Racing | LMP2 | 1:50.726 | 5.659 | 0.016 |
| 22 | 34 J. SMIECHOWSKI / F. SCHERER / A. COSTA | Inter Europol Competition | LMP2 | 1:50.889 | 5.822 | 0.163 |
| 23 | 35 A. NEGRÃO / M. ROJAS / O. CALDWELL | Alpine Elf Team | LMP2 | 1:51.284 | 6.217 | 0.395 |
| 24 | 85 S. BOVY / M. GATTING / R. FREY | Iron Dames | LMGTE Am | 1:58.949 | 13.882 | 7.665 |
| 25 | 33 B. KEATING / N. VARRONE / N. CATSBURG | Corvette Racing | LMGTE Am | 1:59.345 | 14.278 | 0.396 |
| 26 | 25 A. AL HARTHY / M. DINAN / C. EASTWOOD | ORT by TF | LMGTE Am | 1:59.657 | 14.590 | 0.312 |
| 27 | 83 L. PEREZ COMPANC / L. WADOUX / A. ROVERA | Richard Mille AF Corse | LMGTE Am | 1:59.733 | 14.666 | 0.076 |
| 28 | 21 S. COSTANTINI / S. MANN / U. DE PAUW | AF Corse | LMGTE Am | 1:59.992 | 14.925 | 0.259 |
| 29 | 56 P. HYETT / G. JEANNETTE / M. CAIROLI | Project 1 – AO | LMGTE Am | 2:00.588 | 15.521 | 0.596 |
| 30 | 57 T. KIMURA / S. HUFFAKER / D. SERRA | Kessel Racing | LMGTE Am | 2:00.591 | 15.524 | 0.003 |
| 31 | 98 P. DALLA LANA / A. JEFFERIES / N. THIIM | Northwest AMR | LMGTE Am | 2:00.807 | 15.740 | 0.216 |
| 32  | 777 S. HOSHINO / C. STEVENSON / T. FUJII | D'Station Racing | LMGTE Am | 2:00.941 | 15.874 | 0.134 |
| 33  | 54 T. FLOHR / F. CASTELLACCI / D. RIGON | AF Corse | LMGTE Am | 2:01.041 | 15.974 | 0.100 |
| 34  | 77 C. RIED / M. PEDERSEN / J. ANDLAUER | Dempsey – Proton Racing | LMGTE Am | 2:01.054 | 15.987 | 0.013 |
| 35  | 86 M. WAINWRIGHT / R. PERA / B. BARKER | GR Racing | LMGTE Am | 2:02.588 | 17.521 | 1.534 |
| 36  | 60 C. SCHIAVONI / M. CRESSONI / A. PICARIELLO | Iron Lynx | LMGTE Am | 2:02.820 | 17.753 | 0.232 |
| 37  | 88 R. HARDWICK / Z. ROBICHON / H. TINCKNELL | Proton Competition | LMGTE Am |   | | |