F1: Ferrari reliability woes continue, Mercedes in disarray – Brundle
–by Mark Cipolloni–
Ferrari is so worried about their power unit reliability woes, they had their engines turned way down on Friday, Charles Leclerc having ended Practice 2 in P9 with Carlos Sainz Jr. P10.
However, Leclerc stressed that Ferrari are still keeping pace in reserve ahead of qualifying.
"I don't think we are that bad, honestly," he told reporters in Jeddah. "The feeling is pretty good, but very difficult to read into the performance because everybody's doing very different things with power, weight, etcetera – probably more different than other years.
"So it's a bit more difficult to read the Friday free practice sessions. But the feeling was quite okay and the race pace seems to be better than Bahrain, so that's positive.
"We have quite a bit in the locker – how much, let's see. I am sure Red Bull also have something still hidden so we'll see tomorrow. But I think it will be closer than what it is for now."
Both Leclerc and Carlos Sainz have taken new Internal Combustion Engines for the Saudi Arabian GP, while Leclerc also has a new MGU-H, all of these components at least still within the season limits. But Leclerc is already on his third Control Electronics unit and that means a 10-grid penalty for the race Sunday.
"The reliability – Leclerc taking a 10-place grid drop here, it's jaw drop and eyes roll time," said Sky Sports F1 pundit Martin Brundle during their Friday coverage in Jeddah.
"Already? It seems incredible that they've burned through two control units.
"There are obviously some issues there to be sorted out and reliability is everything.
"Teams, you'd imagine, have got that sort of thing aced by now, so that's a shocker."
Mercedes in Disarray
Brundle has suggested that Mercedes are in 'crisis' amid a difficult start to the 2023 season.
Hamilton meanwhile, has also already conceded defeat in his bid for an eighth world title. He said even if the team can close the gap to the Constructive champions, it will "probably be too late in terms of fighting for a championship."
Hamilton said they have a 1.5-sec. deficit to Red Bull in race trim.  We feel it's more like 1-second – still a wide gap.
"That seems a lot. Is crisis too big a word for where they are at?" Brundle said on Sky Sports.
"They certainly need to pull together. They need some direction and they need to make the right moves now. There's no doubt about it, the car they had in Bahrain is further off the pace than anything they had last year. You can see how George and Lewis are shocked by that."
Rumor about Angela Cullen
To compound matters for Hamilton in particular, Hamilton has confirmed his working relationship with long time physiotherapist and confidante Angela Cullen has ended.
"It's not great news for Lewis," Brundle said. "Whenever you saw Lewis in the paddock or pit lane Angela was with him supporting him since 2016. When he was off training she'd be with him as well."
One rumor making the rounds was that Cullen wanted more from the relationship, perhaps she had real feelings for the 7-time World Champion, and when Hamilton told her he still wanted to play for the field, or that their relationship was business-only, then Cullen decided she was outta there.  Based on their comments on Instagram, they seem to have mutually agreed to the split.
Lewis has always been full of praise for her. He mentioned that she is a very important person in his life and career. The Briton often states how grateful he is to have her by his side for emotional and physical training. All this added to her popularity along with Netflix's Drive to Survive.
She is one of the people Hamilton hugs after a podium finish. The bond they share appeared quite special.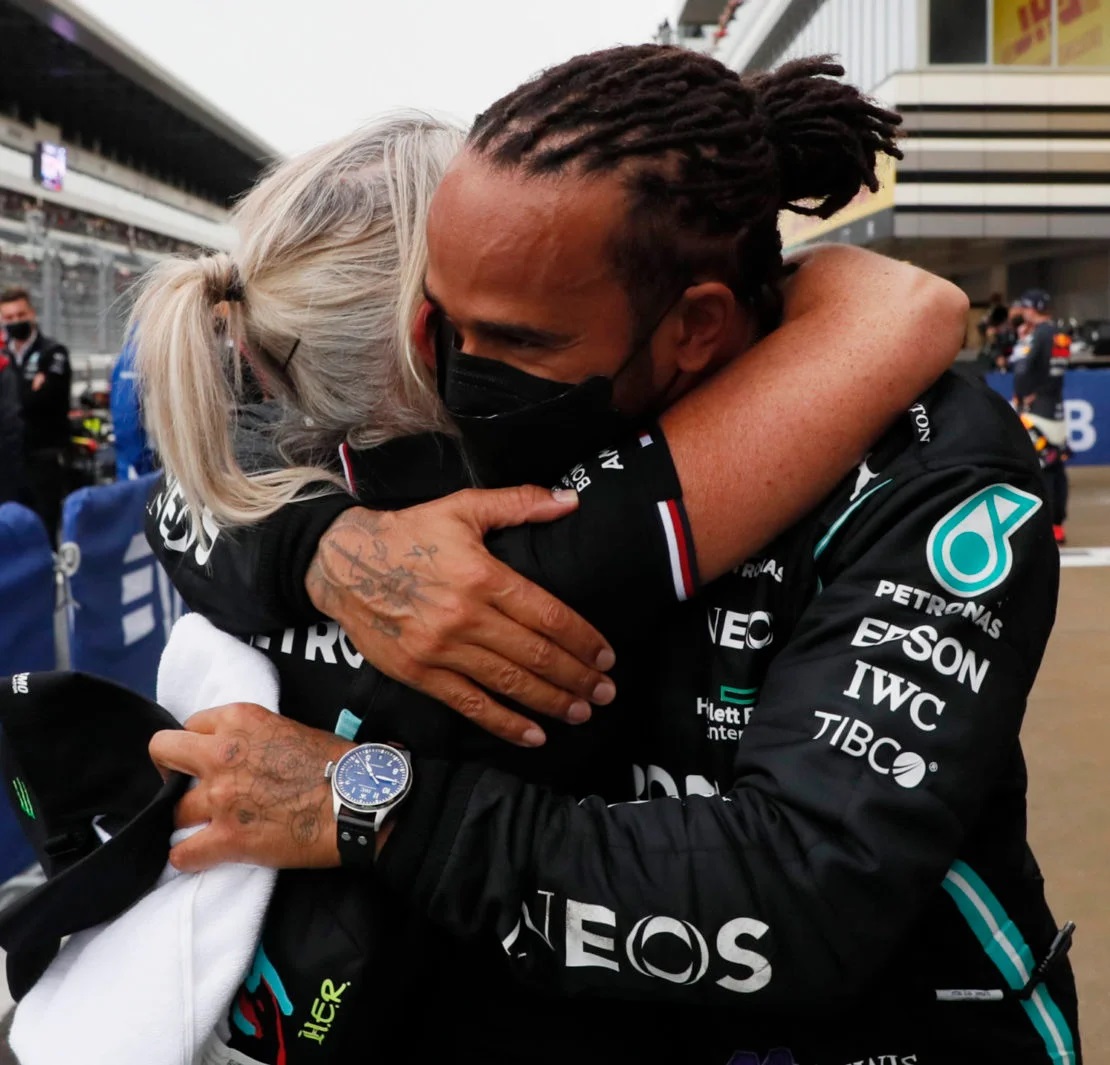 As a mother of two and a hard-working woman, Cullen has captured the hearts of fans across the world. She puts Hamilton first and helps him with everything, in fact, she has a separate fan base now that people want to take pictures with her. Fans applaud her hard work for sticking with Lewis during race weekends and staying positive despite him no longer winning.
But why not do this in the off-season?  Why mid-season, leaving Hamilton scrambling for her replacement?
Something happened, and while the rumor mill says it might have been a romance breakup, that is not what is being said publicly.
We put this romance rumor as 'false.'
Angela Cullen is married to Silas Cullen. The couple have two children, a son and a daughter.
Silas Cullen also has a successful career in sports like his wife, it is reported that he was a former cyclist and is a coaching director currently.
She was on the road so much with F1 and Hamilton, perhaps it was putting a real strain on her marriage and her children needed her at home. And there were rumors about them possibly having a secret romantic relationship in the media that may have been putting a strain on her family.