NASCAR: Penske Fords dominate Cup qualifying in Atlanta
Team Penske Fords qualified 1-2-3 for the Ambetter Health 400 NASCAR Cup race at Atlanta.
Joey Logano turned a time of 31.256s in Round 2 qualifying  to beat his teammate Austin Cindric by just 0.006s and Ryan Blaney by 0.028s.
Brad Keselowski and Aric Almirola to round out the top five as Ford powered cars will start 1-2-3-4-5-6-7-8.
"It was probably a lot more exciting than any of us expected with guys spinning out and hitting the walls," Logan said of Saturday's qualifying. "Team Penske had a great day today and we'll try to continue that tomorrow."
Logano now aims to parlay his 28th career pole into his 32nd career win, which would tie him with Dale Jarrett for 27th on the all-time list.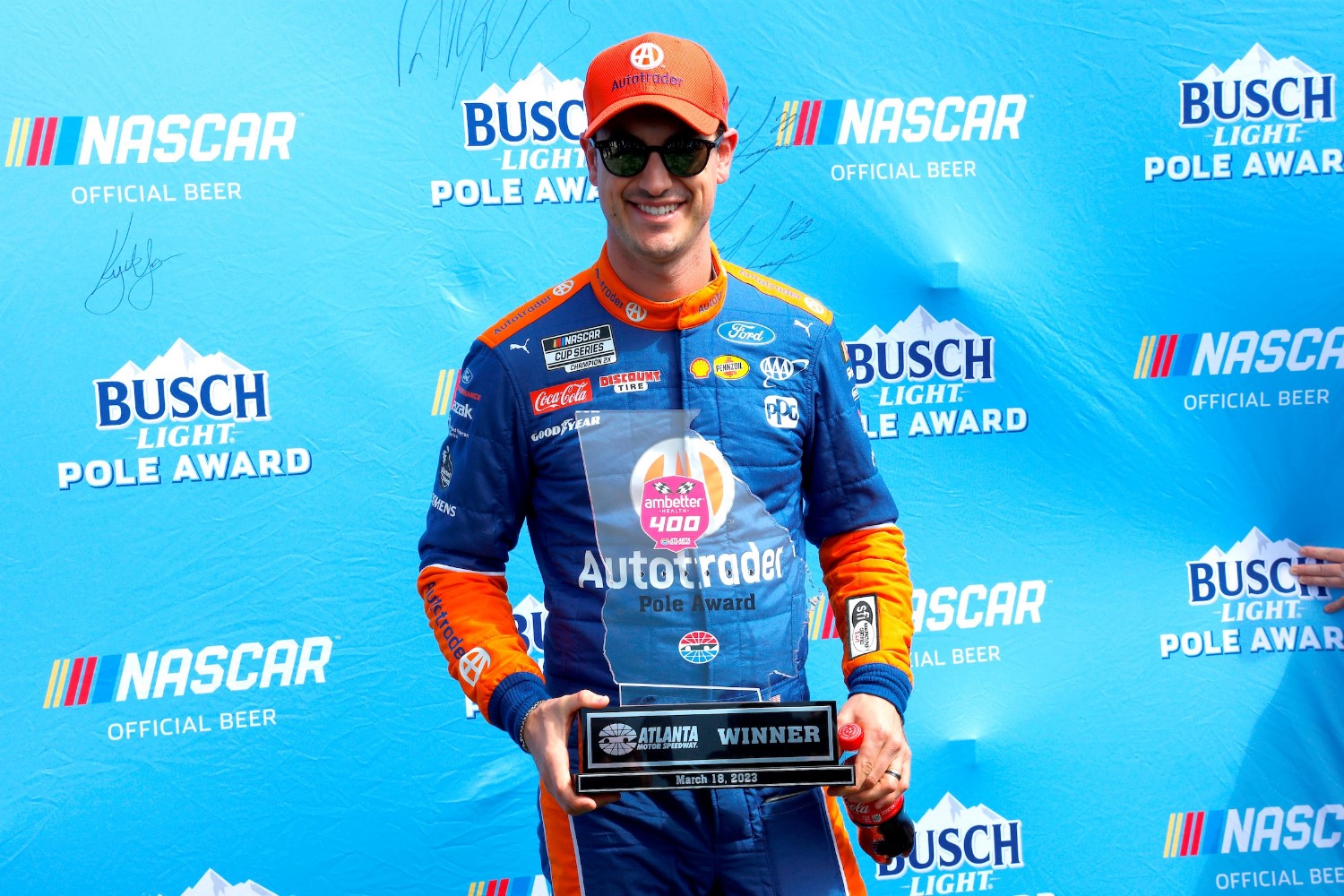 "For me, it's always been a dream to win on this race track," added Logano, who lived in Atlanta Motor Speedway's track-side condos for five years and cut his teeth on the track's ¼ mile Thunder Ring.
Qualifying Results
Round 2
| | | | | | | |
| --- | --- | --- | --- | --- | --- | --- |
| POS | CAR | DRIVER | MANUF | TIME | BEHIND | SPEED |
| 1 | 22 | Joey Logano | | 31.256 | — | 177.374 |
| 2 | 2 | Austin Cindric | | 31.262 | 0.006 | 177.340 |
| 3 | 12 | Ryan Blaney | | 31.284 | 0.028 | 177.215 |
| 4 | 6 | Brad Keselowski | | 31.323 | 0.067 | 176.995 |
| 5 | 10 | Aric Almirola | | 31.324 | 0.068 | 176.989 |
| 6 | 4 | Kevin Harvick | | 31.363 | 0.107 | 176.769 |
| 7 | 17 | Chris Buescher | | 31.367 | 0.111 | 176.746 |
| 8 | 14 | Chase Briscoe | | 31.396 | 0.140 | 176.583 |
| 9 | 5 | Kyle Larson | | 31.462 | 0.206 | 176.213 |
| 10 | 20 | Christopher Bell | | 0.000 | — | 0.000 |
Round 1
| | | | | | | |
| --- | --- | --- | --- | --- | --- | --- |
| POS | CAR | DRIVER | MANUF | TIME | BEHIND | SPEED |
| 1 | 12 | Ryan Blaney | | 31.276 | — | 177.261 |
| 2 | 22 | Joey Logano | | 31.348 | 0.072 | 176.853 |
| 3 | 10 | Aric Almirola | | 31.353 | 0.077 | 176.825 |
| 4 | 6 | Brad Keselowski | | 31.369 | 0.093 | 176.735 |
| 5 | 17 | Chris Buescher | | 31.386 | 0.110 | 176.639 |
| 6 | 14 | Chase Briscoe | | 31.403 | 0.127 | 176.544 |
| 7 | 20 | Christopher Bell | | 31.497 | 0.221 | 176.017 |
| 8 | 5 | Kyle Larson | | 31.506 | 0.230 | 175.966 |
| 9 | 2 | Austin Cindric | | 31.527 | 0.251 | 175.849 |
| 10 | 4 | Kevin Harvick | | 31.528 | 0.252 | 175.844 |
| 11 | 24 | William Byron | | 31.544 | 0.268 | 175.755 |
| 12 | 34 | Michael McDowell | | 31.545 | 0.269 | 175.749 |
| 13 | 3 | Austin Dillon | | 31.548 | 0.272 | 175.732 |
| 14 | 48 | Alex Bowman | | 31.554 | 0.278 | 175.699 |
| 15 | 11 | Denny Hamlin | | 31.554 | 0.278 | 175.699 |
| 16 | 45 | Tyler Reddick | | 31.574 | 0.298 | 175.588 |
| 17 | 8 | Kyle Busch | | 31.583 | 0.307 | 175.537 |
| 18 | 1 | Ross Chastain | | 31.597 | 0.321 | 175.460 |
| 19 | 23 | Bubba Wallace | | 31.636 | 0.360 | 175.243 |
| 20 | 31 | Justin Haley | | 31.642 | 0.366 | 175.210 |
| 21 | 9 | Josh Berry(i) | | 31.662 | 0.386 | 175.099 |
| 22 | 42 | Noah Gragson # | | 31.680 | 0.404 | 175.000 |
| 23 | 38 | Todd Gilliland | | 31.696 | 0.420 | 174.912 |
| 24 | 41 | Ryan Preece | | 31.801 | 0.525 | 174.334 |
| 25 | 77 | Ty Dillon | | 31.835 | 0.559 | 174.148 |
| 26 | 99 | Daniel Suarez | | 31.835 | 0.559 | 174.148 |
| 27 | 47 | Ricky Stenhouse Jr. | | 31.837 | 0.561 | 174.137 |
| 28 | 43 | Erik Jones | | 31.853 | 0.577 | 174.050 |
| 29 | 19 | Martin Truex Jr. | | 31.859 | 0.583 | 174.017 |
| 30 | 16 | AJ Allmendinger | | 31.939 | 0.663 | 173.581 |
| 31 | 7 | Corey LaJoie | | 31.945 | 0.669 | 173.548 |
| 32 | 51 | Cody Ware | | 32.064 | 0.788 | 172.904 |
| 33 | 21 | Harrison Burton | | 32.340 | 1.064 | 171.429 |
| 34 | 15 | JJ Yeley(i) | | 32.559 | 1.283 | 170.275 |
| 35 | 54 | Ty Gibbs # | | 34.582 | 3.306 | 160.315 |
| 36 | 78 | BJ McLeod | | 0.000 | — | 0.000 |
# DENOTES ROOKIE
(i) NOT ELIGIBLE FOR POINTS
(*) REQUIRED TO QUALIFY ON TIME