Sebring Hour 11: Acura vs. Porsche vs Cadillac for win
–by Mark Cipolloni–
With just 1-hour to run in the 12 Hours of Sebring, it's a fierce battle for the overall hypercar win between the #10 Wayne Taylor /Andretti Acura and the #7 and #6 Penske Porsche 963 and the #31 Whelen Engineering Cadillac.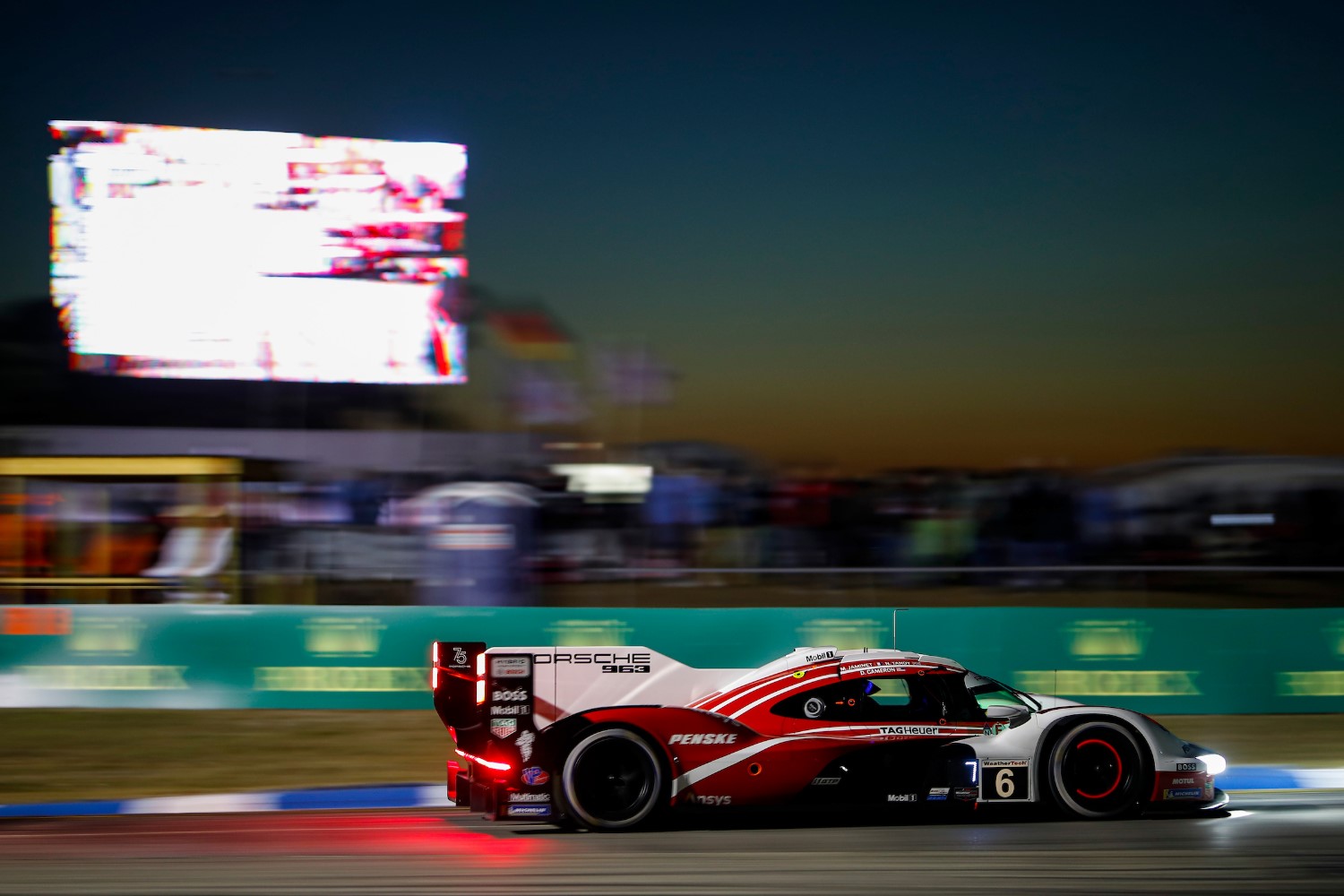 LMP2 was led by the #04 of Nolan Siegel.
LMP3 was led by the #74 of Felipe Fraga.
GTDPro was led by the #9 Porsche of Patrick Pilet with followed closely by the #79 WeatherTech Porsche, the #62 Risi Competizione Ferrari, the #14 Vasser Sullivan Lexus and the #3 Corvette.
Hour 11 Standings
| | | | | | | | | | | |
| --- | --- | --- | --- | --- | --- | --- | --- | --- | --- | --- |
| Pos | PIC | CLS | No | Name | Laps | Behind | Gap | Led | ST | Team |
| 1 | 1 | GTP | 10 | Filipe Albuquerque | 299 | 0.000 | 0.000 | 109 | 3 | Konica Minolta Acura ARX-06 |
| 2 | 2 | GTP | 7 | Felipe Nasr | 299 | 0.301 | 0.301 | 2 | 7 | Porsche Penske Motorsports |
| 3 | 3 | GTP | 6 | Mathieu Jaminet | 299 | 0.527 | 0.226 | 0 | 4 | Porsche Penske Motorsports |
| 4 | 4 | GTP | 31 | Jack Aitken | 299 | 0.608 | 0.081 | 52 | 1 | Whelen Engineering Racing Cadillac |
| 5 | 5 | GTP | 25 | Nick Yelloly | 298 | 1LAP | 1LAP | 3 | 8 | BMW M Team RLL |
| 6 | 1 | LMP2 | 04 | Nolan Siegel | 295 | 4LAPS | 3LAPS | 0 | 12 | Crowdstrike Racing by APR |
| 7 | 2 | LMP2 | 11 | Scott Huffaker | 295 | 4LAPS | 0.477 | 0 | 11 | TDS Racing |
| 8 | 3 | LMP2 | 8 | Scott McLaughlin | 295 | 4LAPS | 0.602 | 0 | 14 | Tower Motorsports |
| 9 | 4 | LMP2 | 52 | Paul-Loup Chatin | 295 | 4LAPS | 1.720 | 0 | 9 | PR1 Mathiasen Motorsports |
| 10 | 5 | LMP2 | 18 | Christian Rasmussen | 294 | 5LAPS | 1LAP | 0 | 16 | Era Motorsport |
| 11 | 6 | LMP2 | 20 | Ed Jones | 293 | 6LAPS | 1LAP | 0 | 13 | High Class Racing |
| 12 | 7 | LMP2 | 51 | Pietro Fittipaldi | 289 | > 289 < | 3LAPS | 0 | 15 | Rick Ware Racing |
| 13 | 1 | LMP3 | 74 | Felipe Fraga | 286 | 13LAPS | 3LAPS | 0 | 19 | Riley |
| 14 | 2 | LMP3 | 13 | Matthew Bell | 285 | 14LAPS | 1LAP | 0 | 23 | AWA |
| 15 | 3 | LMP3 | 85 | Tijmen van der Helm | 285 | 14LAPS | 0.226 | 0 | 18 | JDC Miller MotorSports |
| 16 | 6 | GTP | 60 | Tom Blomqvist | 284 | > 284 < | 4LAPS | 11 | 5 | Meyer Shank Racing w/ Curb Agajanian |
| 17 | 4 | LMP3 | 17 | Nico Varrone | 284 | 15LAPS | 47:29.362 | 0 | 21 | AWA |
| 18 | 5 | LMP3 | 4 | Trenton Estep | 283 | 16LAPS | 1LAP | 0 | 25 | Ave Motorsports |
| 19 | 6 | LMP3 | 30 | Garett Grist | 282 | In Pit | 186.240 | 0 | 20 | Jr III Racing |
| 20 | 1 | GTDPRO | 9 | Patrick Pilet | 280 | 19LAPS | 2LAPS | 0 | 49 | Pfaff Motorsports |
| 21 | 2 | GTDPRO | 79 | Daniel Juncadella | 280 | 19LAPS | 0.246 | 0 | 52 | WeatherTech Racing |
| 22 | 3 | GTDPRO | 62 | Daniel Serra | 280 | 19LAPS | 1.610 | 0 | 30 | Risi Competizione |
| 23 | 4 | GTDPRO | 14 | Jack Hawksworth | 280 | 19LAPS | 2.676 | 0 | 27 | Vasser Sullivan |
| 24 | 5 | GTDPRO | 3 | Antonio Garcia | 280 | 19LAPS | 2.251 | 0 | 26 | Corvette Racing |
| 25 | 6 | GTDPRO | 63 | Jordan Pepper | 280 | 19LAPS | 7.626 | 0 | 37 | Iron Lynx |
| 26 | 7 | GTDPRO | 95 | Bill Auberlen | 279 | 20LAPS | 3:09.748 | 0 | 50 | Turner Motorsport |
| 27 | 1 | GTD | 27 | Marco Sorensen | 278 | 21LAPS | 1LAP | 0 | 42 | Heart of Racing Team |
| 28 | 2 | GTD | 77 | Trent Hindman | 278 | 21LAPS | 2.060 | 0 | 45 | Wright Motorsports |
| 29 | 3 | GTD | 1 | Madison Snow | 278 | 21LAPS | 0.200 | 0 | 34 | Paul Miller Racing |
| 30 | 4 | GTD | 70 | Frederik Schandorff | 278 | 21LAPS | 1.843 | 0 | 38 | Inception Racing |
| 31 | 5 | GTD | 32 | Mikael Grenier | 278 | 21LAPS | 0.879 | 0 | 51 | Team Korthoff Motorsports |
| 32 | 6 | GTD | 96 | Robby Foley | 278 | 21LAPS | 0.482 | 0 | 35 | Turner Motorsport |
| 33 | 7 | GTD | 44 | Andy Lally | 278 | 21LAPS | 0.365 | 0 | 44 | Magnus Racing |
| 34 | 8 | GTD | 12 | Aaron Telitz | 278 | 21LAPS | 0.527 | 0 | 31 | VasserSullivan |
| 35 | 9 | GTD | 16 | Jan Heylen | 278 | 21LAPS | 0.158 | 0 | 32 | Wright Motorsports |
| 36 | 10 | GTD | 92 | Julien Andlauer | 278 | 21LAPS | 0.136 | 0 | 48 | Kellymoss with Riley |
| 37 | 11 | GTD | 78 | Loris Spinelli | 278 | 21LAPS | 25.341 | 0 | 36 | Forte Racing Powered by USRT |
| 38 | 12 | GTD | 91 | Kay van Berlo | 277 | In Pit | 2.065 | 0 | 43 | Kellymoss with Riley |
| 39 | 13 | GTD | 83 | Rahel Frey | 277 | 22LAPS | 3:24.841 | 0 | 41 | Iron Dames |
| 40 | 14 | GTD | 66 | Katherine Legge | 275 | 24LAPS | 2LAPS | 0 | 47 | Gradient Racing |
| 41 | 8 | GTDPRO | 23 | Ross Gunn | 274 | 25LAPS | 1LAP | 0 | 29 | Heart of Racing Team |
| 42 | 15 | GTD | 21 | Miguel Molina | 271 | 28LAPS | 3LAPS | 0 | 40 | AF Corse |
| 43 | 7 | LMP3 | 38 | Tristan Nunez | 270 | 29LAPS | 1LAP | 0 | 22 | Performance Tech Motorsports |
| 44 | 16 | GTD | 47 | Antonio Fuoco | 268 | 31LAPS | 2LAPS | 0 | 39 | CETILAR RACING |
| 45 | 17 | GTD | 80 | Seb Priaulx | 262 | In Pit | 6LAPS | 0 | 46 | AO Racing |
| 46 | 8 | LMP3 | 33 | Nico Pino | 260 | 39LAPS | 1LAP | 0 | 24 | Sean Creech Motorsport |
| 47 | 7 | GTP | 01 | Sebastien Bourdais | 241 | > 241 < | 18LAPS | 120 | 2 | Cadillac Racing |
| 48 | 9 | LMP3 | 36 | Glenn van Berlo | 230 | In Pit | 11LAPS | 0 | 17 | Andretti Autosport |
| 49 | 18 | GTD | 57 | Philip Ellis | 198 | > 198 < | 31LAPS | 0 | 53 | Winward Racing |
| 50 | 19 | GTD | 93 | Ashton Harrison | 186 | > 186 < | 11LAPS | 0 | 28 | Racers Edge Motorsports with WTR |
| 51 | 8 | GTP | 24 | Augusto Farfus | 172 | > 172 < | 13LAPS | 2 | 6 | BMW M Team RLL |
| 52 | 8 | LMP2 | 35 | Francois Heriau | 132 | > 132 < | 39LAPS | 0 | 10 | TDS Racing |
| 53 | 20 | GTD | 023 | Onofrio Triarsi | 95 | > 95 < | 36LAPS | 0 | 33 | Triarsi Competizione |