F1 Bingo? How Number Daubing Dispels the Dullness of Driver Dominance
–by Mark Cipolloni–
Ah yes, Formula 1 – the most popular motorsport competition in the world. It's the pinnacle of racing driving, featuring the fastest cars and the most skilled drivers. Since its creation way back in the 1950s, F1 has become a global phenomenon, captivating audiences across the world.
There are plenty of reasons for the sport's popularity. As well as having the fastest cars and the most skilled drivers, the cars are the most advanced and sophisticated racing machines on the planet. They're designed and built to push the limits of engineering, technology and endurance. 
The problem is, though, that when one particular team pushes the limits more than others, the attention span of rank-and-file fans gets pushed to the limits as well. In the 2000s we had Ferrari and the Red Baron, Michael Schumacher winning no less than five world championship titles (Schumi won the other two with Benetton).
Sebastian Vettel took up the mantle a few years later with Red Bull winning four in a row soon followed by our very own Lewis Hamilton who bagged seven. And now we have Max Verstappen. Despite a rather dubious title win in 2021, the crazed Dutchman set the record state last season by retaining his crown. And he looks set to dominate for years to come
This kind of dominance doesn't really pose much of a problem for F1 fanatics whose deep rooted love for the sport is enough to see them through the predictability of sporting supremacy.    
How to add some fun competition when watching F1
But what about the more casual fan? Well happily, someone has come up with a solution. At Best New Bingo Sites, They've developed a bingo card generator that allows you to create your own Formula 1 bingo cards for free. 
Their bingo cards can be used for individual race weekends. As well as livening up a boring race, they can add real entertainment value if you're watching with friends or family.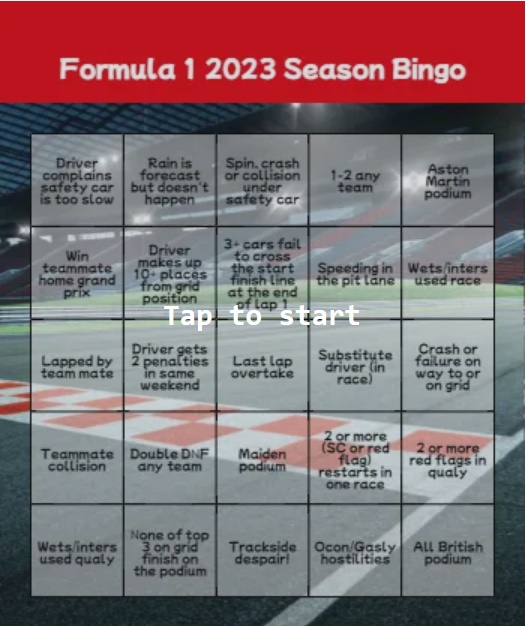 How to Play Formula 1 Bingo
Our bingo game is the same as the classic version except that the numbers have been replaced with events, most of which occur during any given weekend. The person to mark off the most or all terms at the conclusion of the race weekend is the winner. 
How to Create Formula 1 Bingo Cards
So how do you create Formula 1 bingo cards? It's simple. Their cards already include terms that are ready to use. However, you can replace these with your own or add more by using the box provided. 
Once you've satisfied with your terms, select grid size (we recommend 5 x 5) and your font. Then hit 'generate bingo cards'.
You'll then get to choose how many cards you'd like to be printed. You can select up to 20 or enter your own custom number.
Alternatively, you can opt to invite your friends so that they receive their own individual cards. Once you've entered their emails in the box provided, click 'invite' and they'll receive their bingo card straight away.
Their Formula 1 bingo cards are by far the most popular on their site. Pay them a visit to see why!