F1: Some interesting F1 track statistics
The Circuit de Spa-Francorchamps, located in Belgium, holds the title for being the longest Formula 1 track, covering a distance of 7.004 km (4.352 mi). Since the 1950s, it has been a consistent part of the Formula 1 World Championship and is known for its challenging and high-speed layout that features a combination of fast straights and tight corners. In addition, the track offers steep elevation changes and is home to famous corners such as Eau Rouge, Pouhon, and Blanchimont. Due to its unique design, the Circuit de Spa-Francorchamps is a popular choice among both fans and drivers.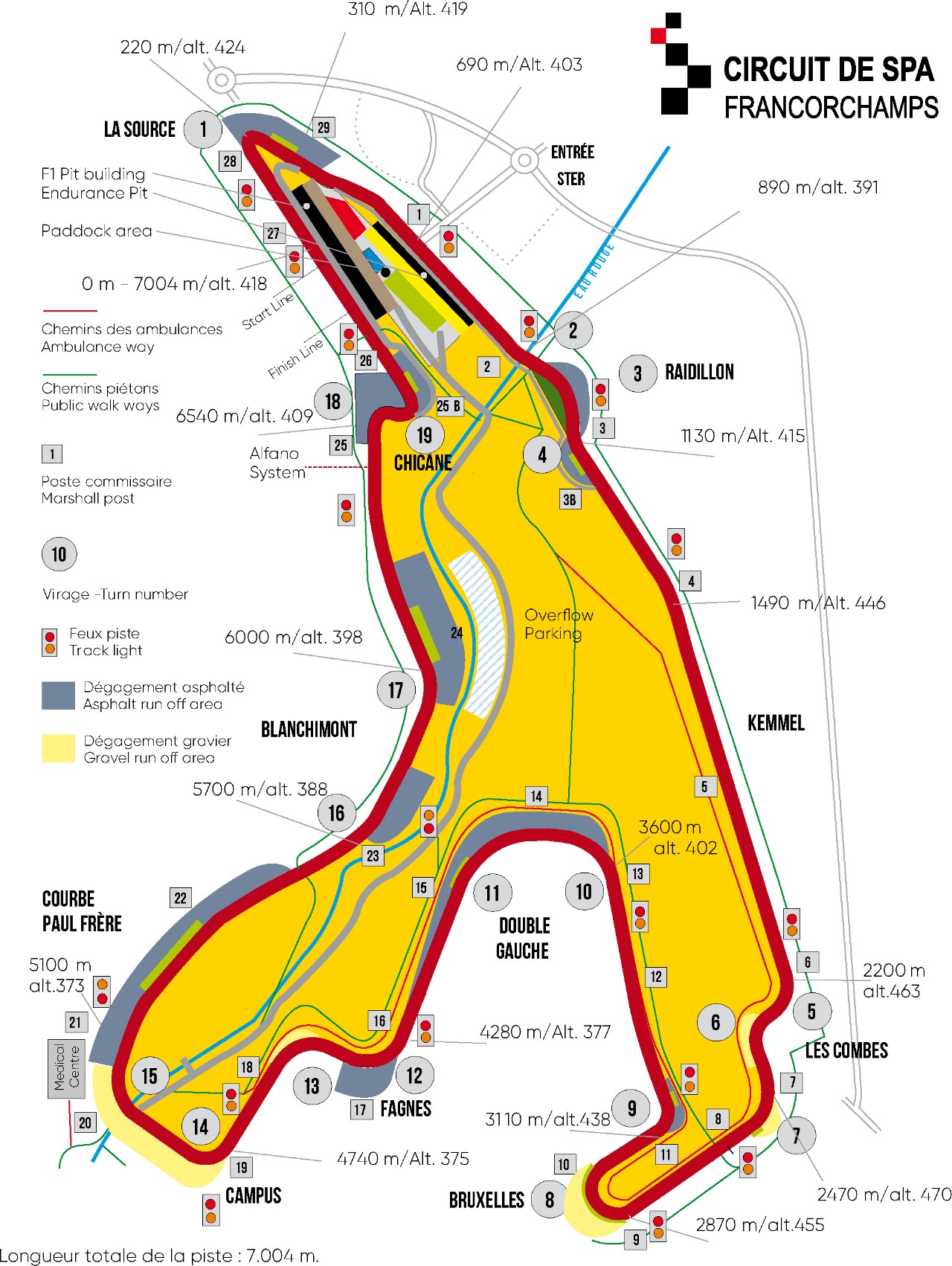 Do all F1 tracks have the same length?
No, not all F1 tracks are the same length. Formula One (F1) is a global motorsport series that races on various tracks around the world, each with its own distinct characteristics and lengths.
F1 tracks vary in length depending on several factors, such as the venue, the layout of the track, and the number of corners. For instance, Monaco's Circuit de Monaco is one of the shortest tracks on the calendar at only 3.337 km (2.04 miles), while Spa-Francorchamps, Belgium's Circuit, measures 7.104 km (4.35 miles).
F1 tracks typically range in length from 3 to 7 kilometers (1.9 to 4.3 miles), with most falling somewhere in the middle. However, the FIA, which oversees F1, sets a minimum requirement for tracks of 3.5 km (2.17 miles) in length.
Track length does it affect our bets!
Pacing a bet on a race makes watching a race that much more exciting.  The length of an F1 track can have a major impact on the outcome of bets, as it affects car performance and what strategies teams employ during a race.
Longer tracks may favor teams with more powerful engines, as they can reach higher speeds and maintain that momentum for extended stretches. On the other hand, shorter tracks may favor teams with superior handling and cornering skills, as there may be fewer turns and fewer opportunities to reach top speeds.
In addition to track length, other elements such as weather conditions, track layout, and the performance of individual drivers and teams can influence the outcome of Formula One races and bets. If you are looking for a good sportsbook for F1 races, check this website.
Circuit de Spa-Francorchamps
The Circuit de Spa-Francorchamps can be found in the Ardennes region, Belgium, near Spa. It was built in 1920 and has been a part of the Formula 1 World Championships since the 1950s. It is known for its high-speed, challenging design, which combines tight corners with fast straights. It is the longest track on Formula 1's calendar, measuring 7.004 km (4.352 miles).
The track's unique layout features steep elevation changes. There is an elevation difference of more than 40m between its highest point and lowest. Eau Rouge and Pouhon are the most prominent corners of the circuit. Eau Rouge, a fast-uphill left-right combination, has been a hallmark of motorsports. Blanchimont, a fast-right corner that leads onto the circuit's longest straight, is Pouhon. Fans and drivers alike love the Circuit de Spa-Francorchamps.
Circuit de Spa–Francorchamps, compared to other tracks in the Formula 1 calendar, is significantly longer than Monaco, which is the shortest track. Only 3.337 km (2.275 mi) is the Monte Carlo circuit, which is half the length of Spa. This can have a significant impact on the racing experience. Spa's longer track allows for greater overtaking opportunities and more racing options.
Which track has the longest straight?
The lengthiest straight on the Formula 1 calendar is situated on the Neftchilar Avenue segment in Baku, spanning 2.2 kilometers. The straight is notable for its high velocities, with drivers achieving an average speed of over 200 km/h and a top speed of more than 350 km/h. Therefore, it is a crucial point on the circuit for overtaking and positioning vehicles for subsequent turns.

Are all F1 tracks counter clockwise?
No, not all F1 tracks are counter clockwise. Most F1 tracks run clockwise; however, there are a few that run counterclockwise or have both clockwise and counterclockwise sections.
For example, the Marina Bay Street Circuit in Singapore follows a clockwise direction while the Istanbul Park circuit in Turkey rotates counterclockwise. Likewise, The Circuit of the Americas in America features both clockwise and counterclockwise sections.
The direction an F1 track runs can have a major influence on how cars perform and which strategies teams employ. Clockwise tracks tend to put more strain on the right-hand side of a car, while counterclockwise ones do the opposite and put additional strain on the left-hand side.
What is the slowest corner in F1?
The Monaco Grand Prix circuit's Fairmont Hairpin is the corner most famous and slowest in F1. It can be found at the end of Casino Square. The hairpin can be approached at speeds of around 40km/h (25mph) in first gear. This corner is known for being the most challenging and narrowest on the Formula 1 calendar. To navigate the tight corner radius, drivers must brake hard and turn the steering wheel quickly. This makes it an ideal spot for daring drivers to overtake.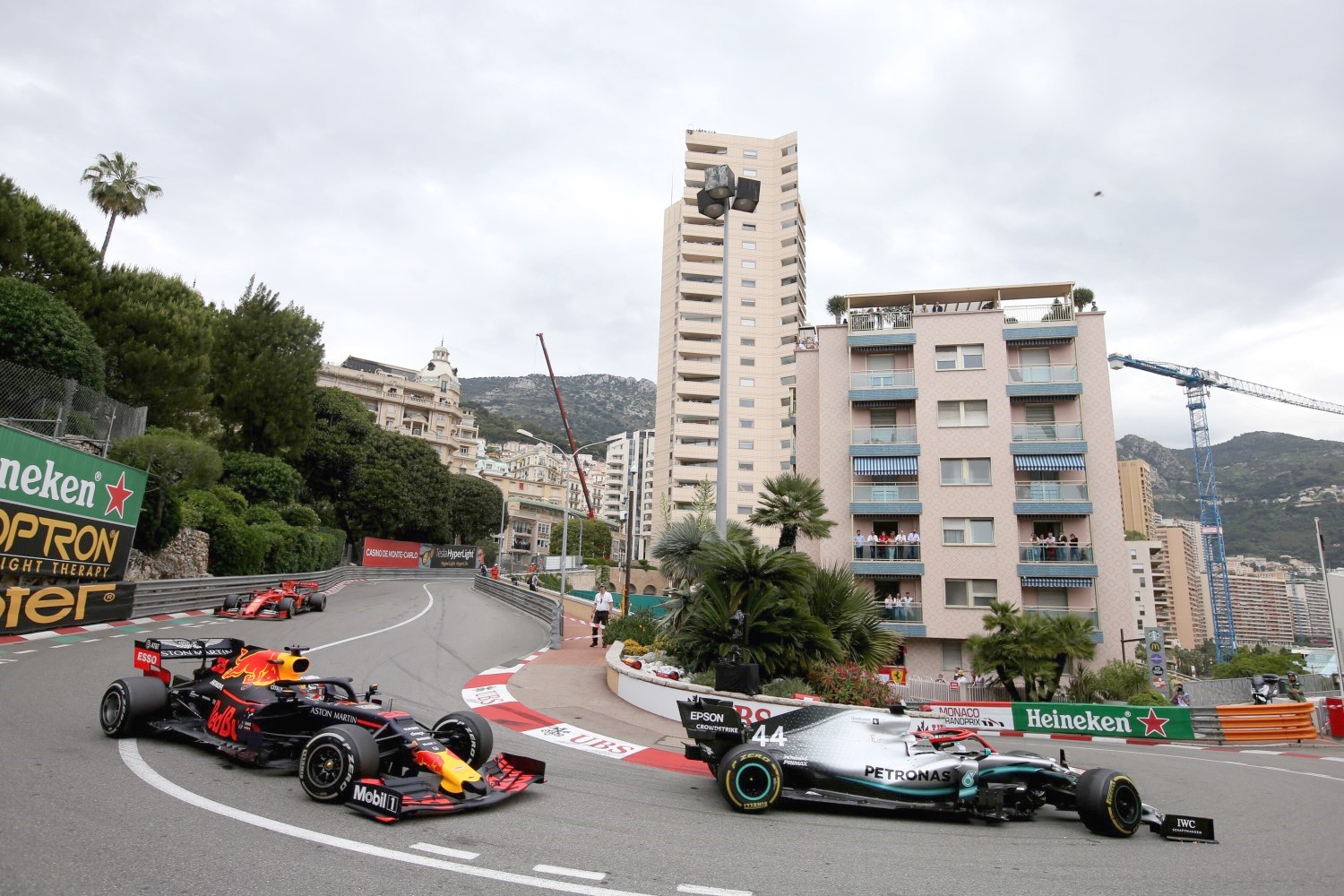 Here are some interesting statistics for the 2023 F1 circuits:
Average Circuit Length: 3.227 miles
Shortest Circuit Length: 2.057 miles (Monaco)
Longest Circuit Length: 4.352 miles (Spa)
Average No. of Turns: 18
Average Laps per Race: 60
| | | | | | | | | | |
| --- | --- | --- | --- | --- | --- | --- | --- | --- | --- |
| Rnd | Date | Event | Circuit | Contract Good Thru | Length (km) | Length (Miles) | Turns | Location | Laps |
| 1 | March 5 | Bahrain Grand Prix | Bahrain International Circuit | 2036 | 5.412 | 3.363 | 15 | Sakhir | 57 |
| 2 | March 19 | Saudi Arabian Grand Prix | Jeddah Street Circuit | 2030 | 6.175 | 3.837 | 27 | Jeddah | 50 |
| 3 | April 2 | Australian Grand Prix | Albert Park Circuit | 2035 | 5.279 | 3.280 | 16 | Melbourne | 58 |
| 4 | April 30 | Azerbaijan Grand Prix | Baku City Circuit | 2024 | 6.003 | 3.730 | 20 | Baku | 51 |
| 5 | May 7 | Miami Grand Prix | Miami International Autodrome | 2031 | 5.410 | 3.362 | 19 | Miami | 57 |
| 6 | May 21 | Emilia Romagna Grand Prix | Imola | 2025 | 4.909 | 3.050 | 21 | Imola | 66 |
| 7 | May 28 | Monaco Grand Prix | Circuit de Monaco | 2025 | 3.340 | 2.075 | 19 | Monte Carlo | 78 |
| 8 | June 4 | Spanish Grand Prix | Circuit de Barcelona | 2026 | 4.655 | 2.892 | 16 | Montmeló | 66 |
| 9 | June 18 | Canadian Grand Prix | Circuit Gilles Villeneuve 14 turns | 2031 | 4.361 | 2.710 | 14 | Montreal | 70 |
| 10 | July 2 | Austrian Grand Prix | Red Bull Ring | 2027 | 4.326 | 2.688 | 10 | Spielberg | 71 |
| 11 | July 9 | British Grand Prix | Silverstone Circuit | 2024 | 5.891 | 3.660 | 18 | Silverstone | 52 |
| 12 | July 23 | Hungarian Grand Prix | Hungaroring | 2027 | 4.381 | 2.722 | 14 | Mogyoród | 70 |
| 13 | July 30 | Belgian Grand Prix | Circuit de Spa-Francorchamps | 2023 | 7.004 | 4.352 | 19 | Stavelot | 44 |
| 14 | August 27 | Dutch Grand Prix | Circuit Zandvoort | 2025 | 4.459 | 2.771 | 14 | Zandvoort | 72 |
| 15 | September 3 | Italian Grand Prix | Autodromo Nazionale di Monza | 2025 | 5.793 | 3.600 | 17 | Monza | 53 |
| 16 | September 17 | Singapore Grand Prix | Marina Bay Street Circuit | 2028 | 5.063 | 3.146 | 23 | Singapore | 61 |
| 17 | September 24 | Japanese Grand Prix | Suzuka International Racing Course | 2024 | 5.807 | 3.608 | 18 | Suzuka | 53 |
| 18 | October 8 | Qatar Grand Prix | Losail International Circuit | 2032 | 5.380 | 3.343 | 16 | Losail | 57 |
| 19 | October 22 | United States Grand Prix | Circuit of the Americas | 2026 | 5.513 | 3.426 | 20 | Austin | 56 |
| 20 | October 29 | Mexico City Grand Prix | Autódromo Hermanos Rodríguez | 2025 | 4.304 | 2.674 | 17 | Mexico City | 71 |
| 21 | November 5 | São Paulo Grand Prix | Autódromo José Carlos Pace | 2025 | 4.309 | 2.677 | 15 | São Paulo | 71 |
| 22 | November 18 | Las Vegas Grand Prix | Las Vegas Street Circuit | 2025 | 6.120 | 3.803 | 17 | Las Vegas | 50 |
| 23 | November 26 | Abu Dhabi Grand Prix | Yas Marina Circuit, | 2030 | 5.554 | 3.451 | 21 | Abu Dhabi | 55 |
| | | | |   | Averages  | 3.227 mi. |  18 |   |  60 |