Rumor: Sainz Jr. to leave Ferrari for new Sauber-Audi team
(3rd Update)
(GMM) Carlos Sainz Jr. could be destined for the exit door at Ferrari and headed to the new Sauber Audi team, Ralf Schumacher claims.
Team boss Frederic Vasseur ended the Hungarian GP by admitting the Maranello based team is making "too many mistakes".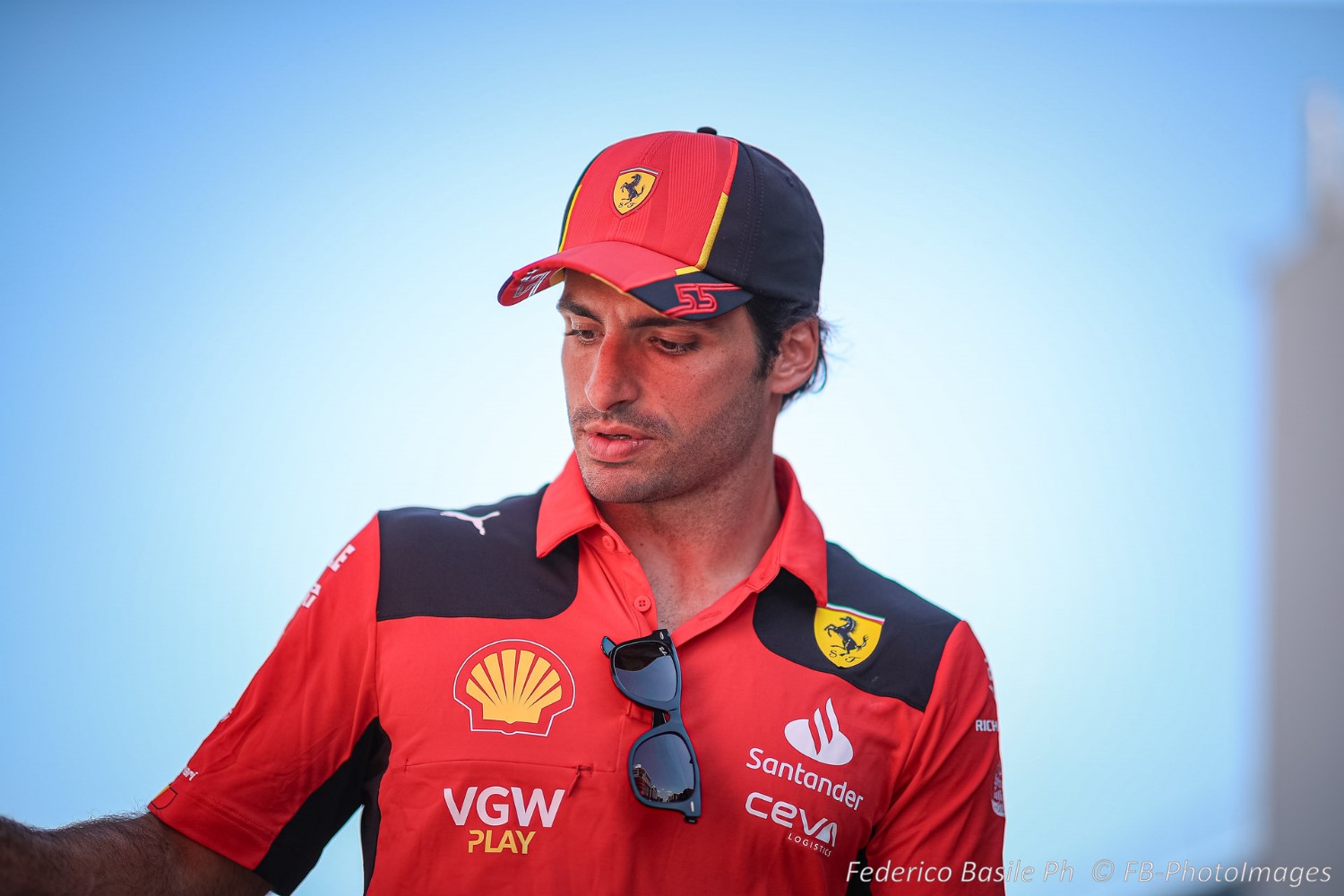 "I spent the last 35 years of my life on the pit wall and every Monday I study the mistakes I made," he told Sky Italia.
"But I think if you ask the same question to Toto Wolf, he will answer the same."
Carlos Sainz left Budapest tackling suggestions that Ferrari once again favored his teammate Charles Leclerc in the race strategy.
"I suppose it was to make up for his bad stop," the Spaniard said.
"I think you're seeing it in a conspiracy way and it's not like that. He had a slow stop and they wanted to make up for it."
Schumacher, however, said Leclerc made his situation worse all by himself by speeding in the pitlane.
"These are things we are always seeing with Leclerc now," he told Sky Deutschland.
Sainz, on the other hand, is now making regular public statements about his eagerness to kick off contract negotiations with Ferrari for the period beyond 2024.
"You get the feeling he has lost confidence in the team," said Schumacher. "I hear rumors that his father is in the paddock looking for an alternative.
"Ferrari is a bit of a disaster at the moment."
Sainz, 28, has been linked with a move to the steadily Audi-owned Sauber team prior to the full takeover in 2026.
"Carlos Sainz senior is close to the Volkswagen Group through his rallying," said Schumacher, "and Audi needs a driver with experience when it comes to Formula 1 in 2026.
"At the same time, Carlos is not making a great impression. He can drive, but he makes too many mistakes too. His performances are very inconsistent.
"That's not a good business card for his future."
Meanwhile, some are suggesting that Leclerc is obviously losing patience with Ferrari, especially given the tone of some of his radio messages recently.
The Monegasque, who like Sainz is contracted to the end of 2024, hinted that Ferrari went to Hungary with "different expectations" due to team "simulations".
When asked if he's demoralized, Leclerc insisted: "Zero. I am 200 percent motivated, and I will give everything until the last race."
But according to Sainz, Ferrari has a lot of work to do in the coming weeks and months.
"We have to watch out because our rivals are developing a lot. McLaren and Mercedes had better race pace than us," he said at the Hungaroring.
"Even though we're developing the car, it has some shortcomings that we cannot fix."
---
June 5, 2023
(GMM) The Swiss team Sauber, to drop the Alfa Romeo name at the end of the season, admits it has its eye on Formula 1's two on-form Spaniards for the future.
New CEO Andreas Seidl's face has been absent from the paddock in 2023 so far as Sauber prepare for the future, where by 2026 it will race as Audi's works team.
Currently in the cockpit are Valtteri Bottas and Zhou Guanyou – with the more experienced of the pair, former Mercedes race winner and Finn Bottas, notably struggling in 2023.
In Barcelona, Chinese Zhou finished in the points – while Bottas was second to last.
"Zhou is of course a talented guy, but today either there was a problem with Valtteri's car or he was still thinking about some cycling race or something," former F1 driver David Coulthard told Viaplay at the Spanish GP.
For now, Alfa Romeo team representative Alessandro Alunni Bravi is not raising the alarm.
"We have a mix of experience and talent and that is our strength this year," he told El Mundo Deportivo newspaper.
"We want to continue to provide stability to the team, but the team's primary objective now is to give the drivers a competitive package."
Coulthard, however, fears that Sauber will eventually have to wonder if Bottas still has his foot to the floor.
"We'll have to look at the situation again when we get to the middle of the season," said the Scot. "I think Valtteri should be more consistent in his results."
Bravi, though, says there is still "plenty of time" for the team to improve the struggling 2023 car, even if the rumors about the Audi-powered future are already well underway.
Ferrari's Carlos Sainz, for instance, is already being linked with a 2026 seat.
"We are satisfied with our current driver pairing and our aim is to give them competitive material," Bravi insisted.
"Obviously, I think Carlos Sainz is one of the best drivers currently in F1. But he drives for Ferrari and I think he is happy at Ferrari.
"We too have to think about our drivers and give them all the tools to do a good job."
Bravi also admitted that Sauber and Audi might be interested in snapping up the on-form Fernando Alonso if he parts ways with Aston Martin before 2026.
"I would always sign Fernando, even at 45 years of age or older," he insisted.
"I got to know him well at McLaren when I was the manager of Stoffel Vandoorne, who was his teammate. It's a pleasure for me to see what Fernando is doing but as I say we are happy with our drivers."
---
April 21, 2023
(GMM) Carlos Sainz has angrily rejected claims he is Audi's number 1 driver pick for 2026.
The claim was made this week by the veteran Formula 1 journalist Roger Benoit, writing in the Swiss newspaper Blick.
"The first serious rumour emerges from Spain," Benoit said. "Ferrari driver Carlos Sainz is said to be at the top of Sauber CEO Andreas Seidl's list."
28-year-old Sainz's legendary world rally champion father, Carlos Sainz, drives for Audi at the fabled Dakar Rally.
His son, however, rejects the latest Formula 1 rumors.
"My intention is to stay at Ferrari for many years," Sainz said at an appointment with his sponsor Estrella Galicia.
"I don't even understand how they are talking about what can happen in 2026 when I still don't have a contract for 2025," the Spaniard added.
"It annoys me that invented and uncorroborated rumors like this come out."
But while Sainz seems fully committed to Ferrari for now, he admits that he expected a more competitive Maranello-built red car to race this season.
"We have been surprised by how quick Red Bull are and how other teams like Aston Martin have improved," he said.
"It is true that, with the advantage Red Bull have right now, we are going to have to improve a lot if we want to be in the fight for victory.
"At the moment it means that something needs to happen in the races to them and also Aston Martin – we just need to focus on what we have."
This week, Ferrari's appeal against a penalty that dropped Sainz out of the points for a clash with Fernando Alonso in Melbourne was rejected by the FIA.
Sainz is fifth overall in 2023 so far with 20 points compared to fourth-placed Lewis Hamilton's 38.
"If we had not had the penalty in Australia, we would have another 12 important points which in the end they still don't let me have back," he said.
"But it is what it is."
---
April 17, 2023
–by Mark Cipolloni–
Swiss newspaper Blick reported Saturday night that Ferrari driver Carlos Sainz might be leaving the team to drive for the new Audi team.
Sauber CEO Andrea Seidl apparently thinks highly of 28-year-old Sainz and put him at the top of his list of drivers to poach.
Time will tell whether Sainz makes the jump to Audi and away from Ferrari. With Ferrari Sainz has the potential to take home victories, though he has only one to his credit so far.
Sainz currently leads Ferrari teammate Charles Leclerc in the 2023 point standings, but not because of any stellar drives. He has had better luck and more consistency.  He had 4th locked up in Melbourne before punting Fernando Alonso on a late restart and receiving a penalty.
In Sauber/Audi, there is no guarantee how long it will take before they are winners, so it would be a big gamble for Sainz.