F1: Series continues to make strides in the American market
–by Mark Cipolloni–
Since American media moguls Liberty Media bought Formula 1 (F1) its popularity continues to grow at an explosive pace. Due to the sport being as international as it is, the possibility of continually growing and reaching more people is infinite. The most lucrative and attractive frontier for F1 executives has been the American market in recent years.
And it seems like they have finally been able to crack the country Bernie Ecclestone despised and avoided for so many years because of his hate for anything American.
With Ecclestone and is prejudice out of the way, F1 is exploding in popularity in America and, at the moment, it seems as if there is no ceiling as to how far the sport can go in terms of popularity.
Americans are already fond of motorsports as it is, and now the premier form of motorsports in the world, F1, has all the right ingredients to explode on the scene – big sponsors, 23 and soon to be 25 huge events in fantastic settings, 18-49 year olds and women making up half the fanbase, a global TV audience for each race of 70 million, and race teams that are now financially stable.
With everything around F1 also growing in popularity from video games to sports betting on the races, there is plenty to keep fans entertained ahead of the races taking place
With three USA GPs on the calendar this year, there is plenty of opportunities to attend
Even if the United States GP in Austin has been around for some years, the last couple of seasons has proved to be a smash hit for the organizers and F1 as a whole. COTA is a fast-flowing track that brings with it a lot of excitement for both drivers and viewers and in the opinion of this writer, seeing the drivers jump off the start line to the top of the hill at turn 1 is one of the most exciting moments of the entire year.
However, there is potential for even more drama and excitement this year as the first race in decades is to take place in Las Vegas. Regardless of how the track layout lends itself to racing, we're more than likely going to be in for a spectacle of previously unseen proportions.
New since 2022, the Miami GP, is another not to miss race in America and there are rumors that other venues in the USA are ringing Stefano Domenicali's phone wanting to host a race.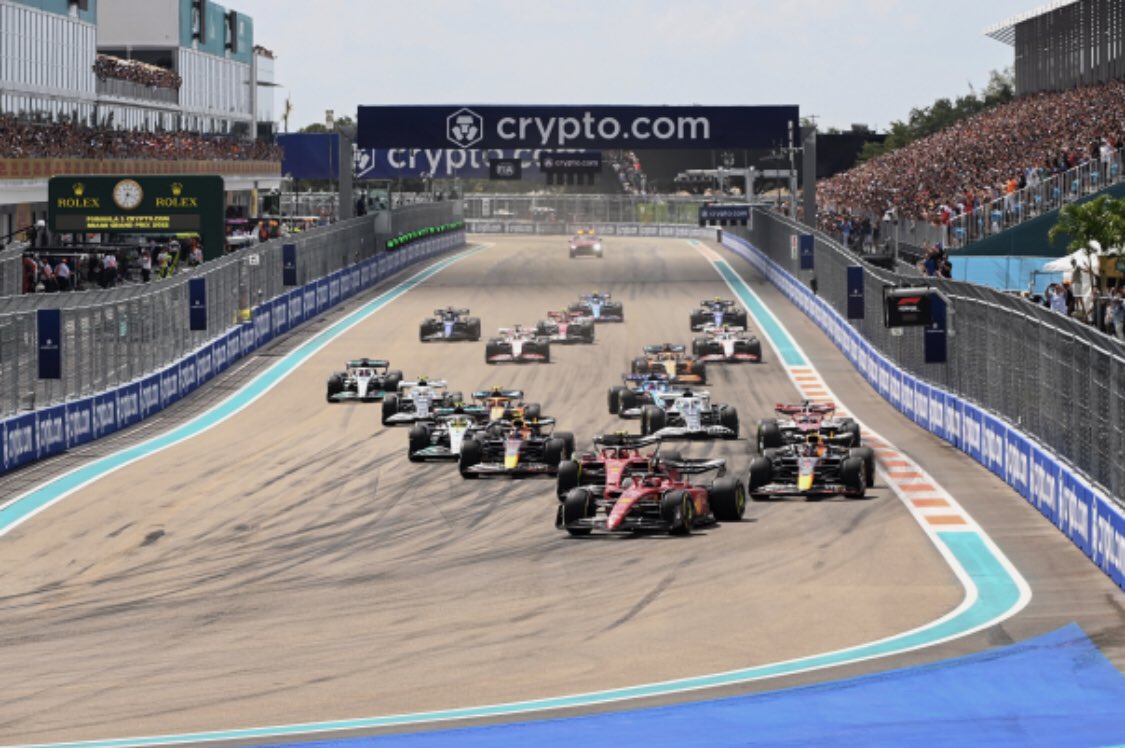 Drive to Survive has been a critical factor in the growth
There are more than likely no F1 fans that have missed Netflix's hit series Drive to Survive. Even if far from all drivers have been positive towards the film crews in the paddocks and pit lanes the effect it has had on F1 as a whole can't be understated. Best described as a mixture between a reality show and a documentary the series works as an excellent way for fans to get to know the key players of the sport more intimately.
Having an American driver will only help push growth forward
Even if Americans have had a team to root for in Haas for the last couple of years, nothing drives national interest in the same way as having a driver that the entire country can come together and root for. Logan Sargeant, is showing some great potential despite not being with a top team right now. He's the first American driver to grace the grid in years and fans are watching.
Brad Pitt Movie Coming
As I wrote in this article, If you think F1 is huge now, just wait.
Formula 1 has high expectations for the potential of its forthcoming F1 film starring Brad Pitt and co-produced by Lewis Hamilton.
F1's Netflix series Drive to Survive has won praise for attracting new viewers to the sport since its launch five years ago. It has attracted a much younger audience and many more female fans to F1.
Women love Brad Pitt, so the potential to attract even more Women to the sport has the F1 bosses salivating.
However, Liberty Media president and CEO Greg Maffei said he expects the forthcoming Brad Pitt F1 film to have a much greater impact, comparing it to the forthcoming Las Vegas Grand Prix.