After rain, NASCAR Set for Truck, Xfinity, Cup Tripleheader Sunday (2nd Update)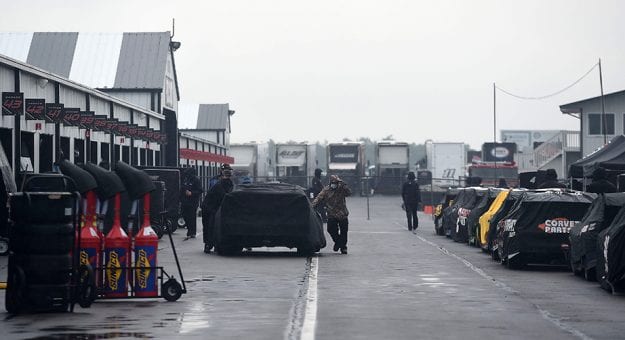 The rain cleared and we are underway
Jared C. Tilton | Getty Images
UPDATE The weather finally cleared at Pocono and the Saturday Cup race is underway and the current leader is Martin Truex Jr. with 50 of 130 laps in the books. Joe Gibbs Racing Toyotas run 1-2-3 with Denny Hamlin in 2nd and Kyle Busch in 3rd.
06/27/20 The start of Saturday's NASCAR Cup Series race at Pocono Raceway has been delayed due to inclement weather and it is raining again at 4:40pm and since Pocono has no lights, we wonder if the race will run today.
Rain fell in Long Pond, Pennsylvania and required track-drying efforts. The green flag for the Pocono Organics 325 in partnership with Rodale Institute was originally scheduled to wave at 3:54 p.m. ET. Coverage continues on FOX, MRN and SiriusXM NASCAR Radio.
Drivers were being called to their cars at 4 p.m. ET with the national anthem at 4:15 p.m. ET and the green flag targeted for approximately 4:35 p.m. ET, but then the rain started to fall again.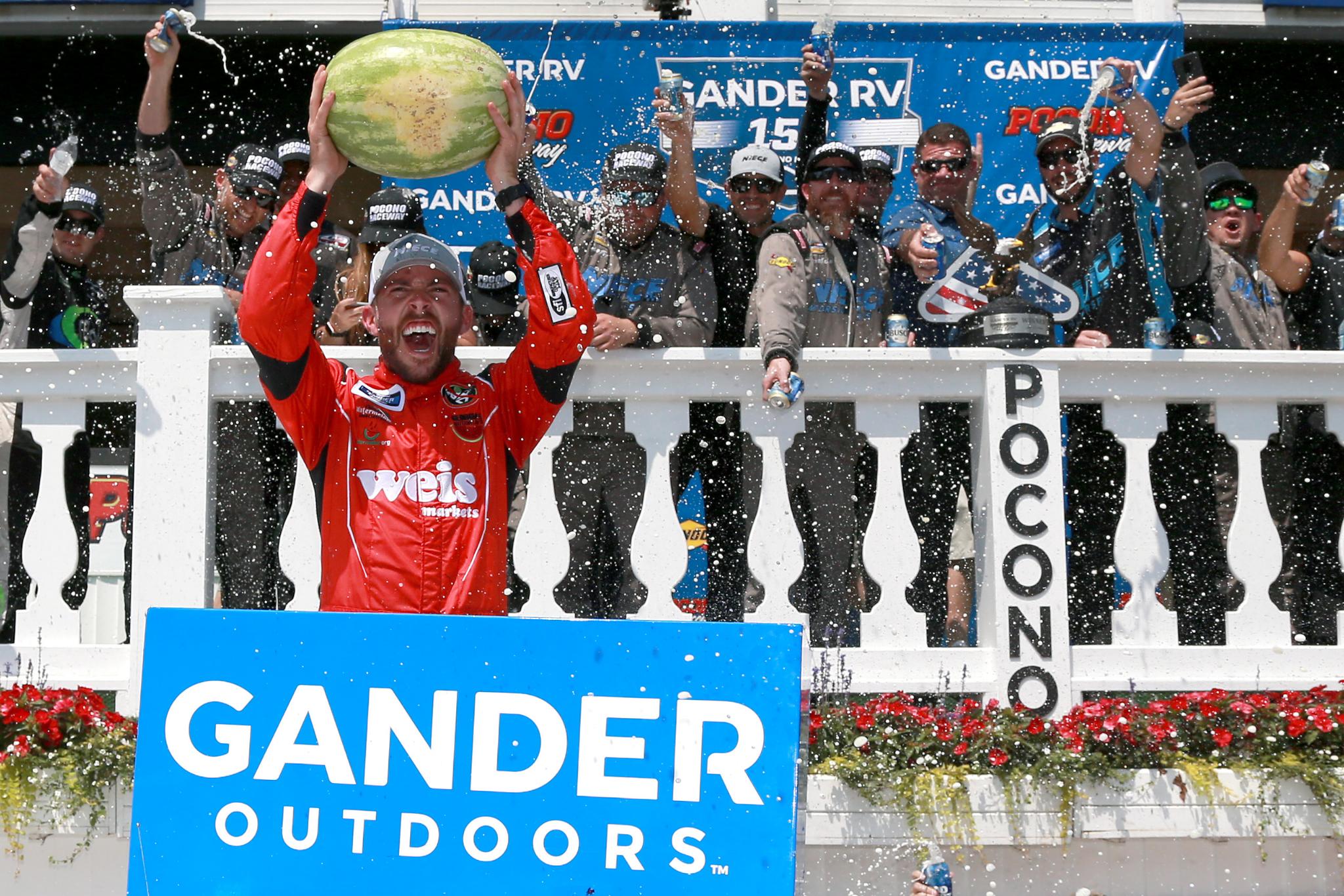 Ross Chastain won last year's Truck race at Pocono
Getty Images for NASCAR
06/27/20 Saturday's scheduled NASCAR Gander RV & Outdoors Truck Series race at Pocono Raceway has been postponed a day due to rain, setting up a scheduled tripleheader Sunday with all three national series at the 2.5-mile triangular track.
NASCAR says it's the first time three NASCAR National Series races will be raced on the same day at the same track. It will be the fifth time three NASCAR National Series races will be run on the same day but those were at different tracks.
Rain washed out the Truck Series race on Saturday. Pocono is the site of the Cup Series first-ever weekend twin bill, with one race on Saturday, one on Sunday. The field for Sunday's race will be set by inverting the lead-lap finishers from race No. 1.
The Pocono Organics 150 to benefit Farm Aid Truck Series was scheduled for Saturday and the Xfinity Series was scheduled for Sunday.
The rainout forced the Truck Series to run at 9:30 a.m. Sunday, followed by 225 miles of Xfinity racing and a 350-mile Cup race at 3:54 pm.
All times ET
| | | | |
| --- | --- | --- | --- |
| Saturday, June 27, 2020 | Location | TV Times | Network |
| ARCA Menards Series | Pocono | 12:30am – 2:30am (R) | FS1 |
| ARCA Menards Series | Pocono | 6:30am – 8:30am (R) | FS2 |
| 1994: Coca-Cola 600 | Charlotte | 11:30am – 12:00pm | FS1 |
| 100,000 Cameras: The Return of NASCAR | Studio | 12:00pm – 12:30pm | FS1 |
| NASCAR Truck Series | Pocono | 12:30pm – 2:00pm (L) | FS1 |
| MotoAmerica Superbike Day 1 | Road America | 2:00pm – 3:00pm (L) | FS1 |
| NASCAR Cup Organics 325 | Pocono | 3:30pm – 6:30pm (L) | FOX |
| Sunday, June 28, 2020 | Location | TV Times | Network |
| NASCAR Truck Series Organics 150 | Pocono | 9:30am – 11:30pm (L) | FS1 |
| NASCAR XFINITY Green 225 | Pocono | 12:30pm – 2:30pm (L) | FS1 |
| MotoAmerica Superbike Day 2 | Road America | 1:30pm – 2:30pm (L) | MavTV |
| MotoAmerica Superbike Day 2 | Road America | 2:30pm – 3:30pm (L) | FS1 |
| NASCAR Cup Pocono 350 | Pocono | 4:00pm – 7:00pm (L) | FS1 |
| NASCAR Cup Pocono 350 | Pocono | 7:00pm – 10:00pm (R) | FS1 |
| Motocross Lucas Oil Series | Washougal | 8:00pm – 10:00pm | NBCSN |
| Motocross Lucas Oil Series | Budds Creek | 10:00pm – 12:00am | NBCSN |
| NASCAR XFINITY Green 225 | Green 225 | 10:00pm – 12:00am (R) | FS1 |