IndyCar: Rosenqvist leads Arrow McLaren 1-2 in Indy 500 qualifying
Benefitting from their F1 technology to make their cars fastest, Arrow McLaren Chevy drivers Felix Rosenqvist and Alexander Rossi turned the top two fastest speeds to lead Day 1 qualifying for the 107th running of the Indy 500.
Rosenqvist turned a 4-lap average speed of 233.947 mph to nip his teammate Rossi who averaged 233.528 mph.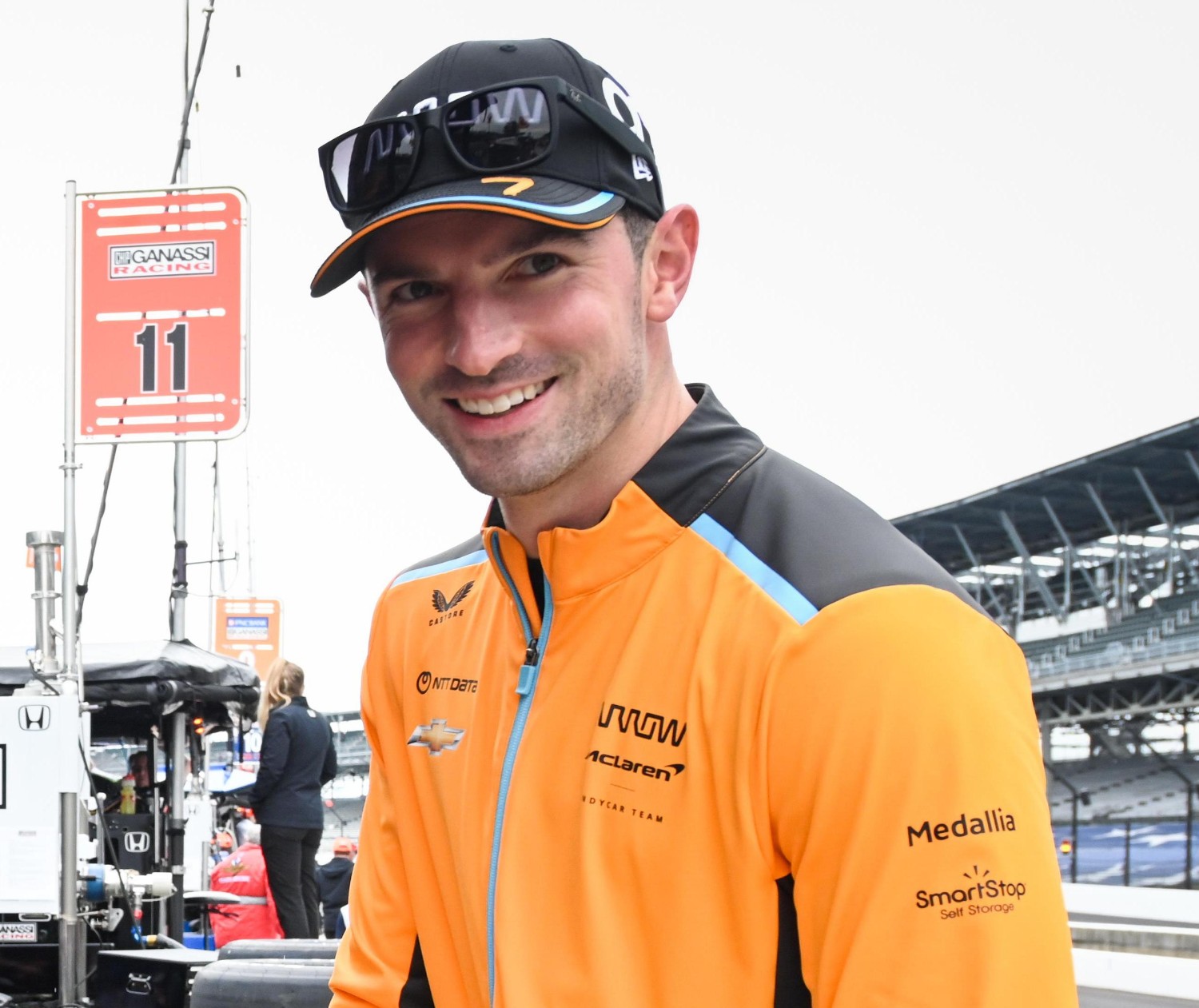 Alex Palou was the fastest Honda in third at 233.398 mph for Chip Ganassi Racing.
One of the good news stories of the day was that AJ Foyt Enterprises had both of their entries, Santino Ferrucci, driving the No 14 Homes for our Troops,  and the rookie Benjamin Pedersen, driving the No 55 AJ Foyt Racing/Sexton Properties, both qualify in the Top 12 for today's qualifying.
Another good news story was Callum Ilott, driver of the No 77 Juncos Hollinger Racing entry, was able to put his car on the grid in the 28th place, after having his car completely rebuilt from a new chassis up.  His team had to work late into the evening yesterday since the decision for the new car was made in the afternoon on Fast Friday.
The bad news is the Rahal Letterman Lanigan team was not able to earn a spot in the guaranteed spots 13 through 30 except for Katherine Legge, driving the No 44 Hendrickson Honda, who secured the 30th position.
The other three teammates, Graham Rahal, Christian Lundgaard and Jack Harvey, will be requalifying tomorrow for the last row with Dale Coyne Racing w/RWR's Sting Ray Robb.  One of those four cars will not make the race.
But wait, it didn't really all count.  Tomorrow, along with the last row qualifying, we will see the Top 12 requalify, with a second session for the Firestone Fast Six, to set the final grid and the pole for the 107th running of the Indy 500.
Select Quotes
Josef Newgarden, No. 2 Chevrolet at Team Penske:
"We're just trying to make it into the next show tomorrow, and the Fast 12. Unfortunately, I think that's just what we had today. We really went aggressive, about as aggressive as you can go, and it just wasn't there. I'm really proud of the team for really giving an effort. You've got to do that. You've got to try. We were close enough to give it a try, and unfortunately, we were a little short. I think we'll have a great racecar. I'm really proud to drive the Shell car. Everybody is fueled by Shell in this field with a completely renewable fuel because of Shell, so it's a big deal in the INDYCAR series, be the first U.S.-based motorsports championship to say that. Proud of Chevy too. I think Chevy has done a great job this weekend. Just bummed we're not going to be there tomorrow, but we're going to work towards next weekend."
Will Power, No. 12 Chevrolet at Team Penske:
"I can't believe how tight this qualifying session was today. Before our last run we trimmed the Verizon 5G Chevy and changed gears, and ran basically the same speed. It's an incredibly fierce field. This No. 12 team has done a great job, but it's a very competitive field. It shows just how tough INDYCAR is, and I think it's great."
Scott McLaughlin, No. 3 Chevrolet at Team Penske:
"I think we lacked a little bit of downforce. I tried to hold on as flat as long as I could and everyone was pretty solid, you guys you guys would be all over the replays. The Pennzoil Chevy was tight but you got to hold it in Indy 500 qualifying and it was fine. We will go back out and try to get cranking speeds in the car. It's amazing."
ON SECOND RUN: "When I was on the first lap, I thought we had something but then every lap, it was just too stuck (too much downforce). We had to go for more speed to make it in the Fast-12, but it was not there.  We had four really fast and consistent laps but it wasn't there."
Pato O'Ward, No. 5 Chevrolet at Arrow McLaren INDYCAR:
"Definitely a super strong run and that'll be enough to get to the top-12. Not saying we're not going to come back out and see we can make it a little bit better for preparation you know for tomorrow. But that was a really, really solid run–very happy with that. The winds are getting a little gusty here and it started getting a little wiggly there in turn four but I'm very, very happy with that."
Felix Rosenqvist, No. 6 Chevrolet at Arrow McLaren INDYCAR:
"Man, it did (surprise me). I have no words. Phenomenal run. Big thanks to Arrow McLaren, Team Chevy. Every time we're out there, we're learning something. The first run wasn't optimal. I wasn't super happy with it but it was clearly quick enough. We said let's go out again and learn something for tomorrow and kind of be the same conditions, or hotter. I thought it was good experience, and then like I couldn't believe what I saw. It was unreal. We trimmed the car out a little bit and tuned up the balance. But I had no idea I was going to be that quick. Definitely puts a smile on my face."
Alexander Rossi, No. 7 Chevrolet at Arrow McLaren INDYCAR:
"This is INDYCAR and knowing how this works probably not another run for us. An amazing team effort from Arrow McLaren and Chevy brought some amazing horsepower this month which is which is awesome and the balance every day it's been getting better and better. This team is unbelievable. So happy with that first one for sure. We're in the show."
"An amazing team day. I don't have enough to say about the whole group. To get four cars in the top 12 – I can't put into words how challenging that is. It's really special to be a part of. Tomorrow's going to be an amazing day, and hopefully one of us can be on pole."
Tony Kanaan, No. 66 Chevrolet at Arrow McLaren INDYCAR:
"I don't know if it's a drama. We started the day a little bit more conservative. We just kept digging. I need to thank definitely my teammates for it. They're all in. They kept supporting me, asking me, You got to do it again, you got to do it again. We finally on the last run nailed it. Great team effort. It was nice. It was unexpected, especially I don't think I've ever done that many qualify attempts in this place. I guess because it's my last one they kept sending me out, so it paid off."
Gavin Ward, Race Director at Arrow McLaren INDYCAR:
"Saturday qualifying for the Indy 500 is, I think, the coolest day in motorsports. It can go either way on you. Today was a good day. We wanted to give each of our cars a shot at the pole, and we've got that – all four in the top eight and the two quickest of the day. Tomorrow is the day that counts, though. Strong day for the team. Let's have some fun tomorrow."
Conor Daly, No. 20 Chevrolet at Ed Carpenter Racing:
"Fast enough. I mean, we've got good cars three good cars. Pace, as usual, is just faster than us. So tough to say. But I mean, it's the most comfortable I've been here in a while qualifying. So we got to run again and try to get our way in there. But I'm not sure how much more raw speed there is in the car. Yeah, so we'll see. What differences can you make? What changes? What are you looking for? For that second round, it will just be small changes. And you know, you got to drive it out of control here to be fast, so we just have to get it more out of control.? It was most comfortable because we just dialed in the balance but the problem is comfortable, too slow. So we got to be able to control and we got to add a little bit of a headdress that was coming out to during that run so hopefully we can tie it all together when we get back in the car."
Rinus VeeKay, No. 21 Chevrolet at Ed Carpenter Racing:
"To be honest, I'm most happy when it's over. But I mean, this team gives me gives you a great car where, you know, I was barely making any adjustments. It was all in all very, very detailed work. But that was a great car to drive. I'm very happy and yeah, I mean, look at Chevy, you know, they've upped their game, so, yes, really good day. I think we're hanging in there confidently. today. So, you know, you want to drive the least possible especially me, maybe the team wants to go out but I don't think so. Anyway, great job by the team great performance and yeah, very proud to drive the car. It's always nice to have them around and they are as excited as it gets, especially my dad. You know, I'm, I'm afraid his heart's gonna stop sometime because it's blood pressures through the roof. But you know he's the best that I could ask for at the racetrack. And of course, my mom was there to calm him down. But now they're the great parents. Very solid."
Ed Carpenter, No. 33 Chevrolet at Ed Carpenter Racing:
"I think there was one awkward shift there that did it. So that's how tight it is right now in the NTT INDYCAR Series. I am disappointed for my team and BITNILE.COM. This isn't what we are accustomed to, but – got a ton of confidence and what we've been doing the whole month-just keep doing those things. The race cars are really good. I felt as strong as I have in a long time.  I'm just gonna have to do some more work this week. We have Rinus (VeeKay) in the Fast-12, so we will all focus on helping him advance to the Firestone Fast Six. Then Monday, we all go work on our race cars and the final two practices."
Santino Ferrucci, No. 14 Chevrolet at AJ Foyt Racing:
"Good run for us. I will work to keep our momentum rolling! Driving for AJ Foyt I think it makes it even more special. It's a relief to be honest. you know, I'm just happy where we are today. I think it's a huge testament one day at a time for this team, but I will tell you right now, I think we have a better race car than we do a qualifying car. That will make it more exciting for us.  So I think we will go out again around 4:00 PM because I guess that's what you are supposed do."
Benjamin Pedersen, No. 55 Chevrolet at AJ Foyt Racing:
"It's helpful but at the end of the day, you've got to get in the race car and go. But man, it was a pretty good car. You know, there's little things where I could have done that a little bit better. But honestly, it was a really good run and yeah, it's it's fast. It was my first but my best ever qualifying here but that's because it's my first ever qualifying here. So the presence here is amazing. The vibe everything AJs presents being right over my shoulder with running on track is very special."
Callum Ilott, No. 77 Chevrolet at Juncos Hollinger Racing:
"We made the race. First of all, great. But it was looking a bit difficult, especially a week ago, coming here. Not easy, and we've been through some wars. We had to change the chassis last night, then a big unknown going into today. Bit of an impossible task, but we pulled it off. Obviously, there's a bit more to achieve. We've got to get the racecar in a good window, but yeah, I'm super happy to be making the race. It's a lot of hard work that everyone behind the scenes has been working to achieve, and thanks to Juncos, big thanks to Chevy."
Agustin Canapino, No. 78 Chevrolet at Juncos Hollinger Racing:
"We have finished qualifications on the first day. I am very proud of my team. I am very, very happy to be in the Indianapolis 500 for the first time in my life. Now, we'll focus on the race. We'll do our best to finish in the best possible position."
Ryan Hunter-Reay, No. 23 Chevrolet at Dreyer & Reinbold Racing:
"Qualifying was harder than I thought it would be with the first run. Usually, it's pretty straight forward. Not sure why we slowed for the second two laps. I didn't see that coming with the handling. The whole car just took off to the wall in turn three. That wasn't a clean run for us. We lost the consistency in the balance of the car. That really hurt our average speed. We will wait and see how the other speeds go throughout the day. We found a problem with the first run. So, we fixed it and the second run was much more consistent. We picked up six sports. Maybe we'll go later in the day if conditions remain the same. We wanted to run four consistent laps and get an overall faster speed for qualifying. It's a lot of work with a new team and new crew. This team is very good, but everything is new for me. And I am new for them. It takes time to blend everything throughout the month of May."
Stefan Wilson, No. 24 Chevrolet at Dreyer & Reinbold Racing:
"I was very nervous going out later as the track was getting hotter. Sun was beating down on the track. It was a good run, but I made a slight mistake on the third lap. I thought we would have the No. 24 DRR/Cusick Motorsports/CareKeepers Chevrolet higher on the speed charts today. The car felt great and I'm ready to go out for another run soon. It seems so easy to just be turning left for four laps, but there is so much going on in those four laps for a driver. You are always making adjustments during the qualifying run. I'm very proud to be part of Team Chevy this year. This is my third year with a Chevrolet engine. Seems like every year Chevy just gives us more power."
Dennis Reinbold, Team Owner, Dreyer & Reinbold:
"We know we have good race cars after this week's practice runs. We were a little disappointed in our first qualifying runs for both drivers. We had some speed fall off in the last two laps for both guys. We know what happened there, so we look to run again with those adjustments. We believe we can be more consistent with all four laps again and improved our four-lap averages."
Day 1 Qualifying Results
| | | | | | | | | | |
| --- | --- | --- | --- | --- | --- | --- | --- | --- | --- |
| Pos | No | Name | 4-Lap Avg | QLap1 | QLap2 | QLap3 | QLap4 | Engine | Team |
| 1 | 6 | Felix Rosenqvist | 233.947 | 234.329 | 234.310 | 233.780 | 233.372 | Chevy | Arrow McLaren |
| 2 | 7 | Alexander Rossi | 233.528 | 234.177 | 233.757 | 233.389 | 232.796 | Chevy | Arrow McLaren |
| 3 | 10 | Alex Palou | 233.398 | 234.248 | 233.698 | 233.113 | 232.540 | Honda | Chip Ganassi Racing |
| 4 | 21 | Rinus VeeKay | 233.395 | 233.902 | 233.608 | 233.132 | 232.940 | Chevy | Ed Carpenter Racing |
| 5 | 9 | Scott Dixon | 233.375 | 233.803 | 233.743 | 233.283 | 232.672 | Honda | Chip Ganassi Racing |
| 6 | 66 | Tony Kanaan | 233.347 | 234.057 | 233.315 | 233.356 | 232.663 | Chevy | Arrow McLaren |
| 7 | 11 | Takuma Sato | 233.322 | 234.085 | 233.619 | 232.810 | 232.779 | Honda | Chip Ganassi Racing |
| 8 | 5 | Pato O'Ward | 233.252 | 233.829 | 233.381 | 232.943 | 232.857 | Chevy | Arrow McLaren |
| 9 | 14 | Santino Ferrucci | 233.147 | 233.564 | 233.237 | 233.111 | 232.676 | Chevy | AJ Foyt Enterprises |
| 10 | 8 | Marcus Ericsson | 233.030 | 233.541 | 233.257 | 232.867 | 232.458 | Honda | Chip Ganassi Racing |
| 11 | 55 | Benjamin Pedersen | 232.739 | 233.297 | 232.847 | 232.573 | 232.242 | Chevy | AJ Foyt Enterprises |
| 12 | 12 | Will Power | 232.719 | 233.118 | 232.864 | 232.501 | 232.394 | Chevy | Team Penske |
| 13 | 33 | Ed Carpenter | 232.689 | 233.628 | 232.396 | 232.605 | 232.133 | Chevy | Ed Carpenter Racing |
| 14 | 3 | Scott McLaughlin | 232.677 | 232.914 | 232.783 | 232.508 | 232.506 | Chevy | Team Penske |
| 15 | 27 | Kyle Kirkwood | 232.662 | 233.476 | 233.062 | 232.391 | 231.726 | Honda | Andretti Autosport |
| 16 | 20 | Conor Daly | 232.433 | 233.129 | 232.703 | 232.153 | 231.752 | Chevy | Ed Carpenter Racing |
| 17 | 2 | Josef Newgarden | 232.402 | 232.640 | 232.379 | 232.401 | 232.189 | Chevy | Team Penske |
| 18 | 23 | Ryan Hunter-Reay | 232.133 | 232.445 | 232.338 | 232.008 | 231.741 | Chevy | Dreyer & Reinbold Racing |
| 19 | 28 | Romain Grosjean | 231.997 | 232.580 | 232.099 | 231.758 | 231.554 | Honda | Andretti Autosport |
| 20 | 06 | Helio Castroneves | 231.954 | 232.343 | 231.970 | 231.832 | 231.672 | Honda | Meyer Shank Racing |
| 21 | 26 | Colton Herta | 231.951 | 232.469 | 231.873 | 231.753 | 231.708 | Honda | Andretti Autosport w/Curb-Agajanian |
| 22 | 60 | Simon Pagenaud | 231.878 | 231.916 | 231.984 | 231.970 | 231.643 | Honda | Meyer Shank Racing |
| 23 | 18 | David Malukas | 231.769 | 232.433 | 232.046 | 231.508 | 231.094 | Honda | Dale Coyne Racing with HMD |
| 24 | 98 | Marco Andretti | 231.682 | 232.331 | 231.999 | 231.202 | 231.198 | Honda | Andretti |
| 25 | 24 | Stefan Wilson | 231.648 | 232.238 | 232.036 | 230.939 | 231.383 | Chevy | Dreyer & Reinbold Racing |
| 26 | 29 | Devlin DeFrancesco | 231.353 | 232.151 | 231.932 | 231.440 | 229.904 | Honda | Andretti Steinbrenner Autosport |
| 27 | 78 | Agustin Canapino | 231.320 | 232.514 | 231.615 | 230.832 | 230.330 | Chevy | Juncos Holling Racing |
| 28 | 77 | Callum Ilott | 231.182 | 232.470 | 232.014 | 230.903 | 229.367 | Chevy | Juncos Hollinger Racing |
| 29 | 50 | RC Enerson | 231.129 | 231.966 | 231.433 | 230.899 | 230.224 | Chevy | Abel Motorsports |
| 30 | 44 | Katherine Legge | 231.070 | 231.596 | 231.380 | 230.679 | 230.627 | Honda | Rahal Letterman Lanigan Racing |