IndyCar: Sato and Dixon leads Ganassi 1-2 in Carb Day practice
Chip Ganassi Racing's Takuma Sato turned the fastest lap of over 227mph on Carb Day in the final practice session before the 107th running of the Indianapolis 500.
His teammate Scott Dixon was close behind in 2nd and another teammate, Alex Palou, in 4th behind Will Power's Penske Chevy.
The crowd today is massive.  The line to get into the garage stretched back to the food concessions just south of the Pagoda.  People are in the grandstands waiting for the pit stop competition to begin at 2:30 pm.
Alex Palou
Alex Palou would love to sweep the month of May after winning the GMR Grand Prix two weeks ago.  Winning the Indy 500 might not be so easy with all the good drivers in the NTT INDYCAR Series.
The Spaniard was asked his thoughts about running in traffic and passing at the finish of Carb Day practice.
"I think it's pretty hard when you are fourth, fifth, and behind that. And it's too easy when your first, second. So we'll see what we get. It's the same for everybody. Hopefully, when we start, it's going to change a little bit, but I think it's too easy now to pass from second to first, which we didn't have the past two years."
"But yeah, it's all right. Same for everybody."
Josef Newgarden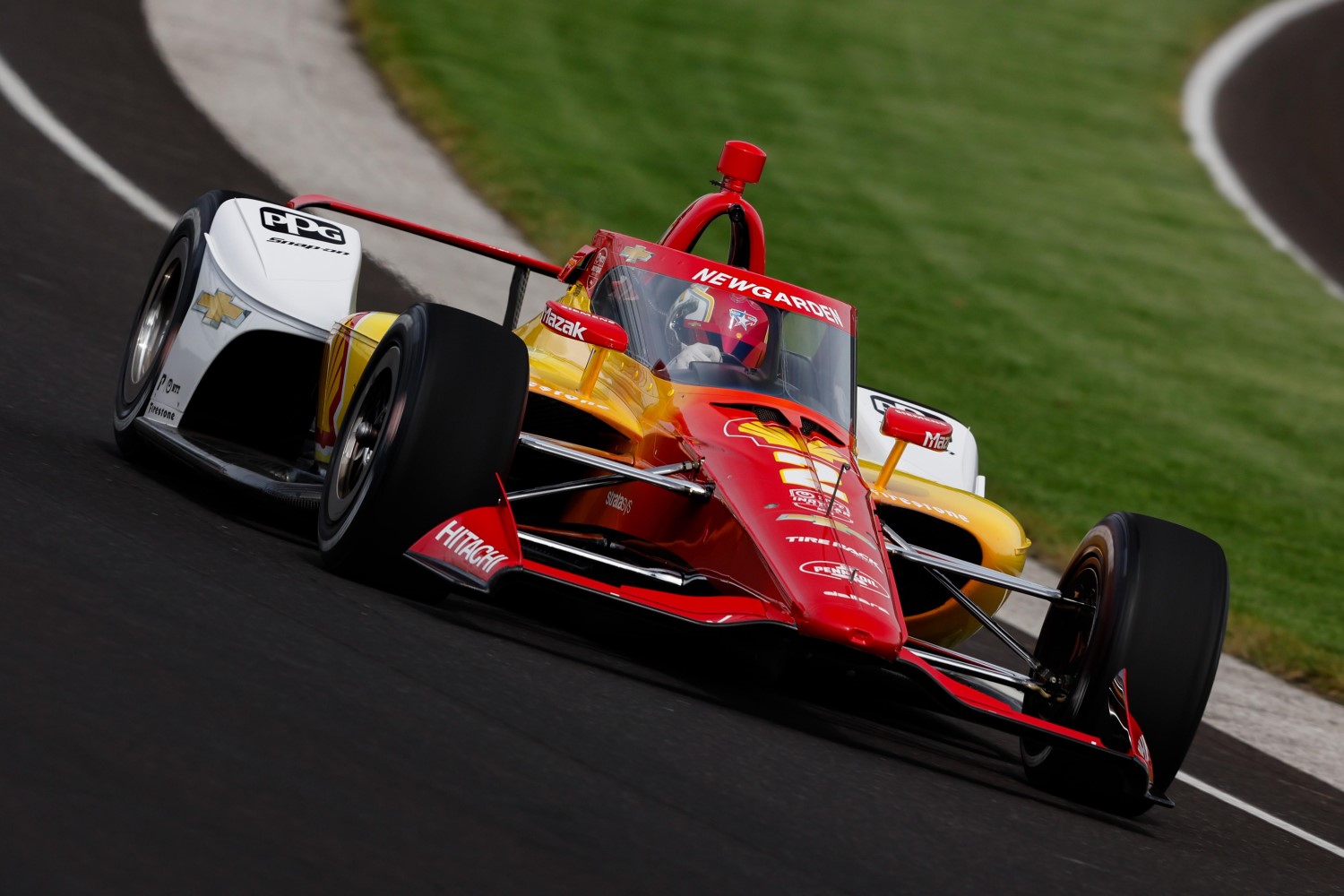 Josef Newgarden   Photo courtesy of Penske EntertainmentJosef Newgarden, driver of the No 2 Shell Powering Progress Team Penske Chevrolet, will start Sunday's race in the 17th spot.  The American was making passes in practice this morning.
Newgarden was asked about the drivers being aggressive in the session.
"I think there were parts of it, but you always get that on an aggressive end to a session
when it's like a Happy Hour or today. Everyone was really racing today and  there was probably some moments where it was unnecessary."
"But I think the intensity was up. Everyone was kind of race running today, trying to really practice what it was going to be like, which is good, but there's probably a couple
moments you just don't want to insert yourself into."
Carb Day Practice Times
| | | | | | | | | | | |
| --- | --- | --- | --- | --- | --- | --- | --- | --- | --- | --- |
| Pos | No | Name | Time | Diff | Gap | FL | Laps | Speed | Engine | Team |
| 1 | 11 | Takuma Sato | 39.4988 | 0.000s | 0.000s | 21 | 86 | 227.855 | Honda | Chip Ganassi Racing |
| 2 | 9 | Scott Dixon | 39.5978 | 0.0990 | 0.0990 | 11 | 83 | 227.285 | Honda | Chip Ganassi Racing |
| 3 | 12 | Will Power | 39.6558 | 0.1570 | 0.0580 | 14 | 82 | 226.953 | Chevy | Team Penske |
| 4 | 10 | Alex Palou | 39.6571 | 0.1583 | 0.0013 | 16 | 83 | 226.945 | Honda | Chip Ganassi Racing |
| 5 | 27 | Kyle Kirkwood | 39.6700 | 0.1712 | 0.0129 | 45 | 57 | 226.872 | Honda | Andretti Autosport |
| 6 | 78 | Agustin Canapino | 39.7295 | 0.2307 | 0.0595 | 9 | 74 | 226.532 | Chevy | Juncos Holling Racing |
| 7 | 26 | Colton Herta | 39.7703 | 0.2715 | 0.0408 | 46 | 76 | 226.300 | Honda | Andretti Autosport w/Curb-Agajanian |
| 8 | 28 | Romain Grosjean | 39.7727 | 0.2739 | 0.0024 | 3 | 43 | 226.286 | Honda | Andretti Autosport |
| 9 | 2 | Josef Newgarden | 39.8642 | 0.3654 | 0.0915 | 22 | 89 | 225.766 | Chevy | Team Penske |
| 10 | 3 | Scott McLaughlin | 39.8998 | 0.4010 | 0.0356 | 71 | 81 | 225.565 | Chevy | Team Penske |
| 11 | 66 | Tony Kanaan | 39.9219 | 0.4231 | 0.0221 | 17 | 59 | 225.440 | Chevy | Arrow McLaren |
| 12 | 20 | Conor Daly | 39.9329 | 0.4341 | 0.0110 | 11 | 77 | 225.378 | Chevy | Ed Carpenter Racing |
| 13 | 30 | Jack Harvey | 39.9555 | 0.4567 | 0.0226 | 11 | 58 | 225.251 | Honda | Rahal Letterman Lanigan Racing |
| 14 | 7 | Alexander Rossi | 39.9586 | 0.4598 | 0.0031 | 61 | 71 | 225.233 | Chevy | Arrow McLaren |
| 15 | 5 | Pato O'Ward | 39.9797 | 0.4809 | 0.0211 | 12 | 84 | 225.114 | Chevy | Arrow McLaren |
| 16 | 18 | David Malukas | 39.9967 | 0.4979 | 0.0170 | 38 | 89 | 225.019 | Honda | Dale Coyne Racing with HMD |
| 17 | 55 | Benjamin Pedersen | 40.0169 | 0.5181 | 0.0202 | 44 | 82 | 224.905 | Chevy | AJ Foyt Enterprises |
| 18 | 8 | Marcus Ericsson | 40.0443 | 0.5455 | 0.0274 | 4 | 87 | 224.751 | Honda | Chip Ganassi Racing |
| 19 | 98 | Marco Andretti | 40.0531 | 0.5543 | 0.0088 | 13 | 56 | 224.702 | Honda | Andretti |
| 20 | 06 | Helio Castroneves | 40.0608 | 0.5620 | 0.0077 | 59 | 87 | 224.659 | Honda | Meyer Shank Racing |
| 21 | 33 | Ed Carpenter | 40.0664 | 0.5676 | 0.0056 | 52 | 73 | 224.627 | Chevy | Ed Carpenter Racing |
| 22 | 23 | Ryan Hunter-Reay | 40.0857 | 0.5869 | 0.0193 | 19 | 34 | 224.519 | Chevy | Dreyer & Reinbold Racing |
| 23 | 51 | Sting Ray Robb | 40.1503 | 0.6515 | 0.0646 | 8 | 64 | 224.158 | Honda | Dale Coyne Racing w/RWR |
| 24 | 60 | Simon Pagenaud | 40.1618 | 0.6630 | 0.0115 | 38 | 81 | 224.094 | Honda | Meyer Shank Racing |
| 25 | 45 | Christian Lundgaard | 40.1793 | 0.6805 | 0.0175 | 32 | 61 | 223.996 | Honda | Rahal Letterman Lanigan Racing |
| 26 | 29 | Devlin DeFrancesco | 40.2077 | 0.7089 | 0.0284 | 60 | 78 | 223.838 | Honda | Andretti Steinbrenner Autosport |
| 27 | 50 | RC Enerson | 40.2119 | 0.7131 | 0.0042 | 10 | 63 | 223.814 | Chevy | Abel Motorsports |
| 28 | 6 | Felix Rosenqvist | 40.2175 | 0.7187 | 0.0056 | 12 | 57 | 223.783 | Chevy | Arrow McLaren |
| 29 | 44 | Katherine Legge | 40.2573 | 0.7585 | 0.0398 | 9 | 35 | 223.562 | Honda | Rahal Letterman Lanigan Racing |
| 30 | 24 | Graham Rahal | 40.2701 | 0.7713 | 0.0128 | 49 | 77 | 223.491 | Chevy | Dreyer & Reinbold Racing |
| 31 | 14 | Santino Ferrucci | 40.2786 | 0.7798 | 0.0085 | 52 | 73 | 223.444 | Chevy | AJ Foyt Enterprises |
| 32 | 77 | Callum Ilott | 40.4922 | 0.9934 | 0.2136 | 8 | 66 | 222.265 | Chevy | Juncos Hollinger Racing |
| 33 | 21 | Rinus VeeKay | 40.5102 | 1.0114 | 0.0180 | 58 | 89 | 222.166 | Chevy | Ed Carpenter Racing |