IndyCar: Newgarden outduels Ericsson to win Indy 500
Josef Newgarden passed Marcus Ericsson during a one-lap shootout to win the 107th Indy 500, which featured multiple crashes and three red flags for a total of 37 minutes after
Ericsson drafted by Newgarden on the prior restart, and Newgarden returned the favor on the final restart to win yet another Indy 500 for team owner Roger Penske.
Newgarden drove onto the pit lane entrance coming for the checkered flag to break the draft.   Using that lane was not questioned because the series decided to not police it.
Santino Ferrucci was third for AJ Foyt Racing, while Alex Palou came home 4th after having a pitlane incident when Rinus Veekay ran into Palou on Lap 102.
Alexander Rossi rounded out the top-5 for Arrow McLaren Racing.
Marcus Ericsson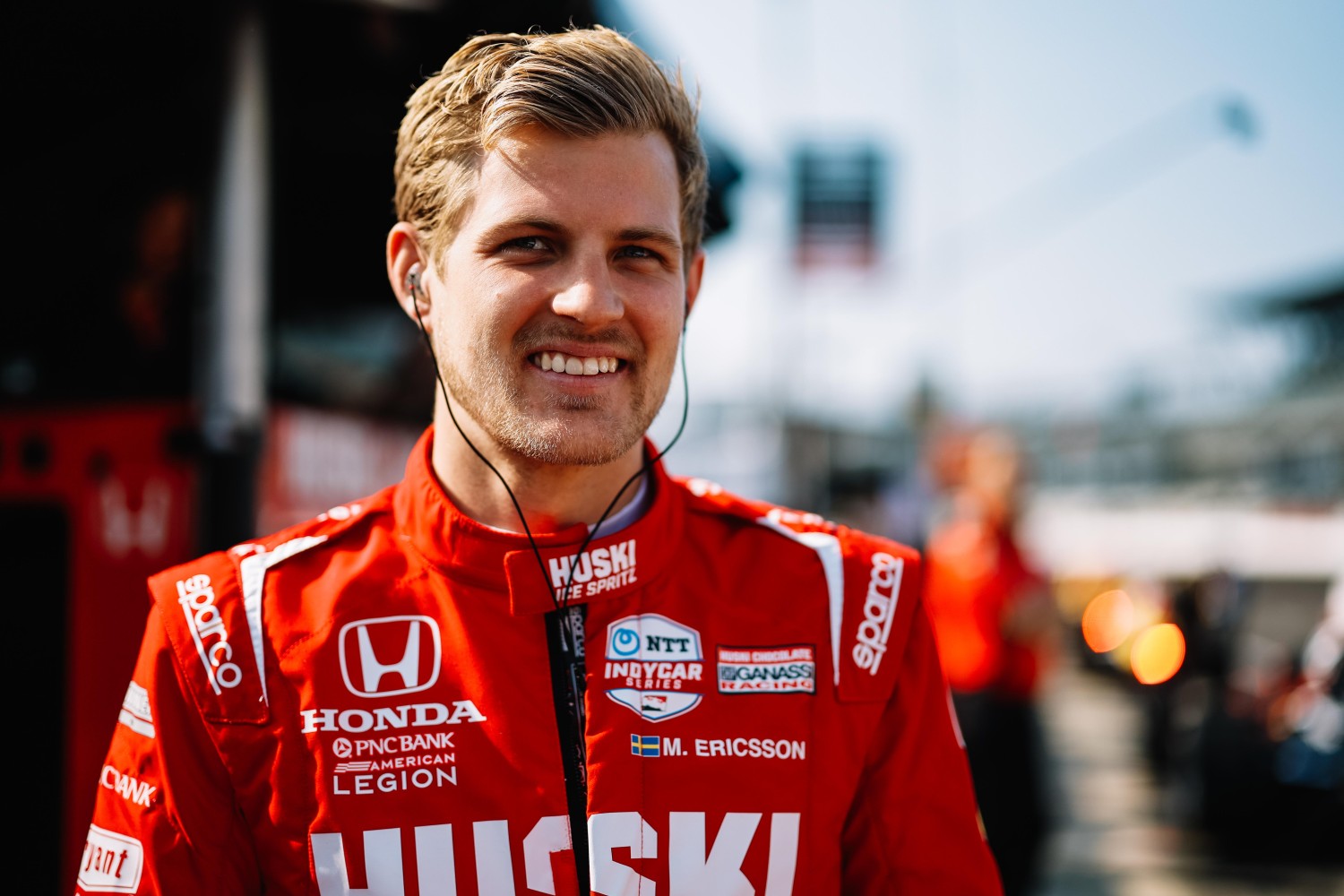 The defending Indy 500 winner, a crushed spirited Swede, talked with the media after the race about his day and what he felt about the final restart.
"I'm very happy with my performance, with our performance. I think we did an awesome race. I had a great car, great strategy, pit stops. Tough restarts and good restarts. Had a lot of fun out there.'
"I think it was a tough way to end the race. I don't really agree with how we did that. I don't think that was a fair way to end the race. But I'm proud of our effort."
" I think it wasn't enough laps to go to do what we did. I don't think it's safe to go out of the pits on cold tires for a restart when half the field is sort of still trying to get out on track when we go green."
"I don't think it's a fair way to end the race. I don't think it's a right way to end the race. So I can't agree with that."
"No, it is what it is. I just have to deal with it. I think I did everything I could. I did an awesome last restart. I caught Josef by surprise and kept the lead into 1, but it wasn't enough, so for sure it's hard to swallow."
Santino Ferrucci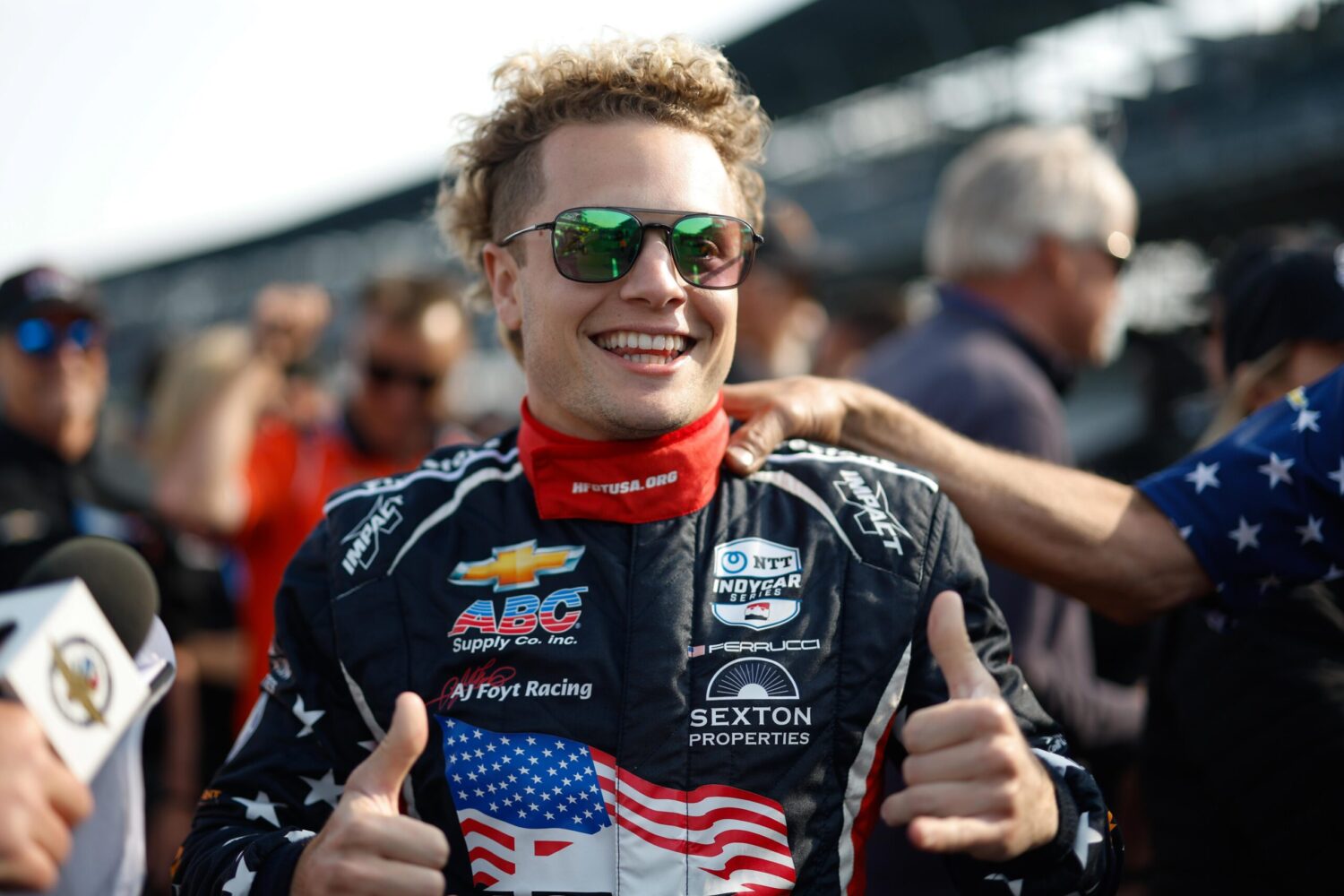 Another disappointed driver was Santino Ferrrucci, driver of the AJ Foyt No 14 Home for Our Troops, led eleven laps today and drove his best to try and win this race.  The American wanted to win for his team owner, AJ Foyt, because AJ lost his wife of 68 years in April.
"Yeah, today was just emotional, bittersweet.  It was emotional getting in the car, which was kind of strange because you feel like there's a lot of people that really want this, the team really wants this."
"We worked so hard to be where we were. We ran out front all day long. It's definitely one of the more difficult races that I've probably ever run, and just we also knew that we
had a really good car."
"We got really close with Felix when he was wrecking so very thankful we were able to avoid that. And then yeah, coming to the end, I think on the second to final restart, me
and Marcus battling it into 1, and obviously it going red when it did, it's part of this place, it's part of racing, it's part of the speedway."
"Just bummed because I think — I'm sure Marcus thinks the same thing I do. We definitely, all three of us could have won it at any point in time. Yeah, it's bittersweet."
Race Results
| | | | | | | | | | | |
| --- | --- | --- | --- | --- | --- | --- | --- | --- | --- | --- |
| Pos | No | Name | Laps | Behind | Gap | Led | ST | Engine | Points | Team |
| 1 | 2 | Josef Newgarden | 200 | 0.000s |  0.000s | 5 | 17 | Chevy | 182 | Team Penske |
| 2 | 8 | Marcus Ericsson | 200 | 0.0974 | 0.0974 | 30 | 10 | Honda | 199 | Chip Ganassi Racing |
| 3 | 14 | Santino Ferrucci | 200 | 0.5273 | 0.4299 | 11 | 4 | Chevy | 96 | AJ Foyt Enterprises |
| 4 | 10 | Alex Palou | 200 | 0.7638 | 0.2365 | 36 | 1 | Honda | 219 | Chip Ganassi Racing |
| 5 | 7 | Alexander Rossi | 200 | 0.9934 | 0.2296 | 4 | 7 | Chevy | 145 | Arrow McLaren |
| 6 | 9 | Scott Dixon | 200 | 1.4316 | 0.4382 | 0 | 6 | Honda | 162 | Chip Ganassi Racing |
| 7 | 11 | Takuma Sato | 200 | 1.5770 | 0.1454 | 2 | 8 | Honda | 37 | Chip Ganassi Racing |
| 8 | 20 | Conor Daly | 200 | 1.8855 | 0.3085 | 0 | 16 | Chevy | 73 | Ed Carpenter Racing |
| 9 | 26 | Colton Herta | 200 | 2.2248 | 0.3393 | 1 | 21 | Honda | 130 | Andretti Autosport w/Curb-Agajanian |
| 10 | 21 | Rinus VeeKay | 200 | 3.2648 | 1.0400 | 24 | 2 | Chevy | 96 | Ed Carpenter Racing |
| 11 | 23 | Ryan Hunter-Reay | 200 | 3.4223 | 0.1575 | 8 | 18 | Chevy | 20 | Dreyer & Reinbold Racing |
| 12 | 77 | Callum Ilott | 200 | 4.0470 | 0.6247 | 5 | 27 | Chevy | 111 | Juncos Hollinger Racing |
| 13 | 29 | Devlin DeFrancesco | 200 | 4.7432 | 0.6962 | 0 | 25 | Honda | 63 | Andretti Steinbrenner Autosport |
| 14 | 3 | Scott McLaughlin | 200 | 5.0045 | 0.2613 | 0 | 14 | Chevy | 149 | Team Penske |
| 15 | 06 | Helio Castroneves | 200 | 5.4631 | 0.4586 | 1 | 20 | Honda | 69 | Meyer Shank Racing |
| 16 | 66 | Tony Kanaan | 200 | 5.7158 | 0.2527 | 0 | 9 | Chevy | 18 | Arrow McLaren |
| 17 | 98 | Marco Andretti | 200 | 8.9800 | 3.2642 | 0 | 24 | Honda | 13 | Andretti |
| 18 | 30 | Jack Harvey | 199 | 1 LAPS | 40.6456 | 0 | 32 | Honda | 65 | Rahal Letterman Lanigan Racing |
| 19 | 45 | Christian Lundgaard | 198 | In Pit | 1 LAPS | 0 | 30 | Honda | 122 | Rahal Letterman Lanigan Racing |
| 20 | 33 | Ed Carpenter | 197 | Contact | 74.6594 | 0 | 13 | Chevy | 27 | Ed Carpenter Racing |
| 21 | 55 | Benjamin Pedersen | 196 | Contact | 4.0550 | 0 | 11 | Chevy | 51 | AJ Foyt Enterprises |
| 22 | 24 | Graham Rahal | 195 | 1 LAPS | 0.4936 | 0 | 33 | Chevy | 94 | Dreyer & Reinbold Racing |
| 23 | 12 | Will Power | 195 | 5 LAPS | 377.3991 | 1 | 12 | Chevy | 131 | Team Penske |
| 24 | 5 | Pato O'Ward | 192 | Contact | 0.0441 | 39 | 5 | Chevy | 185 | Arrow McLaren |
| 25 | 60 | Simon Pagenaud | 192 | Contact | 0.0408 | 0 | 22 | Honda | 55 | Meyer Shank Racing |
| 26 | 78 | Agustin Canapino | 192 | Contact | 0.2026 | 0 | 26 | Chevy | 61 | Juncos Holling Racing |
| 27 | 6 | Felix Rosenqvist | 183 | Contact | 0.5199 | 33 | 3 | Chevy | 113 | Arrow McLaren |
| 28 | 27 | Kyle Kirkwood | 183 | Contact | 0.5679 | 0 | 15 | Honda | 113 | Andretti Autosport |
| 29 | 18 | David Malukas | 160 | Contact | 5 LAPS | 0 | 23 | Honda | 84 | Dale Coyne Racing with HMD |
| 30 | 28 | Romain Grosjean | 149 | Contact | 0.7374 | 0 | 19 | Honda | 139 | Andretti Autosport |
| 31 | 51 | Sting Ray Robb | 90 | Contact | 1.1828 | 0 | 31 | Honda | 47 | Dale Coyne Racing w/RWR |
| 32 | 50 | RC Enerson | 75 | Mechanical | 8 LAPS | 0 | 28 | Chevy | 5 | Abel Motorsports |
| 33 | 44 | Katherine Legge | 41 | Contact | 23 LAPS | 0 | 29 | Honda | 5 | Rahal Letterman Lanigan Racing |
Race Statistics
Winner's average speed: 168.193 mph
Time of Race: 2:58:21.9611
Margin of victory: 0.0974 of a second
Cautions: 5 for 27 laps
Lead changes: 52 among 14 drivers
Lap Leaders:
Palou, Alex 1 – 2
VeeKay, Rinus 3
Palou, Alex 4 – 9
VeeKay, Rinus 10 – 14
Palou, Alex 15 – 22
VeeKay, Rinus 23 – 27
Palou, Alex 28 – 29
VeeKay, Rinus 30 – 31
Rosenqvist, Felix 32
Rossi, Alexander 33 – 34
Palou, Alex 35 – 39
VeeKay, Rinus 40 – 47
Palou, Alex 48 – 60
VeeKay, Rinus 61 – 63
Rosenqvist, Felix 64 – 65
O'Ward, Pato 66
Power, Will 67
Herta, Colton 68
Rosenqvist, Felix 69
O'Ward, Pato 70 – 78
Rosenqvist, Felix 79 – 81
O'Ward, Pato 82 – 89
Rosenqvist, Felix 90 – 94
Ilott, Callum 95 – 99
Rosenqvist, Felix 100 – 101
O'Ward, Pato 102
Rosenqvist, Felix 103 – 107
O'Ward, Pato 108 – 109
Rosenqvist, Felix 110 – 113
O'Ward, Pato 114 – 115
Rosenqvist, Felix 116 – 119
O'Ward, Pato 120 – 122
Rosenqvist, Felix 123 – 124
O'Ward, Pato 125 – 128
Rosenqvist, Felix 129 – 131
Ferrucci, Santino 132
Ericsson, Marcus 133 – 134
Castroneves, Helio 135
Rosenqvist, Felix 136
Ericsson, Marcus 137 – 156
Newgarden, Josef 157
Ericsson, Marcus 158
Ferrucci, Santino 159 – 168
Ericsson, Marcus 169 – 170
Rossi, Alexander 171 – 172
Sato, Takuma 173 – 174
O'Ward, Pato 175 – 179
Hunter-Reay, Ryan 180 – 187
O'Ward, Pato 188 – 191
Ericsson, Marcus 192
Newgarden, Josef 193 – 195
Ericsson, Marcus 196 – 199
Newgarden, Josef 200
NTT INDYCAR SERIES Point Standings: Palou 219, Ericsson 199, O'Ward 185, Newgarden 182, Dixon 162, McLaughlin 149, Rossi 145, Grosjean 139, Power 131, Herta 130, Lundgaard 122, Kirkwood 113, Rosenqvist 113, Ilott 111, Ferrucci 96, VeeKay 96, Rahal 94, Malukas 84, Armstrong 77, Daly 73, Castroneves 69, Harvey 65, DeFrancesco 63, Canapino 61, Pagenaud 55, Pedersen 51, Robb 47, Sato 37, Carpenter 27, Hunter-Reay 20, Kanaan 18, Andretti 13, Enerson 5, Legge 5