IndyCar: Officials to investigate Wheel That Flew over Fans at Indy 500
(Update)
IndyCar says tether did not fail in crash that sent tire flying over grandstands at Indy 500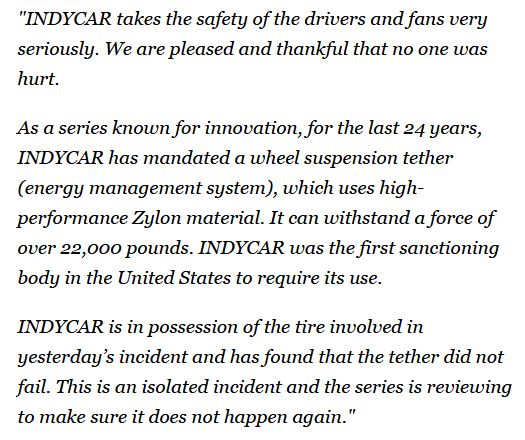 ---
May 29, 2023
IndyCar owner Roger Penske expects to see an investigation into what caused a tire from Kyle Kirkwood's car to sail over the catch fence during Sunday's Indianapolis 500.
"We have tethers on the wheels, and it was a rear wheel that came off," Penske said. "And I'm sure the guys at IndyCar will look at it, will determine what really happened."
On Lap 185, Felix Rosenqvist lost control after hitting the wall and clipped Kirkwood, which caused one of Kirkwood's tires to fly off the car and sail near one of the grandstands.