NASCAR: Blaney wins rain delayed Coca-Cola 600
#12 Ford driver Ryan Blaney gave team owner Roger Penske a clean sweep of the Memorial Day weekend by winning the Coca-Cola 600 NASCAR Cup race at Charlotte Motor Speedway.
Penske's Josef Newgarden won the Indy 500 Sunday – Penske's 19th Indy 500 win.
Blaney, who had not won for 59 races, beat the #24 Hendrick Chevy of William Byron and the #19 JGR Toyota of Martin Truex Jr.
Bubba Wallace and Tyler Reddick rounded out the top-5.
The wreckfest race featured 16 Caution flags
With a dominant No. 12 Team Penske Ford that gained long-run speed as the race progressed, Blaney led a race-high and career-best 163 of 400 laps and held off polesitter William Byron for his first victory on the 1.5-mile Charlotte oval and the eighth of his career.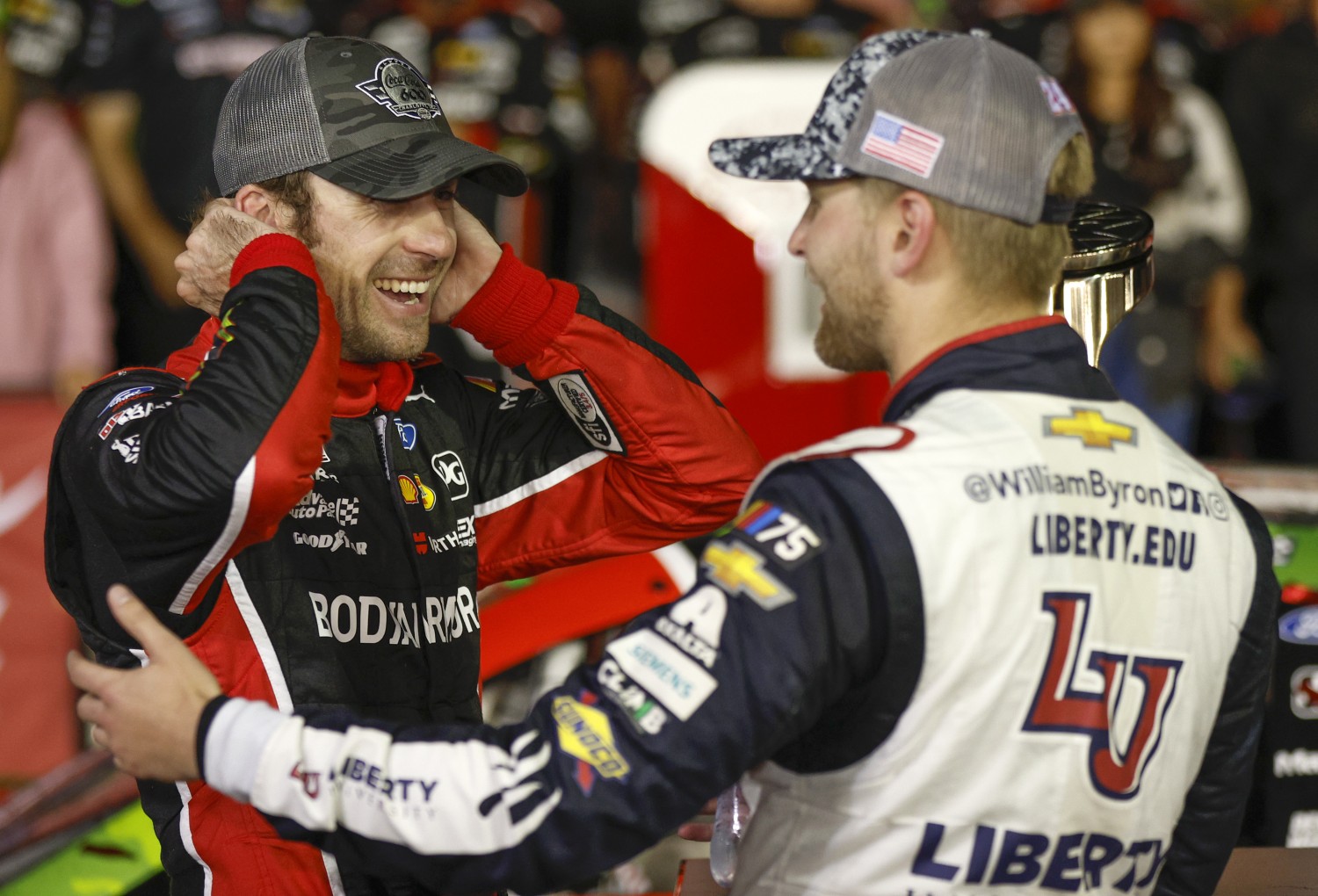 "I might shed a tear," said Blaney, clearly emotional during his post-race interview on the frontstretch. "I just was able to get the lead, and that car was so good that I could kind of bide my time a little bit and then we were able to drive off. I was hoping no caution, just because you never know.
"I know we had the car to do it, but restarts can be crazy… You start to get to feel like you can't win anymore when you don't win in a while. It kind of gets hard. So just super thankful to the 12 guys for believing in me…
"It's just so cool. What a weekend with Newgarden and Roger winning at Indy and us winning the 600. I mean that's just so cool. That kind of snaps our winless streak right there, and that's even better."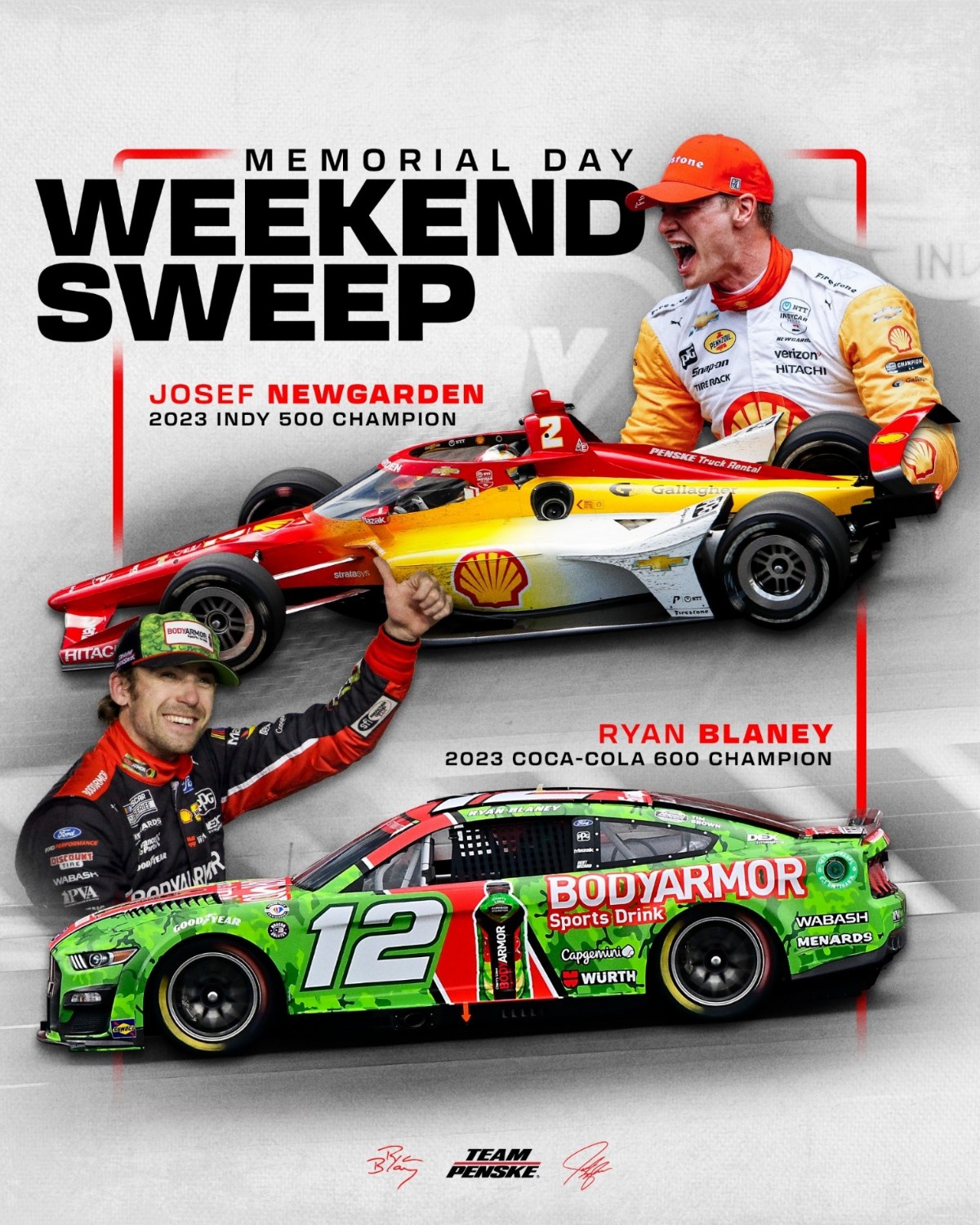 After a spate of cautions late in the race, Blaney led the field to green with 20 laps left and built a one-second lead over Byron before winning by 0.663 seconds. Martin Truex Jr. ran third ahead of 23XI Racing teammates Bubba Wallace and Tyler Reddick.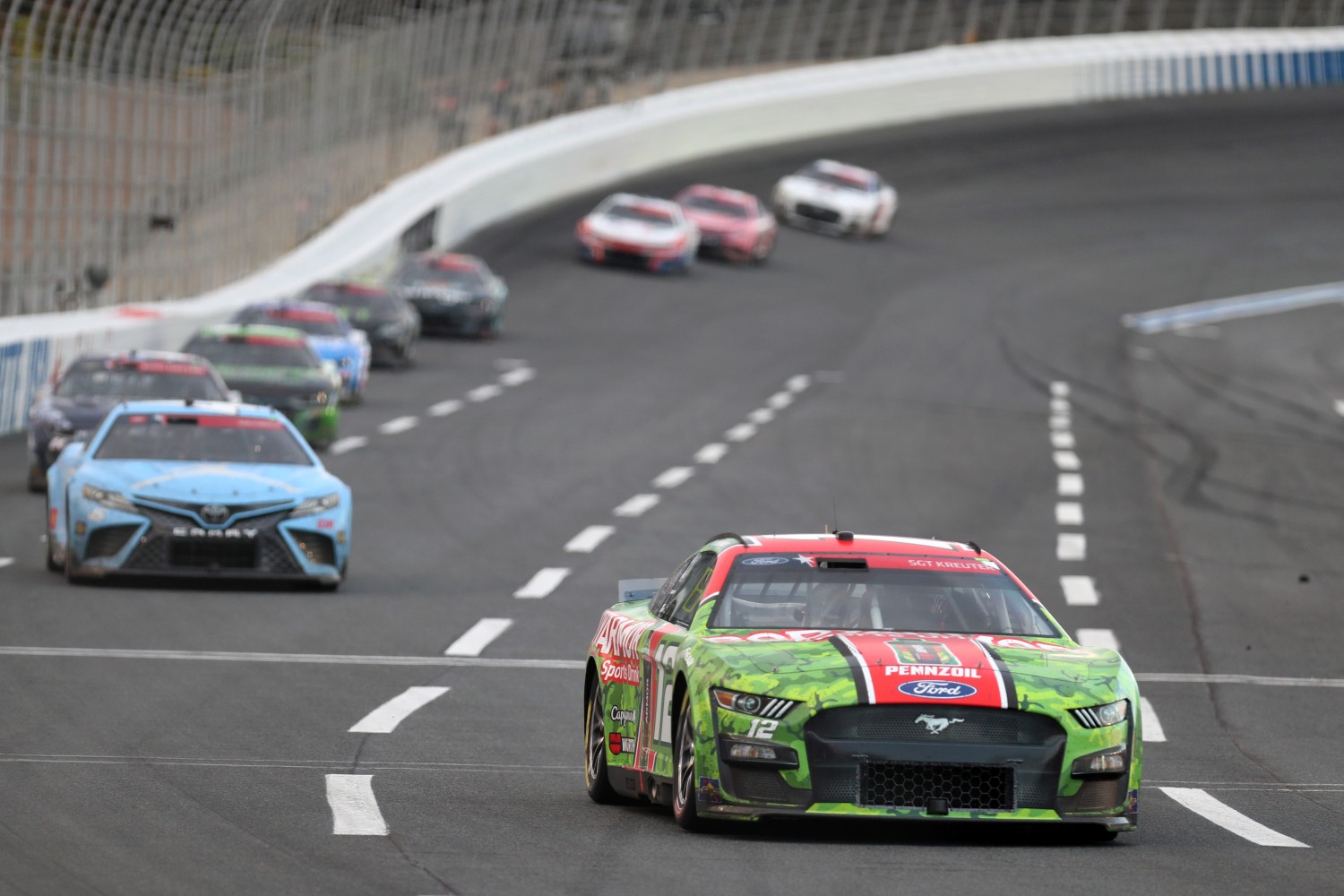 Blaney won the race's third stage and is second in the NASCAR Cup Series standings, one point behind Ross Chastain, who finished 22nd.
Byron, who collected his eighth top-10 finish this season, pursued Blaney for the final 20 laps, but to no avail.
"We just needed a little bit," said Byron, who led 91 laps and repeatedly regained the top spot from the No. 1 pit stall in a race that featured 16 cautions for 83 laps. "Really happy for Ryan. He really deserves it. He's a good dude. Cool to see him get a win…
"The car was great tonight. Just not quite good enough. Really proud of the effort. Pit crew was phenomenal on pit road. Those guys are just high energy, and that pit stall helps… Just proud of where our team is at. Just needed a little bit more."
The wreck that set up the final 20-lap green-flag run was one of the race's most severe. Kyle Larson slid sideways and after a restart on Lap 375 and bounced off other front-running cars like a pinball. Collected in the wreck were Christopher Bell, who had shown early speed; Ty Gibbs; Joey Logano and Aric Almirola.
Just as significant was an accident on Lap 185 that knocked defending race winner Denny Hamlin and five-time most popular driver Chase Elliott out of the race.
After Hamlin crowded Elliott's No. 9 Chevrolet into the outside wall, Elliott hooked Hamlin's No. 11 Toyota on the frontstretch. Hamlin's car bounced off the wall after a brutal impact and collected Elliott's Camaro on the rebound.
Both cars were damaged too severely to continue.
Hamlin and crew chief Chris Gabehart were convinced Elliott turned Hamlin's Camry in retaliation.
"It's a tantrum and he shouldn't be racing next week," Hamlin said after exiting the infield care center. "Right-rear hooks are absolutely unacceptable. I don't care. It is the same thing that Bubba Wallace did with Kyle Larson. Exact same. He shouldn't be racing. It's a tantrum."
Elliott denied the incident was intentional on his part.
"No, like I said, once you hit the wall in these things, you can't drive them anymore," Elliott said. "So, no, just unfortunate circumstances."
Postponed from Sunday due to inclement weather, Monday's 400-lapper was red-flagged at Lap 159 for additional rainfall. During the delay, Bubba Wallace and Aric Almirola had a discussion that briefly turned physical when Almirola shoved Wallace. The two were separated with no further incidents.
BLANEY'S THOUGHTS: "Obviously a big weekend for Team Penske. Watching the Indy 500 yesterday, how that played out, and watching Josef win his first one and watching Mr. Penske win No. 19, that's really cool to see. Especially when that stuff happens, you're like, well, the pressure is on for us to try to sweep the weekend, especially in two really big races. That was the goal, and fortunately we executed well enough to get it done. I'm really looking forward to talking to Roger here after I get done and back to the bus because I haven't congratulated him enough, and I'm looking forward to hearing his voice. A big weekend, and obviously winning the 600 is massive. I grew up coming here watching my dad race for a long time as a kid. It's just what we did every summer. Really cool, and it was cool for my parents to be here as well. So that was a special moment. Fun night, that's for sure. Monday races seem to go really well for me. I don't know what it is, but definitely a fun night."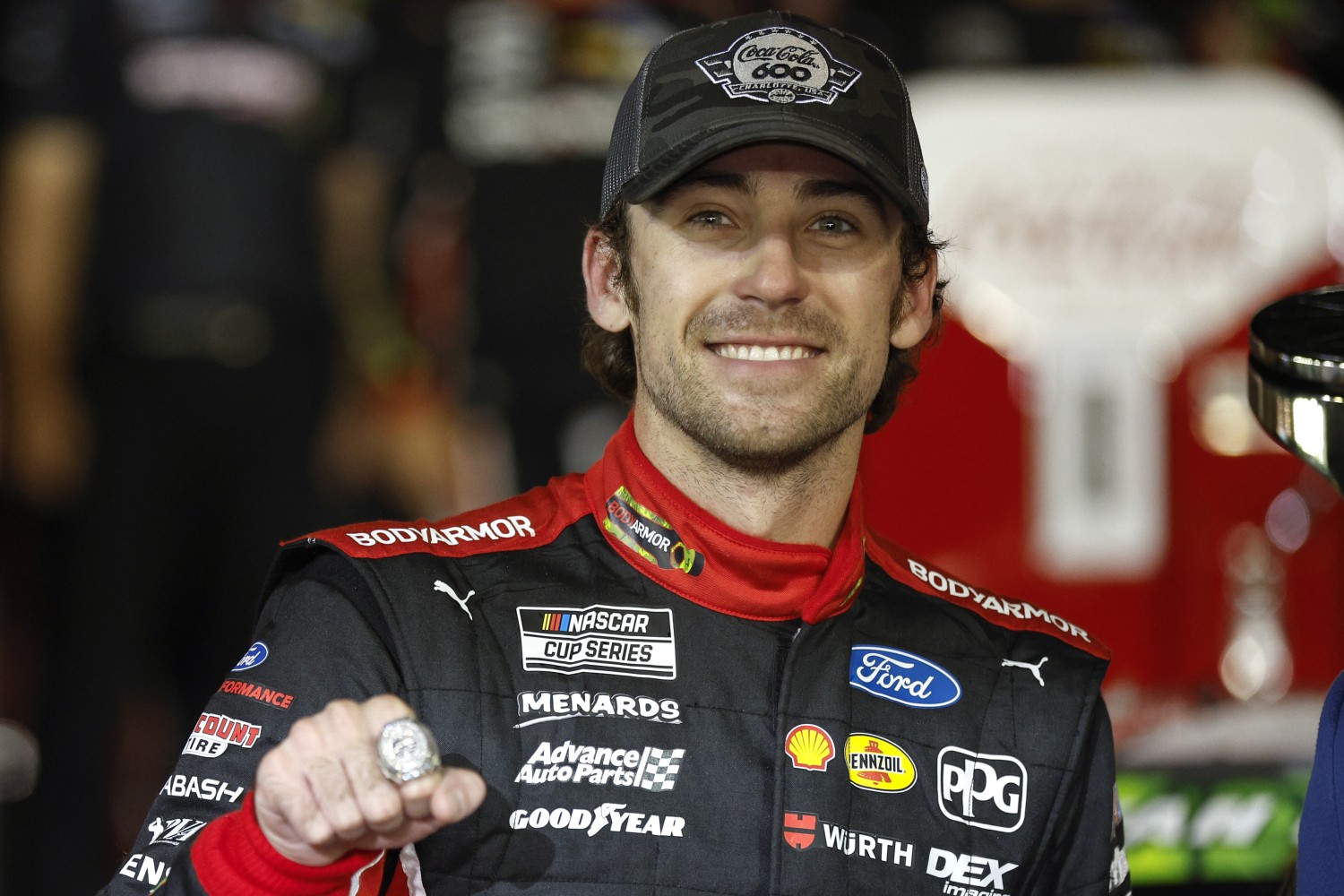 Race Results
| | | | | | |
| --- | --- | --- | --- | --- | --- |
| POS | CAR | DRIVER | MANUF | BEHIND | LAPS |
| 1 | 12 | Ryan Blaney | | — | 400 |
| 2 | 24 | William Byron | | 0.663 | 400 |
| 3 | 19 | Martin Truex Jr. | | 1.053 | 400 |
| 4 | 23 | Bubba Wallace | | 2.552 | 400 |
| 5 | 45 | Tyler Reddick | | 2.668 | 400 |
| 6 | 8 | Kyle Busch | | 3.533 | 400 |
| 7 | 47 | Ricky Stenhouse Jr. | | 5.119 | 400 |
| 8 | 17 | Chris Buescher | | 6.181 | 400 |
| 9 | 3 | Austin Dillon | | 6.567 | 400 |
| 10 | 38 | Zane Smith(i) | | 7.171 | 400 |
| 11 | 4 | Kevin Harvick | | 8.149 | 400 |
| 12 | 48 | Alex Bowman | | 8.243 | 400 |
| 13 | 41 | Ryan Preece | | 9.277 | 400 |
| 14 | 16 | AJ Allmendinger | | 9.673 | 400 |
| 15 | 31 | Justin Haley | | 9.891 | 400 |
| 16 | 15 | JJ Yeley(i) | | 11.555 | 400 |
| 17 | 7 | Corey LaJoie | | 12.958 | 400 |
| 18 | 21 | Harrison Burton | | 13.295 | 400 |
| 19 | 6 | Brad Keselowski | | 13.627 | 400 |
| 20 | 14 | Chase Briscoe | | 13.981 | 400 |
| 21 | 22 | Joey Logano | | 15.376 | 400 |
| 22 | 1 | Ross Chastain | | 15.526 | 400 |
| 23 | 99 | Daniel Suarez | | 17.132 | 400 |
| 24 | 20 | Christopher Bell | | 22.764 | 400 |
| 25 | 10 | Aric Almirola | | 25.096 | 400 |
| 26 | 54 | Ty Gibbs # | | -2 | 398 |
| 27 | 77 | Ty Dillon | | -3 | 397 |
| 28 | 34 | Michael McDowell | | -4 | 396 |
| 29 | 78 | BJ McLeod | | -8 | 392 |
| 30 | 5 | Kyle Larson | | -23 | 377 |
| 31 | 2 | Austin Cindric | | -31 | 369 |
| 32 | 43 | Erik Jones | | -59 | 341 |
| 33 | 51 | Todd Gilliland | | -135 | 265 |
| 34 | 9 | Chase Elliott | | -215 | 185 |
| 35 | 11 | Denny Hamlin | | -215 | 185 |
| 36 | 42 | Noah Gragson # | | -283 | 117 |
| 37 | 84 | * Jimmie Johnson | | -285 | 115 |
# DENOTES ROOKIE
(i) NOT ELIGIBLE FOR POINTS
(*) REQUIRED TO QUALIFY ON TIME
LEADERS
| | | |
| --- | --- | --- |
| CAR | TIMES | LAPS |
| 12 | 7 | 163 |
| 24 | 9 | 92 |
| 45 | 1 | 28 |
| 8 | 1 | 1 |
| 47 | 1 | 4 |
| 17 | 1 | 12 |
| 38 | 1 | 3 |
| 4 | 3 | 19 |
| 20 | 3 | 48 |
| 34 | 1 | 4 |
| 5 | 1 | 1 |
| 9 | 1 | 6 |
| 11 | 2 | 20 |
LEAD CHANGES
| | | | |
| --- | --- | --- | --- |
| CAR | START | END | TOTAL |
| 24 | 0 | 13 | 14 |
| 11 | 14 | 32 | 19 |
| 20 | 33 | 36 | 4 |
| 11 | 37 | 37 | 1 |
| 24 | 38 | 41 | 4 |
| 12 | 42 | 62 | 21 |
| 20 | 63 | 75 | 13 |
| 24 | 76 | 103 | 28 |
| 34 | 104 | 107 | 4 |
| 24 | 108 | 116 | 9 |
| 20 | 117 | 147 | 31 |
| 9 | 148 | 153 | 6 |
| 45 | 154 | 181 | 28 |
| 12 | 182 | 191 | 10 |
| 17 | 192 | 203 | 12 |
| 4 | 204 | 204 | 1 |
| 47 | 205 | 208 | 4 |
| 4 | 209 | 225 | 17 |
| 12 | 226 | 232 | 7 |
| 4 | 233 | 233 | 1 |
| 24 | 234 | 236 | 3 |
| 12 | 237 | 276 | 40 |
| 5 | 277 | 277 | 1 |
| 24 | 278 | 281 | 4 |
| 12 | 282 | 303 | 22 |
| 24 | 304 | 307 | 4 |
| 12 | 308 | 344 | 37 |
| 8 | 345 | 345 | 1 |
| 24 | 346 | 359 | 14 |
| 38 | 360 | 362 | 3 |
| 24 | 363 | 374 | 12 |
| 12 | 375 | 400 | 26 |