F1: Tax Payers to foot a portion of Vegas repaving costs
(Update)
–by Mark Cipolloni–
We now know how much the taxpayers are expected to contribute.
The infrastructure upgrades tied to readying the Las Vegas Grand Prix circuit are expected to cost $80 million, with race officials asking Clark County to contribute $40 million in public money toward that work because the roads had to eventually be repaved anyway, according to the Las Vegas Review Journal.
Race officials have projected the grand prix weekend would lead to an economic impact of more than $1 billion, drawing around 105,000 spectators each day of the three-day event.
---
June 2, 2023
–by Mark Cipolloni–
Since the roads in Las Vegas were planned to be repaved anyway, taxpayers will be picking up a portion of the repaving costs for the November Las Vegas GP.
It's assumed Liberty Media will foot the portion of the cost specific to 'special paving requirements' needed for F1 cars.
Until now, F1 and government officials have been mostly silent when presented with the questions: 'Who pays for the repaving?', 'How much does the repaving cost?' and 'Will the same amount of repaving be needed each year F1 is in Las Vegas?'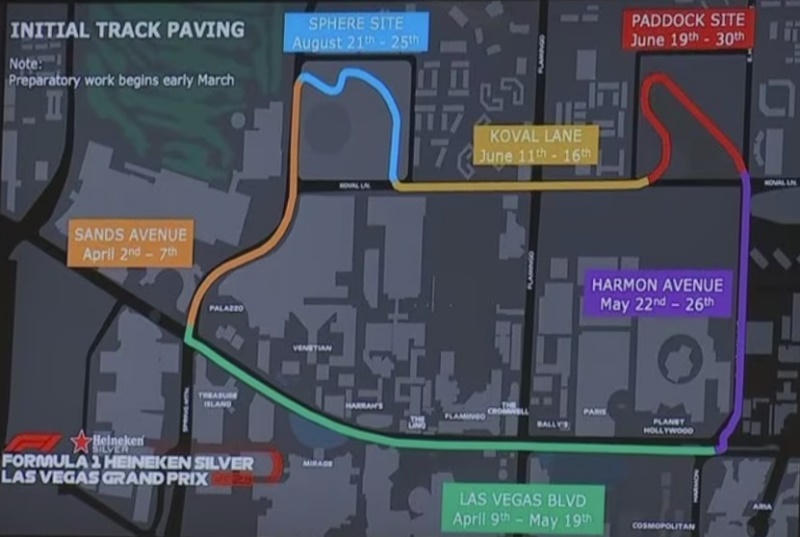 That is about to change.
The only insight into the cost comes from a March Las Vegas Convention and Visitor Authority meeting, where President Steve Hill said F1 asked them for roughly $37 million to cover the total cost. Hill said, at the time, that amount "is less than half of what the cost of the entire circuit would be."
Clark County and Formula One are set to enter into a public-private partnership as the two sides negotiate infrastructure improvements tied to the Nov. 18 Las Vegas Grand Prix.
The partnership will be discussed at next week's Clark County Commission meeting and would be linked to the costs of readying the 3.8-mile track for this fall's inaugural race weekend.
County documents do not note the potential cost of the paving work. It was previously noted in March by Las Vegas Convention and Visitors Authority President and CEO Steve Hill that F1 was seeking $37 million for the infrastructure work.
The infrastructure work also will include readying the track ahead of the race with temporary barriers, pedestrian access points and other needed elements for operations and safety.
Race officials have projected that the grand prix weekend, set for Nov. 16-18, would lead to an economic impact of over $1 billion. The road work already underway also is seen as a benefit to the county, as future repaving of the Strip included in the race's circuit already was planned.
Race officials noted that the 105,000 Las Vegas Grand Prix tickets, mainly comprising three-day passes, are nearly sold out.
If the partnership with F1 is approved Tuesday, Clark County Manager Kevin Schiller would negotiate the public contribution of the road work with race officials, to be heard at a future commission meeting.