Formula E: Gunther gets Jakarta Race 2 win for Maserati
Maximilian Guenther converted a second consecutive Julius Baer Pole Position into the race win in the Gulavit Jakarta E-Prix Round 11, with the German able to stride well clear of the rest and win by almost three seconds at the checkered flag.
Guenther timed things just right, happy to hold fire behind Jake Dennis (Avalanche Andretti) once the Brit had taken the lead through the first round of ATTACK MODE activations.
The telling switch came as Guenther held off on his second jolt of ATTACK MODE when Dennis blinked first. The German was able to generate a gap enough to leapfrog the Avalanche Andretti driver by the time he made the dive for his final 50kW boost on Lap 18.
From there, the Maserati MSG Racing driver didn't look back and, in fact, was able to stretch his legs – pulling out 2.822 seconds on Dennis come the flag and more than 18 seconds on third-placed man Mitch Evans in the Jaguar TCS Racing I-TYPE 6.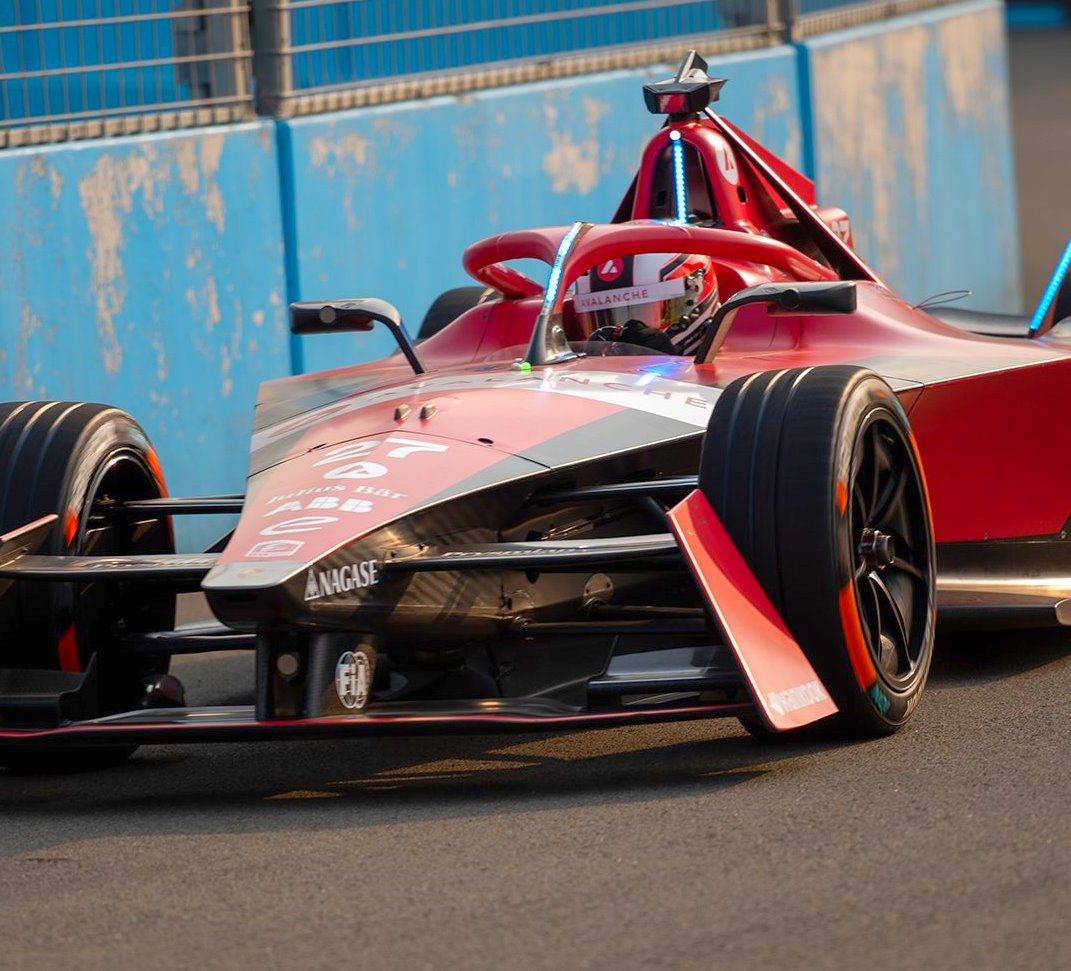 Nobody had won by more than two seconds in the GEN3 era since Dennis' season-opening victory in Mexico City and that margin was the largest we'd seen in the last 10 rounds. That marked Maserati's first world championship single-seater win since Juan-Manuel Fangio's legendary victory at the Nurburgring all the way back in 1957 – history made.
Drama struck the standings leader heading into Round 11, Nick Cassidy. The Envision Racing driver had only failed to score once this season, with 13th in Diriyah, but he made a costly slip in trying to pass his then-nearest title rival Pascal Wehrlein (TAG Heuer Porsche) on Lap 20 – coming off worse for wear, shuffled to the back of the pack and 19th position with damage.
That would prove doubly costly given Dennis' second-placed finish and Wehrlein's drive to sixth – the German backing up his win on Saturday with another strong haul of points after a measured drive.
The Nissan pair of Sacha Fenestraz and Norman Nato made late-race strides to seal fourth and fifth from seventh and 12th on the grid, respectively. The French-Argentine's move on reigning champion Stoffel Vandoorne (DS PENSKE) was particularly eye-catching – catching the Belgian unawares into the hairpin, with his teammate Nato able to follow.
That pass saw Vandoorne shuffled back to an eventual ninth as Wehrlein, Antonio Felix da Costa (TAG Heuer Porsche) and Edoardo Mortara (Maserati MSG Racing) able to waltz by for sixth, seventh and eighth. Envision Racing's disappointing afternoon saw only a point head their way, with Sebastien Buemi rounding out the top 10.
All that left the standings top three split by just six points with Wehrlein on 134, Dennis 133 after that fourth consecutive podium and Cassidy on 128 after a disastrous afternoon for the Kiwi. TAG Heuer Porsche head the way in the Teams' running with 212 points – pulling further clear of Envision Racing who sit on 190 points with Jaguar TCS Racing third on 171.
Season 9 has five races to run, with a first trip to Portland, Oregon in the United States next up in three weeks' time on 24 June.
Race 2 Results – 38 Laps
| | | | | | | |
| --- | --- | --- | --- | --- | --- | --- |
| Pos | No. | Driver | Team | Behind | Gap | Points |
| 1 | 7 | Maximilian Gunther | Maserati Racing | 0.000 | 0.000 | 28 |
| 2 | 27 | Jake Dennis | Avalanche Andretti | 2.822 | 2.822 | 19 |
| 3 | 9 | Mitch Evans | Jaguar Racing | 18.498 | 15.676 | 15 |
| 4 | 23 | Sacha Fenestraz | Nissan e.Dams | 19.307 | 0.809 | 12 |
| 5 | 17 | Norman Nato | Nissan e.Dams | 19.924 | 0.617 | 10 |
| 6 | 94 | Pascal Wehrlein | Porsche Team | 20.108 | 0.184 | 8 |
| 7 | 13 | Antonio Felix da Costa | Porsche Team | 20.521 | 0.413 | 6 |
| 8 | 48 | Edoardo Mortara | Maserati Racing | 20.996 | 0.475 | 4 |
| 9 | 1 | Stoffel Vandoorne | DS Penske | 26.630 | 5.634 | 2 |
| 10 | 16 | Sébastien Buemi | Envision Racing | 27.273 | 0.643 | 1 |
| 11 | 33 | Dan Ticktum | NIO Formula E Team | 28.614 | 1.341 | 0 |
| 12 | 51 | Nico Müller | Team Abt | 28.787 | 0.173 | 0 |
| 13 | 4 | Robin Frijns | Team Abt | 29.125 | 0.338 | 0 |
| 14 | 11 | Lucas di Grassi | Mahindra Racing | 29.530 | 0.405 | 0 |
| 15 | 58 | René Rast | McLaren | 30.670 | 1.140 | 0 |
| 16 | 25 | Jean-Eric Vergne | DS Penske | 56.598 | 25.928 | 0 |
| 17 | 8 | Roberto Merhi | Mahindra Racing | 1'06.645 | 10.047 | 0 |
| 18 | 37 | Nick Cassidy | Envision Racing | 1'06.879 | 0.234 | 0 |
| DNF | 5 | Jake Hughes | McLaren | 2 Laps | 2 Laps | 0 |
| DNF | 36 | David Beckmann | Avalanche Andretti | 33 Laps | 31 Laps | 0 |
| DNF | 10 | Sam Bird | Jaguar Racing | – | – | 0 |
| DNF | 3 | Sergio Sette Camara | NIO Formula E Team | – | – | 0 |