IndyCar: Pagenaud tops Detroit GP morning warm-up
Meyer Shank Racing's Simon Pagenaud topped the morning warm-up times for the Detroit GP with a lap of 94.962mph.
Callum Ilott was second at 1:02.4818, followed by Marcus Armstrong at 1:02.5860.
Pole sitter Palou ended up seventh at 1:02.9679.
The track was dusty and no one was pushing it to the limit.
Alex Palou, driving the No. 10 Ridgeline Lubricants Honda for Chip Ganassi Racing, will start on pole.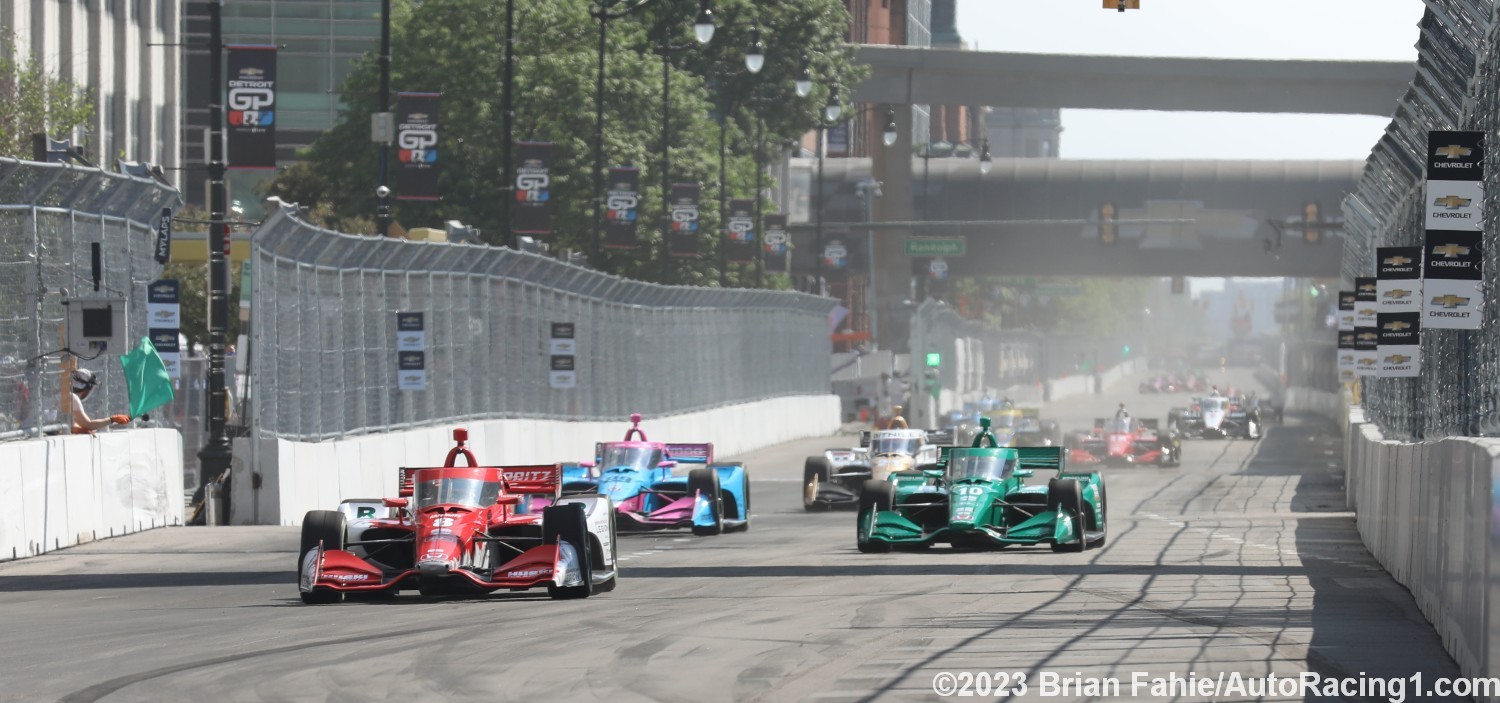 Track enhancements rolled onward into Sunday morning, which saw four adjustments based on continued feedback between race officials and drivers:
The pit boxes on pit lane have been repainted blue to aid visibility.
One tire pack has been removed at the exit of Turn 5.
The barriers at Turns 6-7 have been reprofiled to smooth the radius.
A procedure has also been added that will feature a mirror green flag displayed from the finish line stand for all starts and restarts.
Morning Warm-up times
| | | | | | | | | |
| --- | --- | --- | --- | --- | --- | --- | --- | --- |
| Pos | No | Name | Time | Diff | Gap | Speed | Engine | Team |
| 1 | 60 | Simon Pagenaud | 1:02.3615 | 0.000s | 0.000s | 94.962 | Honda | Meyer Shank Racing |
| 2 | 77 | Callum Ilott | 1:02.4818 | 0.1203 | 0.1203 | 94.780 | Chevy | Juncos Hollinger Racing |
| 3 | 11 | Marcus Armstrong | 1:02.5860 | 0.2245 | 0.1042 | 94.622 | Honda | Chip Ganassi Racing |
| 4 | 9 | Scott Dixon | 1:02.7192 | 0.3577 | 0.1332 | 94.421 | Honda | Chip Ganassi Racing |
| 5 | 2 | Josef Newgarden | 1:02.8212 | 0.4597 | 0.1020 | 94.268 | Chevy | Team Penske |
| 6 | 5 | Pato O'Ward | 1:02.9137 | 0.5522 | 0.0925 | 94.129 | Chevy | Arrow McLaren |
| 7 | 10 | Alex Palou | 1:02.9679 | 0.6064 | 0.0542 | 94.048 | Honda | Chip Ganassi Racing |
| 8 | 18 | David Malukas | 1:03.0550 | 0.6935 | 0.0871 | 93.918 | Honda | Dale Coyne Racing with HMD |
| 9 | 26 | Colton Herta | 1:03.0575 | 0.6960 | 0.0025 | 93.914 | Honda | Andretti Autosport w/Curb-Agajanian |
| 10 | 21 | Rinus VeeKay | 1:03.1227 | 0.7612 | 0.0652 | 93.817 | Chevy | Ed Carpenter Racing |
| 11 | 6 | Felix Rosenqvist | 1:03.1595 | 0.7980 | 0.0368 | 93.763 | Chevy | Arrow McLaren |
| 12 | 7 | Alexander Rossi | 1:03.3479 | 0.9864 | 0.1884 | 93.484 | Chevy | Arrow McLaren |
| 13 | 27 | Kyle Kirkwood | 1:03.3590 | 0.9975 | 0.0111 | 93.467 | Honda | Andretti Autosport |
| 14 | 14 | Santino Ferrucci | 1:03.4511 | 1.0896 | 0.0921 | 93.332 | Chevy | AJ Foyt Enterprises |
| 15 | 12 | Will Power | 1:03.7376 | 1.3761 | 0.2865 | 92.912 | Chevy | Team Penske |
| 16 | 3 | Scott McLaughlin | 1:03.8536 | 1.4921 | 0.1160 | 92.743 | Chevy | Team Penske |
| 17 | 51 | Sting Ray Robb | 1:03.8867 | 1.5252 | 0.0331 | 92.695 | Honda | Dale Coyne Racing w/RWR |
| 18 | 15 | Graham Rahal | 1:03.9058 | 1.5443 | 0.0191 | 92.668 | Honda | Rahal Letterman Lanigan Racing |
| 19 | 28 | Romain Grosjean | 1:03.9083 | 1.5468 | 0.0025 | 92.664 | Honda | Andretti Autosport |
| 20 | 30 | Jack Harvey | 1:03.9513 | 1.5898 | 0.0430 | 92.602 | Honda | Rahal Letterman Lanigan Racing |
| 21 | 8 | Marcus Ericsson | 1:04.0319 | 1.6704 | 0.0806 | 92.485 | Honda | Chip Ganassi Racing |
| 22 | 78 | Agustin Canapino | 1:04.2090 | 1.8475 | 0.1771 | 92.230 | Chevy | Juncos Holling Racing |
| 23 | 29 | Devlin DeFrancesco | 1:04.2934 | 1.9319 | 0.0844 | 92.109 | Honda | Andretti Steinbrenner Autosport |
| 24 | 55 | Benjamin Pedersen | 1:04.4725 | 2.1110 | 0.1791 | 91.853 | Chevy | AJ Foyt Enterprises |
| 25 | 06 | Helio Castroneves | 1:04.6866 | 2.3251 | 0.2141 | 91.549 | Honda | Meyer Shank Racing |
| 26 | 45 | Christian Lundgaard | 1:04.7342 | 2.3727 | 0.0476 | 91.482 | Honda | Rahal Letterman Lanigan Racing |
| 27 | 20 | Conor Daly | 1:04.7818 | 2.4203 | 0.0476 | 91.415 | Chevy | Ed Carpenter Racing |