IndyCar: Palou schools Power to win Detroit GP
In a race interrupted by seven cautions, polesitter Alex Palou led 74 of 100 laps to win the Chevrolet Detroit GP in his Honda-powered #10 Ganassi car.
Palou schooled Team Penske's Will Power through several late race restarts as he opens his point lead, to 51 points.  Power gave Palou the toughest fight all day, but Palou was too good for him.
After 7 of 17 races, Palou leads teammate Marcus Ericsson in the championship points 273 to 222.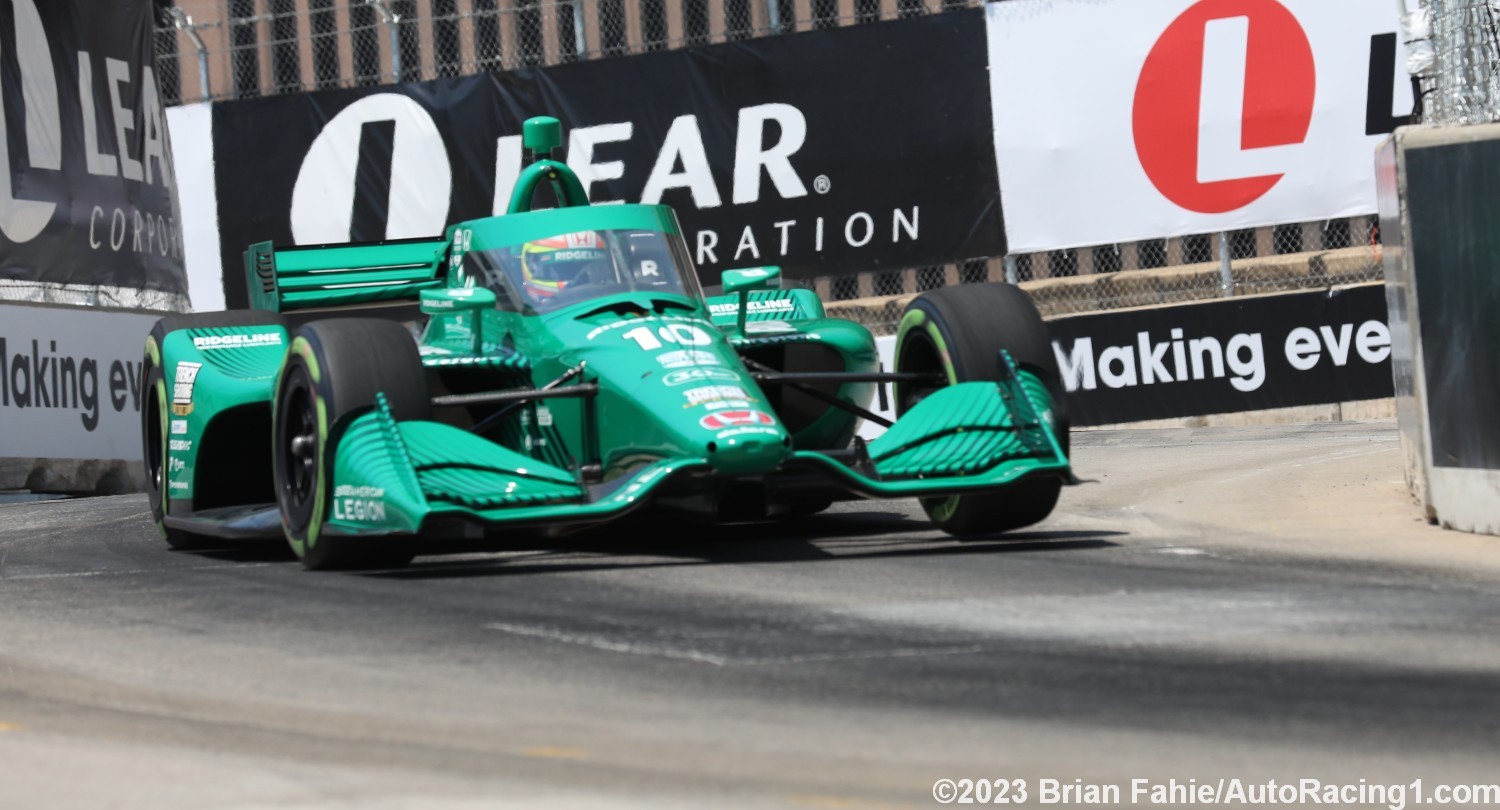 Felix Rosenqvist was third for Arrow McLaren.
Palou's teammate Scott Dixon was 4th, 7.57s behind, while Alexander Rossi rounded out the top-5 after running as high as 2nd late.
How Palou Won the Race (IndyCar Summary)
Palou led from the drop of the green flag in the 100-lap race under sunny skies. He stretched his advantage to 9.1 seconds by Lap 21 after starting on the Firestone alternate tires, whose softer compound has more grip but less durability. Power started seventh on Firestone primary tires and used the longer wear on those tires to cut Palou's lead to 1.5 seconds by Lap 29.
At that point, Chip Ganassi Racing elected to call Palou to the pits for Firestone primary tires, the same rubber as Power. Six laps later, Power pitted for the first time, opting for his mandatory run on Firestone alternates that use sustainable rubber from the guayule shrub, and handed the lead back to Palou.
After Power blended back into the race from his stop, Palou gradually built his lead to four seconds. But that gap evaporated on Lap 43 when Pato O'Ward crashed in Turn 9 in the No. 5 Arrow McLaren Chevrolet.
Palou held off Power on the restart on Lap 49, but the caution flag flew during the first lap of green after the restart when rookie Sting Ray Robb went deep into the runoff area in Turn 3 in the No. 51 biohaven Honda.
The ensuing restart on Lap 56 was about the only spot of bother all day for Palou. Power, on grippier alternate tires, dove under Palou for first in the Turn 3 hairpin at the end of the long back straightaway. Palou's car seemed to pause at the exit of that corner, apparently due to a problem that forced him to cycle through the emergency electronics mode on the wheel before normal service was restored.
Reigning and two-time series champion Power had pulled away to a 2.8-second lead over Palou two laps after that restart. But Palou collected himself, focused forward and dove under Power in Turn 3 on Lap 65 to regain the lead.
"We had an issue that was probably my fault, but then we got stuck there," Palou said. "I couldn't really upshift. Proud that we got it back and that we got another win this year."
After the field cycled through its final pit stops, Palou led by nearly five seconds when Romain Grosjean crashed in Turn 4 in the No. 28 DHL Honda on Lap 82, triggering another full-course caution. Palou held off Power on that restart on Lap 87, another on Lap 91 after David Malukas crashed in the No. 18 HMD Trucking Honda during the previous restart and yet again on a final restart on Lap 96 after Santino Ferrucci's No. 14 Sexton Properties/AJ Foyt Racing Chevrolet and Robb's car went deep into the Turn 3 runoff while dueling for position.
There was plenty of muscular driving and contact over the last five laps, including Dixon running into the rear of Power's car on the final restart and spirited, aggressive swaps of position by Arrow McLaren teammates Rosenqvist and Rossi. Palou levitated in front of the mayhem and cruised to victory, leading 74 of the 100 laps.
"I did everything I could to get Palou," Power said. "He was just too quick, man. Too good today."
Will Power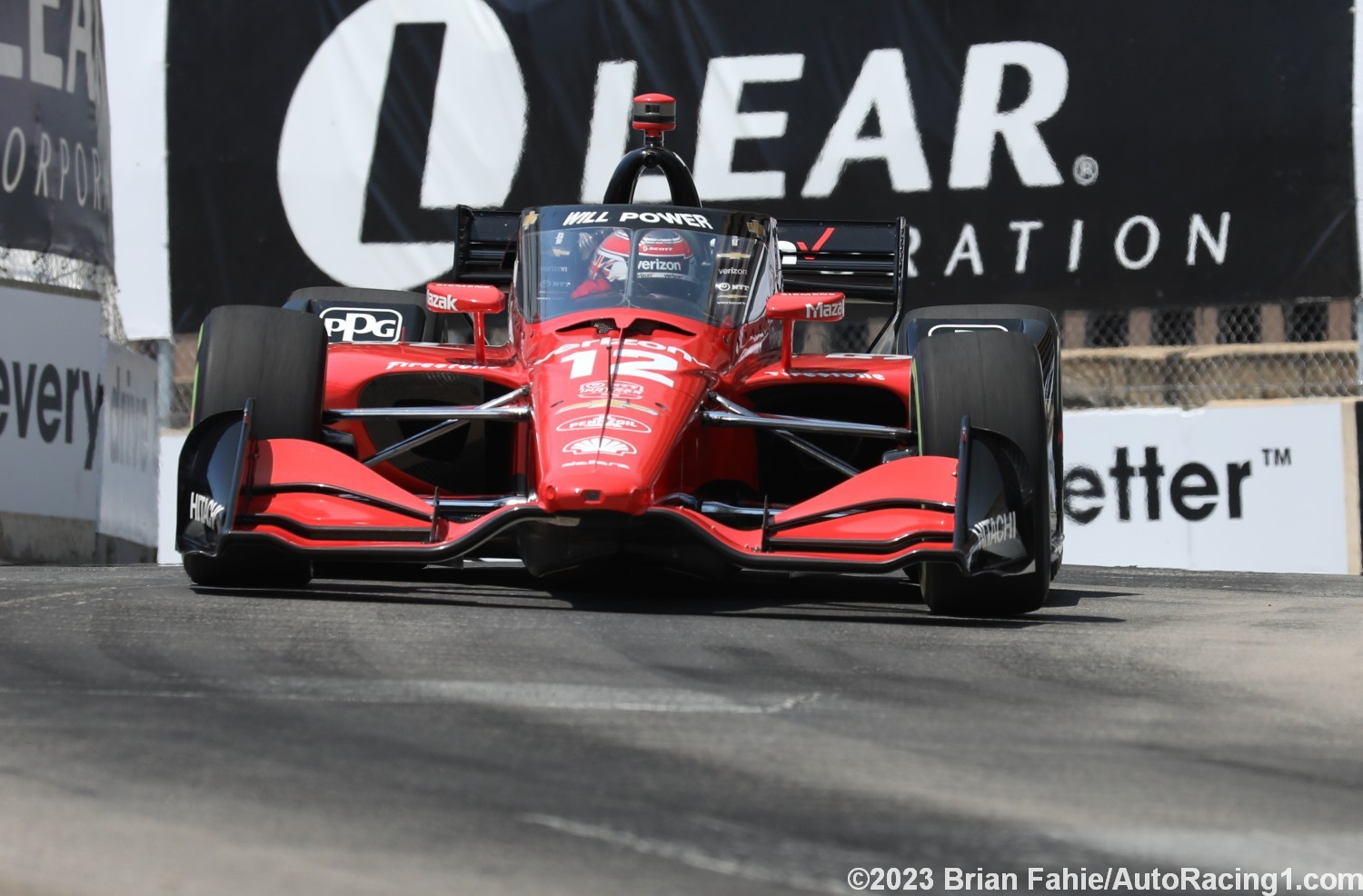 Team Penske's Will Power started the race in 7th position and took the lead on lap 30.  After the first pit stops, Power had to sit behind Palou until lap 56, when he passed the Spaniard on a restart.  That only lasted for another nine laps when Palou took back the lead and kept it to lap 100.
The Australian was asked how his race.  "Yeah, very satisfied. Good strategy. I mean, starting on the blacks, everything played out as we thought. I guess we were worried when the yellow came.  Everyone packs up. But then we got a yellow again, so that kind of helped us.  We had 10 laps to push hard. I got Palou on the restart. Then they went off, he got me back.  Yeah, I couldn't get him. I tried everything."
"I think my one chance was when Dixon got into me a little bit, I was trying to switch back and get a run, get him into four. Apart from that, yeah, the next restart was in third so I didn't have another shot at him."
"Very good job. Man, you're never looking back on seconds as a bad day. Although the guy I was needing to close points to was the guy that won. We limited the damage."
" For me, it was just trying my absolute best to get Palou in a clean way. I wasn't going to do any sort of dive bomb."
"Yeah, as it gets down to it, depending on who's in the game, obviously Palou had the most to lose because he's leading by a chunk, but there's a few guys in there that don't have as much to lose. I was one of 'em. I'm thinking in my head I've got to try to get this guy, if I can, to limit the damage."
Felix Rosenqvist
Arrow McLaren's Rosenqvist was also pleased to finish third today.
"It seems this year in the championship, a lot of the top runners have had tough races as well. I think we can recover if we keep the momentum going."
"It's nice. I think all the boys and girls on the 6 car, Arrow McLaren, really deserved it. We've been up there sniffing for a long time. Hasn't worked out."
"It was a fun race. Felt like we were just quick all through it. We went up every stage of race. We were in a position where we could maybe win it in the end. Yeah, it was a bit
dicey on the restarts in the end. The second to last there, Dixon went wide. I had to grab the clutch. I think Will had the same. That potentially could have cost us a bit."
"I'm happy to finish on the podium after all the close calls."
Race Results
| | | | | | | | | | | |
| --- | --- | --- | --- | --- | --- | --- | --- | --- | --- | --- |
| Pos | No | Name | Laps | Behind | Gap | Led | ST | Engine | Points | Team |
| 1 | 10 | Alex Palou | 100 | 0.000s | 0.000s | 74 | 1 | Honda | 273 | Chip Ganassi Racing |
| 2 | 12 | Will Power | 100 | 1.1843 | 1.1843 | 14 | 7 | Chevy | 172 | Team Penske |
| 3 | 6 | Felix Rosenqvist | 100 | 5.9515 | 4.7672 | 0 | 9 | Chevy | 148 | Arrow McLaren |
| 4 | 9 | Scott Dixon | 100 | 7.5682 | 1.6167 | 0 | 4 | Honda | 194 | Chip Ganassi Racing |
| 5 | 7 | Alexander Rossi | 100 | 9.9841 | 2.4159 | 1 | 13 | Chevy | 176 | Arrow McLaren |
| 6 | 27 | Kyle Kirkwood | 100 | 10.5426 | 0.5585 | 1 | 12 | Honda | 142 | Andretti Autosport |
| 7 | 3 | Scott McLaughlin | 100 | 10.9350 | 0.3924 | 0 | 2 | Chevy | 175 | Team Penske |
| 8 | 11 | Marcus Armstrong | 100 | 11.6792 | 0.7442 | 0 | 11 | Honda | 101 | Chip Ganassi Racing |
| 9 | 8 | Marcus Ericsson | 100 | 13.0181 | 1.3389 | 7 | 6 | Honda | 222 | Chip Ganassi Racing |
| 10 | 2 | Josef Newgarden | 100 | 14.0223 | 1.0042 | 2 | 5 | Chevy | 203 | Team Penske |
| 11 | 26 | Colton Herta | 100 | 17.6606 | 3.6383 | 0 | 24 | Honda | 149 | Andretti Autosport w/Curb-Agajanian |
| 12 | 29 | Devlin DeFrancesco | 100 | 19.4321 | 1.7715 | 0 | 17 | Honda | 81 | Andretti Steinbrenner Autosport |
| 13 | 60 | Simon Pagenaud | 100 | 19.6486 | 0.2165 | 0 | 8 | Honda | 72 | Meyer Shank Racing |
| 14 | 78 | Agustin Canapino | 100 | 21.4219 | 1.7733 | 0 | 20 | Chevy | 77 | Juncos Holling Racing |
| 15 | 20 | Conor Daly | 100 | 21.7748 | 0.3529 | 0 | 15 | Chevy | 88 | Ed Carpenter Racing |
| 16 | 45 | Christian Lundgaard | 100 | 22.1160 | 0.3412 | 0 | 18 | Honda | 136 | Rahal Letterman Lanigan Racing |
| 17 | 30 | Jack Harvey | 100 | 23.0710 | 0.9550 | 0 | 25 | Honda | 78 | Rahal Letterman Lanigan Racing |
| 18 | 21 | Rinus VeeKay | 100 | 23.8193 | 0.7483 | 0 | 14 | Chevy | 108 | Ed Carpenter Racing |
| 19 | 06 | Helio Castroneves | 100 | 24.6734 | 0.8541 | 0 | 23 | Honda | 80 | Meyer Shank Racing |
| 20 | 55 | Benjamin Pedersen | 97 | 3 LAPS | 3 LAPS | 0 | 19 | Chevy | 61 | AJ Foyt Enterprises |
| 21 | 14 | Santino Ferrucci | 97 | 3 LAPS | 0.6129 | 0 | 22 | Chevy | 105 | AJ Foyt Enterprises |
| 22 | 51 | Sting Ray Robb | 97 | 3 LAPS | 1.6415 | 0 | 26 | Honda | 55 | Dale Coyne Racing w/RWR |
| 23 | 18 | David Malukas | 85 | Contact | 1 LAPS | 0 | 21 | Honda | 91 | Dale Coyne Racing with HMD |
| 24 | 28 | Romain Grosjean | 80 | Contact | 3.1939 | 0 | 3 | Honda | 145 | Andretti Autosport |
| 25 | 15 | Graham Rahal | 50 | Contact | 1.1331 | 0 | 27 | Honda | 99 | Rahal Letterman Lanigan Racing |
| 26 | 5 | Pato O'Ward | 41 | Contact | 3 LAPS | 1 | 10 | Chevy | 191 | Arrow McLaren |
| 27 | 77 | Callum Ilott | 1 | Contact | 0.4732 | 0 | 16 | Chevy | 116 | Juncos Hollinger Racing |
Race Statistics
Winner's average speed: 80.922 mph
Time of Race: 02:01:58.1171
Margin of victory: 1.1843 seconds
Cautions: 7 for 32 laps
Lead changes: 10 among 7 drivers
Lap Leaders:
Palou, Alex 1 – 28
Power, Will 29 – 33
O'Ward, Pato 34
Palou, Alex 35 – 55
Power, Will 56 – 64
Palou, Alex 65
Rossi, Alexander 66
Newgarden, Josef 67 – 68
Kirkwood, Kyle 69
Ericsson, Marcus 70 – 76
Palou, Alex 77 – 100
NTT INDYCAR SERIES Point Standings:
Palou 273, Ericsson 222, Newgarden 203, Dixon 194, O'Ward 191, Rossi 176, McLaughlin 175, Power 172, Herta 149, Rosenqvist 148, Grosjean 145, Kirkwood 142, Lundgaard 136, Ilott 116, VeeKay 108, Ferrucci 105, Armstrong 101, Rahal 99, Malukas 91, Daly 88, DeFrancesco 81, Castroneves 80, Harvey 78, Canapino 77, Pagenaud 72, Pedersen 61, Robb 55, Takuma Sato 37, Ed Carpenter 27, Ryan Hunter-Reay 20, Tony Kanaan 18, Marco Andretti 13, RC Enerson 5, Katherine Legge 5