NASCAR: Kyle Busch wins Enjoy Illinois 300 Cup Race
–by Mark Cipolloni–
Before a sellout crowd, polesitter Kyle Busch led the most laps in his #8 RCR Chevy and survived numerous late restarts to win the Enjoy Illinois 300 NASCAR Cup race at Gateway Motorsports Park and collect his 63rd NASCAR Cup Series win.
Hendrick Chevy driver Kyle Larson was 2nd at the final restart but he only got 2 tires on his last pitstop and he lost 2nd place on the final restart to Denny Hamlin's JGR Toyota and Joey Logano's Ford.
Logano held on for 4th ahead of the Toyota of Martin Truex Jr. followed by Ryan Blaney, Daniel Suárez, William Byron, Michael McDowell and Kevin Harvick.
Busch, the pole winner, survived five restarts in the last 40 laps of the Enjoy Illinois 300 and beat Denny Hamlin to the finish line by 0.517 seconds after Bubba Wallace's broken brake rotor caused the 11th caution on Lap 236 and sent the race to overtime.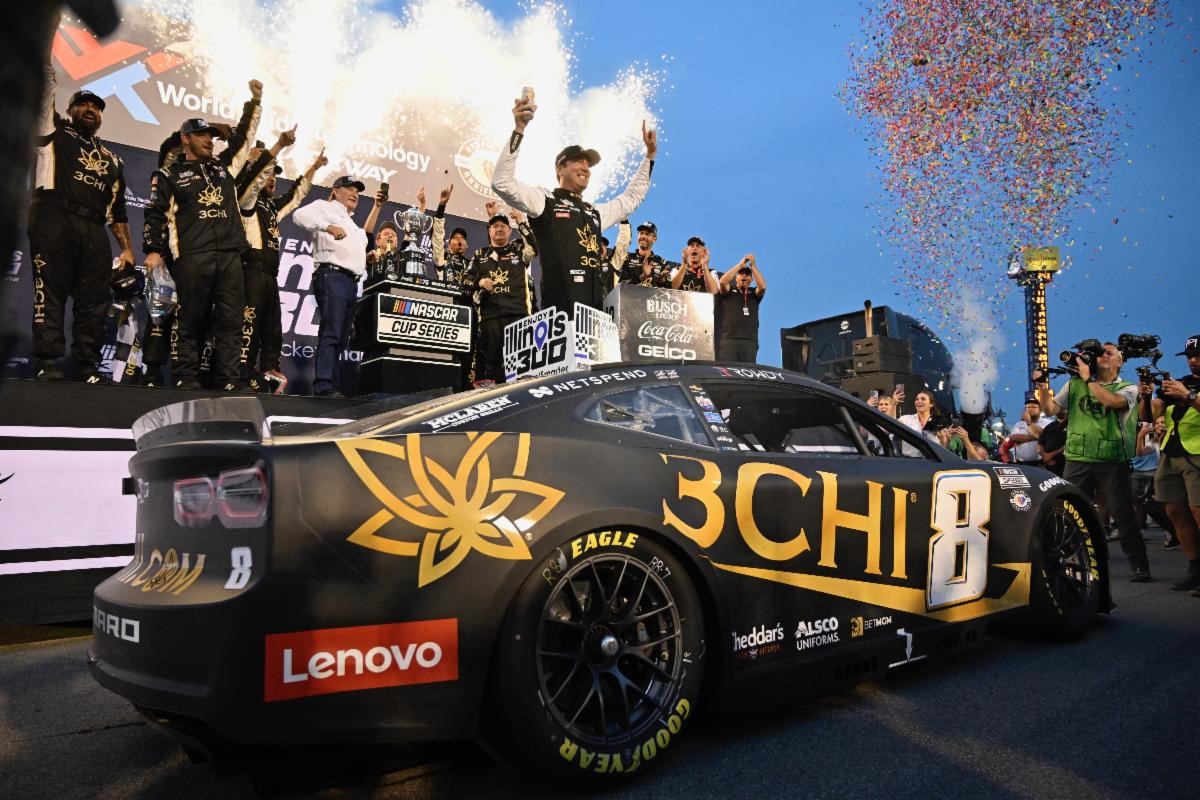 The victory was Busch's first at the 1.25-mile track and the third in his debut season with RCR. It was a home game for his crew chief, Randall Burnett, who grew up in Fenton, Missouri, and had family in attendance on Sunday.
"That was pretty awesome," Busch exulted after he climbed from his car. "Man, to sit on the pole, lead a lot of laps and have my guys do such a great job today was pretty phenomenal for us. Great for RCR. Just win, baby! Thanks to Team Chevy, appreciate (sponsor) 3Chi…
"We're going to have a great time with this one. This one is pretty cool."
Busch led five times for 121 laps, including the last 60. Neither Hamlin nor third-place finisher Joey Logano — winner of the inaugural Gateway race last year — led a single circuit.
Hamlin felt the lightning delay played against him and the No. 11 Joe Gibbs Racing team.
"Yeah, I thought we were super dialed in if it was 95 degrees like it was supposed to be, (but) with those delays, it kind of took away from the advantage I thought that we had," Hamlin said.
"I'm proud of this whole Sport Clips Toyota team — pit crew did a phenomenal job keeping us in it and doing really good on the money stop with about 60 to go. We are going to have to wait (for) another (race) to get that 50th (win)."
Race Results
| | | | | | |
| --- | --- | --- | --- | --- | --- |
| POS | CAR | DRIVER | MANUF | BEHIND | LAPS |
| 1 | 8 | Kyle Busch | | 0.000 | 243 |
| 2 | 11 | Denny Hamlin | | 0.517 | 243 |
| 3 | 22 | Joey Logano | | 1.161 | 243 |
| 4 | 5 | Kyle Larson | | 1.357 | 243 |
| 5 | 19 | Martin Truex Jr. | | 1.490 | 243 |
| 6 | 12 | Ryan Blaney | | 1.688 | 243 |
| 7 | 99 | Daniel Suarez | | 1.811 | 243 |
| 8 | 24 | William Byron | | 1.910 | 243 |
| 9 | 34 | Michael McDowell | | 2.242 | 243 |
| 10 | 4 | Kevin Harvick | | 2.483 | 243 |
| 11 | 20 | Christopher Bell | | 2.589 | 243 |
| 12 | 17 | Chris Buescher | | 2.622 | 243 |
| 13 | 2 | Austin Cindric | | 2.811 | 243 |
| 14 | 16 | AJ Allmendinger | | 2.934 | 243 |
| 15 | 38 | Todd Gilliland | | 3.067 | 243 |
| 16 | 31 | Justin Haley | | 3.208 | 243 |
| 17 | 41 | Ryan Preece | | 3.235 | 243 |
| 18 | 43 | Erik Jones | | 3.427 | 243 |
| 19 | 10 | Aric Almirola | | 3.463 | 243 |
| 20 | 54 | Ty Gibbs # | | 3.686 | 243 |
| 21 | 9 | Corey LaJoie | | 3.729 | 243 |
| 22 | 1 | Ross Chastain | | 3.964 | 243 |
| 23 | 21 | Harrison Burton | | 3.978 | 243 |
| 24 | 51 | JJ Yeley(i) | | 4.247 | 243 |
| 25 | 77 | Ty Dillon | | 4.255 | 243 |
| 26 | 48 | Alex Bowman | | 4.400 | 243 |
| 27 | 78 | BJ McLeod | | 4.637 | 243 |
| 28 | 6 | Brad Keselowski | | 4.916 | 243 |
| 29 | 15 | Gray Gaulding(i) | | -1 | 242 |
| 30 | 23 | Bubba Wallace | | -7 | 236 |
| 31 | 3 | Austin Dillon | | -20 | 223 |
| 32 | 47 | Ricky Stenhouse Jr. | | -24 | 219 |
| 33 | 42 | Noah Gragson # | | -46 | 197 |
| 34 | 14 | Chase Briscoe | | -50 | 193 |
| 35 | 45 | Tyler Reddick | | -69 | 174 |
| 36 | 7 | Carson Hocevar(i) | | -152 | 91 |
# DENOTES ROOKIE
(i) NOT ELIGIBLE FOR POINTS
(*) REQUIRED TO QUALIFY ON TIME
LEADERS
| | | |
| --- | --- | --- |
| CAR | TIMES | LAPS |
| 8 | 5 | 122 |
| 5 | 1 | 5 |
| 12 | 3 | 83 |
| 24 | 1 | 30 |
| 45 | 1 | 4 |
LEAD CHANGES
| | | | |
| --- | --- | --- | --- |
| CAR | START | END | TOTAL |
| 8 | 0 | 0 | 1 |
| 12 | 1 | 1 | 1 |
| 8 | 2 | 60 | 59 |
| 12 | 61 | 98 | 38 |
| 8 | 99 | 99 | 1 |
| 12 | 100 | 143 | 44 |
| 8 | 144 | 144 | 1 |
| 45 | 145 | 148 | 4 |
| 24 | 149 | 178 | 30 |
| 5 | 179 | 183 | 5 |
| 8 | 184 | 243 | 60 |
CAUTIONS
| | | | |
| --- | --- | --- | --- |
| # | LAP | BENEFICIARY | REASON |
| 1 | 1 | | #45 and 47 Incident in Turn 1 [Red Flag: 1:45:09] |
| 2 | 5 | | |
| 3 | 45 | 77 | Stage 1 Conclusion |
| 4 | 53 | 51 | #1 and 34 Incident in Turn 2 |
| 5 | 90 | 78 | #7 Incident in Turn 1 |
| 6 | 140 | 15 | Stage 2 Conclusion |
| 7 | 174 | 15 | #45 Incident in Turn 2 |
| 8 | 197 | 6 | #42 Incident in Turn 1 [Red Flag: 9:19] |
| 9 | 198 | | |
| 10 | 204 | 6 | #2 and 20 Incident in Turn 2 |
| 11 | 212 | 14 | #15 Stalled on the Frontstretch |
| 12 | 218 | 15 | #2, 3 and 47 Incident in Turn 1 [Red Flag: 4:37] |
| 13 | 222 | | |
| 14 | 235 | 15 | #23 Incident in Turn 1 |