WEC: GM and Chevy brass ecstatic over Garage 56 car at Le Mans
Chevrolet is adding to its rich history at the 24 Hours of Le Mans with a prominent role in the Garage 56 program that has brought a Camaro ZL1 NASCAR Cup Series stock car to the French endurance classic.
The American manufacturer is partnering with NASCAR, Hendrick Motorsports, IMSA and Goodyear in an effort that will see the modified Camaro ZL1 race as a Garage 56 entry – granted by Le Mans sanctioning body Automobile Club de l'Ouest (ACO) for innovative and unique entries into one of the world's great motor races.
Chevrolet's contributions to the Garage 56 Camaro are far-reaching. At the heart of the ZL1 is Chevy's NASCAR R07 cast-iron V8 engine with the same block, castings and pistons used in NASCAR Cup Series events. Le Mans support comes from GM's Performance and Racing Center in Pontiac, Michigan, leveraging Chevrolet's experience and eight Le Mans class wins with the Corvette Racing program.
Engineers and designers from Chevrolet also worked with the Garage 56 partners to integrate working headlights, taillights, aerodynamic devices, cooling ducts for the brake system and other accessories.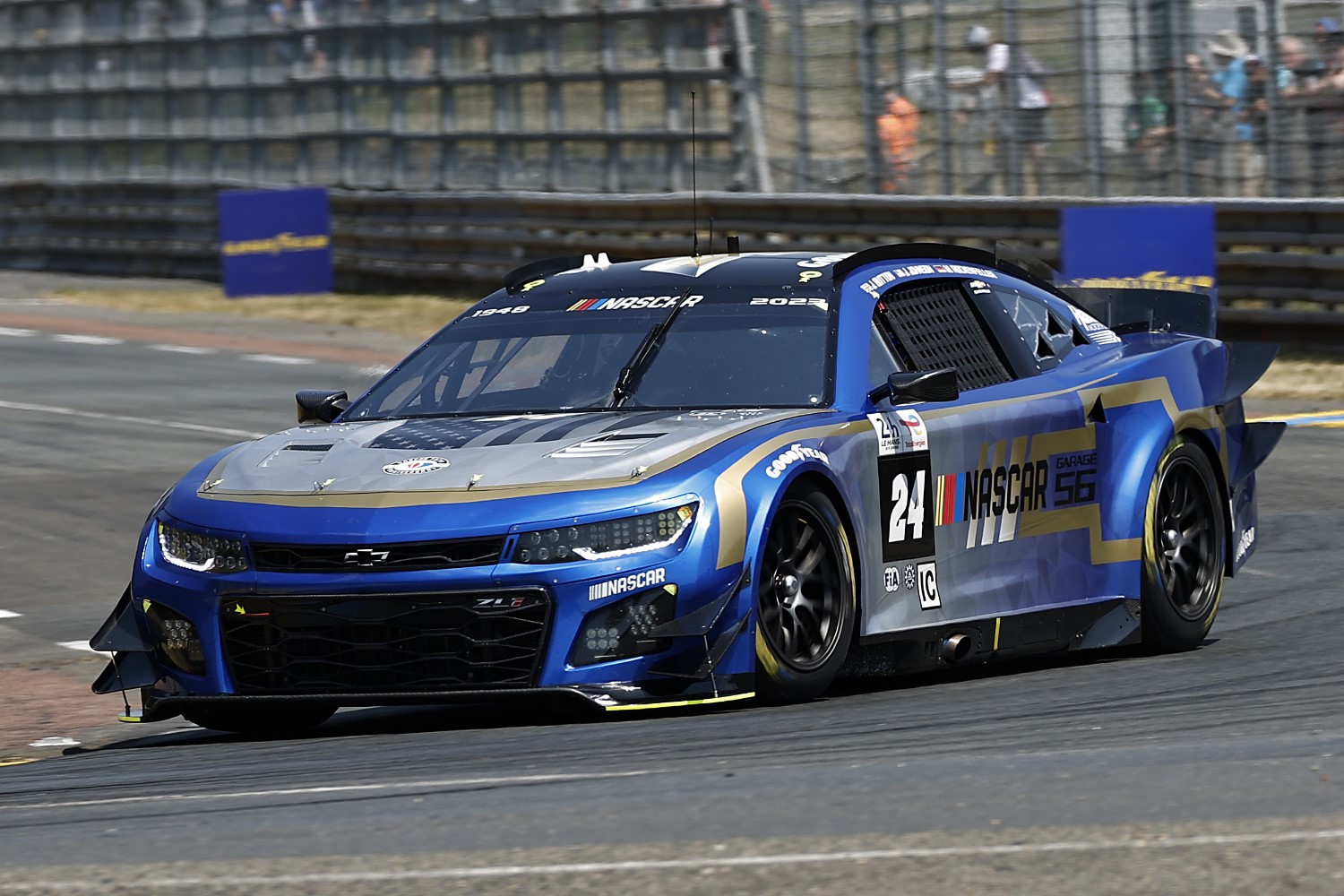 MARK REUSS, GENERAL MOTORS PRESIDENT: "A NASCAR stock car running at Le Mans is something fans doubted they would see again. It is an honor to have Chevrolet and General Motors as key partners in this effort with NASCAR, Hendrick Motorsports and Goodyear. We bring more than 20 years of experience and success with our Corvette Racing program. That and the Chevrolet Camaro ZL1 powered by our Chevrolet R07 NASCAR Cup Series engine will thrill fans at the track and around the world with its unique look and the familiar sound of our Chevrolet V8."
MARK STIELOW, DIRECTOR, CHEVROLET MOTORSPORTS COMPETITION ENGINEERING: "A year ago at the Sebring 12 Hours, we had a meeting with all the key partners – Jim France, Rick Hendrick, Mark Reuss – and were offered the opportunity to be a part of this program. Chevrolet was extremely honored and proud to be invited in this effort to take a NASCAR stock car to Le Mans. Our part of the program obviously is helping on the car side of it but also bringing the engine and powertrain component through our partnership with Hendrick Childress Development and getting the engine put together. The goal was to take the proven R07 driveline and harden it to run in in a 24-hour race.
"The other part is that we were taking a NASCAR Camaro ZL1 stock car and run it in a 24-hour endurance race. So we needed headlights, taillights and some of those other styling cues. We engaged GM Design, which helped us design the current Camaro ZL1 that we race in the Cup Series and integrate all those components to make it look proper.
"The R07 is a fully proven and very durable engine for 500 and 600 miles in NASCAR races. It's a little bit different in a 24-hour race. The fuel requirements in France are different also, so that's another challenge. With the learnings we've done in the past and the learnings we are continuing to do, Chevrolet is a perfect partner to help pull all this together."
RUSS O'BLENES, DIRECTOR, GM PERFORMANCE AND RACING CENTER: "One of the great things about the Performance and Racing Center is our testing capabilities. We have a full driveline cell, which allows us to run the entire propulsion system as it sits in the car up to the wheels and tires. Where those would bolt on, we have dynamometers bolted there. We are able to replicate what the powertrain will see in 30 hours at Le Mans. We took data out that came out of the car, and we made a playback that will replicate that so the engine actually runs through its entire system. The transmission is there, so you get the shifting and the closest representation of what the powertrain will have to do at Le Mans.
"If you look at our history in endurance racing, GM and Chevrolet have a long and successful track record. We've taken that great core of the NASCAR engine and took the learnings that we've gained through our Corvette and Cadillac programs in road-racing durability and combined that into the core R07 engine with a few tweaks to help it go that full 24 hours."
TODD CHRISTENSEN, DIRECTOR, CHEVROLET MOTORSPORTS MARKETING AND ACTIVATION: "I'd like to think we are the perfect engine partner based on our track record in the NASCAR Cup Series. We won our 41st Manufacturer Championship in 2022, we have more than 800 wins – more than any other manufacturer – and we've won eight races this season with the Camaro ZL1. We're proud to partner with NASCAR and the Hendrick, IMSA and Goodyear organizations, we're proud to be the body and the engine that makes the car go. Anytime we position the Chevy brand in a positive way in front of a new audience, it's great and this is a very cool way to do it. To put the Camaro – an iconic muscle car and our Cup Series entry – in front of an international collection of fans that hasn't seen it before is going to change some minds and thrill a lot of people, for sure."
The 24 Hours of Le Mans is scheduled for 4 p.m. CET / 10 a.m. ET on Saturday, June 10. MotorTrend and MotorTrend Plus will provide both live television and streaming coverage. Radio Le Mans will stream audio coverage of the race and all on-track sessions.