WEC: Ferrari sweeps Le Mans practice 3 ahead of pole quals
Antonio Fuoco led a Ferrari AF Corse 1-2 in the third Free Practice session for the 24 Hours of Le Mans, in the final session prior to this evening's Hyperpole.
Fuoco turned a lap of 3:26.579 late in the three-hour session to edge out the sister No. 51 Ferrari 499P of Alessandro Pier Guidi by 0.434 seconds.
In LMP2, Pietro Fittipaldi's 3m34.071s lap in the #28 ORECA-Gibson 07 topped all challengers.
Francesco Castellacci in the #54 AF Corse Ferrari was quickest in LMGTE-Am with a time of 3m53.681s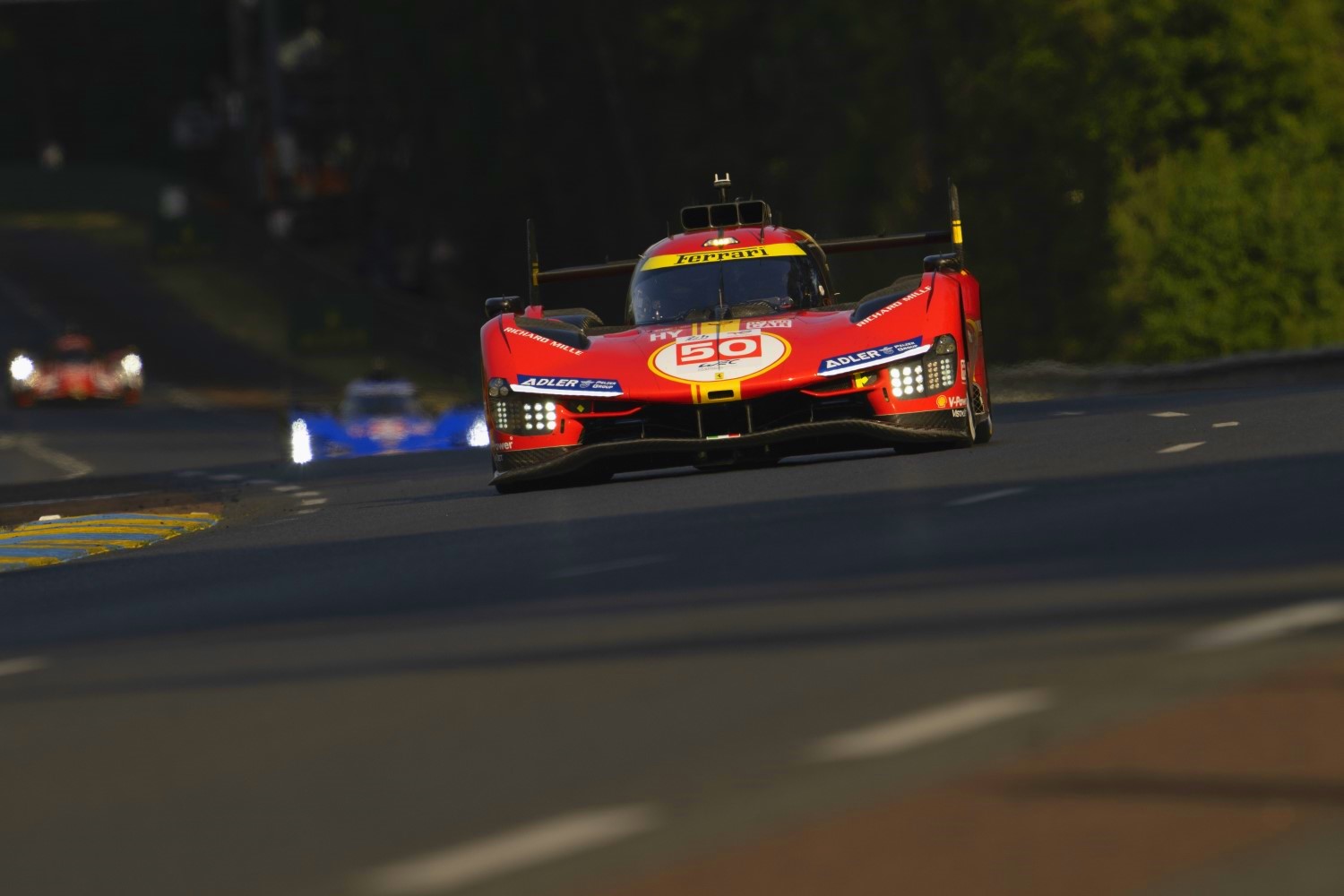 Practice 3 Times
Pos
No.
Class
Drivers
Car
Laps
Time
Behind
Gap
1
50
HYPERCAR
 Antonio Fuoco
Miguel Molina
Nicklas Nielsen
Ferrari 499P
37
3m26.579s
0.000
0.000
2
51
HYPERCAR
 James Calado
Antonio Giovinazzi
Alessandro Pier Guidi
Ferrari 499P
18
3m27.013s
0.434
0.434
3
7
HYPERCAR
 Mike Conway
Kamui Kobayashi
Jose Maria Lopez
Toyota GR010 – Hybrid
37
3m27.580s
1.001
0.567
4
8
HYPERCAR
 Sébastien Buemi
Brendon Hartley
Ryo Hirakawa
Toyota GR010 – Hybrid
40
3m27.866s
1.287
0.286
5
38
HYPERCAR
 Antonio Felix da Costa
Will Stevens
Ye Yifei
Porsche 963
37
3m27.927s
1.348
0.061
6
75
HYPERCAR
 Mathieu Jaminet
Felipe Nasr
Nick Tandy
Porsche 963
40
3m28.135s
1.556
0.208
7
311
HYPERCAR
 Jack Aitken
Pipo Derani
Alexander Sims
Cadillac V-Series.R
25
3m28.277s
1.698
0.142
8
5
HYPERCAR
 Dane Cameron
Michael Christensen
Frédéric Makowiecki
Porsche 963
40
3m28.548s
1.969
0.271
9
6
HYPERCAR
 Kevin Estre
Andre Lotterer
Laurens Vanthoor
Porsche 963
22
3m28.826s
2.247
0.278
10
93
HYPERCAR
 Paul di Resta
Mikkel Jensen
Jean-Eric Vergne
Peugeot 9X8
28
3m29.207s
2.628
0.381
11
3
HYPERCAR
 Sébastien Bourdais
Scott Dixon
Renger van der Zande
Cadillac V-Series.R
18
3m29.445s
2.866
0.238
12
94
HYPERCAR
 Loic Duval
Gustavo Menezes
Nico Müller
Peugeot 9X8
31
3m30.167s
3.588
0.722
13
708
HYPERCAR
 Ryan Briscoe
Romain Dumas
Olivier Pla
Glickenhaus 007 LMH
23
3m30.433s
3.854
0.266
14
2
HYPERCAR
 Earl Bamber
Alex Lynn
Richard Westbrook
Cadillac V-Series.R
9
3m30.989s
4.410
0.556
15
4
HYPERCAR
 Tom Dillmann
Esteban Guerrieri
Tristan Vautier
Vanwall Vandervell 680
24
3m31.343s
4.764
0.354
16
709
HYPERCAR
 Nathanael Berthon
Esteban Gutierrez
Franck Mailleux
Glickenhaus 007 LMH
27
3m31.458s
4.879
0.115
17
28
LMP2
 Pietro Fittipaldi
David Heinemeier Hansson
Oliver Rasmussen
Oreca 07
39
3m34.071s
7.492
2.613
18
14
LMP2
 Mathias Beche
Ben Hanley
Rodrigo Sales
Oreca 07
27
3m37.218s
10.639
3.147
19
34
LMP2
 Albert Costa
Fabio Scherer
Jakub Smiechowski
Oreca 07
28
3m37.315s
10.736
0.097
20
22
LMP2
 Filipe Albuquerque
Philip Hanson
Frederick Lubin
Oreca 07
42
3m37.369s
10.790
0.054
21
45
LMP2
 James Allen
Colin Braun
George Kurtz
Oreca 07
40
3m37.376s
10.797
0.007
22
23
LMP2
 Tom Blomqvist
Oliver Jarvis
Josh Pierson
Oreca 07
36
3m37.385s
10.806
0.009
23
30
LMP2
 Rene Binder
Neel Jani
Nicolas Pino
Oreca 07
41
3m37.553s
10.974
0.168
24
39
LMP2
 Giedo van der Garde
Roberto Lacorte
Patrick Pilet
Oreca 07
40
3m37.554s
10.975
0.001
25
48
LMP2
 Paul-Loup Chatin
Laurents Hörr
Paul Lafargue
Oreca 07
26
3m37.648s
11.069
0.094
26
63
LMP2
 Mirko Bortolotti
Daniil Kvyat
Doriane Pin
Oreca 07
42
3m37.697s
11.118
0.049
27
37
LMP2
 Alexandre Coigny
Malthe Jakobsen
Nicolas Lapierre
Oreca 07
22
3m37.773s
11.194
0.076
28
47
LMP2
 Reshad de Gerus
Vlad Lomko
Simon Pagenaud
Oreca 07
32
3m37.827s
11.248
0.054
29
80
LMP2
 Ben Barnicoat
Norman Nato
François Perrodo
Oreca 07
36
3m38.066s
11.487
0.239
30
9
LMP2
 Juan Manuel Correa
Filip Ugran
Bent Viscaal
Oreca 07
38
3m38.146s
11.567
0.080
31
36
LMP2
 Julien Canal
Charles Milesi
Matthieu Vaxiviere
Oreca 07
42
3m38.170s
11.591
0.024
32
41
LMP2
 Rui Andrade
Louis Deletraz
Robert Kubica
Oreca 07
40
3m38.201s
11.622
0.031
33
13
LMP2
 René Rast
Ricky Taylor
Thomas Steven
Oreca 07
41
3m38.426s
11.847
0.225
34
923
LMP2
 Tom Gamble
Dries Vanthoor
Salih Yoluc
Oreca 07
37
3m38.574s
11.995
0.148
35
65
LMP2
 Tijmen van der Helm
Manuel Maldonado
Job Van Uitert
Oreca 07
35
3m38.688s
12.109
0.114
36
43
LMP2
 Maxime Martin
Tom Van Rompuy
Ugo de Wilde
Oreca 07
33
3m38.953s
12.374
0.265
37
32
LMP2
 Anders Fjordbach
Mark Kvamme
Jan Magnussen
Oreca 07
41
3m39.164s
12.585
0.211
38
31
LMP2
 Robin Frijns
Sean Gelael
Ferdinand Habsburg
Oreca 07
8
3m39.609s
13.030
0.445
39
10
LMP2
 Gabriel Aubry
Ryan Cullen
Matthias Kaiser
Oreca 07
42
3m39.675s
13.096
0.066
40
35
LMP2
 Olli Caldwell
Andre Negrao
Memo Rojas
Oreca 07
39
3m39.921s
13.342
0.246
41
24
INNOVATIVE CAR
 Jenson Button
Jimmie Johnson
Mike Rockenfeller
Chevrolet Camaro ZL1
5
3m52.752s
26.173
12.831
42
54
LMGTE AM
 Francesco Castellacci
Thomas Flohr
Davide Rigon
Ferrari 488 GTE EVO
34
3m53.681s
27.102
0.929
43
86
LMGTE AM
 Benjamin Barker
Riccardo Pera
Michael Wainwright
Porsche 911 RSR – 19
39
3m53.839s
27.260
0.158
44
60
LMGTE AM
 Matteo Cressoni
Alessio Picariello
Claudio Schiavoni
Porsche 911 RSR – 19
32
3m53.868s
27.289
0.029
45
77
LMGTE AM
 Julien Andlauer
Christian Ried
Mikkel Pedersen
Porsche 911 RSR – 19
34
3m54.238s
27.659
0.370
46
83
LMGTE AM
 Luis Perez Companc
Alessio Rovera
Lilou Wadoux
Ferrari 488 GTE EVO
36
3m54.429s
27.850
0.191
47
21
LMGTE AM
 Simon Mann
Ulysse De Pauw
Julien Piguet
Ferrari 488 GTE EVO
34
3m54.638s
28.059
0.209
48
16
LMGTE AM
 Ryan Hardwick
Jan Heylen
Zacharie Robichon
Porsche 911 RSR – 19
35
3m54.755s
28.176
0.117
49
56
LMGTE AM
 Matteo Cairoli
PJ Hyett
Gunnar Jeannette
Porsche 911 RSR – 19
34
3m54.775s
28.196
0.020
50
33
LMGTE AM
 Nick Catsburg
Ben Keating
Nicolas Varrone
Chevrolet Corvette C8.R
39
3m54.809s
28.230
0.034
51
66
LMGTE AM
 Thomas Neubauer
Giacomo Petrobelli
Louis Prette
Ferrari 488 GTE EVO
40
3m54.951s
28.372
0.142
52
911
LMGTE AM
 Michael Fassbender
Richard Lietz
Martin Rump
Porsche 911 RSR – 19
32
3m55.266s
28.687
0.315
53
57
LMGTE AM
 Scott Huffaker
Takeshi Kimura
Daniel Serra
Ferrari 488 GTE EVO
42
3m55.269s
28.690
0.003
54
25
LMGTE AM
 Ahmad Al Harthy
Michael Dinan
Charles Eastwood
Aston Martin Vantage AMR
37
3m55.400s
28.821
0.131
55
85
LMGTE AM
 Sarah Bovy
Rahel Frey
Michelle Gatting
Porsche 911 RSR – 19
32
3m55.587s
29.008
0.187
56
74
LMGTE AM
 Kei Cozzolino
Yorikatsu Tsujiko
Naoki Yokomizo
Ferrari 488 GTE EVO
38
3m55.890s
29.311
0.303
57
72
LMGTE AM
 Valentin Hasse-Clot
Arnold Robin
Maxime Robin
Aston Martin Vantage AMR
41
3m56.173s
29.594
0.283
58
100
LMGTE AM
 Andrew Haryanto
Chandler Hull
Jeff Segal
Ferrari 488 GTE EVO
37
3m56.226s
29.647
0.053
59
88
LMGTE AM
 Jonas Ried
Harry Tincknell
Don Yount
Porsche 911 RSR – 19
35
3m57.338s
30.759
1.112
60
55
LMGTE AM
 Gustav Birch
Jens Reno Moller
Marco Sorensen
Aston Martin Vantage AMR
37
3m57.625s
31.046
0.287
61
98
LMGTE AM
 Ian James
Daniel Mancinelli
Alex Riberas
Aston Martin Vantage AMR
5
4m02.893s
36.314
5.268
62
777
LMGTE AM
 Tomonobu Fujii
Satoshi Hoshino
Casper Stevenson
Aston Martin Vantage AMR
0
No Time