WEC: Ferrari locks out front row at Le Mans
Antonio Fuoco led a Ferrari AF Corse 1-2 in Hyperpole for the 24 Hours of Le Mans.
The Italian driver turned a lap of 3m22.982s in his No. 50 Ferrari 499P to edge out teammate Alessandro Pier Guidi by 0.773 seconds in what is Ferrari's first overall Le Mans pole since 1973.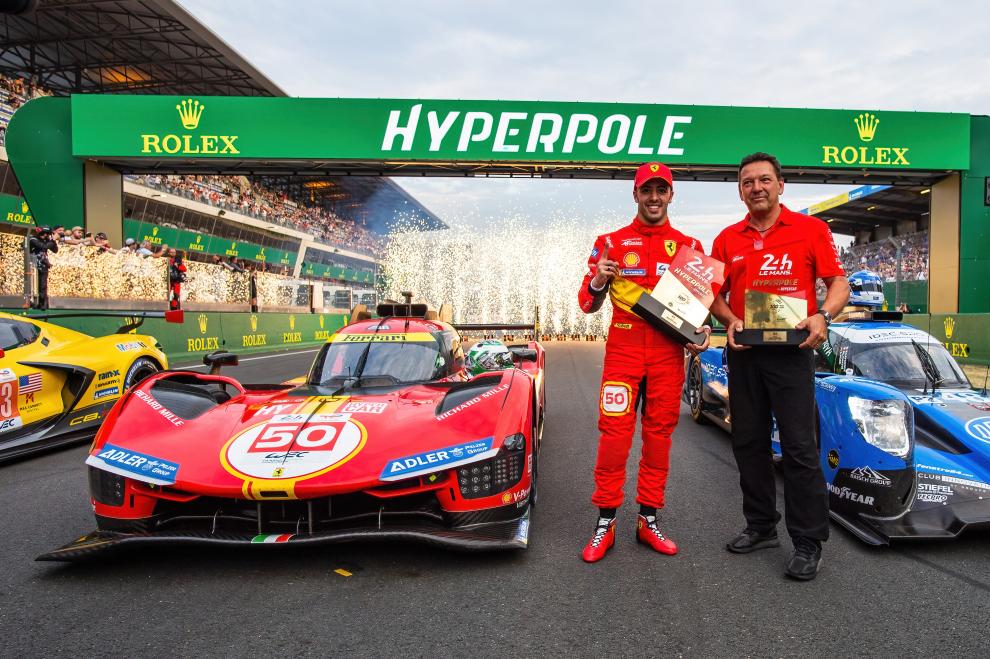 A fire for the No. 3 Chip Ganassi Racing Cadillac V-Series.R of Sebastien Bourdais, who had just put the third quickest time of the session, brought out a red flag with 5 minutes and 15 seconds to go and stopped the clock.
Bourdais' fastest lap was removed due to causing a red flag and Brendon Hartley and Felipe Nasr on their final laps locked in 3rd and 4th respectively.
LMP2 pole honors went to the No. 48 IDEC Sport Oreca 07 Gibson of Paul-Loup Chatin, who scored his second Le Mans class pole thanks to a 3:32.923 lap. It was Pietro Fittipaldi for JOTA who claimed second, narrowly missing out on pole by just 0.122s.
Ben Keating claimed GTE-Am pole in the No. 33 Chevrolet Corvette C8.R with a lap of 3m52.376s to beat the No. 25 ORT by TF Aston Martin Vantage GTE of Ahmad Al Harthy by a whopping 1.529 seconds.
It is Corvette's third pole at Le Mans in WEC, and second in LMGTE Am.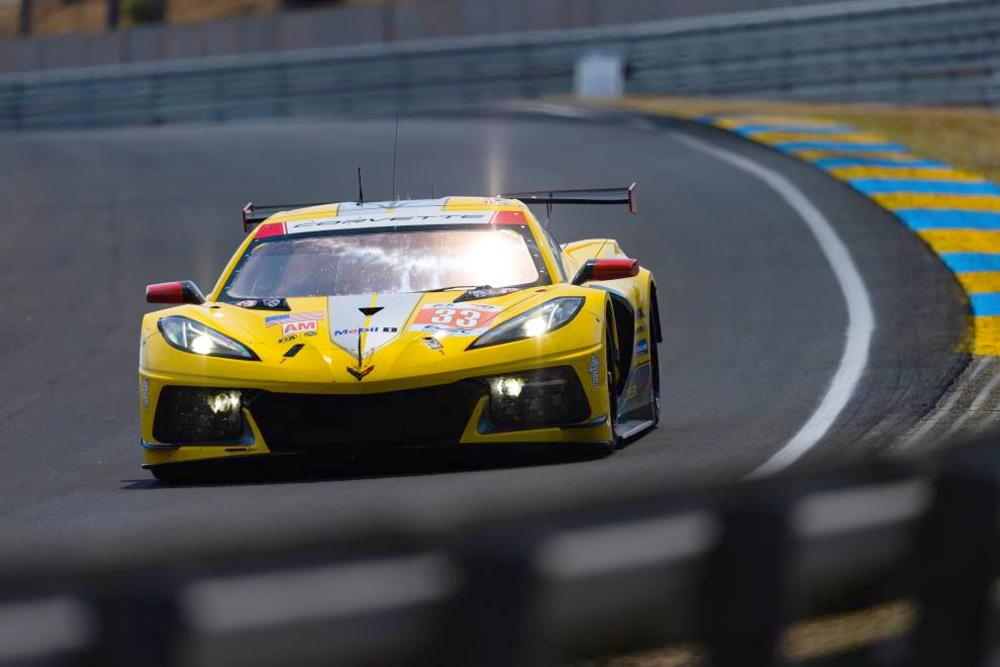 Hyperpole Results
| | | | | | | | |
| --- | --- | --- | --- | --- | --- | --- | --- |
| POS | No. | CLASS | TEAM | DRIVERS | CAR | TIME | BEHIND |
| 1 | 50 | Hypercar H | FERRARI AF CORSE | FUOCO Antonio, MOLINA Miguel, NIELSEN Nicklas | Ferrari 499P | 3m22.982s | 0.000s |
| 2 | 51 | Hypercar H | FERRARI AF CORSE | PIER GUIDI Alessandro, CALADO James, GIOVINAZZI Antonio | Ferrari 499P | 3m23.755s | 0.773s |
| 3 | 8 | Hypercar H | TOYOTA GAZOO RACING | BUEMI Sébastien, HARTLEY Brendon, HIRAKAWA Ryo | Toyota GR010 HYBRID | 3m24.451s | 1.469s |
| 4 | 75 | Hypercar H | PORSCHE PENSKE MOTORSPORT | NASR Felipe, JAMINET Mathieu, TANDY Nicholas | Porsche 963 | 3m24.531s | 1.549s |
| 5 | 7 | Hypercar H | TOYOTA GAZOO RACING | CONWAY Mike, KOBAYASHI Kamui, LOPEZ Jose Maria | Toyota GR010 HYBRID | 3m24.933s | 1.951s |
| 6 | 2 | Hypercar H | CADILLAC RACING | BAMBER Earl, LYNN Alex, WESTBROOK Richard | Cadillac V-Series.R | 3m25.170s | 2.188s |
| 7 | 5 | Hypercar H | PORSCHE PENSKE MOTORSPORT | CAMERON Dane, CHRISTENSEN Michael, MAKOWIECKI Frédéric | Porsche 963 | 3m25.176s | 2.194s |
| 8 | 3 | Hypercar H | CADILLAC RACING | BOURDAIS Sébastien, VAN DER ZANDE Renger, DIXON Scott | Cadillac V-Series.R | 3m25.521s | 2.539s |
| 9 | 48 | LM P2 | IDEC SPORT | LAFARGUE Paul, CHATIN Paul Loup, HÖRR Laurents | Oreca 07 – Gibson | 3m32.923s | 9.941s |
| 10 | 28 | LM P2 | JOTA | HEINEMEIER-HANSSON David, RASMUSSEN Oliver, FITTIPALDI Pietro | Oreca 07 – Gibson | 3m33.035s | 10.053s |
| 11 | 41 | LM P2 | TEAM WRT | ANDRADE Rui, DELÉTRAZ Louis, KUBICA Robert | Oreca 07 – Gibson | 3m33.240s | 10.258s |
| 12 | 47 | LM P2 | COOL RACING | DE GÉRUS Reshad, LOMKO Vladislav, PAGENAUD Simon | Oreca 07 – Gibson | 3m33.580s | 10.598s |
| 13 | 63 | LM P2 | PREMA RACING | PIN Doriane, KVYAT Daniil, BORTOLOTTI Mirko | Oreca 07 – Gibson | 3m33.983s | 11.001s |
| 14 | 14 | LM P2 P/A | NIELSEN RACING | SALES Rodrigo, BECHE Mathias, HANLEY Ben | Oreca 07 – Gibson | 3m34.021s | 11.039s |
| 15 | 9 | LM P2 | PREMA RACING | VISCAAL Bent, CORREA Juan Manuel, UGRAN Filip | Oreca 07 – Gibson | 3m34.658s | 11.676s |
| 16 | 10 | LM P2 | VECTOR SPORT | CULLEN Ryan, AUBRY Gabriel, KAISER Matthias | Oreca 07 – Gibson | 3m35.091s | 12.109s |
| 17 | 33 | LM GTE Am | CORVETTE RACING | CATSBURG Nicky, KEATING Ben, VARRONE Nicolas | Chevrolet Corvette C8.R | 3m52.376s | 29.394s |
| 18 | 25 | LM GTE Am | ORT BY TF | AL HARTHY Ahmad, DINAN Michael, EASTWOOD Charlie | Aston Martin Vantage AMR | 3m53.905s | 30.923s |
| 19 | 54 | LM GTE Am | AF CORSE | FLOHR Thomas, CASTELLACCI Francesco, RIGON Davide | Ferrari 488 GTE Evo | 3m54.582s | 31.600s |
| 20 | 21 | LM GTE Am | AF CORSE | MANN Simon, PIGUET Julien, DE PAUW Ulysse | Ferrari 488 GTE Evo | 3m54.744s | 31.762s |
| 21 | 83 | LM GTE Am | RICHARD MILLE AF CORSE | PEREZ COMPANC Luis, ROVERA Alessio, WADOUX Lilou | Ferrari 488 GTE Evo | 3m55.033s | 32.051s |
| 22 | 57 | LM GTE Am | KESSEL RACING | KIMURA Takeshi, HUFFAKER Scott, SERRA Daniel | Ferrari 488 GTE Evo | 3m55.637s | 32.655s |
| 23 | 55 | LM GTE Am | GMB MOTORSPORT | BIRCH Gustav, SØRENSEN Marco, MØLLER Jens Reno | Aston Martin Vantage AMR | 3m57.240s | 34.258s |
| 24 | 74 | LM GTE Am | KESSEL RACING | COZZOLINO Kei, TSUJIKO Yorikatsu, YOKOMIZO Naoki | Ferrari 488 GTE Evo | 3m59.648s | 36.666s |