Liberty Media is taking F1 to new heights as it races Into Scripted TV
(Update)
–by Mark Cipolloni–
A few more details about the F1 TV show:
One will aim to "bring the glamorous, high-pressure and competitive inner workings of the world of Formula 1 to life for audiences across the globe," according to Isabelle Stewart, who joined F1 as head of original content last year.
The 39-year-old English actress Felicity Jones was an Academy Award Best Actress nominee back in 2014 for an acclaimed performance in the Stephen Hawking biopic The Theory Of Everything, in which she played Hawking's ex-wife Jane.
---
June 8, 2023
–by Mark Cipolloni–
Liberty Media is not resting on its laurels with the docuseries Drive to Survive. There's the big Apple backed Brad Pitt F1 movie that Lewis Hamilton is involved with, slated to be completed in 2024.
It was also previously announced that Daniel Ricciardo's new Formula 1-based television series will be a fictional program that he hopes to ensure will not stray into unrealistic plots.
Disney-backed Hulu is the latest streaming service to take an interest in F1 and commission a project based on the racing world.
Details are scarce about the new show, but Ricciardo will have a role as executive producer and American film and TV production company Temple Hill Entertainment is involved.
"It's a fictional F1 TV series," Ricciardo said. "So, I would say, think Ballers or Entourage in the world of F1.
"I teamed up with Temple Hill, they know what they're doing in that field. I've got my full trust in them.
"But I'm basically going to act as its executive producer, try to – where I can – steer the ship a little."
Ricciardo says his project is not designed to compete with Hamilton's and is just another example of F1's increasing mainstream popularity, widely attributed to the Netflix docuseries Drive to Survive.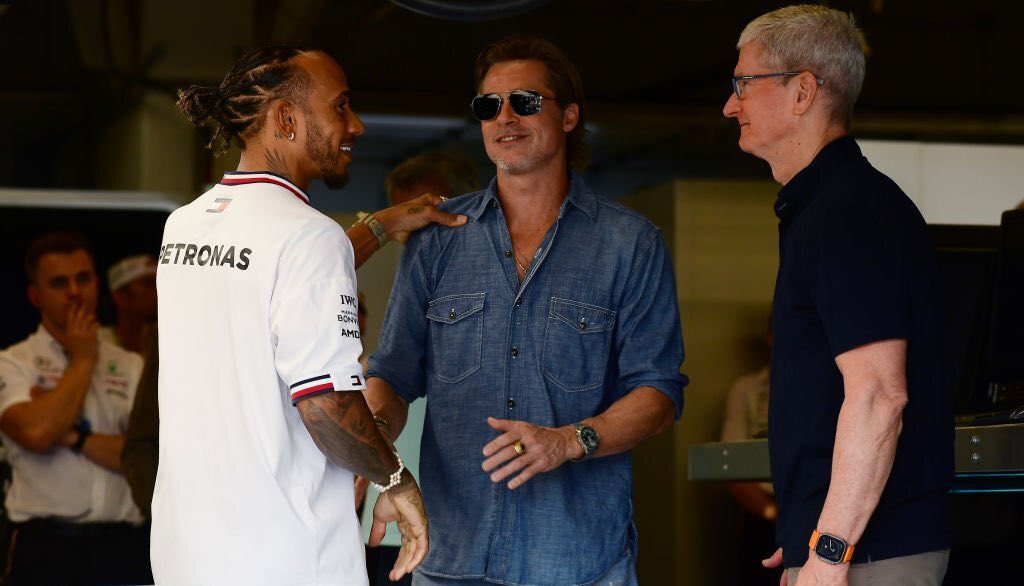 And now this….
Deadline reports that Formula 1 is getting into the scripted television business.
Felicity Jones is to star in a family drama series set in the high-stakes world of motor racing – marking the organization's first officially sanctioned scripted series.
Jones, star of Rogue One: A Star Wars Story and The Theory Of Everything, will star in and produce One, which comes from Tony To's Bedrock Entertainment and writers Mark Fergus and Hawk Ostby. Jones will produce via her Piecrust Pictures banner.
Tony To is best known for producing – and directing an episode of – iconic World War 2 miniseries Band of Brothers, and more recently held roles at Disney/Lucasfilm.
Formula 1 (liberty Media) is on board as a producer.
One will focus on the tumultuous ascension of a fictitious family-owned Formula 1 team as it contends with fierce personalities, ever-changing rivals, and multi-million-dollar stakes. It will blend fiction with the real-world of F1, which has 23 races scheduled for the 2023 season.
Jones said, "It is an honor to be part of this unique and exciting partnership with Formula 1. The high stakes world of F1 continually delivers edge-of-your-seat drama and to have the opportunity to create a show based in this world is a thrilling prospect. I feel incredibly privileged to be working alongside this talented team including Mark and Hawk, Tony and the team at Bedrock Entertainment, and the whole team at F1 to bring our story to the screen."
Tony To said, "One has been driven by our collective passions to tell the story of the characters who inhabit this unique world and what happens behind the scenes of the great and complex sport, while capturing the massive scope and scale of F1. We're grateful that Felicity has graced us with her enduring commitment and talent and we are thrilled to collaborate with the team at Formula 1. We look forward to getting down to work with Mark, Hawk, and the One team to bring this global series to life."