Le Mans Hour 2: Cadillac leads from Porsche
–by Mark Cipolloni–
The leader as the clock completes each hour changes based on pitstops.
At the Hour 2 mark the #2 Ganassi Cadillac led over the two Penske Porsches, but as I type this the two Ferrari Hypercars are back in front driven by Antonio Fuoco and Antonio Giovinazzi.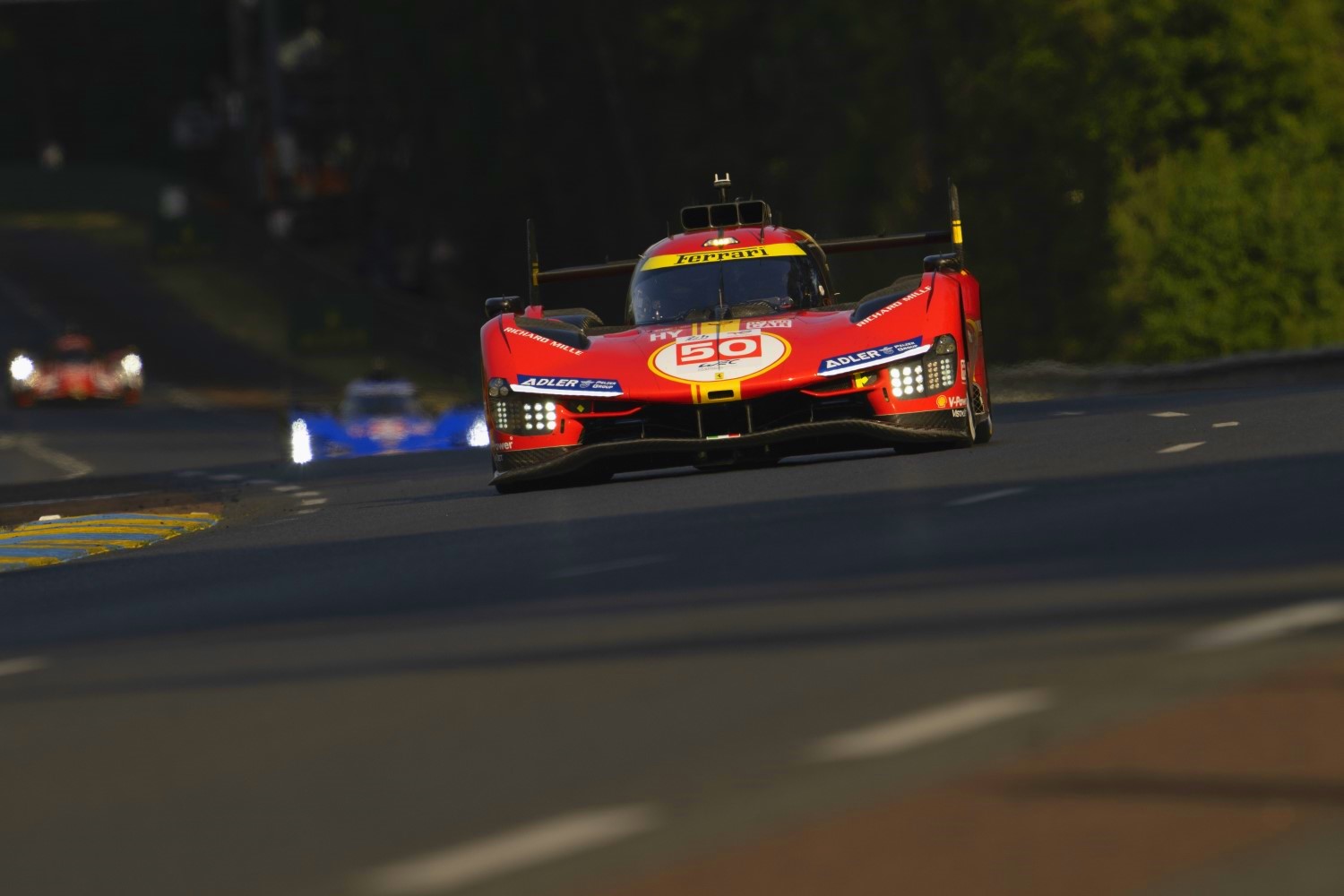 LMP2: Team: #41 Team WRT leads the #36 Alpine Elf Team
GTE-Am: #56 Porsche leads the #86 Porsche, 37th and 38th overall.
Garage 56: Runs in 41st overall
Hour 2 Standings
| | | | | | |
| --- | --- | --- | --- | --- | --- |
| Pos | No./Team | Drivers | Car | Class | Behind/Gap |
| 1 | 2 Cadillac Racing | E. BAMBER / A. LYNN / R. WESTBROOK | Cadillac V-Series.R | HYPERCAR H | 0.000s/0.000s |
| 2 | 5 Porsche Penske Motorsport | D. CAMERON / M. CHRISTENSEN / F. MAKOWIECKI | Porsche 963 | HYPERCAR H | 5.416 5.416 |
| 3 | 75 Porsche Penske Motorsport | F. NASR / M. JAMINET / N. TANDY | Porsche 963 | HYPERCAR H | 8.627 3.211 |
| 4 | 8 Toyota Gazoo Racing | S. BUEMI / B. HARTLEY / R. HIRAKAWA | Toyota GR010 HYBRID | HYPERCAR H | 21.010 12.383 |
| 5 | 38 Hertz Team JOTA | A. DA COSTA / W. STEVENS / Y. YE | Porsche 963 | HYPERCAR H | 27.742 6.732 |
| 6 | 6 Porsche Penske Motorsport | K. ESTRE / A. LOTTERER / L. VANTHOOR | Porsche 963 | HYPERCAR H | 28.121 0.379 |
| 7 | 7 Toyota Gazoo Racing | M. CONWAY / K. KOBAYASHI / J. LOPEZ | Toyota GR010 HYBRID | HYPERCAR H | 30.057 1.936 |
| 8 | 50 Ferrari AF Corse | A. FUOCO / M. MOLINA / N. NIELSEN | Ferrari 499P | HYPERCAR H | 30.878 0.821 |
| 9 | 51 Ferrari AF Corse | A. PIER GUIDI / J. CALADO / A. GIOVINAZZI | Ferrari 499P | HYPERCAR H | 31.781 0.903 |
| 10 | 94 Peugeot TotalEnergies | L. DUVAL / G. MENEZES / N. MÜLLER | Peugeot 9X8 | HYPERCAR H | 50.561 18.780 |
| 11 | 93 Peugeot TotalEnergies | P. DI RESTA / M. JENSEN / J. VERGNE | Peugeot 9X8 | HYPERCAR H | 57.716 7.155 |
| 12 | 709 Glickenhaus Racing | F. MAILLEUX / N. BERTHON / E. GUTIERREZ | Glickenhaus 007 | HYPERCAR | 1:35.589 37.873 |
| 13 | 4 Floyd Vanwall Racing Team | T. DILLMANN / E. GUERRIERI / T. VAUTIER | Vanwall Vandervell 680 | HYPERCAR | 3:28.2191:52.630 |
| 14 | 3 Cadillac Racing | S. BOURDAIS / R. VAN DER ZANDE / S. DIXON | Cadillac V-Series.R | HYPERCAR H | 4:10.962 42.743 |
| 15 | 41 Team WRT | R. ANDRADE / L. DELÉTRAZ / R. KUBICA | Oreca 07 – Gibson | LMP2 | 4:31.441 20.479 |
| 16 | 36 Alpine Elf Team | M. VAXIVIERE / C. MILESI / J. CANAL | Oreca 07 – Gibson | LMP2 | 4:39.881 8.440 |
| 17 | 28 JOTA | D. HEINEMEIER-HANSSON / O. RASMUSSEN / P. FITTIPALDI | Oreca 07 – Gibson | LMP2 | 4:41.405 1.524 |
| 18 | 23 United Autosports | J. PIERSON / T. BLOMQVIST / O. JARVIS | Oreca 07 – Gibson | LMP2 | 1 Lap 1 Lap |
| 19 | 10 Vector Sport | R. CULLEN / G. AUBRY / M. KAISER | Oreca 07 – Gibson | LMP2 | 1 Lap 11.987 |
| 20 | 30 Duqueine Team | N. JANI / R. BINDER / N. PINO | Oreca 07 – Gibson | LMP2 | 1 Lap 1.204 |
| 21 | 34 Inter Europol Competition | J. SMIECHOWSKI / A. COSTA / F. SCHERER | Oreca 07 – Gibson | LMP2 | 1 Lap 3.429 |
| 22 | 48 IDEC Sport | P. LAFARGUE / P. CHATIN / L. HÖRR | Oreca 07 – Gibson | LMP2 | 1 Lap 0.278 |
| 23 | 35 Alpine Elf Team | A. NEGRÃO / O. CALDWELL / M. ROJAS | Oreca 07 – Gibson | LMP2 | 1 Lap 5.248 |
| 24 | 22 United Autosports | P. HANSON / F. ALBUQUERQUE / F. LUBIN | Oreca 07 – Gibson | LMP2 | 1 Lap 1.276 |
| 25 | 65 Panis Racing | M. MALDONADO / T. VAN DER HELM / J. VAN UITERT | Oreca 07 – Gibson | LMP2 | 1 Lap 5.997 |
| 26 | 47 COOL Racing | R. DE GÉRUS / V. LOMKO / S. PAGENAUD | Oreca 07 – Gibson | LMP2 | 1 Lap 2.627 |
| 27 | 31 Team WRT | S. GELAEL / F. HABSBURG / R. FRIJNS | Oreca 07 – Gibson | LMP2 | 1 Lap 0.296 |
| 28 | 9 Prema Racing | B. VISCAAL / J. CORREA / F. UGRAN | Oreca 07 – Gibson | LMP2 | 1 Lap 0.343 |
| 29 | 43 DKR Engineering | T. VAN ROMPUY / U. DE WILDE / M. MARTIN | Oreca 07 – Gibson | LMP2 P/A | 1 Lap 1.674 |
| 30 | 39 Graff Racing | R. LACORTE / G. VAN DER GARDE / P. PILET | Oreca 07 – Gibson | LMP2 P/A | 1 Lap 55.931 |
| 31 | 80 AF Corse | F. PERRODO / B. BARNICOAT / N. NATO | Oreca 07 – Gibson | LMP2 P/A | 1 Lap 9.108 |
| 32  | 708 Glickenhaus Racing  | R. DUMAS / R. BRISCOE / O. PLA  | Glickenhaus 007 | HYPERCAR | 1 Lap 20.586 |
| 33 | 63 Prema Racing | D. PIN / D. KVYAT / M. BORTOLOTTI | Oreca 07 – Gibson | LMP2 | 1 Lap 33.327 |
| 34 | 923 Racing Team Turkey | S. YOLUC / T. GAMBLE / D. VANTHOOR | Oreca 07 – Gibson | LMP2 P/A | 1 Lap 7.829 |
| 35 | 45 Algarve Pro Racing | G. KURTZ / J. ALLEN / C. BRAUN | Oreca 07 – Gibson | LMP2 P/A | 1 Lap 12.129 |
| 36 | 37 COOL Racing | N. LAPIERRE / A. COIGNY / M. JAKOBSEN | Oreca 07 – Gibson | LMP2 P/A | 1 Lap 7.791 |
| 37 | 56 Project 1 – AO | P. HYETT / G. JEANNETTE / M. CAIROLI | Porsche 911 RSR – 19 | LMGTE Am | 1 Lap 1:30.947 |
| 38 | 86 GR Racing | M. WAINWRIGHT / B. BARKER / R. PERA | Porsche 911 RSR – 19 | LMGTE Am | 1 Lap 18.457 |
| 39 | 85 Iron Dames | S. BOVY / M. GATTING / R. FREY | Porsche 911 RSR – 19 | LMGTE Am | 2 Laps 1 Lap |
| 40 | 911 Proton Competition | M. FASSBENDER / M. RUMP / R. LIETZ | Porsche 911 RSR – 19 | LMGTE Am | 2 Laps 1.315 |
| 41 | 24 Hendrick Motorsports | J. JOHNSON / M. ROCKENFELLER / J. BUTTON | Chevrolet Camaro ZL1 | INNOVATIVE | 2 Laps 11.906 |
| 42 | 54 AF Corse | T. FLOHR / F. CASTELLACCI / D. RIGON | Ferrari 488 GTE Evo | LMGTE Am | 2 Laps 7.582 |
| 43 | 74 Kessel Racing | K. COZZOLINO / Y. TSUJIKO / N. YOKOMIZO | Ferrari 488 GTE Evo | LMGTE Am | 2 Laps 10.115 |
| 44 | 100 Walkenhorst Motorsport | C. HULL / A. HARYANTO / J. SEGAL | Ferrari 488 GTE Evo | LMGTE Am | 2 Laps 1.316 |
| 45 | 25 ORT by TF | A. AL HARTHY / M. DINAN / C. EASTWOOD | Aston Martin Vantage AMR | LMGTE Am | 2 Laps 0.996 |
| 46 | 72 TF Sport | A. ROBIN / M. ROBIN / V. HASSE-CLOT | Aston Martin Vantage AMR | LMGTE Am | 2 Laps 5.017 |
| 47 | 88 Proton Competition | H. TINCKNELL / D. YOUNT / J. RIED | Porsche 911 RSR – 19 | LMGTE Am | 2 Laps 33.942 |
| 48 | 60 Iron Lynx | C. SCHIAVONI / M. CRESSONI / A. PICARIELLO | Porsche 911 RSR – 19 | LMGTE Am | 2 Laps 12.529 |
| 49 | 83 Richard Mille AF Corse | L. PEREZ COMPANC / A. ROVERA / L. WADOUX | Ferrari 488 GTE Evo | LMGTE Am | 2 Laps 0.059 |
| 50 | 57 Kessel Racing | T. KIMURA / S. HUFFAKER / D. SERRA | Ferrari 488 GTE Evo | LMGTE Am | 2 Laps 1.830 |
| 51 | 777 D'Station Racing | S. HOSHINO / C. STEVENSON / T. FUJII | Aston Martin Vantage AMR | LMGTE Am | 2 Laps 10.813 |
| 52 | 66 JMW Motorsport | T. NEUBAUER / L. PRETTE / G. PETROBELLI | Ferrari 488 GTE Evo | LMGTE Am | 2 Laps 10.892 |
| 53 | 77 Dempsey – Proton Racing | C. RIED / M. PEDERSEN / J. ANDLAUER | Porsche 911 RSR – 19 | LMGTE Am | 2 Laps 13.381 |
| 54 | 16 Proton Competition | R. HARDWICK / Z. ROBICHON / J. HEYLEN | Porsche 911 RSR – 19 | LMGTE Am | 2 Laps 4.710 |
| 55 | 32 Inter Europol Competition | M. KVAMME / J. MAGNUSSEN / A. FJORDBACH | Oreca 07 – Gibson | LMP2 P/A | 3 Laps 1 Lap |
| 56 | 98 Northwest AMR | I. JAMES / D. MANCINELLI / A. RIBERAS | Aston Martin Vantage AMR | LMGTE Am | 3 Laps 4:46.319 |
| 57 | 33 Corvette Racing | N. CATSBURG / B. KEATING / N. VARRONE | Chevrolet Corvette C8.R | LMGTE Am | 4 Laps 1 Lap |
| 58 | 55 GMB Motorsport | G. BIRCH / M. SØRENSEN / J. MØLLER | Aston Martin Vantage AMR | LMGTE Am | 5 Laps 1 Lap |
| 59 | 21 AF Corse | S. MANN / J. PIGUET / U. DE PAUW | Ferrari 488 GTE Evo | LMGTE Am | 5 Laps 0.521 |
| 60 | 13 Tower Motorsports | S. THOMAS / R. TAYLOR / R. RAST | Oreca 07 – Gibson | LMP2 P/A | 7 Laps 2 Laps |
| 61 | 14 Nielsen Racing | R. SALES / M. BECHE / B. HANLEY | Oreca 07 – Gibson | LMP2 P/A | 8 Laps 1 Lap |
| 62 | 311 Action Express Racing | L. DERANI / A. SIMS / J. AITKEN | Cadillac V-Series.R | HYPERCAR H | 16 Laps 8 Laps |