F1: Canadian GP Thursday Press Conference
DRIVER GROUP 1 – Valtteri BOTTAS (Alfa Romeo), Fernando ALONSO (Aston Martin), Charles LECLERC (Ferrari), Oscar PIASTRI (McLaren), Alex ALBON (Williams)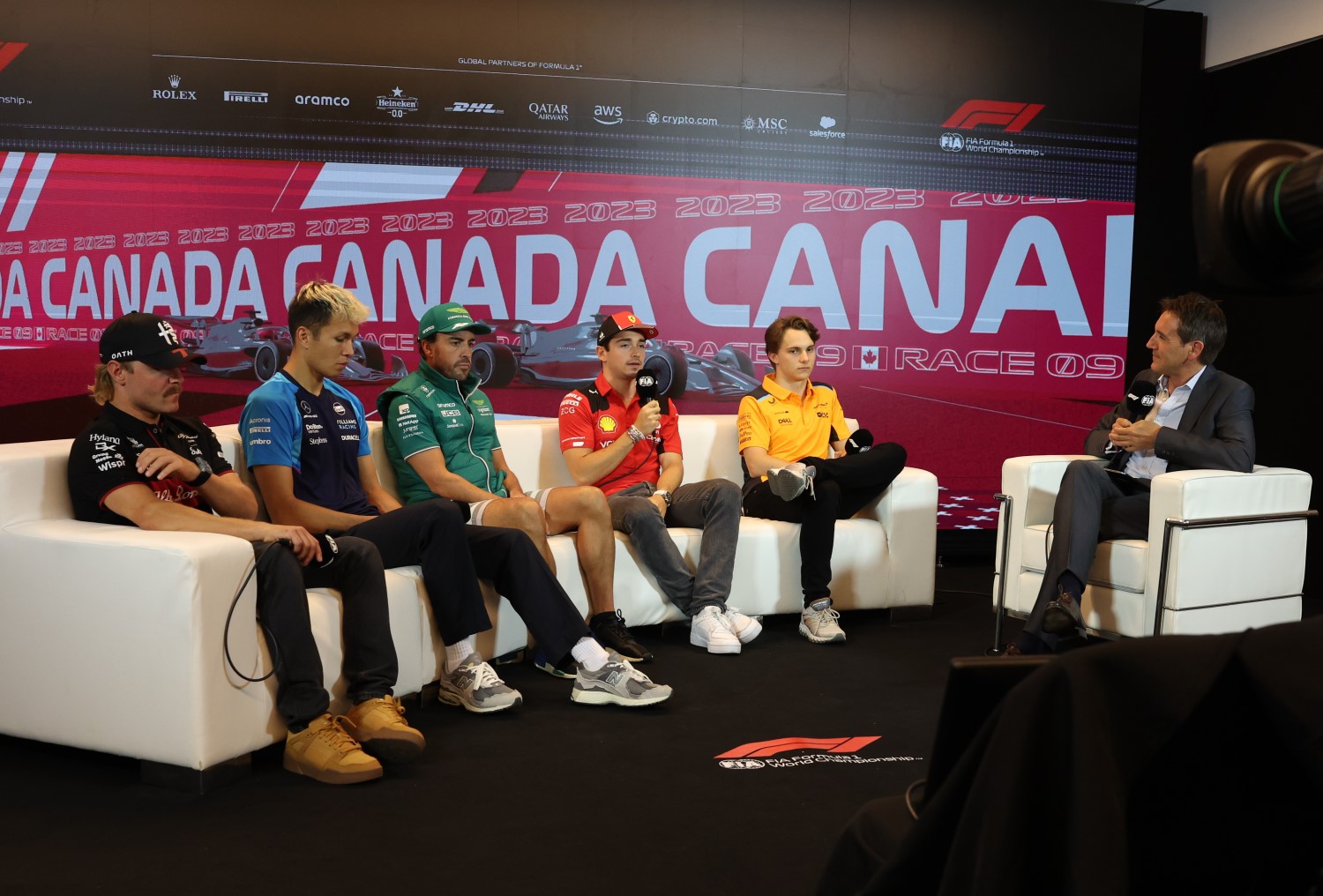 Q: Oscar, why don't we start with you? Let's throw it back to Spain. You said on Sunday night that it had been a dose of reality for the team. After a competitive Saturday, do you now understand why you struggled so much in the race?
Oscar PIASTRI: Yeah, I think so. I think even before the race happened, or at the race, we knew what our limitations were going to be. And yeah, Sunday proved to be correct in what we thought would happen. So yeah, I think we understand where we need to work and where we need to improve, and now it's just about delivering on that.
Q: Now, talking of work, you have been busy since that race, testing in Hungary last week. How was that?
OP: It was nice. Another day in an F1 car is always a good day.
Q: And how different did it feel in an F1 car compared to an F2 car?
OP: Well, I haven't been to Budapest in an F2 car either. It had been a while since I'd been there. But no, cool track in an F1 car, especially with a lot of high-speed corners to really feel the limits of an F1 car. So yeah, it was a fun day out.
Q: Bring it onto this weekend then, your first Canadian Grand Prix. It's a tricky track, this one. Tell us about the preparations on the sim? 
OP: Yeah, I think pretty normal, to be honest, nothing too much more. I've played the track when I was growing up on the F1 video games. So yeah, I'm looking forward to it. It looks cool. It looks quite bumpy and a bit dusty. And obviously a lot of weather hanging around. So we'll see how it goes. But I'm looking forward to getting out there.
Q: Final one for me. For cricket fans out there, The Ashes start tomorrow in the UK. England against Australia. Very quickly: are you looking forward to having a good beating by the Poms?
OP: I was going to say the exact same thing back. No, looking forward to it, should be good. I'll try and watch it where I can, obviously. It's a bit of a shame all the F1 races clash with all the games, but I'm looking forward to seeing Australia smash you guys.
Q: It's going to be good. And good luck this weekend. Charles, coming to you now. Before we talk Formula 1, can we just throw it back to last weekend? You were at Le Mans for a historic victory for Ferrari at the 24 hours. Just tell us about the weekend, and whether you ever see yourself driving in that race? 
Charles LECLERC: I've said it many times now, I think it's an incredible race and of course I would love to participate one day. I don't know when, but I would love to. It was incredible. It was the first time for me attending the race. Obviously, it couldn't have ended up better, with Ferrari winning. But just the whole event is crazy. By night, the first six hours were crazy with the weather too, and rain, no rain. So it was very, very exciting. And I think the last time I went to see a race as a spectator was a very, very long time ago, too. So it was good.
Q: Did you stay up all night? 
CL: Until 4.30 in the morning, I slept like four hours. So it was okay.
Q: Wow, that's commitment. Fernando, do you think he should do it?
Fernando ALONSO: Yes, why not?
Q: It'd be good. Let's bring it back to Formula 1. What can we expect from you and Ferrari this weekend, because you're coming off the back of a difficult weekend in Spain? 
CL: Yeah, it was a very difficult weekend for me especially. On this track we don't have anything new, so I don't think we'll have any miracles, but we need to just try and maximize our package, understand more this package, the way we should set up the car in order to maximize it, as in Spain we were quite easily off the window and then we were losing quite a lot of performance. So we've learned a lot. And I'm pretty sure we'll be in a better place for this weekend. But I don't think it will be a huge step forward.
Q: When you got the car back to Maranello, did you discover a problem from Saturday?
CL: No, no, we didn't.
Q: No issue, OK. What about this weekend then? Great race last year from the back to fifth. I know you've got nothing new but what are you hoping for?
CL: Well, last year we were in a very different situation and again, I think we expect Aston Martin to be very strong this weekend. We expect Red Bull to be very strong this weekend. We struggle to understand exactly where Mercedes will be compared to us. But again, we have to focus on ourselves and try to maximize our package. It's a very challenging track, with the weather, also, we don't really know which side it is going to go. So yeah, we'll just focus on ourselves and see what we can do.
Q: All right. Best of luck. Fernando, coming to you now. So Ferrari think Aston Martin are going to be strong this weekend. What do you think?
FA: Let's see, I think it should be a good weekend. But you never know until you hit the track. We also had expectations in Barcelona and we didn't perform in that race. So yeah, let's see. We have a couple of new parts in the car as well for this race, so depending on the weather, we will try to test them and validate them. And yeah, hopefully we can be a little bit more competitive than Barcelona.
Q: What are you expecting from the upgrades?
FA: Always trying to improve a little bit. Our car has been a completely new project for Aston Martin, a completely new philosophy, a new concept of how the car worked. And, yeah, we've been discovering things at every race this year. And I think it's an optimization of the package, what we try to do, and we've been constantly bringing new parts to the races and this is another step forward and more to come in the future.
Q: Lawrence Stroll said this week that he'd like to see both of his cars on the podium here. How likely is that?
FA: You never know. But it is an aggressive target for the weekend. But we know Lawrence, you know, the ambition of him is super high, always. And we will try to make him happy and proud in the home Grand Prix.
Q: Fernando, you've won this race before. You started on the front row last year. What is the secret of success here at the Circuit Gilles Villeneuve? 
FA: I think you need to have, obviously, confidence in the car. It's a semi-street circuit, so you get very close to the walls and you need to ride the curbs as well. Very aggressive, very bumpy circuit. Weather normally plays a big factor here, as it will do again this weekend. And get some experience, it's always good. It's the 17th or 18th Canadian Grand Prix, so it always helps.
Q: All right, best of luck. Thank you, Fernando. Alex, coming to you now. Now, you said in Spain that the Barcelona track layout left Williams exposed. What do you think about this weekend?
Alex ALBON: I kind of like these kinds of circuits. I do feel there's a little bit more in terms of the ride. Maybe not so much just pure downforce on the car. There's a bit more to it. The weather… So, we've got some upgrades coming this weekend, hopefully, in some ways we want it to be dry just to see what they do. But as I said, it does seem like a bit more of a characterful track than Barcelona.
Q: What are you expecting from the upgrades? Have you driven them on the simulator?
AA: Yeah, we've been pretty hard at work the last couple of weeks. You know, nothing too big actually, balance-wise. It feels quite similar. It's more just a general downforce difference. We've done a good job. I do think it's going to put us more into the fight with the midfield. Something which we've been falling away a little bit from the last few races, so hopefully you can just get us back into the fighting area for points.
Q: All right. Best of luck with that. Thank you, Alex. Valtteri, thank you for waiting. Before we talk on track a question regarding off track, because James Key is going to be joining Alfa Romeo as technical director in September. Can we get your reaction to that news, please?
Valtteri BOTTAS: I think James is obviously very welcome to the team. He's got lots of experience from different teams before, been in different situations. So yeah, I think he's going to be a good addition for us and looking forward to starting to work with him.
Q: And in terms of facilities, does Alfa Romeo/Sauber have everything it needs in Hinwil? Is it just a question of brainpower now? 
VB: The basic things are there. There's always room for improvements and you could always get the latest machinery for every single department. So I think there's still work going on to see where to invest, when to invest, because there's a clear long-term plan. But then in the end, it's also about human power, like you said, so we're getting there step by step, but it is a project.
Q: Alright, and what can we expect from you and Alfa Romeo this weekend? You have four podiums at this track. Great drive to P7 as well last year. What about 2023?
VB: Hopefully points. I think that's a realistic target. We had a car in Barcelona to be in the top 10. So let's see how we go here. Very different track, but we try the best and we're here to fight for points.
QUESTIONS FROM THE FLOOR
Q: (David Croft – Sky Sports F1) It's a question for you Charles. I could see the disappointment on your face when you told Tom that you couldn't find a cause of the issues on Saturday in Barcelona. If only you could run in Baku every single week, your season will be a lot better than it has been. How worried are you about Ferrari's form, about the way the season is progressing, and the fact that you couldn't find an issue to something that was clearly a problem for you on Saturday in Spain?
CL: I mean, overall, I think all the team is not satisfied with the performance we are showing at the moment on track. And it's very far off our expectations at the beginning of the season. And yes, we are very clear with ourselves and it's very clear for us. Then, qualifying in Barcelona was a very particular one. I think I wasn't the only one to struggle, and we need to understand these things. And for now, we don't have the reason. So this is a little bit more worrying, and that's where we need to push and try to understand the reason for it. Because obviously, the feeling was really bad. And then, looking ahead, we just need to keep pushing, trying to bring upgrades as quickly as possible and regularly, which is our aim now, to try to close the gap with the guys in front and also to close the gap, especially in terms of race pace. Because even though I struggled a lot in Qualifying on the Saturday, the Sunday wasn't great either. And if we look, Carlos, who had a great weekend, he had a great Saturday, but then on Sunday, we struggled again with a race pace. So that's where we are trying to, to push at the moment. What gives me confidence, though, is that there's a clear direction in where we want to work and improve and this is what makes me believe in the project.
Q: (Filip Cleeren – Motorsport.com) Fernando, when you started in Formula 1, the cars were over 200 kilograms lighter than they are today. And now there are discussions to try and bring that weight down again. Just in your experience, how much would that improve the show? How much more enjoyable would it be to drive as well?
FA: I don't think it would change much the show. I think it's more the size of the cars than the weight of the cars, which makes things a little bit more difficult, overtakings, fights into the first couple of corners in the race, it is difficult now to position the car, just because the size of it, not because the weight of the car. So I think it's going to be difficult to really reduce, significantly, the weight of course, as the hybrid engines, they will always be heavier than the normal engines and the safety on these cars is a lot higher as well. So I know there is some interest in going into that direction. Let's see what they can do. It will be always welcome and it's always more fun to drive light cars, but at the end of the day, I think it's more the size of them that makes racing a little bit more difficult.
Q: (Luke Smith – The Athletic) Another one for Fernando, you seem quite bullish about Aston Martin's chances going into this weekend. Canada does have a history for surprise winners, be it due to weather or groundhogs even, getting in the way of cars. Do you see this as being your best chance to get that 33rd win that everyone's hyping up?
FA: No, I don't think so. I don't think so. I think it was more the reaction after Barcelona, knowing that probably was more a one-off, that we were uncompetitive, than being in Canada, you know, our best chance. I think we will be, hopefully, on a very competitive position all throughout the year, and maybe only Barcelona being a little bit out of pace. So that's the hope. But I don't think that we point at one weekend, here in Canada or any other has the biggest chance of winning, Probably Monaco was, to be honest, in our calendar, our best chance and we were very close: only 40 or 50 milliseconds off pole position, and then in the race, obviously the chance with the weather coming at the end. So, let's see when we have another opportunity.
Q: (Adam Cooper – motorsport.com) Question for Charles. You drove the 2024 no-blanket tires in Barcelona last week. How did that test go? Are they raceable? The FIA has to make a decision in about six weeks on whether the ban goes ahead next year. Would you be happy if we had no blankets?
CL: Oh, it's… I think it's too early and I don't have all the answers for now. I have to say that in the conditions that I had during the test, it was good, and it went well. But yeah, in lower temperatures, I don't know. I haven't tested these tires in lower temperatures and that's where the big question mark is. So, very difficult to answer whether I will be happy to go. I would like to maybe test those tires in different conditions and then see whether they are raceable in all conditions. But again, it was a positive test with the conditions that we've had in Barcelona.
Q: Charles, can I just ask you to elaborate on that? What does the car feel like on the first lap out of the pits?
CL: Well, you've got four or five corners where it's very tricky. Where the tires need to get into temperature. When you are alone on track it is not that much of a problem. But of course, if you are racing other cars, then it becomes very, very difficult to manage. If it remains four or five corners, even in low conditions, then it's something that we could consider. But obviously with very low conditions, I expect this to be much longer, this warm-up period, and this then could become difficult.
Q: Fernando, can I bring you in on this? Because your experience in IndyCar, of course no tire warmers there? What are your thoughts?
FA: Well, I think it depends on the tire energy that you put on that specific circuit. Barcelona will help the tires, some others, it will make things very difficult. Indy, I think you put a lot of energy in the tires immediately and it was fine. At places like Monaco, or some others… I'm not a big fan of removing the blankets, to be honest, and I don't see the reason why.
Q: (Chris Medland – Racer) Question for Alex. Sorry, to throw it forward a little bit – but your home race at Silverstone in a few weeks' time. What are your hopes for Williams at that one? Especially with the upgraded car? Do you hope to be a bit more competitive there, and is it a special weekend for you when you race in front of such a big crowd like that?
AA: Silverstone I think is one of everyone's favorite circuits. Like you said, I think it's a bit more representative to see where our package comes out. We've still got Austria before then if I've got my calendar, right. But no, it will be good. I think it's also Williams'… well, it was supposed to be their 800th – but it will be 799 with Imola, unfortunately, but it will still be a good race and hopefully we can put on a good show. It's always good to go to Silverstone.
Q: (Simon-Olivier Lorange – La Presse) The question is going to be for Fernando. I guess it's not going to be a surprise to get a question about your team-mate in his hometown here. From your point of view, from what you saw from him, from your relationship with him this season. What do you think must improve, or what is missing in him to not only be a good driver but maybe become a star in the sport?
FA: Yeah, I know Lance from 2012. Actually, I met him here in one of the Ferrari events, when he was in the Academy. I think Lance is showing the speed in the car, the commitment, we saw at the beginning of the year as well, racing with a broken hand and things like that. You only see when you really have passion for something that you're doing. And I think, for him, the most important thing now is to get the consistency, weekend after weekend. I think we saw many times in the past, sparks of Lance, in wet qualifying, in races, at the starts, lap one performance, these kinds of things that are outstanding. And then, some other weekends that the result was not coming or you get in a bad loop in Qualifying, so something like that, and then the weekend is a little bit compromised. So, I think that consistency is going to be the next step in his career, to be constantly fighting for the top five and then at the end of the year, you see the amount of points that you gain when you get all the weekends right. But as I said, with the motivation, the commitment that he has, and the team that Aston Martin is building now, I think it's a matter of time that this will come.
Q: (Matt Coch – Speedcafe.com) One for Oscar. Looking a little bit forward, the B-spec car isn't too far away. How much do you know about that? Have you driven it in the simulator? And, I guess, what are you expecting if you have driven the simulator? What is it? What does it feel like? Is it much different? 
OP: I haven't driven in the simulator yet. So I'm not sure. Hopefully, it's faster. That's obviously the plan. I think we're positive and optimistic about the new package we've got coming for Austria and Silverstone. We'll have to wait and see but I'm looking forward to firstly driving it in the sim when I have the chance and then obviously on the real track too.
Q: (Luke Smith – The Athletic) Charles, about Le Mans and your visit. You've said, obviously before, that you'd like to do the race one day, but did going they're really sort of solidify that for you? Was there anything that really surprised you about the race, that made you be like: I need to do this in the future. And is it something you see post-F1, or could you maybe do it during your F1 career? 
CL: I mean, with more and more races in Formula 1, it starts to become more and more difficult, I think, to fit another race, in another category where you need to do testing, etc. So, if the calendar lets me do it, why not? But at the moment, it looks difficult. Then, I don't know, not much surprise me. I think I kind of expected all of what I've seen, at least in the way the team is working. But the excitement around the race in itself was incredible to see. I've never seen so many people on a racetrack before. And it's a very long track and wherever you go, you see lots and lots of people, and very passionate about racing and you know that it's not the first race they are watching: they've been watching for years. It's good to see so many passionate people at the same event, and on that I was surprised, yes.
Q: Can I bring you in on this Oscar? Do you fancy Le Mans?
OP: You asked me about Indy last time! Yes, I think a similar answer to what Charles said. Obviously, with more and more races in the calendar, it becomes difficult. Obviously, I'm only seven races into my F1 career, so maybe give it some more time. But it looks like an exciting race. But yeah, not for a while.
Q: Fernando, are you going to go back again?
FA:  I may go, yeah.
Q: Could you do it as part of a Formula 1 season? Or do you think it needs to be a separate program?
FA: No, you can. I did the endurance world championship and Formula One World Championship. I think both Championships, so why not one race only?
Q: As the calendar gets longer in Formula One, still possible?
FA: I did in 2018, and it was very long already.
Q: Alex, how about you?
AA: I would love to, yeah.  I'm not sure. Maybe post-F1, or even during but it's exciting. I think the racing was really good. I don't know if the other drivers watched it but it was quite cool to follow along. And I like this whole new LMP style, lot of manufacturers coming into it.
Q: How many hours did you watch last weekend?
AA: I didn't have the official channel, so I was just going on some dodgy livestream! It was intermittent, coming on and off all the time, so total, maybe three hours.
Q: Valtteri. How about you, Le Mans?
VB: Why not one day? I? I feel like Charles: it is tricky with the commitments we have in Formula 1. It's only the races, it's the other as well. So, time-wise, challenging. So, I'll probably say post-F1, could be something.
Q: I think we might see you at Bathurst before we see you in Le Mans, right?
VB: That's very likely.
Q: (Scott Mitchell-Malm – The Race) It's a question for Charles, sorry, for your earlier answer covered this already but just on the issue that you felt in Barcelona in Qualifying, and what you say about there not being anything obvious wrong with the car, or mechanically wrong with the car afterwards? What, based on the analysis then, why did it manifest itself in the feeling that it did? Why could you feel it? Or did it feel like it was worse through some types of corners than others? Because you're not the kind of driver to sort of suffer in those conditions without a good reason.
CL: Yeah, well, to be honest, it is the first time that it happened in my career. I mean, if I look on the left-hand corners, that's where I was struggling. I said it straightaway after Qualifying, and we can see that on data clearly. I'm losing some six-and-a-half or seven-tenths in all the left-hand corner – but there are no real reasons for it yet. So yeah, for now, I cannot say much more, to be honest.
Q: (Chris Medland – Racer) One for everyone, just following up on the Le Mans chat. Valtteri mentioned about how there are other commitments around Formula 1 that make it hard to do stuff, in season. Do you think, as drivers, you'd benefit from having a bit more freedom to race other things, gain other experiences – or do you think that being fully tied into F1, even if it isn't driving, is the only way to go? 
VB: I feel like it's quite individual as a driver. But for me, doing other things sometimes, I feel a benefit. You know, you get another point of view of driving. For example, I've done a few rallies over the last few years, some test days for it as well. Just the timing needs to be correct. So yeah, I feel like when you drive something else, you can always unlock and discover something. Especially in the winter-time, it kind of keeps you sharp if you do something else.
AA: Yeah, I think the same as Valtteri. Everyone's individual, but the way I see it is a little bit like… I did DTM, for example. Very different cars, and maybe not the most fun cars to drive but you learn such a different way to drive quickly. Every car has a different style and if you just drive Formula 1 all the time, I think you get fixed on one kind of style. Call it like reading a book: kind of extend your vocabulary, but it's more like you're racing vocabulary: you get a better appreciation for how to be on the limit and how to be quick in all different kinds of things.
FA: Yeah, I agree. You know my opinion: the more you race, the more you drive, the better you are.  Instead of being in a restaurant or on a beach, or on an event or premier or whatever. If you are behind a wheel, that will be to your advantage at one point in your career: at one point in a corner or race start, or something. It will always be something that you put in your hard disk.
CL: Yeah, I think I will take it more as a challenge. I don't know how much we can take from endurance driving to Formula 1 as it's very, very different. As Fernando says, it always helps to be behind the wheel but yeah, before I was saying that it was going to be difficult, mostly because outside of the races, we also have quite a lot of events and things going on with Ferrari. So not much free time, and the free time that we have, when we have two or three days, obviously Le Mans is a very tiring race: when I saw the drivers at the end of the race, they were really, really tired: not much sleep and a lot of driving. So it's nice, I would love to do it one day, but you also need to think about the whole season and Formula 1 is obviously the main priority for now.
OP: Yeah, I think driving anything can be useful. I say that: I've never actually driven a race car with a roof on it before! So, I don't know, maybe it'll be a summer activity for me! I think you can look at it from both ways. Obviously F1 is a very different car from anything else. And there's quite a lot of specifics. But at the same time, you can, as Alex and Fernando were saying, you can learn different things that can help you in situations where you might not expect so yeah, I think it can be useful, but like we've all said, there's not much time to do it these days.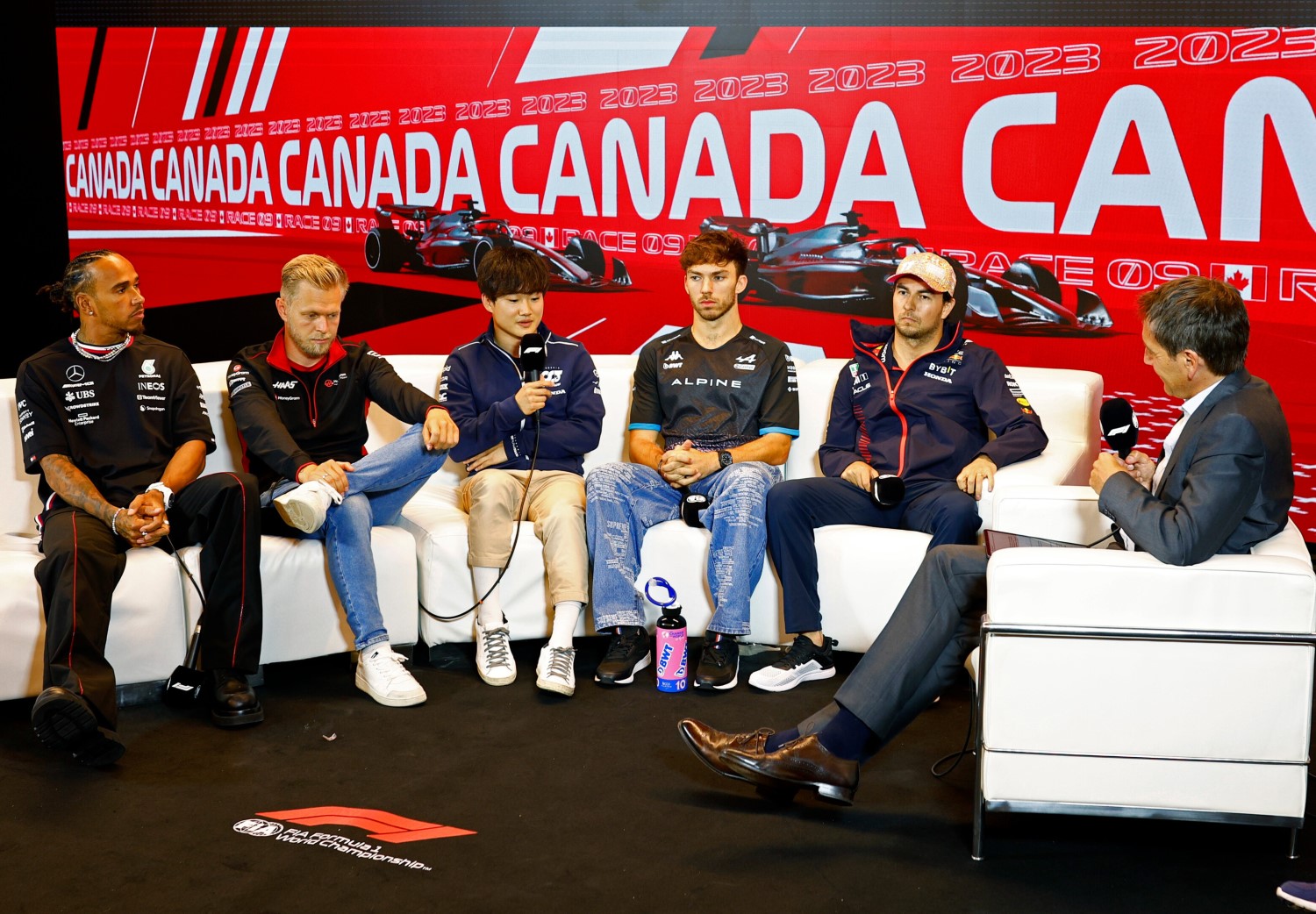 DRIVER GROUP 2 – Yuki TSUNODA (AlphaTauri), Pierre GASLY (Alpine), Kevin MAGNUSSEN (Haas), Lewis HAMILTON (Mercedes), Sergio PÉREZ (Red Bull)
Q: Lewis, why don't we start with you, if we could. Seven wins here in Canada, you have a phenomenal record. And of course, one of those wins was your first one in Formula 1 back in 2007. What is it about this place?
Lewis HAMILTON: Good afternoon, everyone. I don't know. I think it's one of the drivers' favorite circuits, I think, for sure. It's the city, it's the energy. I was asking one of the Canadians recently if the city is the same when we're not here. But the energy is always great. Got a great and amazing crowd since the beginning. And the track, you've got these long, long straights, but it's a bit like a go-kart track in how you have to throw the car over the curbs. It's just always gelled well with me. It's a big, big braking circuit and that's always been my strength since I was younger.
Q: I was just going to say: does it suit your style? 
LH: Clearly!
Q: The record speaks for itself! And how much confidence do you have coming into this weekend after what was a really encouraging race in Spain? 
LH: Yeah, definitely a lot, that we've been making progress and the car, last race, we've all been buzzing, I think, back at the factory and the whole team has this new energy and kind-of feels like we've got a North Star: we know where we're going; we know how to get there. So, everyone's just churning away and working as hard as possible. So, excited to come here. I'm hoping that… we generally don't know whether this track suits our car, and the car's characteristics, but the weather may change that and we'll see.
Q: Are you doing a rain dance?
LH: I don't think I need to! Those clouds are looking pretty big outside!
Q: You've seen the forecast! Final one from me. You did say in Barcelona that you were hoping to hook up with Toto Wolff after the race, to talk about your future with the team.
LH: We've never hooked-up!
Q: Did you have a meeting? You normally do it over pizza, right?
LH:  No, we never have pizza! I've seen Toto, we've talked several times, we have a great relationship but there's nothing else to say at the moment.
Q: Any progress made? 
LH: Yeah… but nothing else new to really add to it.
Q: Kevin, let's come to you next, your 150th race in Formula 1. What a ride it's been for you. Just how do you reflect on the last ten years?
Kevin MAGNUSSEN: Yeah, I mean, it always… when you think back, 150 races, it sounds like a lot but it actually doesn't feel like that much. I always get surprised when new guys come into F1, and I see their age and I think about my own age and suddenly feel quite old! Actually, I feel young still, but time flies and I'm not a youngster anymore.
LH: How old are you?
KM: I'm 30.
LH: 30!
KM: Were you surprised I wasn't older, or…?
LH: I think it's the beard.
KM: So, I look old! People say I look older than my Dad! I've seen that on the Internet. But no, it's been a really fun ride, and it doesn't feel like it's anywhere near over yet. And yeah, I'm excited to be around still, and excited for the future.
Q: Well, tell us about Spain next. It wasn't an easy race for either you or your teammate. What have you learned since that race that's going to help you this weekend?
KM: Yeah, it was a tricky one because it was so up and down, you know? One session, we were close to top five and the next one, we were out-in-Q1 range, and it was going up and down so much that it was…  we made small changes to the car that we didn't think was going to be big and it had a very big effect. So, it was a little bit of a confusing weekend. And you know, it obviously ended up not being a great one in the race too, with a lot of tire wear and degradation. So, I'm hoping that we can find some actual answers that we can carry forward and avoid falling into the same trap.
Q: Nico also said this week that he thinks the team needs to focus on Sundays, not Saturdays. Do you agree with him? 
KM: Yeah, I do agree. I mean, at the end of the day, Sundays are the most important. If you have a fast car on Saturday, it doesn't really matter if you're really wearing out the tires or just not fast on Sunday. So, that is clearly the priority: to find the pace on Sunday. It has been good in races this year, but it's been a little bit up and down. Too much up and down. That's clearly what we need to work on.
Q: And do you think this race track will suit your driving style, a bit like it does Lewis'?
KM: I don't know about that. We have been struggling a little bit when it's been bumpy and you know, this track is a bumpy one. And you're also using the curbs in all the chicanes and I don't know if that's going to suit us that well – but you often get surprised anyway and we'll see.
Q: Yuki coming to you now. You were upset after the race in Spain following the incident with Zhou Guanyu. What did you learn as a result of what happened on track there? And will you do anything differently, going forward, in terms of your wheel-to-wheel racing? 
Yuki TSUNODA: I'm still upset with it but you cannot change anything. In the end, that's what the FIA decided and actually, we spoke this afternoon with the FIA and understand their perspective. Other than that, nothing to say. I won't change any approach, I would say, to be honest. In the end I will try as much as possible to defend it, within the limit. I thought it was in the limit and it was not – but in the end, it was using too much and you cannot defend, so, obviously I'll try to change a little bit better. There's room that I can improve in any situation. I feel, at the same time, a similar mindset to after the race, I felt quite harsh, but in the end it is what it is, and yeah, I just have to accept it.
Q: What about this weekend? Give us your thoughts on the Circuit Gilles Villeneuve. I've read that you compared it to Suzuka, and I think that's an interesting comparison. Tell us more.
YT: I've compared this track to Suzuka?
Q: That's what I've read – in your race preview.
YT: It's not similar at all!
Q: Maybe… Were you thinking in terms of how it punishes mistakes like Suzuka does? Is that maybe what you were thinking?
YT: Ah, OK, yeah. Well, Suzuka, we don't drive curbs, and here we drive curbs. And it's a street circuit here and not a street circuit in Suzuka, so… I don't know. I was not in a good mood when I said that, or whatever! But yeah, I mean, in terms of there being grass next to the track surface is quite similar to Suzuka, which is challenging and still thrilling, and once you step-out, it's quite costly. But if you compare to Suzuka, it's not similar at all. So, it's hard to say more than this but I try to maximize the lap-time within the grass.
Q: And Yuki, are you confident that you can get back into the points? There's been three races now that you've been outside.
YT: Yeah, I think so. I mean, especially race pace, we've been positive consistently this year. So I try to maximize that, and one of our limitations now is a qualifying, try to extract as much as possible, end up as high position as much as possible, to be slightly easier than starting P15 or whatever. That's our probable main challenge for this week. And I'm feeling positive. I think, so far, bumpy track is not too bad. Monaco, we performed quite well. So, feeling optimistic. I'll try my best. I think weather will be a slight game changer and affect our strategy and pace, so see how it goes.
Q: Pierre, you've been busy away from the racetrack since we last saw you in Spain. You took in the tennis in Paris, you've been bowling here in Montreal, just tell us a bit more?
Pierre GASLY: Yeah, it was quite nice to just have like a weekend to recharge back home and I'm quite a sports enthusiast, so I must say I quite enjoyed between MotoGP, 24 hours of Le Mans, Roland Garros, there was the Champions League final. So, I definitely enjoyed watching and following all that. And then we had a nice bowling event last night with the team, so it was pretty fun to just catch up and bond with the team members outside the race track.
Q: It was Djokovic, did you watch? 
PG: Yeah, Djokovic, it was just incredible to witness. He won his 23rd Grand Slam and it was just impressive, just mentally and how strong his game was. Definitely I enjoyed it.
Q: Well, talking Formula 1, can we throw it back to qualifying in Spain next because you were given a six-place grid penalty for impeding. Are you and your engineer going to approach qualifying any differently this weekend to avoid something like that happening again? 
PG: Yeah, obviously. I think it had a very bad impact, obviously, on our weekend, from Qualifying, for us to start P10 and drop to P14 on lap one, so it was definitely a pretty terrible start. But yeah, there are always things we can do better. There were small mistakes, which were done in Quali, which we reviewed and will improve in terms of procedure and communication. And yeah, it was a harsh penalty. Unfortunately, there is a regulation, which is applied most of the time and then we paid a pretty big price.
Q: And do you think this circuit here in Montréal will suit your car?
PG: I think the last three events have been pretty strong in terms of evolution and progress. We've scored points with both cars in these last three events. Miami was a step forward. Monaco, there was obviously a podium. Barcelona, we showed strong pace in Quali, with a fourth in Qualifying and again double points. So there are definitely positives. There are small details we need to work on to really make a step on Sundays, but overall, I think we've got decent potential in our package and I'm confident we can get a strong result again this weekend.
Q: Checo, after a difficult couple of races, what is your mindset coming into this Canadian Grand Prix?
Sergio PEREZ: Yeah, I basically want to reset and go again. Basically, Monaco was all down to me, I had a really bad mistake. But then in Barcelona, in the Qualifying again, it was tricky with the damp conditions. We didn't manage to have a good Quali and then we paid the price on Sunday. So I'm looking forward to getting back to the form we had in the early season.
Q: Is it difficult to get the car into the right window for you in Qualifying? Is that the cause of the problem?
SP: It was difficult in Barcelona. It is the only time that I have difficulties with the car. I did struggle through the weekend, so it was tricky in Barcelona. But other than that, I think in Monaco we had the pace to really have a very good weekend but I did a mistake. I was caught out with a tailwind, with a car ahead and so on. No, I think the first time we had difficulties was in Barcelona.
Q: And Christian Horner said that he thinks there's less pressure on you now. Do you agree with him?
SP: I don't think so. I think we always have to deliver to our maximum and we just have to make sure we deliver. We have a great car and we should be having a lot of podiums, wins and so on, from now until the end of the year. We can see that the competition is getting closer and closer all the time, but we will try our best.
Q: And do you think you'll have the fastest car this weekend?
SP: It's a tricky race track. We've seen in Barcelona things are getting closer and certainly there's always one or two teams that can get really close. And especially with how the weekend is looking, it's looking really damp, so it will only get things a little bit closer.
QUESTION FROM THE FLOOR
Q: (David Croft – Sky Sports F1) Checo, you're no rookie. You've been around for a while now, but I'm told, week after week, you never stop learning in life. I think it's 50 races now, this weekend, for Red Bull, 50 races as a team-mate to Max. So, what have you learned from him as a driver that you can use to help you in what you say is now a reset for the rest of the season? What has he done that you think, 'right, I need to do that to get more out of this?'
SP: Well, I think he has been able to deliver when it matters – in Qualifying and he hasn't had a bad weekend at all this year. And I think it's what I need. I cannot afford to have any bad weekends anymore. I think I've had two or three bad weekends in the season, so I really have to get rid of those and keep the consistency high because I think it's something that Max has been really good and consistent throughout this period.
Q: (Simon-Olivier Lorange – La Presse) Lewis, it's been a year and a half since you got a first place. After winning so much in your career, is it getting heavier and heavier to get this next win? Or are you able to really reset between every race and get to the next one with the idea of finally this is going to be the one? 
LH: Yeah, I don't feel any weight. We've gone through a tough patch and we're kind of, like, on that up. And I feel that there's been a feeling of like… For example, the last race and some of the races, it feels like we've had wins. It's just about perspective. Of course, we've not been in first place but there have been many wins in the steps that we've taken. Last race, for us, as a team, to be on the podium with both drivers, that was a win for us. And so we're just focused. We know, as I was just saying earlier, that we have that north star. We know where we need to go. We don't know everything of how to get there but we know that together we can get there if we just keep our heads down and focus on the science. The engineering team is fantastic within the organization. We've got great development team and I honestly think we've got the best development rate, as good if not better than any team in the sport and so you've just got to keep chipping away.
Q: (Luke Smith – The Athletic) Lewis, you spoke in New York, I think yesterday, about Mission 44, Ignite and the work you're doing, obviously to improve diversity through motorsport. And with the contract talks with Toto, how much are these programs a part of your future with Mercedes, something you're talking more about, advancing them? And does it also point to this being way more than just a driver in a team wanting to work together to win races and championships? It's about helping deep-rooted change in the sport.
LH: Yeah, I think we already covered a lot of that already in the previous contract and so it's really… we've got an amazing group of people back at the factory who are really refocused on D&I and really, there's been huge progress within our team since the first time we've had the conversations, like the serious conversations, and the work that we're doing with Accelerate 25, Ignite, which is now within Mission 44. And that's really my role within Mission 44. And I think the team is always super supportive. I don't know when you're referring to, to be honest, maybe the Forbes thing you mean? Yeah. That's still always going to be a focal point and the important thing, obviously, Mission 44 I think, I'm really proud of where we got it to. We're now funding, I think it's 25 or 26 different organizations out there, so starting to really start to have impact and see… Hopefully, we'll start to see a better, fresher chain coming through from with more diverse students.
Q: (Joost Smedema – NOS) Lewis, in 2017 you equalled the record of pole positions of Ayrton Senna here in Canada. This weekend, Max can equal the numbers of victories of Ayrton. If you think back on 2017, what is your feeling if you think back to that weekend? And could you describe the impact for you as a Formula 1 driver to be compared to Senna, which Max may experience this weekend as well?
LH: 2017. Jeez, I don't remember it. Yeah, I really can't remember off the top of my head. I need to see a video or something like that. I've got a bad memory. But for me, it was very, very surreal just that being five years old, watching with my dad and the dream was to be like Ayrton. The dream was to get to Formula 1 and do something like him and then to then find that you're matching equally in terms of results. You know, ultimately it's unfair because there's a lot more races in our time than there were back then. But still it was a real honour. I think I got it, they gave me a helmet or something like that, replica helmet, something like that, and so that was very cool. Yeah, Max has been doing an amazing job. He's had such an incredible career so far and he's for sure going to surpass that. (We're) working on getting the car to where it needs to be so we can slow him down.
Q: (David Schneider – Hershey Shiga Sports) Yuki, Mario Miyakawa, veteran business manager of Kamui Kobayashi and Jean Alesi, has been at your side this year. How have you decided on him and has it already positively influenced your workflow this year?
YT: Yeah, definitely. First of all, we knew each other already. I got introduced by Mr Yamamoto from Honda in 2021, in Monaco. Since then, we keep in touch, just casually and we get along quite well. But same time we didn't actually work together, and I approached to him last year around Abu Dhabi. And yeah, so far he's doing the job that I wanted him to do and I'm really, really happy with him. Not just… I mean, managing just as a kind of friendship side, he's really good and I feel like I can rely on him quite a lot. So yeah, I can trust him a lot, which is a good thing which is an important thing. And yeah, I feel quite happy with him.
Q: (Adam Cooper – Motorsport.com) Question for Lewis and Checo as the more experienced guys. There's a lot of talk about trying to bring the weight down for the next regulations in '26. But just now, Fernando said the bigger issue is the size of the cars, the dimensions in terms of maneuverability. Would you agree with that, that that's more of an issue than the actual weight? 
SP: Well, I think the dimensions of this car, probably they have an impact in places like Monaco, where it just gets harder to do racing. But other than that, I do think that the tires, the size of the car are probably a little bit too big. Although we can follow a bit better, it seems a bit better to protect, defend your position. So I would welcome a lighter car as well but I don't think it's a main issue to me. It's also the size of the car that is hurting a bit the racing side.
LH: Similar. I think the dimensions are pretty good. I quite like the size of the car but obviously there are some places where it is tight as Checo said. But I think it is the weight that has definitely gone too far. Our wheels this year are a ridiculous weight. And there's just no need. We've had light wheels in the past, and then the cars, just the braking zones are longer but I definitely think there's some good changes they can make for the future. It's not my decision, obviously.
Q: (Phil Duncan – PA) Lewis, Toto said earlier this week that it would be days rather than weeks in terms of the contracts. Given your latest discussions with him, is that how you see the timeline developing? And just going back to Max potentially matching Senna's number of wins this weekend, that will take them to 41, I know he's obviously quite a long way off your record of 103 but do you think there's a chance that he could catch that or eclipse that given that he's only 25?
LH: He's got a very long career ahead of him so absolutely. Ultimately, records are there to be broken. And he's got an amazing team. But as I said, we've got to work harder to try and continue to extend it. I hope we get to have some… at least within the last period of time in my career, I hope we get to have some more close racing. And then I don't really have a huge amount to say on the contractual side of things. It'll get done when it's done. If that's next week, if that's in a month's time, as long as it gets done I'm not really bothered.
Q: (Chris Medland – Racer) Lewis, actually having to look forward to Silverstone in a few weeks' time, your home race, does the performance of the Mercedes in Barcelona bode well for your chances at that circuit? What are your hopes from the car there? And just how special is it to race at Silverstone?
LH: Yeah, super excited to get to have the British Grand Prix. Hope… the weather has been amazing in the past week or so. When I left I think it was 29 degrees which was amazing. So let's hope that that extends out to when we get there. And yeah, I'm really, really hopeful that the performance we had in the last race… I mean, we're only like three tenths off… each lap, I was around three or four tenths off Max, which was the closest I think we've ever been this year. And I'm hoping by then, we will hopefully have taken another step. So I'm really, really hopeful that we can… maybe that will be a race where we get to actually race them but we'll see.
Q: (Nicolas Blasquez – AFP) Pierre, did you expect you and the team to get so positive an effect with the upgrades so quickly because you made a very big step forward in only a very short period of time?
PG: Well, I think that the team last year showed really good progress and evolution with the upgrades throughout the entire season. And I think it was probably the strongest strength throughout the whole year. So I trusted in the team to improve the performance. We had a pretty slow start of the year, probably starting on the back foot and a bit further away from the competition than we would have liked. But clearly, I think it's fair to say it came as a bit of a positive surprise that in Monaco we were able to fight for the podium. In Barcelona, again, top four in Qualifying, so there seems to be definitely some very good potential to unlock from the package we've got and that's why I'm pretty confident in the coming races. The coming weekends, I think there are definitely some big points to get as a team.