Alonso eyes WEC, not IndyCar, full-time for 2021 (10th Update)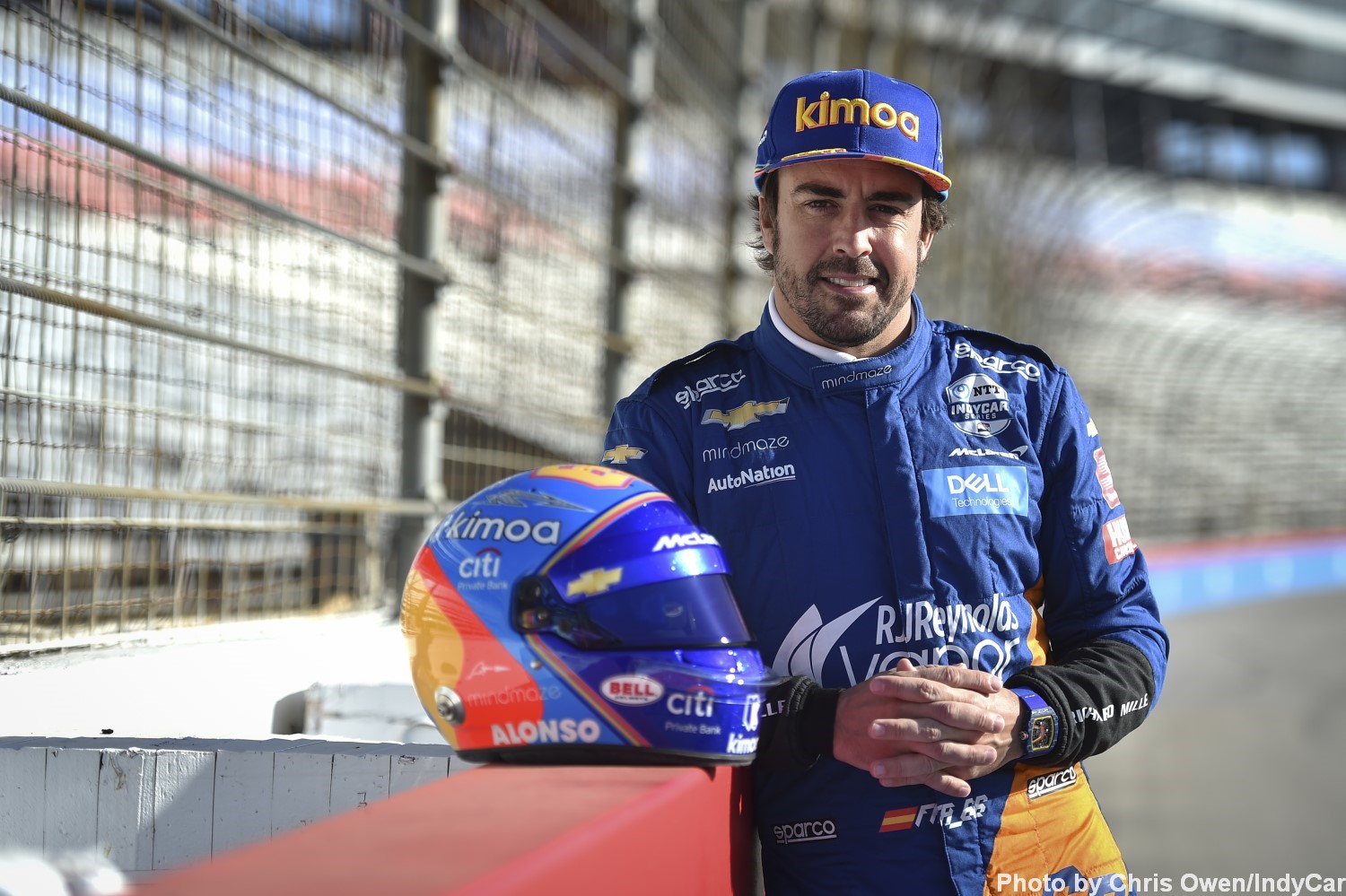 There is not enough money in the IndyCar paddock to pay Alonso. He now appears headed to the WEC where there is big manufacturer money
UPDATE It now appears out of the question that Alonso will do full-time IndyCar in 2021, despite previously teasing more races with Arrow McLaren SP than just the Indy 500.
"That would require a great commitment and a lot of preparation. The Indianapolis 500 is already a great commitment and requires great preparation so I don't want to imagine the full championship," he said.
"I know more or less what I'm going to do in 2021. I hope you will know soon, but I can't say more now," Fernando Alonso was quoted by Spain's El Mundo.
In a separate Q&A with the Le Mans 24 Hours Instagram account, the 38-year-old spoke very highly of the new Hypercar class coming to WEC for the next super-season.
"I will say yes," he said on how he'd respond if he was offered a seat.
"I think Hypercar is a nice project, together with [the other] different solutions. I know the World Endurance Championship is going through a good process now with IMSA.
"There are a lot of things in the future that will boost endurance racing and I want to be a part of that.
"I don't know when, but obviously my experience with Le Mans is 100 percent love because of my two participations and two wins. I want to try [for] the third, for sure. Let's see when."
05/06/20 (GMM) Fernando Alonso seems to have finalized his plans for 2021 – and a return to Formula 1 will apparently have to wait.
The two-time world champion, who went on 'sabbatical' after the 2018 season and intends to do the Indy 500 this year, is quoted by El Mundo as saying he has "decided" what he will be doing in 2021.
"I know more or less what I'm going to do in 2021," Alonso said. "I hope you will know soon, but I can't say more now."
But he hinted that it won't be Formula 1, partly because the new technical rules for 2021 have been delayed for a year.
"I always said that in 2021, with new rules, it was possible that I would return to Formula 1 because perhaps the cars will be more balanced and I am hungry to test myself again," the former McLaren and Ferrari driver said.
He said delaying the new rules is "bad news" for F1. Alonso thinks the regulations need to be brought in "as soon as possible".
"It (delaying the rules) is an understandable decision, because with this situation now you cannot develop the 2021 cars," he acknowledged.
Alonso played down speculation that his next move could be the full Indycar championship.
"That would require a great commitment and a lot of preparation," said Alonso. "The Indianapolis 500 is already a great commitment and requires great preparation so I don't want to imagine the full championship."
01/18/20 Well it appears time has changed Alonso's mind. And perhaps new series owner Roger Penske who can do great things for IndyCar. Plus the new windscreen and halo that IndyCar has implemented to increase driver safety has now made him consider IndyCar as a viable option for 2021.
Whereas before he said he would never do a full IndyCar season (see below), his tune has changed.
"In the summer I will have to make a decision, that's for sure," he told Spanish radio broadcaster Copa's El Partidazo de Cope program this week.
"I will evaluate F1, I could also return to the WEC since the hypercars will arrive. Or I could do an entire championship in IndyCar," he added.
Alonso appears to have ruled one thing out: whatever happens, he doesn't see himself returning to Ferrari, for whom he drove for five seasons between 2010 and 2014.
"I haven't talked to Ferrari for 2021," the 38-year-old Spaniard confirmed. "I think the adventure with Ferrari has been good, but I don't think it's time to talk about a return.
"I think they bet on the future by betting everything with Charles Leclerc," he commented.
"For 2021 I will first have to see who will be competitive, and perhaps Ferrari will not be among the favorites. We'll see."
IndyCar full-time is Alonso's best bet if he wants a series where driver talent still matters. F1 is 99% car and the engineers who design the cars determine if you will win or lose, not the driver's talent.
But what good would Alonso's global popularity be? IndyCar's latest TV deal turns TV coverage outside the USA to the black hole you see above. It may be the worse IndyCar TV deal ever signed. New series owner Roger Penske should fire whoever signed it.
06/04/19 In this article Fernando Alonso says he will never run any IndyCar race but the 500, which firmly puts this entire rumor in the 'strong false' category.
05/29/19 This rumor is downgraded to 'false' today. "I think it's highly unlikely we'll be in IndyCar full-time next year," McLaren Racing boss Zak Brown told RACER. "As enthusiastic as I am for IndyCar, given where we are in Formula 1, given what we just went through at Indy, I'd like to see us go back to Indy and get that right as a next step instead of totally jumping in. So I think it's highly unlikely we're in IndyCar full-time in 2020."
Brown has also ruled out any further IndyCar entries this season despite having both a car and Alonso available, although he says that the team's experiences over the past few weeks have reinforced the value of running additional races in the lead-up to next year's 500.

"Could we do races before Indy next year in preparation? Yeah, that's something we've spoken about," he said. "So that will be all part of the thinking. Had we got into the show, we missed all the pit stop practice. We were practicing over the months in the race shop and things like that, but Thursday was the pit stop practice day, and we missed that. So we would have gone into Indy cold.
"So one of things we've discussed, we've started to throw around that we should have done the road race. Even though it wouldn't have taught us anything about the set-up of the car, operationally it was good practice. So definitely not this year, but probably if we go back to Indy, doing a race or two in preparation for Indy feels like good preparation."
05/25/19 This rumor is downgraded to 'speculation' today. McLaren is no longer talking about a full-time IndyCar program.
Zak Brown wants to take the team back to Indianapolis and will reconsider whether to partner with another team or enter more races to increase McLaren's experience of IndyCar racing.
"When we go back we want to do it as McLaren. So how much involvement we will potentially need from another team? Do we do a couple more races to get ready for Indy? That's something that we've discussed.
"We've got to step back and put it all on the table and look at everything and then it's not 'would we do this differently or that differently'. I think it's a catalog of things that we need to address."
05/06/19 Fernando Alonso has an idea where he'll be racing in the future but the Spaniard will remain tight-lipped on his special "project" until his plans are finalized. He said previously he wanted to race full-time somewhere in 2020. Of all the options speculated on below, only IndyCar fits a possible full-time role and as we previously reported, our sources say there is a good chance he is coming with McLaren.
On Saturday, Alonso and his Toyota Gazoo Racing team mates took a step closer to the drivers' title in the World Endurance Championship by winning the penultimate round of the series at Spa.
The next challenge on the two-time world champion's agenda is the Indy 500 where Alonso, running with McLaren, will attempt to fulfill his Triple Crown ambitions
In June, the 37-year-old will then head back to the WEC for the series' season finale at Le Mans, an event that will conclude – perhaps temporarily – Alonso's' successful foray into endurance racing with Toyota.
Quizzed by Spain's SoyMotor on his plans for the summer and beyond, the 32-time Grand Prix winner said he had one iron in the fire.
"I'm a strategist of course," he replied. "I have an idea in my head, a project, but until everything is finalized, everything is talked through, I prefer to continue to be quiet about it.
"Once everything is confirmed I will be able to announce it to all."
Pundits are putting the Dakar rally raid on Alonso's potential targets for 2020, with speculation ramping up since March when the Spaniard traveled to South Africa to test a Toyota Helix.
But a full season of IndyCar racing with McLaren is also an obvious assumption, as many believe the Woking-based outfit – a rookie team at the Brickyard – will be hard-pressed this month to deliver an Indy 500 triumph to its star driver – it's hard to win the Indy 500 without doing the series full-time. IndyCar is not like it was years ago when a driver like Graham Hill or Jim Clark could come in and win the crown jewel of motorsports with superior equipment.
"I have had the good fortune to compete in many prestigious races and in many places with a great deal of motorsport DNA," Alonso said in Spa.
"I have managed to perform well, therefore and I have good memories of these. Of course, if I ever get the Triple Crown, it will be special for sure."
04/18/19 We came across this Fernando Alonso quote: "I feel that I need to recharge the batteries a little bit," Fernando Alonso said at the Shanghai WEC round last November.
"But in 2020 it could be a full season in IndyCar, a full season in F1, a full season in a different series."
We hear he will not run in WEC next year, so it looks like IndyCar is definitely a consideration.
Zak Brown recently rejected the idea of Alonso doing a full season in IndyCar even though McLaren are considering entering the series full-time as early as next year, despite running in the Indy 500. So what will Alonso do?
Likely return to F1 if the McLaren is competitive
04/17/19 Over the weekend in Long Beach Zak Brown alluded to the fact that although Fernando Alonso may never run IndyCar full-time, McLaren's participation in the series full-time is definitely not dependent on him.
We heard he might if the Hulman and George family open their wallets and pay him a hefty salary. Instead he may just cherry-pick their biggest event and leave.
We have to imagine that one concern of Alonso's is the fact IndyCars do not have a Halo to protect the drivers' head.
04/13/19 We are upgrading this rumor to 'strong' today. We asked Zak Brown today about a full-time IndyCar effort in 2020 and he confirmed it is under serious consideration because the USA is such an important market for McLaren.
He told AR1.com that McLaren will make a decision in the summer for 2020 and if not 2020, then 2021. He told us it is not if, but when they are coming, and that it will definitely be a 2-car team.
We will have more with Zak Brown later on our home page.
04/10/19 Putting more meat on the bone of this rumor is what Alonso said after his recent McLaren F1 test in Bahrain.
"At the moment, I am focusing on Spa, Indianapolis and Le Mans, and until July I will not consider anything about the future," Alonso told a group of Spanish reporters after his test.
But he hinted that no matter what he decides for 2020, it will not be as mixed a bag of different cars and series as at present, it will likely be full-time IndyCar or back to F1 full-time. Our sources tell us McLaren is indeed coming full-time, and we assume it is with Alonso.
"The idea is not to change around so many times, because you lose the perfection you need to succeed in a great specialty," said Alonso.
And if he runs IndyCar full-time would he move to the USA, or commute?
"It depends how life goes," Alonso said. "The home I have in Europe and after 18 years in Formula 1 I need a little bit of time at home as well, see my family, see my parents, maybe have my own family in the near future and all these kinds of things. I don't know.
"In two, three, years' time, I'll see how life is going to be and if I would be happy to live outside Europe."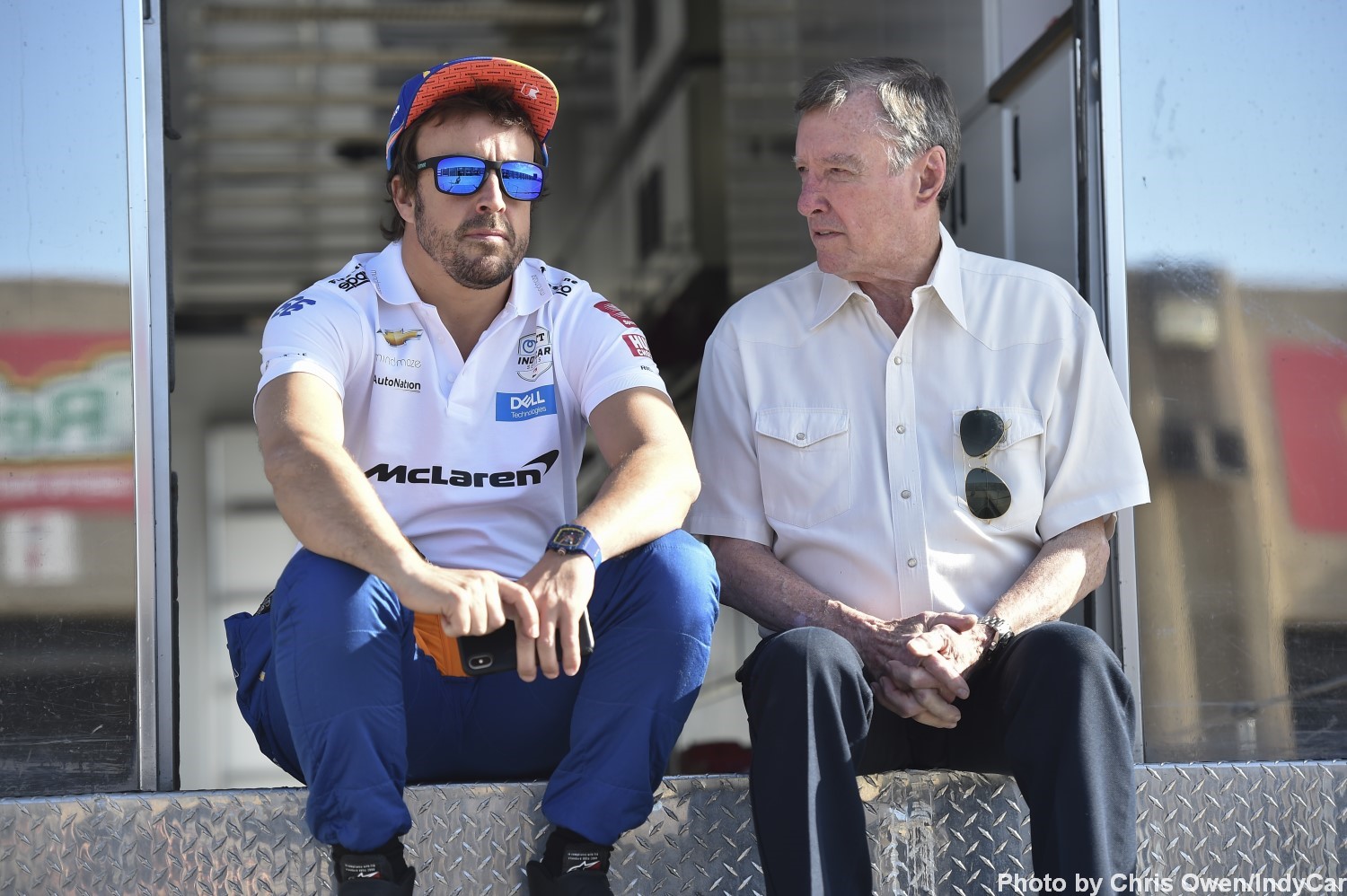 Alonso chats with Johnny Rutherford
04/09/19 As we have rumored previously, our sources tell us to look for McLaren to be full-time in IndyCar in 2020 and in today's test by Fernando Alonso at Texas Motor Speedway he was asked whether he would consider running IndyCar full-time after this year. Alonso answered that "it is not out of the question for the future" but would not commit yet. See video (6:44m mark).
"It was a possibility last year when we started talking about the Indy 500 coming back," he said. "I think it was too intense for me if I commit to the full championship with the WEC calendar with Toyota and the Daytona 24, etc.
"It was not this year, but I think it is not out of the question for the future. Right now, I'm not thinking about it." But we can tell you he and McLaren are indeed thinking about it.
We also reported that the team rented the track today into the night so Alonso could experience running the high-banks to see if he likes it. The biggest challenge for Alonso to run a full season will be getting comfortable on the high-banks.
McLaren Racing CEO Zak Brown has assembled a "very experienced team" for its entry with Fernando Alonso, a team Brown feels can lead to a victory for both McLaren and Alonso.
Ex-Force India Formula 1 deputy chief Bob Fernley has been hired to oversee McLaren's IndyCar interests, with Brown stressing the importance of building an experienced and knowledgeable team given the pressures of the race.
"Indianapolis is a difficult place that bites if you get it wrong," Brown said at Autosport International last week. "We've seen Rahal not qualify there before, Penske not qualify, Schmidt Peterson last year with [James] Hinchcliffe, so you've got to get your baseline right.
"We're trying to think about winning the race as oppose to not qualifying for it but those are the two different extremes.
"We've got Gil de Ferran, who's won the race a couple of times (Note: He only won it once) and ran a team, so he obviously has a wealth of experience. Bob Fernley, who's responsible for putting it all together, was at Indy in the good old days, but he was brought in because he's a really good operator and knows his way around Indy. He's in charge of making sure we hire all the right people."
Brown is eager to draw on experience from both within the team's existing operations and the IndyCar paddock itself, with some of the figures involved in Alonso's 2017 entry set to work with the Spaniard once again.
"We've yet to announce the individuals, but the engineer has won the Indianapolis 500 four times in about the last 15 years. He's very current," Brown said.
[Editor's Note: McLaren tried to steal Ray Gosselin from Andretti Autosport but failed, as he is staying with Andretti. McLaren will soon announce Andy Brown as Alonso's engineer. Brown is a British Engineer currently running his own Motor Sports Engineering Company, ACB Consultancy Ltd. and previously worked for PacWest Racing, Panther Racing, AJ Foyt Racing, and Chip Ganassi Racing]
"We've got crew chief that was on Fernando's car in 2017, Michael [Andretti] was kind enough to let him join us, so we've got a very experienced team using some of the hands that we have at McLaren.
"We have people who put their hands up and said they would like to be involved in IndyCar or have been in the past.
"I'm confident it's going to be very difficult, but I'm also very confident that we are going about it in the right way to give Fernando a chance to win."