Ferrari eyes Hamilton but he will renew 2 years with Mercedes (8th Update)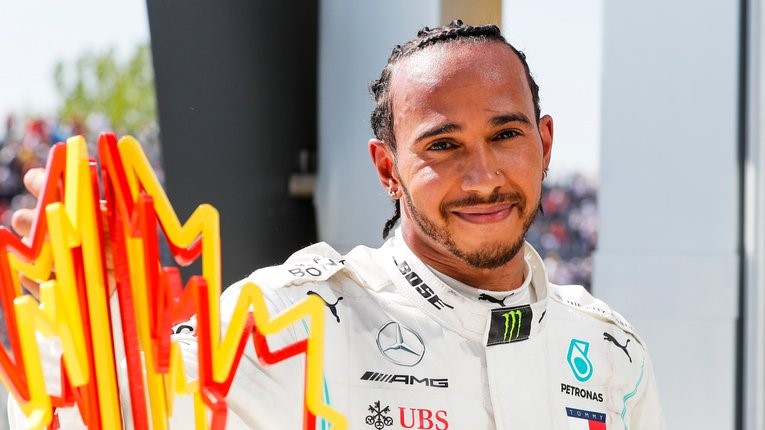 Hamilton to renew with Mercedes. Was never going to Ferrari
UPDATE This rumor is upgraded to 'fact' today. Lewis Hamilton is reportedly sitting out the coronavirus pandemic in Bali.
The six-time world champion has kept a conspicuously low profile during F1's shutdown, but it now emerges that he is not at one of his homes in either Monaco or New York.
According to Bild newspaper, Hamilton talks to Toto Wolff every other day as he relaxes and trains in the Balinese surf location of Canggu.
Hamilton "pays attention to his nutrition and helps his Mercedes team with video messages for partners and sponsors. In his spare time, Hamilton has started learning French", the newspaper said.
The 35-year-old also broke his social media silence this week to deny reports that he was ever in the running to replace Sebastian Vettel at Ferrari.
"First off, there is no dash to another team," he said in the Instagram post that he later deleted. "I am with my dream team.
"I'm with the people who have cared from day one."
02/15/20 Lewis Hamilton has given his clearest signal yet that he expects to renew his Mercedes contract beyond this year and spurn a move to Ferrari, saying: "I don't think that there's going to be a huge amount of movement."
While Toto Wolff, Mercedes' team principal, had put the chance of his star driver moving to Maranello as high as 25 per cent, that possibility has narrowed in recent days, first with Mattia Binotto's statement that Ferrari's ideal option was to stick with Sebastian Vettel for 2021, then with Hamilton's suggestion that he was happy to stay put.
01/20/20 (GMM) Lewis Hamilton looks set to re-commit to Mercedes, according to the authoritative Italian newspaper La Gazzetta dello Sport.
The report claims that the six-time world champion, earlier linked with a 2021 switch to Ferrari, will in fact re-sign with Mercedes for 2021 and 2022.
Recently, the 35-year-old Briton's options for 2021 and beyond became limited when Ferrari signed a new deal with Charles Leclerc through 2024, and Max Verstappen opted to stay at Red Bull until 2023.
The Italian report, penned by respected correspondent Luigi Perna, said Hamilton's annual pay will remain at about EUR 45 million.
Hamilton was recently listed by the business magazine Forbes as the tenth highest athlete in world sport for the last decade, with $400 million in earnings since 2010.
Meanwhile, Mercedes has announced that its 2020 car will be given a "shakedown run" at Silverstone on February 14, a few days before the start of winter testing in Barcelona.
Fans and the media are not invited to the shakedown, which Mercedes says is "an internal event for the purpose of completing initial systems checks and creating rights-free, on-track footage of our 2020 car".
01/18/20 Lewis Hamilton is reportedly in the 'advanced stages' of signing a two-year contract extension with Mercedes, according to Gazzetta dello Sport.
Hamilton, who is currently out of contract at the end of the 2020 season, had been strongly linked with a move to Ferrari after the Italian newspaper also first broke the news that the two parties had engaged in talks during the 2019 season.
However, with Charles Leclerc committing his long-term future to Ferrari and Max Verstappen doing likewise at Red Bull, Hamilton looks set to follow suit by extending his stay with the Silver Arrows.
In Friday's edition of Gazzetta dello Sport, journalist Luigi Perna concluded an article on Hamilton, which opened with the six-time World Champion's vow to become "a machine" this year, with the following lines:
"In the meantime, Lewis Hamilton is in discussion with Mercedes over the renewal of his contract," wrote Perna.
"The negotiation, which will see Hamilton extend his stay until the end of 2022, is at an advanced stage and is worth in the region of 45m Euros a year with bonuses."
01/06/20 (GMM) Ferrari needs "two experienced drivers" for 2021, according to team boss Mattia Binotto.
Just before Christmas, the Maranello team announced that Charles Leclerc's current contract has been extended for two more years, taking the new deal to the end of 2024.
La Gazzetta dello Sport claims the deal involves a tripled salary for the 22-year-old.
But it also leaves Sebastian Vettel exposed, as the German's deal runs out this year.
One potential replacement is Lewis Hamilton, even though Bernie Ecclestone told Blick newspaper that he would be "crazy" to leave Mercedes.
"It is rarely a good move to leave a winning team," he said. "And Lewis would not have enough time to build a new team alongside Leclerc."
Ferrari CEO Louis Camilleri says the Hamilton rumor has been "overblown", even though he admits the British driver met with chairman John Elkann.
"The two met at an event as they have mutual friends, but it's far too early to talk about drivers for 2021," he said.
"Our situation is well known. We have a driver with a long-term contract and a second driver whose contract expires at the end of 2020."
Camilleri says Ferrari will "review" the situation later this year, but what is certain is that Mick Schumacher or the other Ferrari juniors will not get a call-up for 2021.
"That would be too early for them," said Binotto. "For an important year like 2021, we need two experienced drivers."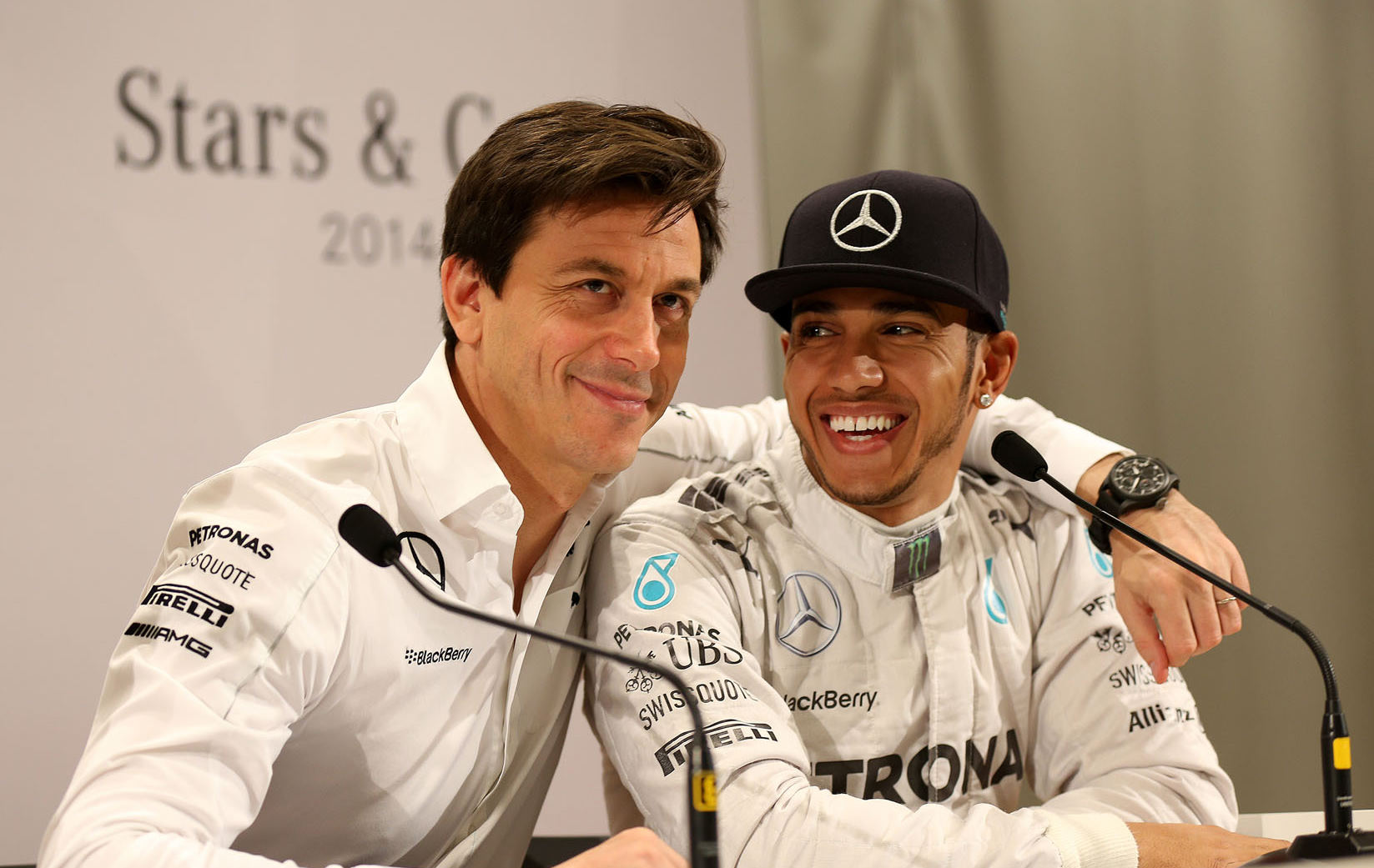 Eddie Jordan predicts both Toto Wolff and Lewis Hamilton will go to Ferrari in 2021
12/15/19 Lewis Hamilton. Ferrari. 2021. It's happening, people. Following reports that Lewis met with Ferrari boss Louis Carey Camilleri at a recent media lunch, Eddie Jordan – a man with an uncanny knack of predicting this stuff – reckons it's a good bet.
"It would be the right time for Lewis to go to Ferrari [in 2021]," Eddie told us. "He's coming to the end of his career, but he still wants to win his seven or more titles.
"But the real belief that I think Lewis will go to Ferrari in 2021 is that Toto Wolff's contract expires at the end of next year. He knows Mercedes' long-term future in Formula 1 is not a certainty. Indeed, Lewis has mentioned Toto's contract on more than one occasion, which is unusual for an F1 driver to do.
"Lewis would only go to Ferrari if someone could protect him against any possibility that Charles Leclerc could usurp him. So Ferrari would bring Toto along too."
Eddie noted how Ferrari's pool of F1 talent runs deep. "But what they don't have is that person on the pit wall to guide the team, in terms of how they structure the race strategy. Toto knows that. Racing is in his blood, and he'd love to have a name like Ferrari on his CV too," he said.
"I'm absolutely certain that in 2021, Lewis Hamilton will move to Ferrari. Toto goes with him, because as I said, Lewis won't leave himself exposed, and it will be his way of bringing an equalizer. Do Ferrari need two number ones? No, but they won't let go of Leclerc."
Interesting that Eddie reckons Leclerc, and not Vettel. Sebastian's contract comes up at the same time as Lewis's (the end of 2020), and he reckons Vettel might just walk away completely. "Vettel will retire at the end of 2020. He can't go back to Red Bull because he'd get creamed by Max Verstappen.
"However, if Mercedes did decide to stay on in F1, it might work for Vettel to go there; a consolation prize for losing Lewis," he added.
The prospect of Lewis in rosso, racing in the same car as Charles Leclerc, is all rather exciting isn't it? Eddie reckons Leclerc – like Lewis – would relish such a battle. "It would be a huge feather in Leclerc's cap to potentially beat Hamilton in the same car. He has the potential to be a great," Eddie said.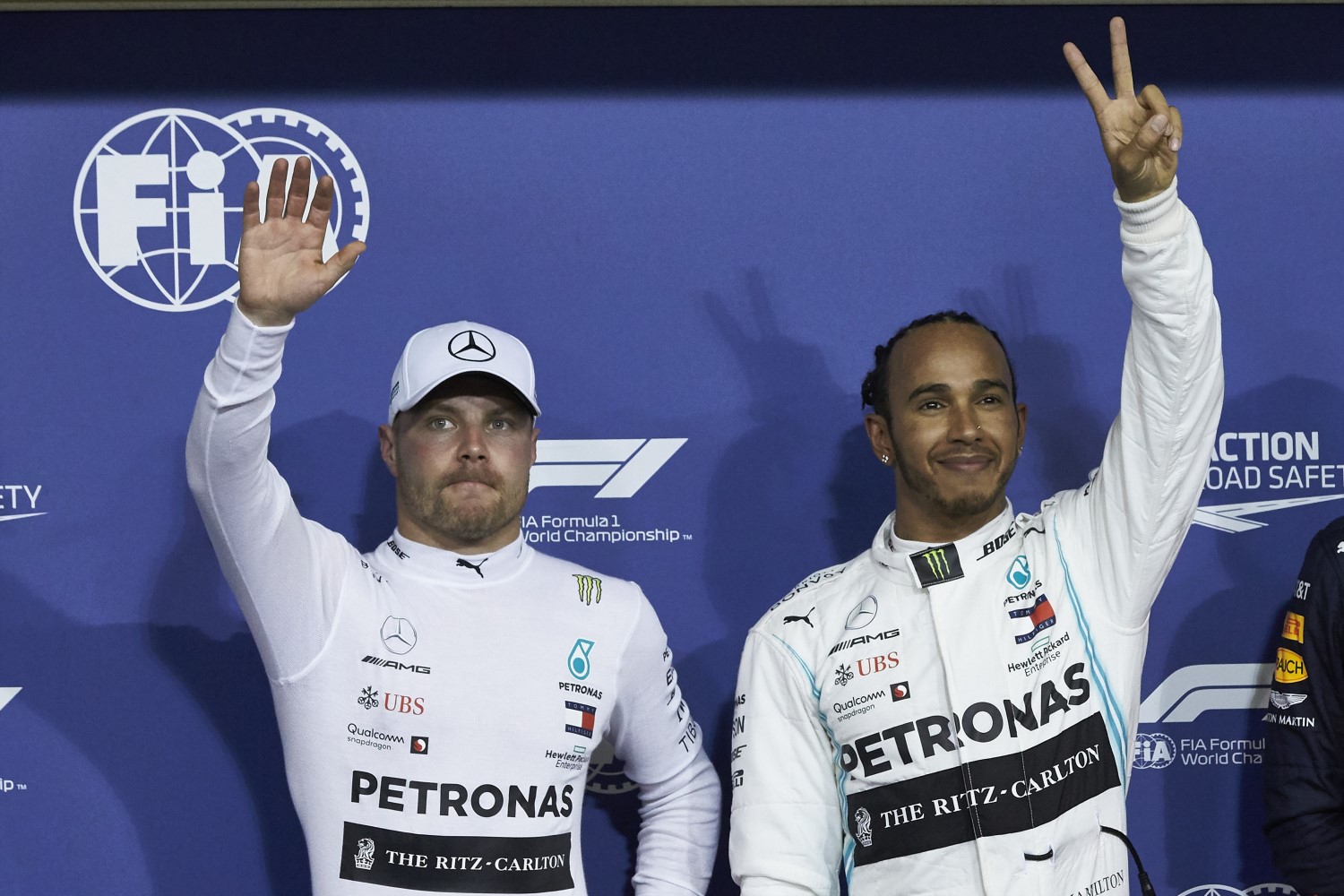 Will Hamilton wave goodbye to Mercedes?
12/01/19 (GMM) Lewis Hamilton has met twice in 2019 with Ferrari chairman John Elkann, according to Italy's La Gazzetta dello Sport.
The news comes amid a new firestorm of speculation in Abu Dhabi about Lewis Hamilton's future.
Ferrari team boss Mattia Binotto started it by saying he is "happy" the six-time world champion is out of contract at Mercedes after 2020.
"I think that's the first compliment I've had from Ferrari in 13 years," Hamilton, who has driven for Mercedes since 2013 and won five titles in that period, said after qualifying on pole.
"I honestly don't remember them ever mentioning me so thank you, I'll take it. It doesn't really mean anything, it's all talk, but it's taken all these years for them to recognize maybe. But I'm grateful."
The back story to the Ferrari rumors is Hamilton's impending negotiations with Mercedes over a contract for 2021 and beyond.
Daimler CEO Ola Kallenius has indicated Mercedes will cut costs for the future, and Mercedes team boss Toto Wolff has been linked with Chase Carey's top job at Liberty Media.
Hamilton continued: "I think they (Ferrari) have two great drivers already so who knows what the driver market is going to be doing over the next year.
"I honestly don't know how the next phase is going to go when it comes to contract."
La Gazzetta dello Sport claims Hamilton has actually met with Elkann twice in 2019. The report said Elkann and Piero Ferrari are "big fans" of the British driver.
Wolff responded to the exchange of niceties between Hamilton and Ferrari by saying: "I'm totally ok with that. It's a free world.
"Everybody has the right to explore career options and make the best choice for themselves, racing drivers included.
"We have to push hard to provide the drivers with the best possible cars. If we are able to do that, I believe we will have the best driver lineup," Wolff added.
"My priority is to continue this successful journey with Lewis but if that ends one day I'd be the first to cheer for him."
If Mercedes does need to replace Hamilton, it might make sense that Wolff starts making positive noises about drivers like Red Bull's Max Verstappen, who is also out of contract for 2021.
Wolff insisted: "We will not embark on a fishing mission with other drivers before Lewis and I have the discussion – and it hasn't yet taken place."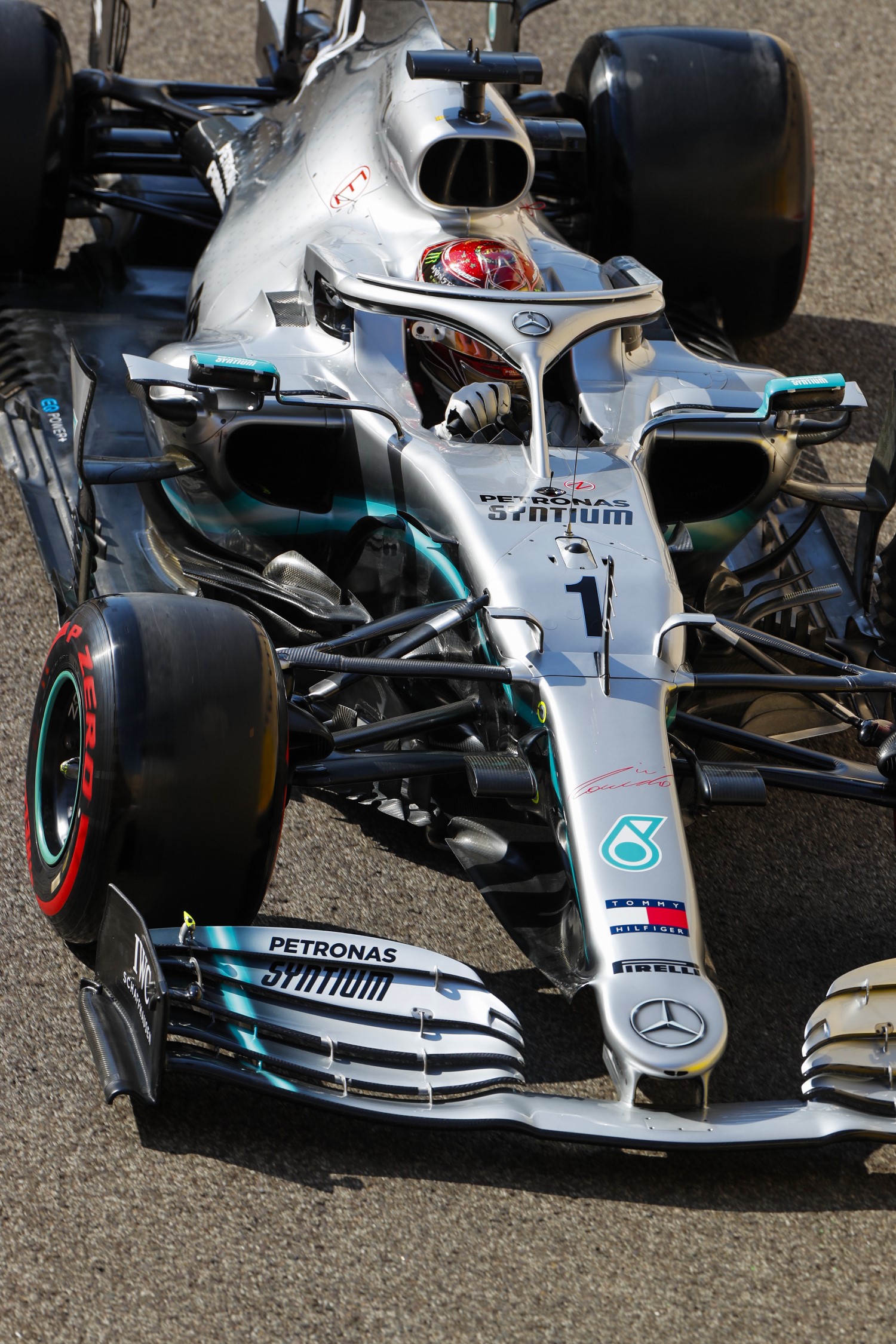 Hamilton tries out the #1 in practice Friday. He's playing Ferrari like a fiddle to extract more money from Mercedes
11/30/19 Lewis Hamilton has twice met with Ferrari president John Elkann during the 2019 season, according to Italian newspaper Gazzetta dello Sport.
With Hamilton only currently committed to Mercedes until the end of the 2020 campaign, rumors and questions have been circulating all season long as to whether the six-time World Champion is tempted to wear Ferrari red before he calls time on his career.
Ferrari boss Mattia Binotto said he was "happy" that someone of Hamilton's quality is currently available post-2020, sparking more discussion about the potential move.
And now Gazzetta dello Sport believe discussions have already taken place between Hamilton and the Scuderia.
'There have been two meetings between Ferrari president John Elkann and Hamilton himself during 2019,' the article states.
'Elkann is a big fan of Hamilton, so too is Ferrari vice president, Piero Ferrari, who is in Abu Dhabi this weekend.
'This is a courtship that has lasted for years. Even from the times of Luca di Montezemolo and Stefano Domenicali, the interest in the English champion has been constant and is still very strong today.'
The report also claims that there is also temptation from Hamilton's side, too, and went as far to expressing his disappointment to Ferrari when they signed Sebastian Vettel up to a three-year deal back in 2017.
The article continued: 'Lewis has a profound admiration for the history of Ferrari, he is fascinated by the stories about the great Enzo Ferrari [besides having bought several cars] and secretly went to visit the Maranello factory a few times, having lunch with Piero Ferrari.
'Perhaps a promise could have already been made in 2017, when Vettel's contract with Ferrari was expiring. Lewis was upset as he messaged Ferrari with: 'Three years? I don't understand'.
'Then in a following press conference Hamilton came out and said: "Now that Vettel has signed, I too know what to do."
Gazzetta dello Sport also stated that it is 'unlikely' Ferrari will continue with Vettel and Leclerc beyond the end of next season when Vettel's deal expires, creating an open seat alongside Leclerc who is thought to be contracted until the end of the 2022 season.
11/30/19 (GMM) Ferrari boss Mattia Binotto has expressed interest in snapping up Lewis Hamilton for 2021.
In Brazil recently, amid rumors the absent Toto Wolff could leave Mercedes to replace Chase Carey as F1 CEO, Hamilton suggested his boss' future would influence his own decision about 2021.
"I think it's nice of Lewis to say that," Wolff said in Abu Dhabi, after explaining that he sat out Interlagos to do "normal office work".
"It was also an experiment for me to see how I would take it," he added, referring to his first absence from a grand prix since 2012.
Wolff admitted he is already having "discussions about the future" with Hamilton.
"Can I shed more light? No, for me it was important to finish the season in Abu Dhabi," he added. "There are many things to be decided on and we will see over the winter."
34-year-old Hamilton's current contract runs out at the end of 2020.
"Knowing that he's available in 2021 can make us only happy," Ferrari boss Binotto said on Friday, "but honestly it's too early for any decision.
"We are happy with the drivers we've got at the moment but I think at some stage next season we will certainly start discussing and understanding what to do."