Sainz Sr. takes Dakar lead on Day 3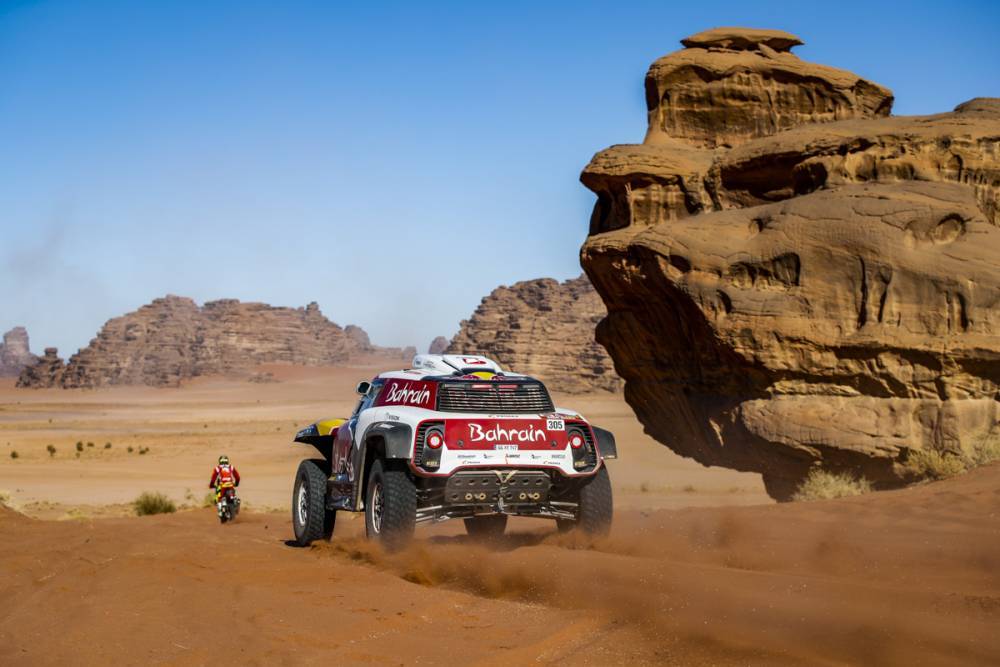 Carlos Sainz Sr
#305 Mini driver Carlos Sainz Sr has taken the lead of the 2020 Dakar Rally after topping the third stage on Tuesday over the 265-mile loop around Neom .
His final winning margin on the day was three minutes and 31 seconds over reigning champion Nasser Al-Attiyah, and he heads the Toyota driver by five minutes in the overall classification.
Ricky Brabec wanted to make a statement of intent on the loop around Neom and rose to the challenge seamlessly. Despite tricky terrain and difficult navigation, the American methodically left his rivals in his wake to triumph with a big lead over the rest of the pack, allowing him to take command of the rally.
In the quad race, Giovanni Enrico finally put an end to the supremacy of Ignacio Casale and picked up his first stage victory. The contest was also close in the SSV race, which was today won by Gerard Farres thanks to a fine finish in the last few kilometers. Andrey Karginov did not give a sniff of a chance to Siarhei Viazovich for stage victory and is now putting pressure on his Byelorussian rival in the general standings.
Car – Stage 3 Top-10
| | | | | |
| --- | --- | --- | --- | --- |
| POS | DRIVER | TEAM | CAR | GAP |
| 1 | Carlos Sainz Sr. | Bahrain JCW X-Raid Team | Mini/BMW | 3h48m01.s |
| 2 | Jakub Przygonski | Orlen X-Raid Team | Mini/BMW | 4m19.s |
| 3 | Yasir Saeidan | Race World Team | Mini/BMW | 5m28.s |
| 4 | Fernando Alonso | Toyota Gazoo Racing | Toyota | 6m14.s |
| 5 | Nasser Al-Attiyah | Toyota Gazoo Racing | Toyota | 6m31.s |
| 6 | Yazeed Al-Rajhi | Overdrive Toyota | Toyota | 7m36.s |
| 7 | Stephane Peterhansel | Bahrain JCW X-Raid Team | Mini/BMW | 10m26.s |
| 8 | Orlando Terranova | X-Raid Team | Mini/BMW | 12m52.s |
| 9 | Giniel de Villiers | Toyota Gazoo Racing | Toyota | 16m21.s |
| 10 | Bernhard Ten Brinke | Toyota Gazoo Racing | Toyota | 16m43.s |
Car- Top-10 Overall Leaders
| | | | | |
| --- | --- | --- | --- | --- |
| POS | DRIVER | TEAM | CAR | GAP |
| 1 | Carlos Sainz Sr. | Bahrain JCW X-Raid Team | Mini/BMW | 11h00m20.s |
| 2 | Nasser Al-Attiyah | Toyota Gazoo Racing | Toyota | 7m55.s |
| 3 | Orlando Terranova | X-Raid Team | Mini/BMW | 8m09.s |
| 4 | Yazeed Al-Rajhi | Overdrive Toyota | Toyota | 18m58.s |
| 5 | Stephane Peterhansel | Bahrain JCW X-Raid Team | Mini/BMW | 19m00.s |
| 6 | Mathieu Serradori | SRT Racing | Century/? | 20m56.s |
| 7 | Giniel de Villiers | Toyota Gazoo Racing | Toyota | 23m42.s |
| 8 | Bernhard Ten Brinke | Toyota Gazoo Racing | Toyota | 33m23.s |
| 9 | Martin Prokop | MP Sports | Ford | 48m05.s |
| 10 | Vaidotas Zala | Agrorodeo | Mini/BMW | 59m59.s |
Bike/Quad Summary
Car/SSV Summary