Toyotas win Bapco 8 Hours of Bahrain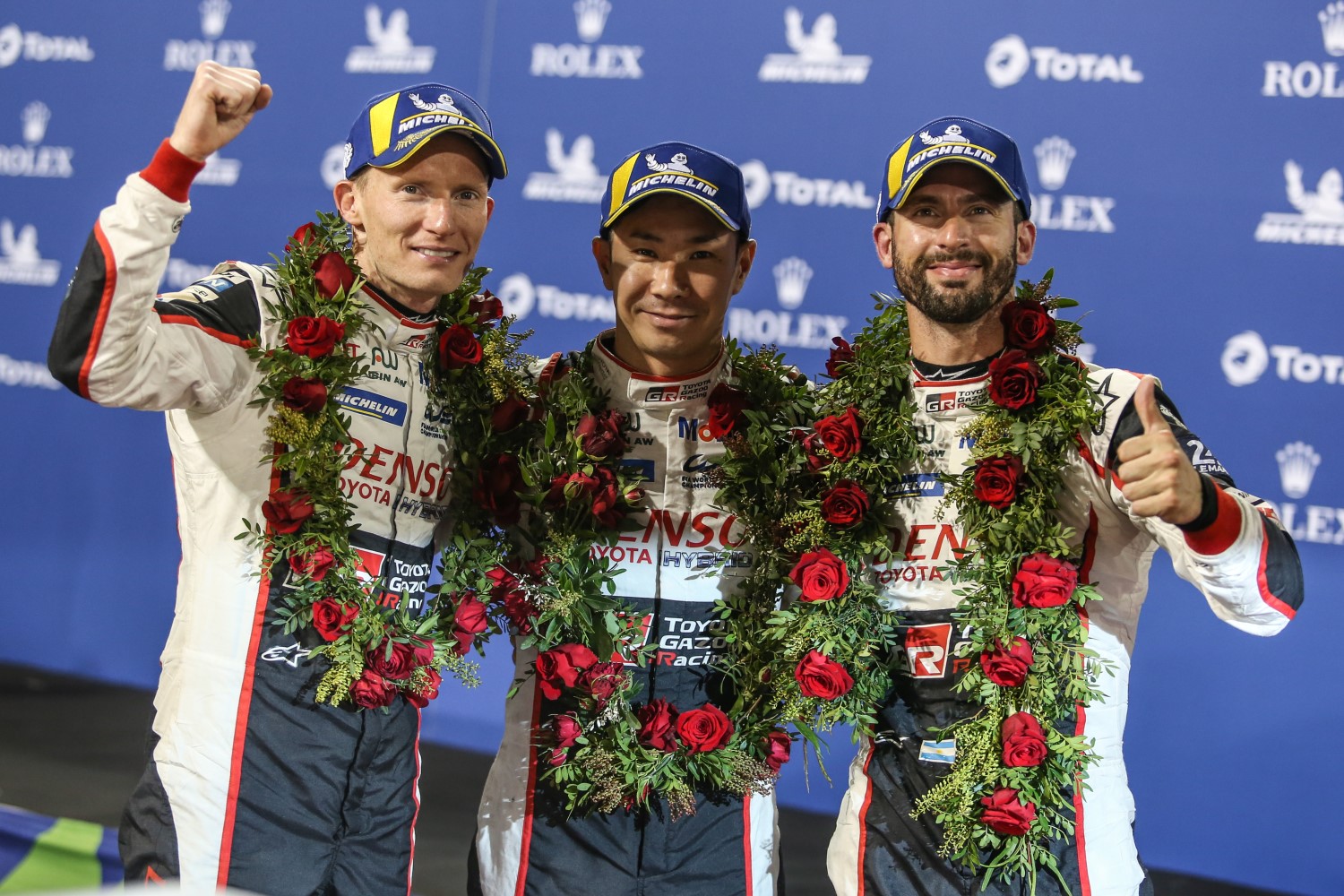 From left, M. Conway/K. Kobayashi/J. Lopez
Toyota Gazoo Racing claimed a one-two finish as the FIA WEC season reached its halfway point at the Bapco 8 Hours of Bahrain today [Saturday 15 December].
A crowd of 38,000 people were present at Bahrain International Circuit over the weekend as the country celebrated its Bahrain National Day festivities with a variety of entertainment including popular music artists in the WEC Fan Zone.
Th No.7 trio of Mike Conway, Jose Maria Lopez and Kamui Kobayashi took their second win of the season and Toyota's fourth success in Bahrain since 2013.
Mike Conway capitalized on an opening corner incident between front-row starters Rebellion Racing driven by Bruno Senna and Team LNT's Charlie Robertson after Robertson spun and made contact with pole-sitter Senna.
[adinserter name="GOOGLE AD"]For Conway it marked his 10th WEC victory in what was also Toyota's 60th WEC event.
Afterwards, the No.7 Toyota TS050 HYBRID never looked back as its trio of drivers produced flawless stints to take a conclusive victory which promoted them to the top of the points standings.
Sebastien Buemi, Brendon Hartley and Kazuki Nakajima took the runners-up position as the trio fought back from a delay on the opening tour avoiding the incident between Senna and Robertson.
Rebellion Racing also came through to take a podium position as Senna, Gustavo Menezes and Norman Nato overhauled the Team LNT Ginettas to stay in relative touch with the Toyotas in the points table.
Team LNT suffered a double retirement after mechanical issues intervened in their race but the British manufacturer took some consolation as Jordan King set the fastest lap of the race.
Maiden WEC win for United Autosports in LMP2
United Autosports claimed its most prestigious victory in its 10 year racing history when Phil Hanson, Filipe Albuquerque and Paul Di Resta spectacularly won the 8 Hours of Bahrain. Contesting only its seventh race with the Oreca chassis and fourth as a full FIA World Endurance Championship entrant, the British team recorded its maiden WEC class victory in utter dominant style with a faultless performance. United now lie second in the LMP2 FIA World Endurance Team's Trophy, three-points off the lead, with round five of the WEC being staged at the Circuit of The Americas in Texas on 23 February.
Converting their first pole position, earned by Di Resta and Hanson on Saturday, the British-entered team were barely challenged as they took a maximum points score from the weekend.
The victory came after the team had shown skill and speed at the three previous rounds at Silverstone, Fuji and Shanghai but had suffered misfortune which compromised chances of a class victory.
Shanghai victors, Antonio Felix da Costa, Anthony Davidson and Roberto Gonzalez took second place in Bahrain for JOTA to take the lead in the LMP2 standings.
The trio were just unable to mount a bid for victory in the last hour in their Goodyear-shod ORECA-Gibson, despite getting to within 15 seconds of the United Autosports car before the final pit stop.
Completing the podium was the Jackie Chan DC Racing-entered car of Will Stevens, Gabriel Aubry and Ho-Pin Tung. The crew fought back from a difficult opening lap when Tung dropped to the rear of the field.
Round 5 of the WEC will take place at COTA, Austin, from 22-23 February 2020.
Double podium for Aston Martin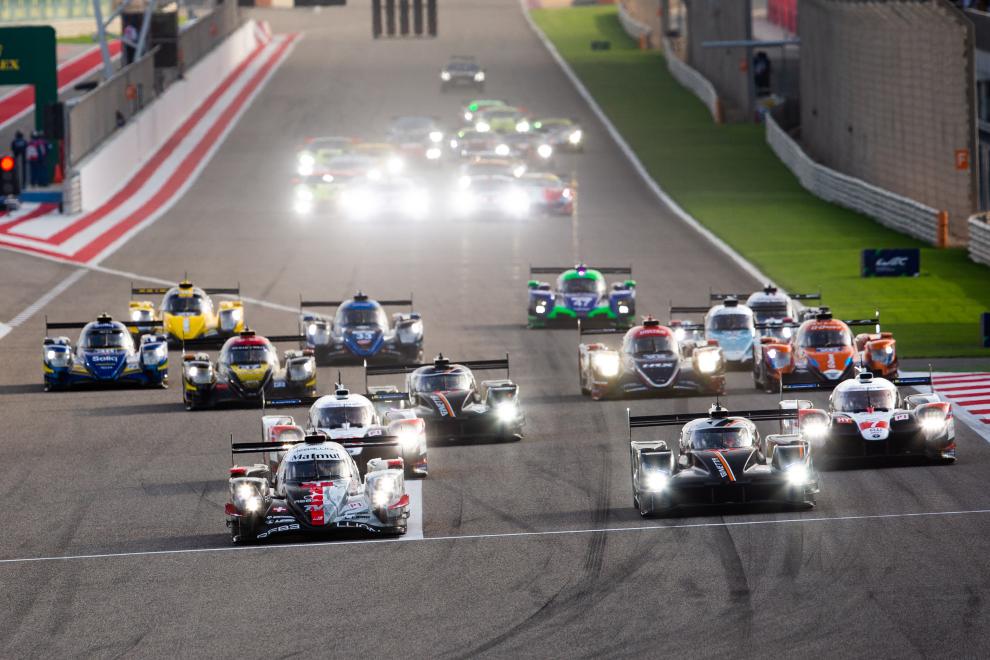 The start in the afternoon hours
The LMGTE Pro class provided nose-to-tail race action between Aston Martin Racing and AF Corse Ferrari as both crews swapped position on numerous occasions throughout the eight-hour race. Aston Martin were the overall victors, however, as the No.95 Vantage V8 AMR of Marco Sorensen and Nicki Thiim finished 13.798s ahead of the No.71 Ferrari 488 GTE EVO driven by Davide Rigon and Miguel Molina.
During the race's closing stages, a stop and go penalty for Ferrari proved monumental as Aston Martin were able to capitalize on its rival's time penalty to reach the checkered flag first. The win marked Thiim and Sorensen's second victory together in Bahrain and Thiim's fourth in the Kingdom.
The No. 97 Aston Martin Vantage driven by Maxime Martin and Alex Lynn crossed the line third in LMGTE Pro, making it a double podium for the British-based team. Meanwhile, the No. 51 AF Corse car driven by James Calado and Alessandro Pier Guidi claimed fourth – the crew forced to give a position back to the No. 97 crew following an earlier incident.
Meanwhile, Porsche had a difficult race with the No. 91 and No. 92 Porsche 911 RSR – 19 cars were both more than two laps down on the winning crews following lengthy pit stops during the race following damper and puncture issues.
Aston Martin's dominance in Bahrain sees the marque catapulted to the top of the overall standings – nine points ahead of Porsche with 142 points.
No. 57 Team Project 1 storm to LMGTE victory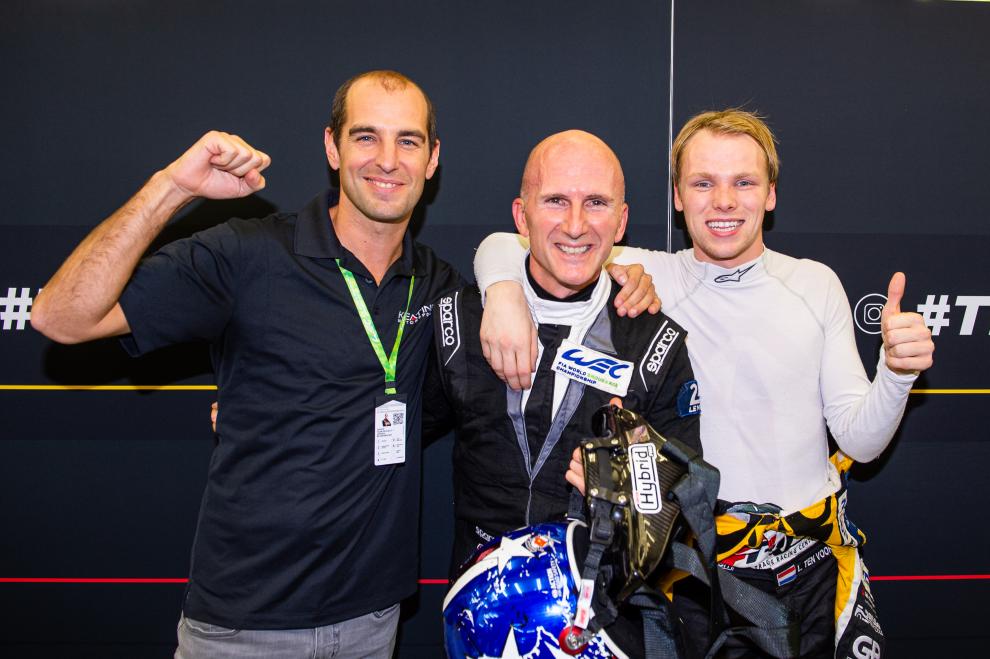 #57 Porsche drivers celebrate their win
Team Project 1's No.57 Porsche 911 RSR driven by its trio of drivers Ben Keating, Larry ten Voorde and Jeroen Bleekemolen stormed to a dominant victory in the LMGTE Am category.
America's Keating led the charge after a phenomenal stint behind the wheel, ably supported by ten Voorde and Bleekemolen in the race's final hours which fell to darkness. Keating's three hour marathon at the start of the race undoubtedly assisted in the team pitting only seven times – unlike its competitors who averaged eight or nine.
Runner-up in LMGTE Am was the No.98 crew of Paul Dalla Lana, Darren Turner and Ross Gunn after the trio put in a stellar effort to bring the Aston Martin Vantage V8 37.327s behind the winning crew. A further 22.942s behind was the No. 86 Gulf Racing Porsche 911 RSR – the team fighting back from a spin and a drive through penalty to secure the final spot on the podium.
AF Corse Ferrari secured fourth and fifth with its pair of Ferrari 488 GTE EVO cars, the No. 83 crew finishing 20.275s ahead of the No. 54 sister car. Rounding out the top six was the No. 77 Dempsey Proton Racing car while its sister No. 88 car was forced to retire mid-race following an off-track excursion at Turn 14.
Seventh place was awarded to the No. 78 MR Racing Ferrari 488 GTE EVO ahead of Red River Sport and the No. 56 Team Project 1 entry.
Round 2 and 3 winners TF Sport were forced to retire in the final hour of the race, the British team taking a 71-minute pit stop earlier in the race as the Aston Martin Vantage AMR suffered both gearbox and fuel-related issues.
Quotes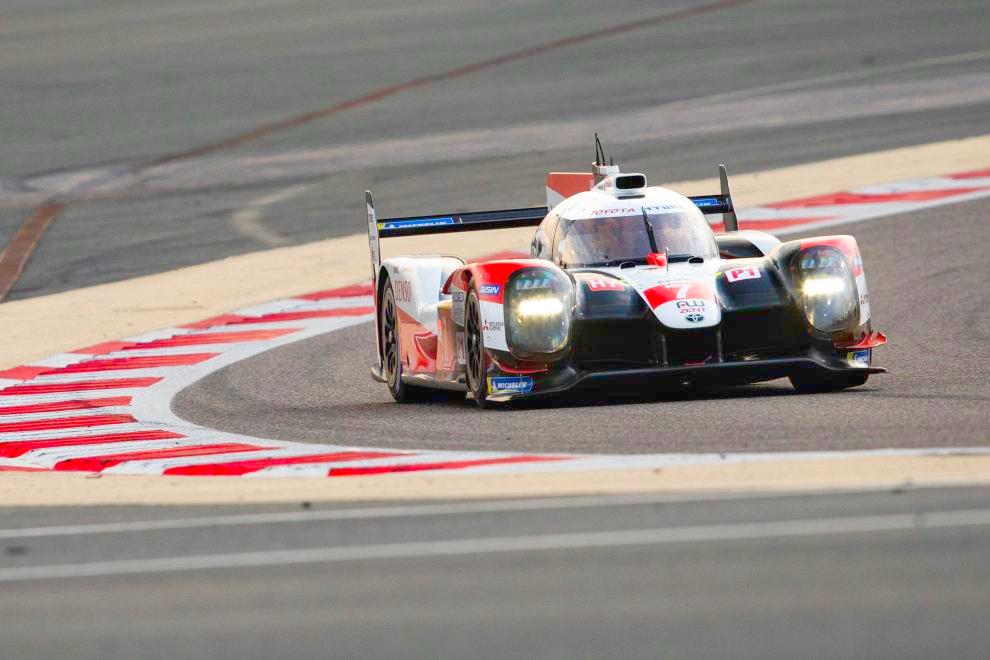 The #7 Toyota team dominated all race long
Hisatake Murata (Team President): "I am very pleased with this result, particularly because we expected a big challenge to win here in Bahrain. The team worked hard and focused on delivering the maximum performance in every area. The first part of the race was exciting and we were expecting a close fight until the end, so it was a pity that our rivals had trouble. Now we have come to the end of our racing for 2019, a year when we became World Champions, won Le Mans for a second time and are leading the championship. I would like to thank the team for their efforts to achieve this, as well as the fans and the WEC organization for their contribution to this year of endurance racing. Now we look forward to another memorable year in 2020."
Mike Conway (TS050 HYBRID #7): "It is a fantastic result to get a one-two here. We pushed as hard as we could all day and got a result which we weren't expecting at the start of the week. That is thanks to a great job by everyone; my team-mates and my team. We struggled earlier in the week but together as a team we got the car dialed in. It's brilliant to win and it's nice to lead the World Championship again."
Kamui Kobayashi (TS050 HYBRID #7): "To finish the year with a win is great; thanks to the team for doing such a good job here. We knew it would be a tough race as we had some strong competition but we managed it really well, made no mistakes and had fast pit stops. Mike and José did a really good job too. There is still a long way to go in the season but I am really happy and we will be pushing to keep this form going."
José María Lopez (TS050 HYBRID #7): "I am very happy with the win. Everyone in the team, including car #8, did a great job this weekend. Thanks to the team we managed to finish one-two despite very difficult circumstances with the success handicap. Mike and Kamui both performed really well as usual. It is nice to finish the year with a win. This means we go into Christmas and New Year able to celebrate the results we achieved together this year."
Sébastien Buemi (TS050 HYBRID #8): "It was a tough race for our car. At the start, I couldn't avoid getting caught up in the incident between the Ginetta and the Rebellion, and I had contact when I rejoined; there was nothing I could do. From there it was difficult to challenge the sister car. But it's a one-two for the team which was the target so I am pleased for that and now I look forward to Austin."
Kazuki Nakajima (TS050 HYBRID #8): "In the end it was just not our day today and that was clear from the start of the race onwards. We knew it was going to be difficult and at one moment we were quite a few places down, so at that point our target was to finish second. We managed it and a one-two for the team is good; not ideal for our car but for the team it was the best result we could achieve here."
Brendon Hartley (TS050 HYBRID #8): "Today simply didn't go our way. Seb was unlucky at the start; he got caught up in an incident that had nothing to do with him so we had to battle with damage through the whole race. We knew it would be hard to beat the sister car but we were motivated to keep them under pressure. They drove a very good race, with no mistakes and clean pit stops. In the end a one-two for TOYOTA is a great result."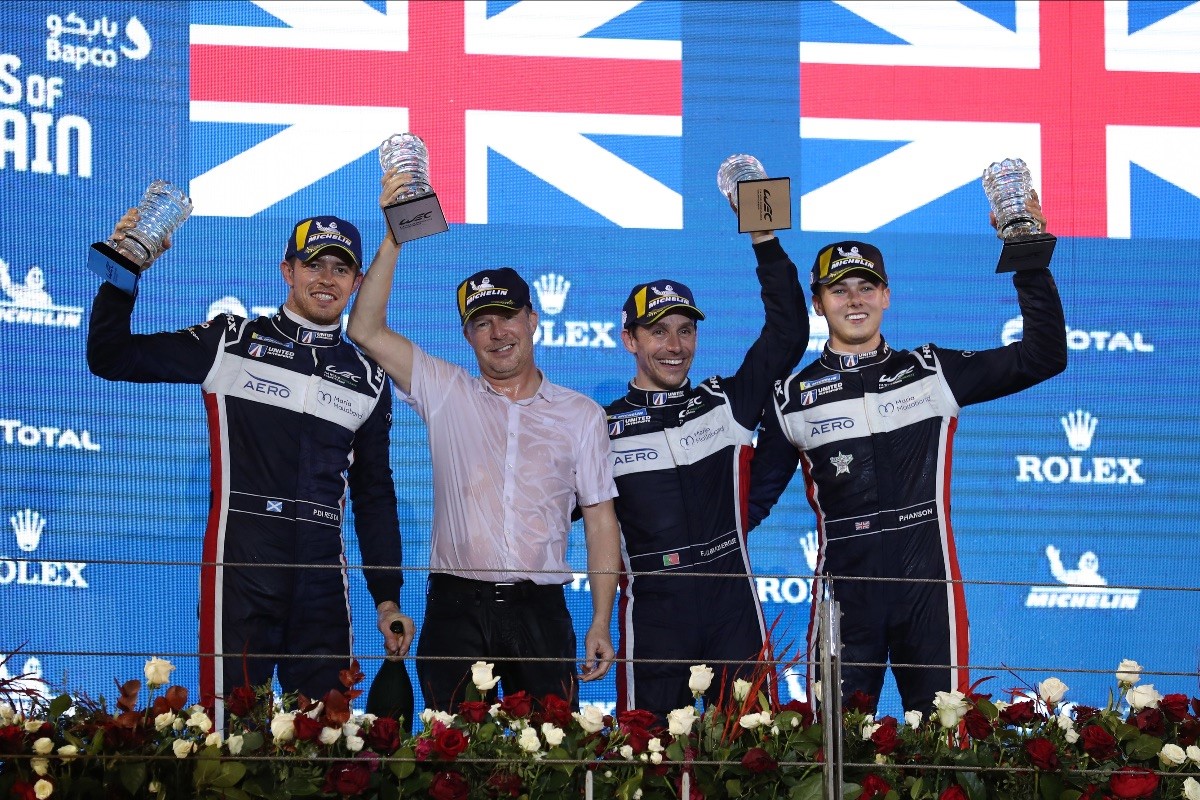 Winning #22 LMP2 drivers
Phil Hanson (GB), driver car #22, United Autosports:
Born/Lives: London, UK. Age: 20
"It's great to finally get our first WEC win and hopefully it won't be our last this season! I did a pretty good job of managing tire deg in my stints which was always going to be necessary. I was out against Anthony Davidson at one time and I used him as a reference for my lap times. I only had one new set of tires so overall I'm really, really happy with the job I've done this weekend – especially during the race. We're now very much back on track in terms of the championship."
Filipe Albuquerque (POR), driver #22, United Autosports:
Born/Lives: Coimbra, Portugal. Age: 34
"It's been a perfect weekend for us and a dream result. Pole, race win and fastest lap. We were maybe a little more tense than normal having been unlucky in the previous races. We had great race strategy from the garage in saving fuel and tires. The closing stages were fun racing my fellow Portuguese and good friend, Antonio [Da Costa]. This puts us right back in championship title contention."
Paul Di Resta (GB), driver car #22, United Autosports:
Born: Scotland, UK Lives: Monaco. Age: 33
"It was a textbook race for us. The start was chaotic but I managed to steer clear of everything although a Toyota, re-joining the track quite sharply, caught the right rear of our car. I managed to extend our lead but always had to keep an eye on tire management which was the key to this race. It's very nice to get this victory and end the year on a high having previously been on the cusp of doing it in other races. There's everything to fight for now in terms of the title."
Zak Brown, Team Owner and Chairman, United Autosports:
"An awesome result for United Autosports and I'm very proud of everyone connected with the team! We comfortably led the first half of the race, the second half appeared tight at times but our engineers had it all in hand with a superb strategy. All three drivers performed magnificently as did the entire team. Lots of credit goes to Richard [Dean] for building this team. "
Richard Dean, Team Owner and Managing Director, United Autosports:
"We've been dominant all weekend and there was no luck involved in our first WEC victory. The Oreca's pace, our drivers, the entire team, were just incredible and after suffering some bad luck in earlier rounds, this is fully deserved and overdue for us. We're pretty early in developing the Oreca but this dominant result, and the pace we've shown in the other races, shows just what exceptional engineering staff we have. There was nothing between our three drivers, all of them drove superbly, while there wasn't a wrong call throughout the eight hours from the garage. I'm delighted for everyone, especially Dick Hanson."
Results
| | | | | | |
| --- | --- | --- | --- | --- | --- |
| Pos | No./Team | Drivers | Car | Class | Laps |
| 1 | 7 Toyota Gazoo Racing | M. Conway/K. Kobayashi/J. Lopez | Toyota TS050 – Hybrid | LMP1-H | 257 |
| 2 | 8 Toyota Gazoo Racing | S. Buemi/K. Nakajima/B. Hartley | Toyota TS050 – Hybrid | LMP1-H | 256 |
| 3 | 1 Rebellion Racing | B. Senna/G. Menezes/N. Nato | Rebellion R13 – Gibson | LMP1 | 254 |
| 4 | 22 United Autosports | P. Hanson/F. Albuquerque/P. Di Resta | Oreca 07 – Gibson | LMP2 | 249 |
| 5 | 38 JOTA | R. Gonzalez/A. Da Costa/A. Davidson | Oreca 07 – Gibson | LMP2 | 249 |
| 6 | 37 Jackie Chan DC Racing | H. Tung/G. Aubry/W. Stevens | Oreca 07 – Gibson | LMP2 | 248 |
| 7 | 26 G-Drive Racing | R. Rusinov/J. Van Uitert/J. Vergne | Aurus 01 – Gibson | LMP2 | 248 |
| 8 | 36 Signatech Alpine ELF | T. Laurent/A. Negṛo/P. Ragues | Alpine A470 РGibson | LMP2 | 248 |
| 9 | 29 Racing Team Nederland | F. Van Eerd/G. Van Der Garde/N. De Vries | Oreca 07 – Gibson | LMP2 | 247 |
| 10 | 42 Cool Racing | N. Lapierre/A. Borga/A. Coigny | Oreca 07 – Gibson | LMP2 | 245 |
| 11 | 33 High Class Racing | M. Patterson/K. Yamashita/A. Fjordbach | Oreca 07 – Gibson | LMP2 | 244 |
| 12 | 47 Cetilar Racing | R. Lacorte/A. Belicchi/G. Sernagiotto | Dallara P217 – Gibson | LMP2 | 240 |
| 13 | 95 Aston Martin Racing | M. Sorensen/N. Thiim | Aston Martin Vantage AMR | LMGTE-Pro | 235 |
| 14 | 71 AF Corse | D. Rigon/M. Molina | Ferrari 488 GTE EVO | LMGTE-Pro | 235 |
| 15 | 97 Aston Martin Racing | A. Lynn/M. Martin | Aston Martin Vantage AMR | LMGTE-Pro | 235 |
| 16 | 51 AF Corse | J. Calado/A. Pier Guidi | Ferrari 488 GTE EVO | LMGTE-Pro | 235 |
| 17 | 91 Porsche GT Team | G. Bruni/R. Lietz | Porsche 911 RSR – 19 | LMGTE-Pro | 233 |
| 18 | 57 Team Project 1 | B. Keating/L. Ten Voorde/J. Bleekemolen | Porsche 911 RSR | LMGTE-Am | 233 |
| 19 | 92 Porsche GT Team | M. Christensen/K. Estre | Porsche 911 RSR – 19 | LMGTE-Pro | 233 |
| 20 | 98 Aston Martin Racing | P. Dalla Lana/D. Turner/R. Gunn | Aston Martin Vantage AMR | LMGTE-Am | 233 |
| 21 | 86 Gulf Racing | M. Wainwright/A. Watson/B. Barker | Porsche 911 RSR | LMGTE-Am | 233 |
| 22 | 83 AF Corse | F. Perrodo/E. Collard/N. Nielsen | Ferrari 488 GTE EVO | LMGTE-Am | 232 |
| 23 | 54 AF Corse | T. Flohr/F. Castellacci/G. Fisichella | Ferrari 488 GTE EVO | LMGTE-Am | 232 |
| 24 | 77 Dempsey – Proton Racing | C. Ried/R. Pera/M. Campbell | Porsche 911 RSR | LMGTE-Am | 231 |
| 25 | 70 MR Racing | M. Ishikawa/O. Beretta/K. Cozzolino | Ferrari 488 GTE EVO | LMGTE-Am | 230 |
| 26 | 62 Red River Sport | B. Grimes/J. Mowlem/C. Hollings | Ferrari 488 GTE EVO | LMGTE-Am | 229 |
| DNF | 6 Team LNT | M. Simpson/C. Dyson/G. Smith | Ginetta G60-LT-P1-AER | LMP1 | 195 |
| DNF | 90 TF Sport | S. Yoluc/C. Eastwood/J. Adam | Aston Martin Vantage AMR | LMGTE-Am | 178 |
| DNF | 5 Team LNT | C. Robertson/B. Hanley/J. King | Ginetta G60-LT-P1-AER | LMP1 | 143 |
| DNF | 88 Dempsey – Proton Racing | K. Al Qubaisi/A. De Leener/T. Preining | Porsche 911 RSR | LMGTE-Am | 109 |