Rebellion beats Ginetta to WEC Bahrain pole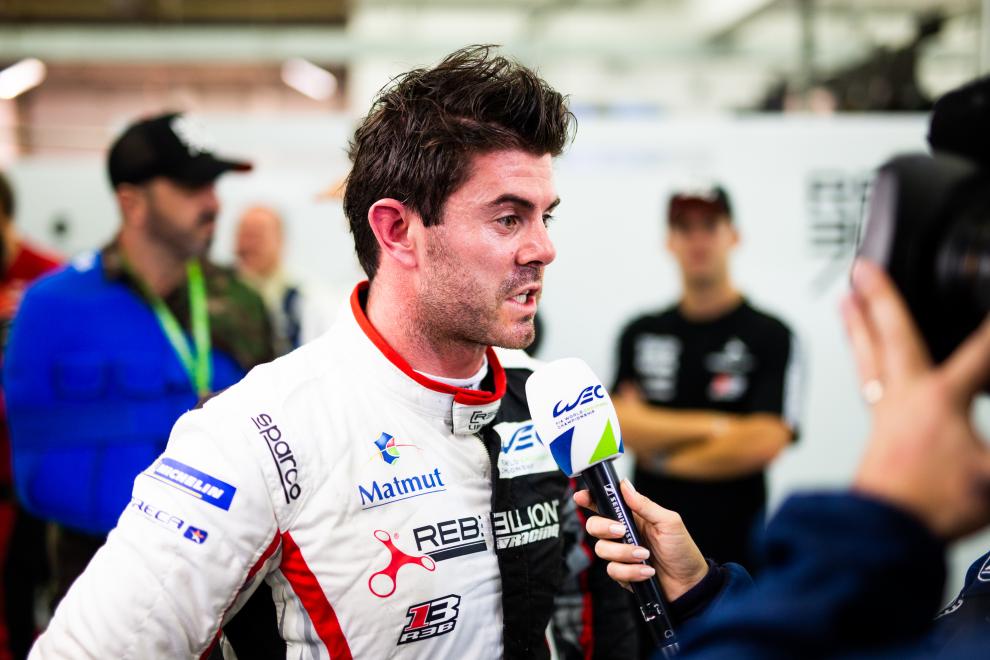 Noman Nato quickest
Rebellion Racing has claimed pole position for the 2019 FIA WEC 8 Hours of Bahrain, its second pole in a row this season after a strong performance from Bruno Senna and Norman Nato. The duo set a 1:42.979 combined time, to go over a tenth clear at the top.
"It was the strategy," Nato said after the session, revealing that Rebellion used only one set of tires in the session, "we knew it would be risky. We know the key point is the race and tire degradation, so we only used one set. It wasn't easy, but I pushed. Really happy, two in a row it's great. We have to finish the job tomorrow."
Ben Hanley and Charlie Robertson put Team LNT on the front row, the Briton steering the #5 to second with a 1:43.123 average. Team LNT will be pleased with the performance from the duo but will feel this is a missed opportunity as the G60-LT-P1s are in a favorable position with the Success Handicap here after wins from Toyota and Rebellion this season.
Toyota's fastest TS050 HYBRID will start the race third, the #8 beating the #7 to a top-three spot. The #8's average was a 1:43.497, half a second off pole. The #6 Team LNT Ginetta could only manage fifth.
Below are the main headlines from FIA WEC Qualifying at the Bahrain International Circuit this afternoon.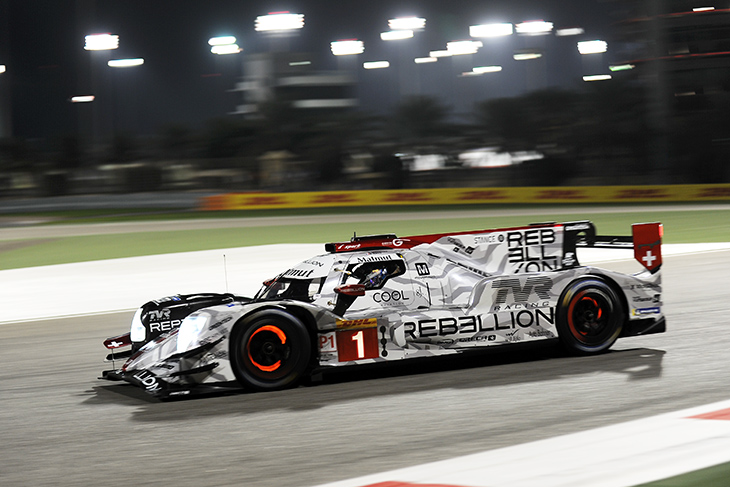 #1 Rebellion on pole
LMP1
• Rebellion Racing take second consecutive overall pole position to take top spot in LMP1 Qualifying
• Bruno Senna and Norman Nato take the best average of 1m42.979s
• Senna sets overall fastest time of 1m42.396 in opening stages
• No.5 Team LNT Ginetta-AER places second as Charlie Robertson and Ben Hanley set an average just 0.144s off the pole
• Toyota Gazoo Racing will start third and fourth as No.8 TS050 HYBRID just heads sister No.7 car
• No.6 Team Ginetta places fifth as Mike Simpson and Guy Smith qualify AER engine LMP1 car
LMGTE Pro
• LMGTE Pro sees pole position go to No.91 Porsche 911 RSR as Richard Lietz and Gimmi Bruni claim their second pole of the season
• Austrian/Italian duo average 1m55.485s; Lietz sets fastest overall lap time of 1m55.342s
• Porsche 1-2 as No.92 car of Michael Christensen and Kevin Estre take second position just 0.060s off their stablemates
• AF Corse place third and fourth as No.51 heads No.71 Ferrari 488 GTE Evo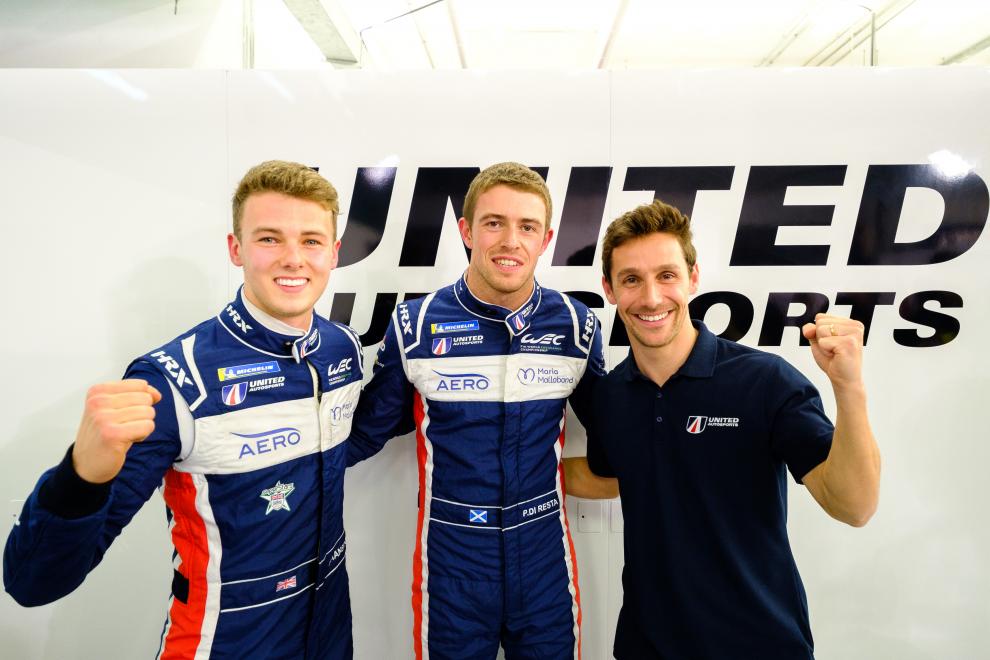 #22 United Autosports polesitters
LMP2
• United Autosports claim their first ever LMP2 WEC pole position
• Paul Di Resta and Phil Hanson average 1m45.357s with Di Resta claiming overall quickest LMP2 lap of 1m44.869s
• Jackie Chan DC Racing duo of Will Stevens and Gabriel Aubry qualify just 0.3s off class pole sitters
• G-Drive Racing will start their first WEC race of the season from third position
LMGTE Am
• No.57 Team Project 1 Porsche takes its first pole of the season with Larry Ten Voorde and Ben Keating combining to set an average lap of 1m57.602s
• Ten Voorde claims fastest overall lap with a 1m57.089s effort
• No.54 AF Corse Ferrari second as Giancarlo Fisichella and Thomas Flohr combine
• No.88 Dempsey Proton Porsche place third as Khaled Al Qubaisi and Thomas Preining qualify
Qualifying Results
| | | | | | |
| --- | --- | --- | --- | --- | --- |
| POS | CLASS | DRIVER | TEAM | CAR | GAP |
| 1 | LMP1 | B.Senna, G.Menezes, N.Nato | Rebellion Racing | Rebellion/Gibson | 1m42.979s |
| 2 | LMP1 | C.Robertson, B.Hanley, J.King | Team LNT | Ginetta/AER | 0.144s |
| 3 | LMP1 | S.Buemi, K.Nakajima, B.Hartley | Toyota Gazoo Racing | Toyota | 0.518s |
| 4 | LMP1 | M.Conway, K.Kobayashi, J.M.Lopez | Toyota Gazoo Racing | Toyota | 0.863s |
| 5 | LMP1 | M.Simpson, C.Dyson, G.Smith | Team LNT | Ginetta/AER | 0.908s |
| 6 | LMP2 | P.Hanson, F.Albuquerque, P.Di Resta | United Autosports | ORECA/Gibson | 2.378s |
| 7 | LMP2 | H-Pin Tung, G.Aubry, W.Stevens | Jackie Chan DC Racing | ORECA/Gibson | 2.670s |
| 8 | LMP2 | R.Rusinov, J.van Uitert, J-E.Vergne | G-Drive Racing | Aurus/Gibson | 2.974s |
| 9 | LMP2 | R.Gonzalez, A.F.da Costa, A.Davidson | JOTA | ORECA/Gibson | 3.436s |
| 10 | LMP2 | N.Lapierre, A.Borga, A.Coigny | COOL Racing | ORECA/Gibson | 4.286s |
| 11 | LMP2 | M.Patterson, K.Yamashita, A.Fjordbach | High Class Racing | ORECA/Gibson | 4.344s |
| 12 | LMP2 | T.Laurent, A.Negrao, P.Ragues | Signatech Alpine Elf | Alpine/Gibson | 4.746s |
| 13 | LMP2 | F.van Eerd, G.van der Garde, N.de Vries | Racing Team Nederland | ORECA/Gibson | 5.920s |
| 14 | LMP2 | R.Lacorte, A.Belicchi, G.Sernagiotto | Cetilar Racing | Dallara/Gibson | 6.495s |
| 15 | GTE Pro | G.Bruni, R.Lietz | Porsche GT Team | Porsche | 12.506s |
| 16 | GTE Pro | M.Christensen, K.Estre | Porsche GT Team | Porsche | 12.566s |
| 17 | GTE Pro | J.Calado, A.P.Guidi | AF Corse | Ferrari | 13.108s |
| 18 | GTE Pro | D.Rigon, M.Molina | AF Corse | Ferrari | 13.339s |
| 19 | GTE Pro | M.Sorensen, N.Thiim | Aston Martin Racing | Aston Martin | 13.410s |
| 20 | GTE Am | B.Keating, L.ten Voorde, J.Bleekemolen | Team Project 1 | Porsche | 14.623s |
| 21 | GTE Am | A.De Leener, K.Al Qubaisi, T.Preining | Dempsey-Proton Racing | Porsche | 14.682s |
| 22 | GTE Am | F.Perrodo, E.Collard, N.Nielsen | AF Corse | Ferrari | 14.711s |
| 23 | GTE Am | E.Perfetti, D.H.Hansson, M.Cairoli | Team Project 1 | Porsche | 14.884s |
| 24 | GTE Am | M.Wainwright, A.Watson, B.Barker | Gulf Racing | Porsche | 14.998s |
| 25 | GTE Am | P.D.Lana, D.Turner, R.Gunn | Aston Martin Racing | Aston Martin | 15.023s |
| 26 | GTE Am | S.Yoluc, C.Eastwood, J.Adam | TF Sport | Aston Martin | 15.068s |
| 27 | GTE Am | B.Grimes, J.Mowlem, C.Hollings | Red River Sport | Ferrari | 15.238s |
| 28 | GTE Am | M.Ishikawa, O.Beretta, K.Cozzolino | MR Racing | Ferrari | 15.656s |
| 29 | GTE Am | C.Ried, R.Pera, M.Campbell | Dempsey-Proton Racing | Porsche | 16.980s |
| 30 | GTE Pro | A.Lynn, M.Martin | Aston Martin Racing | Aston Martin | 13.274s |
| 31 | GTE Am | T.Flohr, F.Castellacci, G.Fisichella | AF Corse | Ferrari | 13.924s |