Race to Beat Cancer Returns to Laguna Seca Feb 2020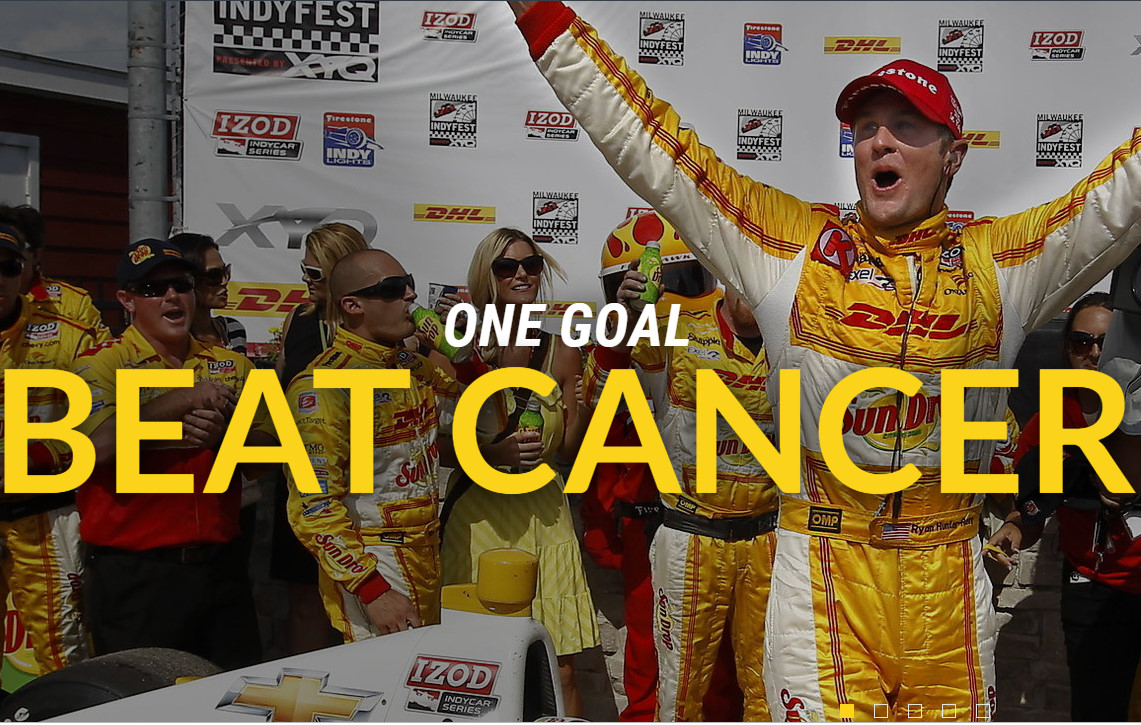 Ryan Hunter-Reay asks you to help Beat Cancer
Dear Friends,
Once again, we are excited to announce our 5th Annual Race to Beat Cancer event to be held on February 21-23, 2020, returning to the iconic WeatherTech Laguna Seca Raceway in the beautiful Monterey Peninsula. After a successful 2019 event, by popular demand, we have secured Laguna Seca for 2020, again partnered with the Lucas Oil School of Racing. Whether you are an aspiring race driver, an accomplished amateur racer, or just an adventurous person seeking to test your skills at driving a single-seater open-wheel race car, this event is for you. As all past participants will attest, this is a one-of-a-kind experience, highlighted by our hosts Ryan Hunter-Reay, founder of Racing for Cancer, and James Hinchcliffe, both top professional drivers in the IndyCar series. In fact, the IndyCar series returns to Laguna Seca in 2020 with a new three-year contract as the season-ending race for the series. So what better way to enjoy the season-ending IndyCar race, than to compare your on-track experience to how the professionals tackle Laguna Seca.
As a Participant, the donation covers your 2-day race fees, race suit and helmet (if needed), crash damage insurance, transportation to/from our lodge, and all meals beginning with a welcome reception/dinner on Friday, February 21st through lunch at track February 23rd, all hosted by Ryan and James. Our dinners and receptions will be private, exclusive events with amazing food and drinks. The 2-day Amateur school and 2-day Advanced lapping school will both be conducted in the 2-liter Mazda powered Ray Formula GR11 open-wheel cars with some of the top instructors in the country. And, you will gain additional knowledge and advice from the Pros, Ryan and James. The cars use paddle shifting technology, offer in-car cameras for unique one-on-one reviews, and you can receive telemetry reviews as well.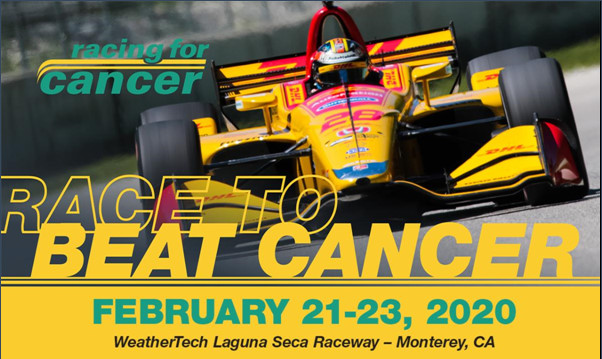 Beat Cancer
This event makes a great Christmas present for your loved ones or business associates. We have hosted husband/wife guests, father/son, father/daughter, and friends just wishing to "go fast" on track together. The event offers businesses an excellent option for the customer, vendor, and employee appreciation and entertainment experiences. Racing for Cancer has secured a room block with negotiated rates at the event HQ, Pebble Beach Lodge. Finally, six (6) guests can enjoy golf with Ryan and James on Pebble Beach Golf Links on Friday, February 21st, on a first-come, first-serve basis. The school is already filling up, so secure your spot today. Why not enjoy Monterey and all it has to offer, test your racing skills, all while helping us BEAT CANCER! Simply complete the Participant Form included in the link below and send it in ASAP.
If you cannot make the event, we ask that you consider one of the many sponsorship opportunities listed in the Sponsorship Order Form included below.
Should you have any questions, please email Tom Vossman at tom@racingforcancer.org. Once registered, Kelly Deneen will be in touch to assist with reservations at Pebble Beach Lodge and to provide additional information and weekend schedules prior to your arrival. Come join us…you will not regret it; trust us!
Beat Cancer,
Ryan Hunter-Reay Tom Vossman
Sign up today and help us BEAT CANCER!
Download the Participant Sign-Up Form Here
Download the Sponsorship Order Form Here