Abu Dhabi Grand Prix Preview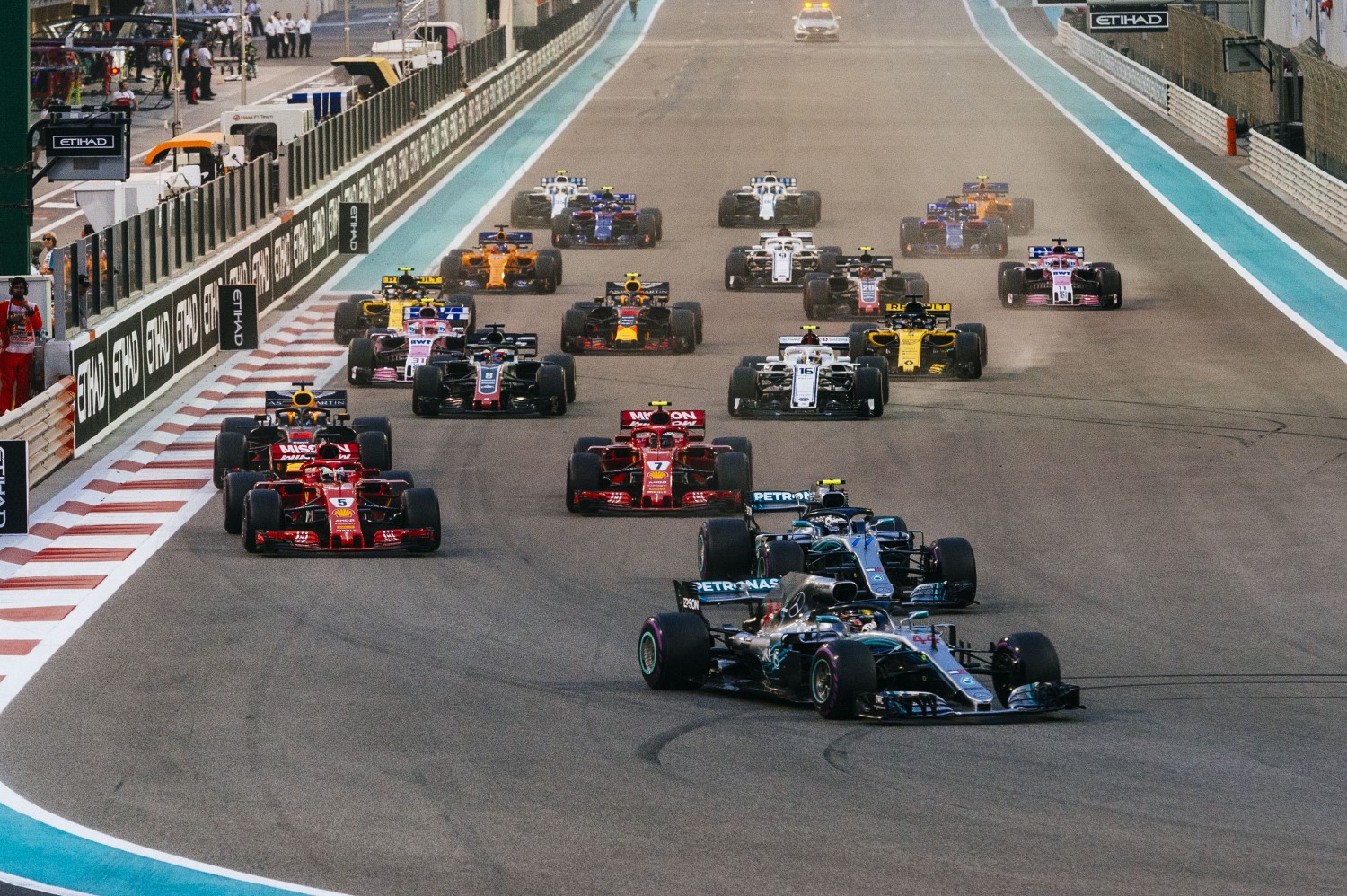 Abu Dhabi 2018
The checkered flag has yet to drop on the 2019 FIA Formula One World Championship, but after 20 races spread across the globe, the finish line is clearly in sight as the season-ending Abu Dhabi Grand Prix is set for Dec. 1 at Yas Marina Circuit.
One last race in 2019. The Abu Dhabi Grand Prix marks the final chapter in what has been an incredibly long season, one that gifted us moments of elation and lessons to learn, results to celebrate and memories to put in our team's history books. It is a final chapter, however, that still needs to be written
2018 Race Summary
Lewis Hamilton nursed his tires to another win in the Abu Dhabi GP, his 11th of the 2018 season. In doing so he scored over 400 points in a single season, a record. Ferrari's Sebastian Vettel tried closing on Hamilton in the Ferrari in the closing laps, but Hamilton had plenty in hand as he always does in the Aldo Costa Mercedes to finish 2.5s ahead. Max Verstappen on Daniel Riccardo were 3rd and 4th for Red Bull while Valtteri Bottas rounded out the top-5 for Mercedes.
Abu Dhabi Grand Prix: Fact File
The first Abu Dhabi Grand Prix in 2009 was also the first twilight race in Formula One, starting at sunset and finishing under the dark skies of night time. Around 4,700 light fixtures illuminate the Yas Marina Circuit for the twilight race.
The 2009 Abu Dhabi Grand Prix was held on the 1st Due to the increased number of races, this year's Abu Dhabi Grand Prix takes place exactly one month later – on the 1st December.
Lewis Hamilton qualified on pole for the first race in 2009 with a 1:40.948, while his 2018 pole position was a 1:34.794 – over six seconds quicker.
The Yas Marina Circuit has the second-highest number of corners on the F1 calendar, with 21, split between 12 left-handers and nine right-handers. Only the Marina Bay Street Circuit in Singapore has more corners (23).
In Qualifying, the fastest corners on the circuit are taken flat-out. Drivers can reach 275 km/h and up to 5G through the high-speed Turns 2 and 3. The fastest corner where the driver has to come off the throttle is Turn 20, which is taken at 210 km/h.
The pit lane at the Yas Marina Circuit has a very unusual layout, featuring a unique pit lane exit with a tunnel passing under the track and a tight left-hand corner. This left-hand corner is actually the slowest turn of the track, taken at 60 km/h. That's around 5 km/h slower than Turn 7, which is the slowest turn on the actual circuit.
A lap around the Yas Marina Circuit is one of the busiest ones for gear changes. On average, a driver has to make about 54 over the course of a lap.
Abu Dhabi is one of the most predictable races on the calendar when it comes to the weather. Ambient temperature is generally between 25 and 30°C and the track tends to start at around 33°C during the race and falls to 28°C when the sun sets.
The stones used in the tarmac are very light in color, which keeps peak track temperatures relatively low. FP1 is the hottest session, where track temperature can peak at around 45°C. This is still relatively low compared to a race like Mexico where it can exceed 60°C.
The two DRS zones are located on consecutive straights, separated by a chicane and with their own individual detection points. This can produce interesting battles, with the driver overtaken into Turn 8 being given a chance to regain the place on the following straight with DRS.
Yas Marina is almost exactly average for the season when it comes to severity, with smooth asphalt and a well-balanced mix of corners that is more about traction and braking than lateral forces.
Historically, the Abu Dhabi Grand Prix has been a one-stopper, with low wear and degradation. This looks set to be the case again this year, with the hardest choice a step harder than in 2018 (when supersoft, ultrasoft, and hypersoft were chosen). Last year, Lewis Hamilton won the race by going from ultrasoft to supersoft quite early, under a virtual safety car
There's been a harder tire choice made compared to previous seasons at a few races this year: this is to help drivers to push to the maximum during each stint, rather than manage their pace to guarantee a one-stopper
With the race going through until the evening, track temperatures tend to fall quite drastically as the race progresses. As the car gets lighter on fuel, this can alter the pattern of tire behavior to potentially increase stint lengths. It also means that the FP1 and FP3 sessions aren't particularly representative.
Select Quotes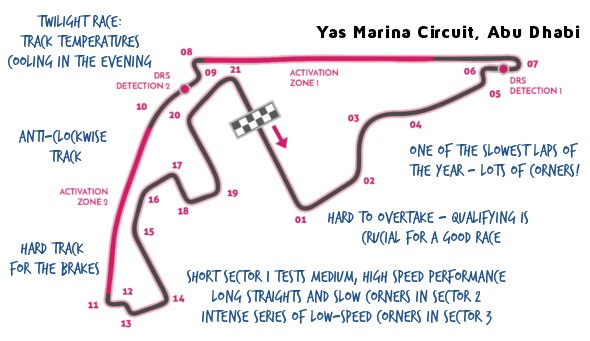 Track Map
Toto Wolff
Brazil was a disappointing race for us; we did not have the fastest car on track and we lost a lot of points owing to our own mistakes. We analyzed what went wrong, both in terms of our reliability and our decisions during the race, to make sure we don't repeat them. It was a good learning experience for the entire team and something that will make us stronger in the long run.
The underperformance in Brazil means we head to Abu Dhabi with a point to prove. Yas Marina has been a good circuit for us in the last years and we'll push hard to continue in the same way. The race is one last opportunity for us to add another victory to the record of the W10 and it's one more chance to put on a great show for the fans before the winter break. We're looking forward to the fight because we know that in Formula One, you're only as good as your last result.
This season has been a real rollercoaster for us. We've seen great on-track battles and we've loved the competition. We are very proud that we came out on top and managed to put the Mercedes name in the history books of Formula One with our sixth consecutive double title. On the other hand, it's been an incredibly hard year where we had to say goodbye to too many friends. We were hit hard by the passing of Charlie, Niki and Anthoine, as well as important members from our team who we have tragically lost this year. At Mercedes, Niki left a void that we will never be able to replace – as a source of inspiration, as a voice of reason, but most importantly as a great friend. We hope we did you proud, Niki.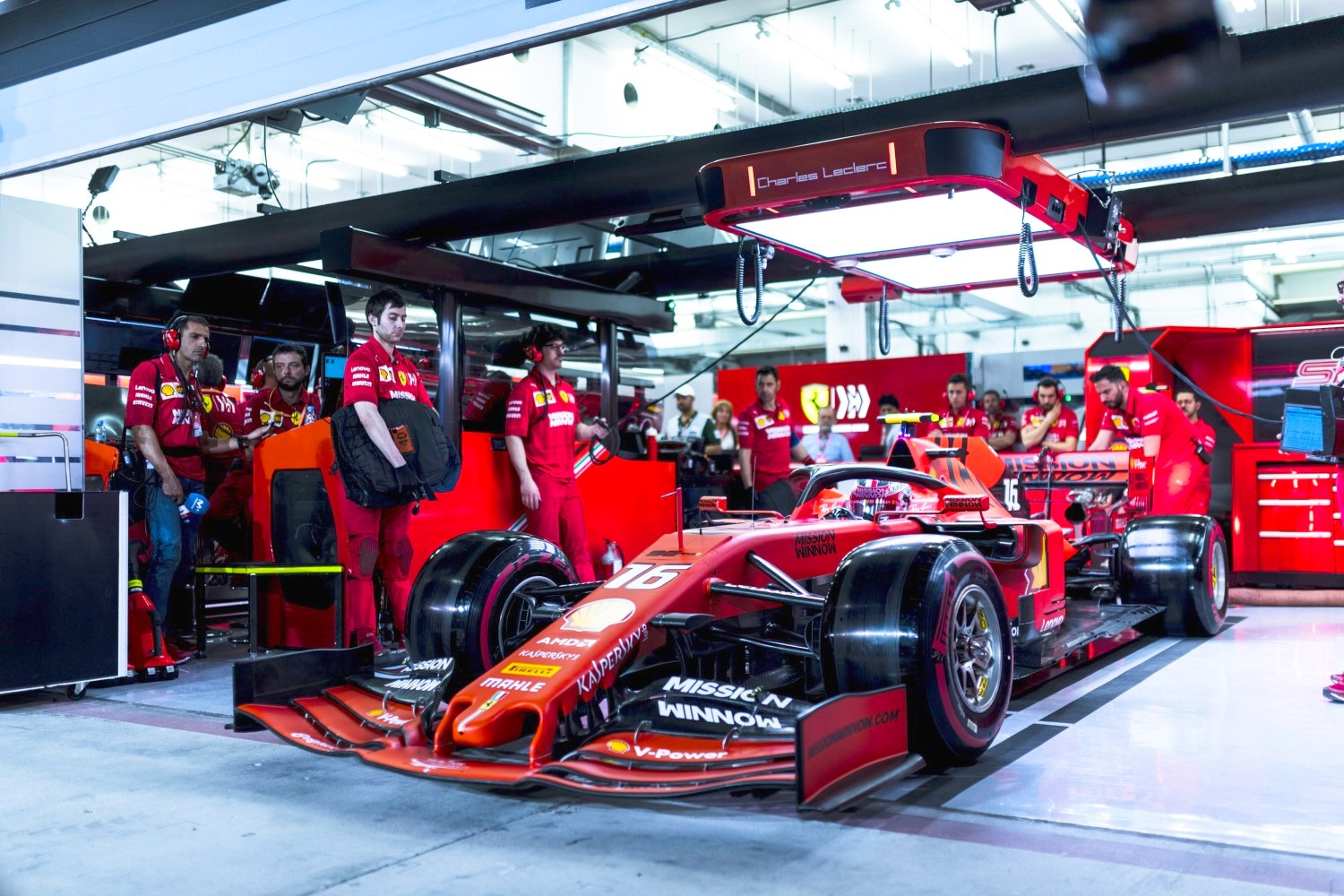 Leclerc
Charles Leclerc #16
"Abu Dhabi, the last grand prix of the season. Most of the paddock is probably looking forward to enjoying their holidays. From my perspective, I am actually pretty sad that I won't be feeling that adrenalin rush behind the wheel for the next few months. At this race, everyone is pushing to the maximum as, for most drivers, there's nothing to lose.
The race starts in daylight and ends at night, which is something pretty special that we don't experience anywhere else. Another aspect that is different here is tyre degradation, which is something we have to get accustomed to and anticipate.
It always makes for an interesting race and I am very much looking forward to my last outing of the season with Scuderia Ferrari."
Sebastian Vettel #5
"As well as being the last race of 2019, the Abu Dhabi Grand Prix marks the start of the 2020 season in many ways, with most teams trying out ideas for next year during Friday free practice. Then, as usual on the Tuesday and Wednesday after the race, there's the test session when we will able to evaluate the tyres for next year and those for 2021.
Focussing on work for next year is not a problem during the morning sessions on Friday and Saturday as conditions then are so much hotter than those experienced during qualifying and the race that they are less useful in terms of working on set-up and race configuration.
Yas Marina features a lot of slow and medium speed corners. In contrast to Sao Paolo, Pirelli has brought its three softest compound tyres to this race. Nevertheless, it is likely to be a one-stop race, because overtaking is very difficult despite the fact there are two DRS zones. It means qualifying well is very important.
It is an opportunity for us to finish the season on a high but we know the competition is strong, so it should be an exciting race."
Mattia Binotto Team Principal
"Abu Dhabi is the last race of what has been a long season for everyone. For us at Scuderia Ferrari, it was a year of new beginnings, with team members taking on new roles and Charles in his first year with us and our aim was to build the foundations for the future.
Of course there were highs and lows: the first part of the season did not go the way we wanted, but I certainly value the way we all stood together, rolled up our sleeves and fought back.
Particularly noteworthy was the way we reacted after the summer break, with three race wins in a row and a run of six consecutive poles positions, as well as our win in Monza, just days after the incredible celebration of the 90 years of the Scuderia, in Milan, in front of a huge crowd.
Of course finishing second will never be good enough for Ferrari and we are looking ahead to a very intense winter to keep building as a group. The aim is to come back stronger to be up to the challenges that await us.
As the season draws to an end, I would like to say thank you to our tifosi all over the world for their passionate support all year long. This weekend, we will try to give them the best possible result with which to finish the season."
Pierre Gasly (Car #10):
"It's the last race of the season so it's a special weekend. It's going to be very important for all of us at Toro Rosso as we want to finish as high as possible in the Constructors' Championship, I'm also in with a chance of ending up as the best driver from outside the top three teams in the Drivers' classification.
"Here at Yas Marina, I've won the GP2 feature race, but I've been less successful in Formula 1. All the same, I really like this track, especially the last sector which is very technical. It has a nice flowing rhythm. I like it also because it's nice and warm when we come from the cold in Europe, and the fact I clinched the GP2 title here means it brings back happy memories."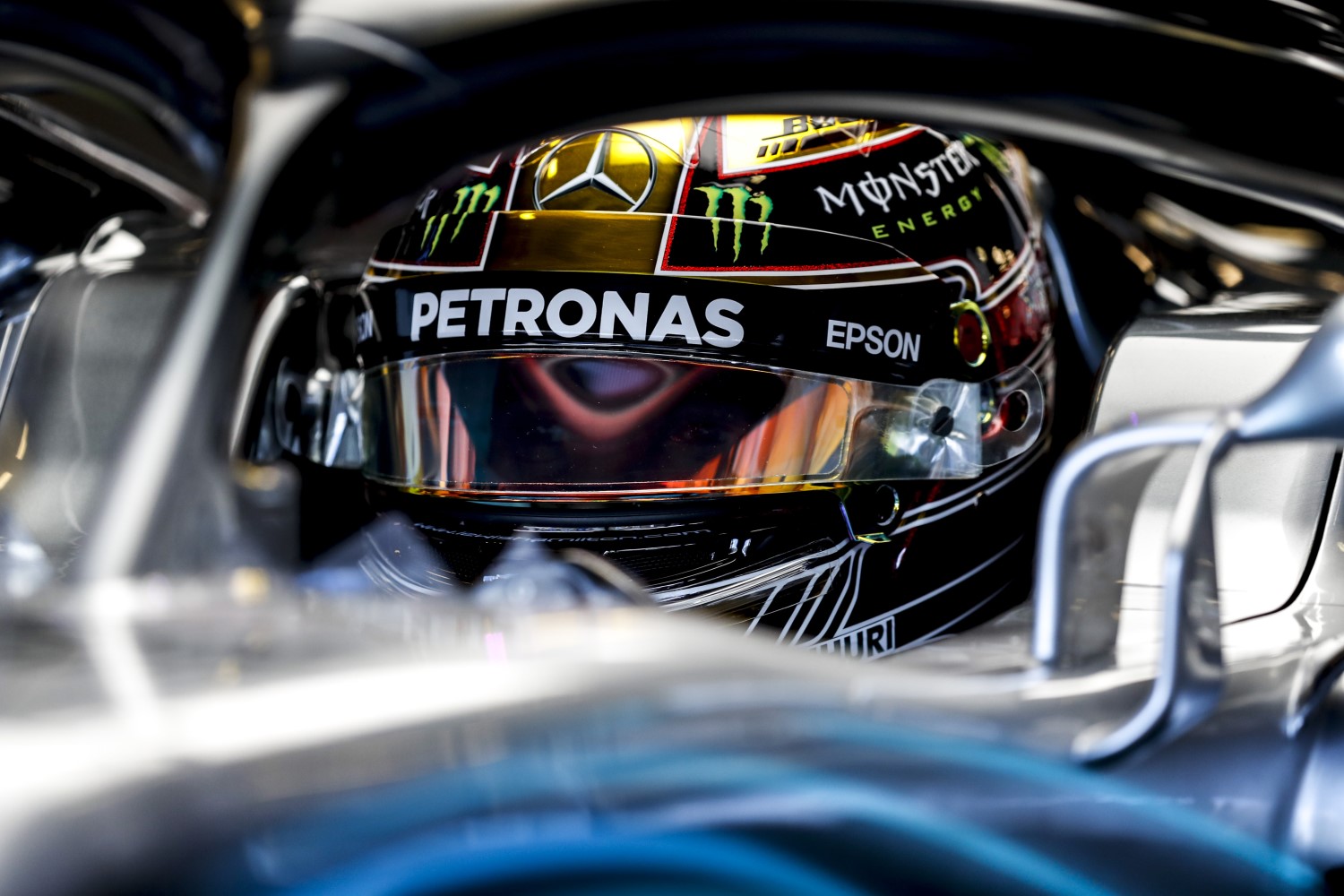 Can Hamilton win again?
Daniil Kvyat (Car #26):
"I like coming here and have good memories of winning the GP3 title in 2013 with a victory in the feature race, knowing I would be joining Toro Rosso the following year. It was a great moment, obviously and very happy days.
"We race under the floodlights, which is cool and I enjoy the whole business of racing at night. The track provides a few overtaking opportunities too and I will push as hard as I can to have a good race to end the year."
Frederic Vasseur, Team Principal Alfa Romeo Racing and CEO Sauber Motorsport AG:
"We arrive in Abu Dhabi still buzzing from the great result from the last race. It will be important to channel these good spirits into a positive energy for this final event of the season, one where there is so much at stake. Battle for seventh place in the championship aside, we still need to aim for a good result this weekend. It will be important to finish the season well to carry this momentum into the winter months and onto 2020."
Kimi Raikkonen (car number 7):
"I am looking forward to the final race of the season in Abu Dhabi. The result in Brazil was a big confidence boost for everyone in the team and we want to build on that to finish the season well. Of course I am looking forward to some time off afterwards, but right now the focus is firmly on this weekend's race: we know we can have a good result and we will give all we have to get it."
Antonio Giovinazzi (car number 99):
"This weekend marks the end of my first full season in Formula One, but I am not looking at making a balance of the year yet. We still have one very important race ahead of us and we are fully committed to doing the best possible job there. Abu Dhabi is another track where we can aim for a good result and we have showed last time out that we can fight with those at the front of the midfield, so let's hope we can finish the season with another strong race."
Dave Robson, Williams Senior Race Engineer: The final race of the season takes place in Abu Dhabi, which should all but guarantee warm and dry conditions, complicated only by the often unrepresentatively warm conditions of FP1 and FP3. As a result, most teams will focus their weekend preparations on FP2, leaving FP1 to explore more medium-term items.
We will continue to work on both race setup and car development as we look to finalize some of our preparations for the FW43. Both drivers will have busy and detailed run programs on Friday.
The Yas Marina circuit has become the traditional venue for the season's final race, and it offers a good blend of corners, separated by two long DRS straights. The third sector is challenging, especially in qualifying when the tires can begin to struggle. Pirelli have provided their softest compounds for this event, a combination last seen in Singapore, and a significant contrast to the selection in Interlagos. The C5 'street circuit' tire should offer good grip in qualifying but getting the most out of it for the full 5.6km lap could be the biggest challenge facing the drivers and engineers this weekend.
Robert Kubica: Abu Dhabi is quite a difficult track, but we will try to optimize the car the best we can for the last race of the season. It will be my final Grand Prix with Williams, and so I would like to put everything together for the boys and for the team.
George Russell: I've got mixed feelings as it is going to be sad to do the last race of the year, but I'm also excited to get back out to the warm weather of Abu Dhabi. I have good memories there as winning the FIA Formula Two Championship last year was a really special feeling, and something I will remember for a long time to come.
Lance Stroll
Abu Dhabi is the season finale and the organizers always put on quite a show. The track layout isn't my favorite, but the event is always a lot of fun – it's a great place to go racing. The infrastructure is impressive and it's arguably the best that we have in Formula 1. What they've done with the event is amazing.
"The track in Abu Dhabi is quite challenging. It's a long lap with plenty of corners and the high temperatures make it very demanding on the tires. The most technical part of the lap is the middle sector and particularly the chicanes. It's important to get your braking point just right and you also need to ride the curbs.
"Overtaking can be quite challenging, but that's the same as most circuits. As always, we're going to try and pick off as many places as we can. The twilight conditions in Abu Dhabi are unique but I'm pretty zoned in from start to finish so it's not really a distraction. You almost forget you're driving in the evening because the lights work so well."
Sergio Perez
"It's important we end the season on a high in Abu Dhabi. It's been a long year and there is still a lot at stake. Brazil didn't go well for us – even though we scored points – and we need to come back strong this weekend.
"Yas Marina is a track that's all about braking and traction. It's hard on the brakes and you need to set up the car so that you have good rear stability. Good traction out of the corners is also important for a quick lap time. The long straights offer some overtaking opportunities but you need to be quite brave on the brakes. In the race, you often find yourself either attacking or defending, especially towards the end of the race.
"When you get to the final race you just need to keep focused on the job ahead. Everybody is starting to think about next year, but you want to finish the season well so that you can go on holiday feeling happy. Nobody wants to have a bad final race so we will do all we can to end the year with a strong performance."
Mario Isola, Pirelli Boss
Abu Dhabi marks the end of another very long season, but the work still continues for us after the grand prix, with a series of tests for both Formula 1 and Formula 2, using 13-inch tires as well as 18-inch tires. In total, we'll bringing around 4500 tires to Abu Dhabi, for racing and testing: more than double the usual quantity. The two-day official F1 test after the race will be particularly important, as it gives a chance for the teams to compare 2019 to 2020 tires in representative conditions and with specifically adapted cars for the first time. Before then, we have one final grand prix to complete. There's a strong chance that we could see more lap records broken again over the weekend, with the teams now having maximized their knowledge of the 2019 tires."