Samba do Brasil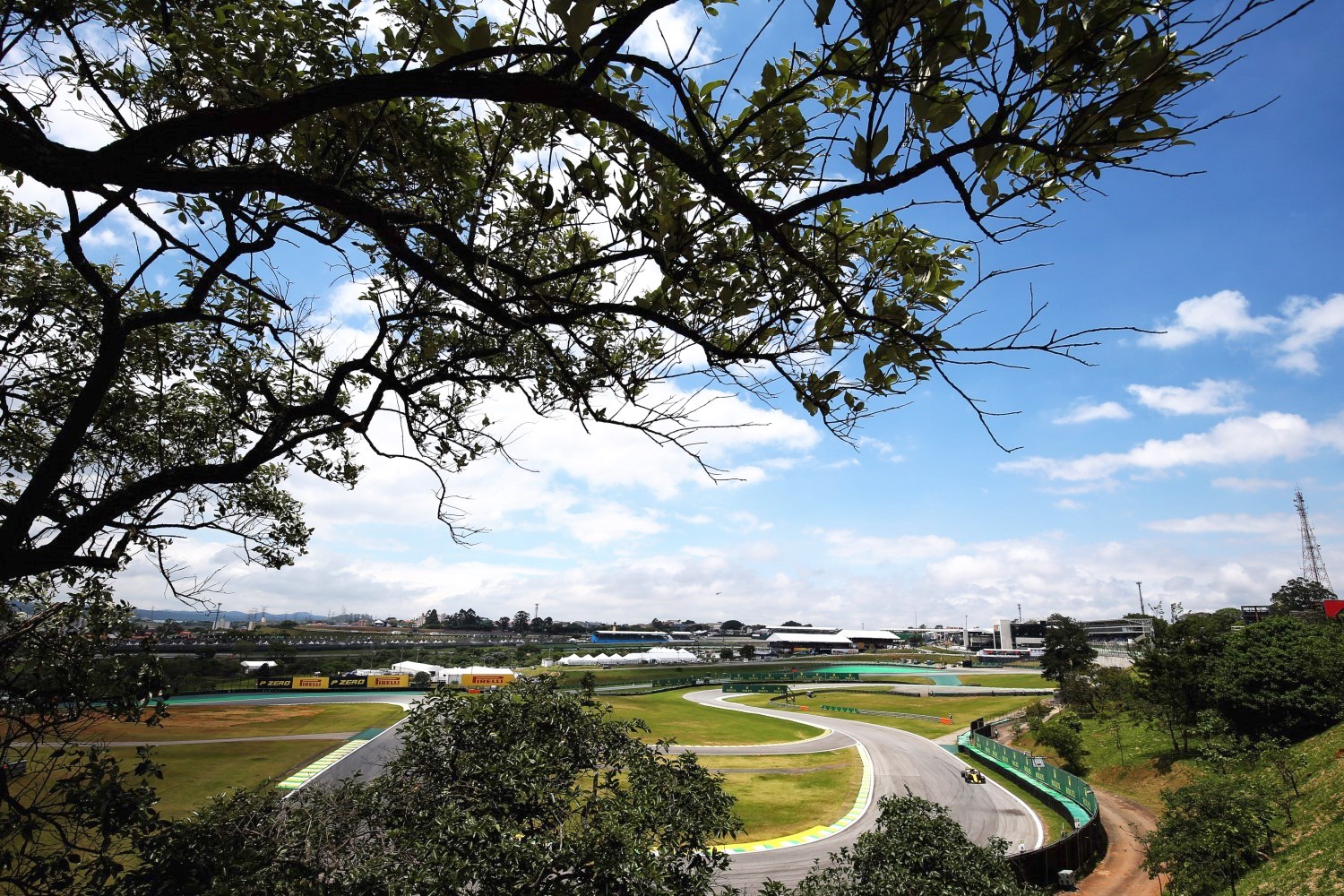 Interlagos
Brazil and rhythm go hand in hand. Paint a mental picture of Copacabana, imagine the raucous celebrations of the Carnival or even delve into the atmosphere of the lesser-known parts of the country and you're bound to draw up a vast, colorful soundtrack to go with it.
Brazilians have music in their veins. Samba, bossa nova, choro and many more – even the genres reflect the uniquely varied cultural, historical and social background of the country. The common theme that unifies them all is rhythm. It's the same rhythm the local footballers show on the pitch – their feet almost dancing around the ball since the times of Garrincha.
The same applies to Interlagos. It's an old-school track – bumpy, physical, draining for the driver. It's a circuit with narrow, twisty sections leading into high-speed corners, sharp turns, barriers ready to put an end to your race at the first error. To master it, you guessed it, you need rhythm. From the S do Senna in sector one to the left and rights of Pineirinho and Bico de Pato, the track comes at the driver like a capoeirista. It's always moving, always asking of those behind the steering wheel. To go fast, you need to become one with this dance.
[adinserter name="GOOGLE AD"]From the first lap of practice, driving here is a never-ending quest for rhythm.
2019 Brazilian Grand Prix: Fact File
The Autodromo Jose Carlos Pace is the third-shortest circuit on the F1 calendar, with a lap length of just 4.309 km – only Monaco and Mexico are shorter.
Interlagos also has the second-quickest lap time of the entire season. The current race lap record is 1:10.540 (Valtteri in 2018), the absolute lap record is 1:07.281 (Lewis in Q3 in 2018). Only a lap at Spielberg in Austria takes less time to complete.
The first and third sectors have over 75% of lap time at full throttle, but the middle sector has less than 50%. From the exit of Turn 12 until the braking zone for Turn 1, there are 1.2 kilometers of driving at full throttle and an elevation change of 40 meters to the highest point on the track.
The first and third sectors require a low-drag car, but the middle sector is fastest on maximum downforce. In the past, this compromise meant you would see a range of downforce levels on cars at Interlagos. But since the second DRS zone was added, more teams bias towards higher downforce owing to the lap-time benefit in Qualifying.
The Interlagos circuit is located over 800m above sea level, which is the second highest of the season – but the Autodromo Hermanos Rodriguez is much higher at over 2,200m.
Braking for Turn 1 is unusual, because the corner is heavily banked towards the inside. This often causes front locking as the track drops away and unloads the front-left wheel. But it's one of the few corners where you can lock up and not lose any lap time – with so little load on the tire, locking doesn't usually result in a flat-spot.
The brakes are not used heavily at Interlagos, with only five braking events registering over 2G and one heavy braking event (experiencing over 4G for more than 0.4s).
One of the engineering challenges at the track is to keep the left-hand front tire in the working temperature window, because from the exit of Turn 10 until the entry to Turn 6 (3.5km in distance) it does very little work and thus cools down quickly.
Brazil is one of the easier tracks to overtake on, especially since the second DRS zone was added, but managing battery levels for the defending car can be difficult because there is only one big braking zone in which to recover energy between the two longest straights.
The weather can be varied and volatile for the race weekend. It's not uncommon for track temperatures to shift 30°C from practice to the race, which makes it very difficult to predict what the tires are going to do.
Wet weather can be especially challenging in Brazil. Despite channels being cut into the tarmac to improve drainage, there are a number of places where rivers tend to run across the track when it's raining heavily.
Tires
In 2018, the medium, soft and supersoft tires were nominated. Despite a tire nomination that is slower on paper this year, we're likely to see faster lap times – as has already been the case at several races this year – thanks to the continual evolution of the cars.
The harder tire choice for this year in Brazil is designed to limit degradation, and so help drivers to push more during each stint.
The weather characteristics of Interlagos are among the most random of the year. In the past, we've seen some of the hottest track temperatures of the season, well in excess of 55 degrees centigrade – and also torrential rain.
The asphalt was entirely resurfaced in 2014 and it's now had plenty of time to mature: it was also cleaned thoroughly with high pressure water jets last year. As a result, it's about average when it comes to roughness and presents no particular challenges in terms of the actual surface.
Interlagos contains 15 corners within the second- shortest lap of the year, which means that there aren't many long corners, keeping the lateral demands quite low. The front-right tire is worked the hardest on this anti-clockwise track.
A one-stopper was the winning strategy last year, with Lewis Hamilton going from supersoft to medium. But there was lots of variation, with three different tactical approaches from the three leading teams and five different strategies in the top six.
Select Quotes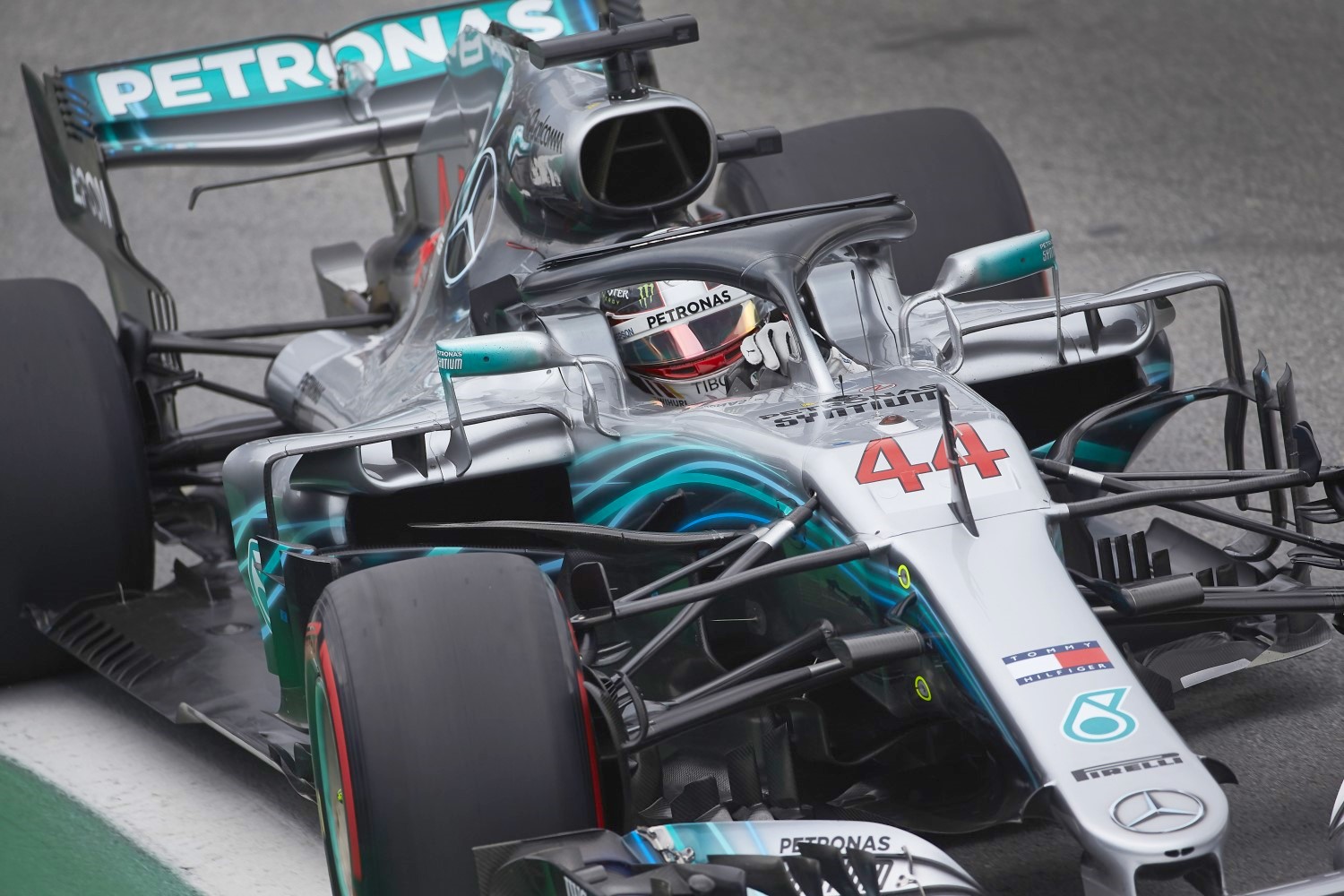 Hamilton favored to win again
Frederic Vasseur, Team Principal Alfa Romeo Racing and CEO Sauber Motorsport AG:
"Everyone in the team is working relentlessly to push us forward and back into the points. The last few races have shown progress, but we know we still have some work ahead of us to get back to the front of the midfield. We can build on the positives and on our strengths in the confidence we can make another step forward in Brazil."
Kimi Raikkonen (car 7):
"This weekend's race is another chance for us to score points. There have been a lot of positives in our most recent performances and we feel we can now fight in the midfield once again: it would be nice to have some points to show for our progress at the end of the weekend."
Antonio Giovinazzi (car 99):
"I am really looking forward to racing in Interlagos. It is a special track, one forever linked with Senna and with so much Formula One history. The renewal of my contract is a big confidence boost and I cannot wait to repay the faith the team has shown in me. We have made some big steps forward in the last few races and getting back into the points would be the right reward for all of our hard work."
Pierre Gasly (Car 10):
"Brazil has an iconic role in Formula 1 and when I was little and even today, my idol is Ayrton Senna. So, going to Brazil is always great as there is such a culture of Formula 1 in this country.
"The track itself is actually quite nice, even if it's short. It features a lot of technically demanding corners and it can be quite a crazy weekend, as we have seen many times in the past because the weather can make life very unpredictable…"
Daniil Kvyat (Car 26):
"…it's a cool old-school track, but wide enough to allow for some overtaking. There are some incredible corners such as the banked Turn 1 which is much steeper than it looks on television. It's a good overtaking opportunity and usually, there is plenty of exciting action there.
"Even with all the training we do, you feel the lateral forces on your neck here with the track running anti-clockwise. It's not a problem but it is challenging."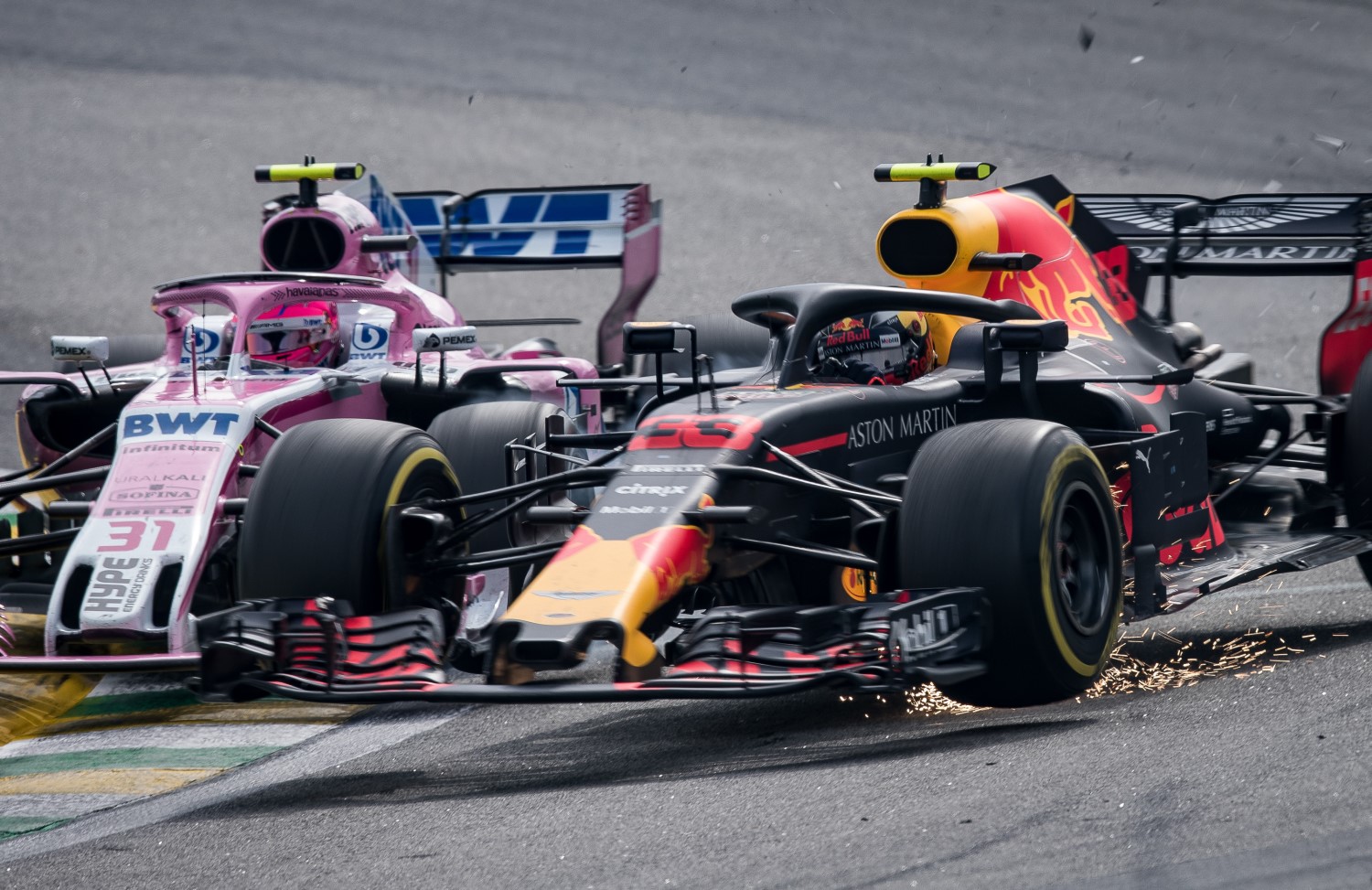 Ocon and Verstappen clash last year
Lance Stroll (Car 18)
"Racing at Interlagos is always an interesting experience. There is so much passion and emotion from the Brazilian fans. They love racing and they've got a great history in the sport.
"It's quite a compact track and it's tight and twisty in the middle section. I remember it being quite bumpy too. It's much more undulating than it looks on television and you really notice that when you walk the track.
"There is a steep drop through the first chicane and then at the end of the lap there is a big climb from the final corner onto the straight. It makes things more interesting in the car and I quite like those aspects of the lap.
"It's not been a good track to me in the two times I've been there, but I think we've got a good opportunity to put things right this year. It's a close fight in the Constructors' Championship so we have plenty at stake."
Sergio Perez (Car 11)
"When you arrive in Brazil, you know the season is nearing the end. It's the time of the year when it's getting close in the championship. We still have a chance to fight for fifth, so adding more points this weekend is very important.
"I like being in Brazil and in some ways it reminds me of Mexico. The people are very warm and relaxed, and they love F1 just as much as the Mexican fans. They are always having a party in the grandstands.
"The start of the lap is good fun through the Senna 'S' and I think it's probably the best place to try and overtake during the race. At the end of a long straight you can be very late on the brakes and dive down the inside.
"The circuit is quite short and it reminds me of a karting track. Even though it looks quite simple, it's not easy to get the perfect lap. You need to be really precise with placing the car and to find the lap time you need to use the curbs.
"The weather can be a major factor too. It rains quite often and clouds can develop quickly in the area. That can mix things up, as it did in 2016."
Toto Wolff, Mercedes Team Boos
Last week we had the chance to celebrate the championships with everyone at Brixworth and Brackley – the 1,500 men and women that form this amazing team and made this extraordinary success possible. It is always a special moment and this year's was particularly special as our sixth consecutive double sets a new benchmark in our sport. But despite this record-breaking achievement, I still feel a lot of hunger and desire for more achievements. There's no sense of complacency, everybody is still determined to keep on improving. It's an inspiring group of people that fully lives up to the Mercedes aspiration of being the best.
We have two races to go in the 2019 season and we want to end this season on a high. The next stop takes us to Brazil which brings back fond memories from last year when we were not only able to win the race but also secure the constructors' championship at Interlagos. It's a very short track which makes qualifying particularly challenging as the margins are very small. We have generally not had the fastest car on Saturdays since the summer break, but we were able to take pole in Austin and will try to fight for a front row start again at Sao Paulo.
Brazil will also be the first race since 2013 that I won't attend. With both championships secured, it gives me more time in Europe to focus on other open topics. It's great to be able to do this and to know that the team will represent the three-pointed star in the best way possible both on and off the track.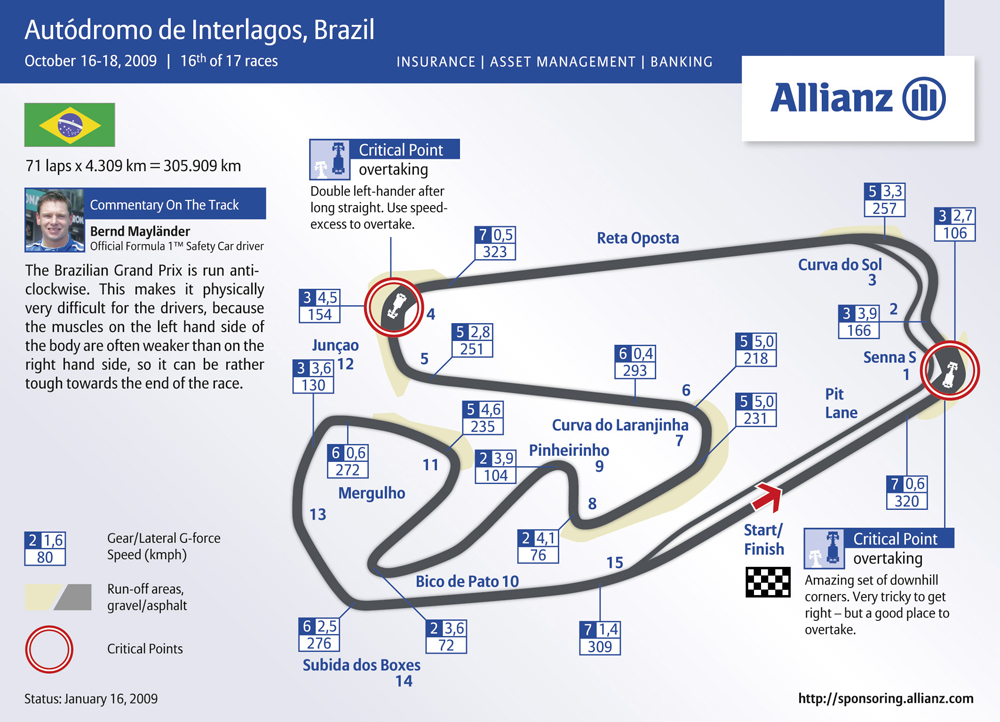 Track Map
Mario Isola, Pirelli Boss
"Interlagos is nearly always an exciting grand prix, where there's plenty going on: the compact track means that there's generally quite a lot of overtaking, with drivers also having to go frequently off the racing line. It's corner after corner, which keeps the tires busy, and it's an old school track with not much run off, so mistakes are generally punished. Add in the variable weather and probability of safety cars as well, and this tends to make for an unpredictable weekend. You have to be prepared for everything: we don't know for sure yet which conditions we'll be facing, but our choice of the hardest tires means that the teams will be able to push hard even if they are running – as is likely – a one-stop strategy."
Dave Robson, Williams Senior Race Engineer:
As the 2019 season begins to draw to a close, we make our annual trip to Sao Paulo for the penultimate event of the year. The Interlagos track offers a fascinating mix of corners and elevation change all set in an amphitheater some 750m above sea level.
The weather often plays a big part in Sao Paulo with heavy rain or very high track temperatures equally likely in November. The current forecast is for relatively benign conditions, but this can change very quickly.
Pirelli have provided their hardest compound range for this event, a combination previously seen in Japan and Belgium, and this should provide a range of viable strategies for the race.
Nicholas will drive Robert's car in FP1 at this event for his final free practice outing of the season. We look forward to Nicholas's help in setting up the car for this demanding circuit. In addition to the normal qualifying and race preparation, we will also look at several test items as we continue our build-up to the 2020 season.
Robert Kubica
The next Grand Prix is in Brazil, and it's a track that I know pretty well. The layout of Interlagos is unique, it runs anti-clockwise and has a long straight uphill which makes it quite challenging. Overall, it should be good fun to drive.
George Russell
The 2017 race weekend here in Brazil was the first one I took part in, driving in FP1, so I have fond memories of the place. It is a really great circuit with a lot of character, and one that I am looking forward to driving again.
Nicholas Latifi
I am excited to get another opportunity to jump back in the car in Brazil. It will be my third FP1 in a row, in such a short period of time, so that's good for the rhythm. I drove in FP1 there last year, so I know the track and that will help me get up to speed. It is a unique circuit, and an older style compared to the more modern venues. It is smaller, tighter, but the track has a lot of character and has been on the calendar for a while. I'm looking forward to getting out there and experiencing it once again.