Harvick Powers To Championship 4 With Texas Cup Win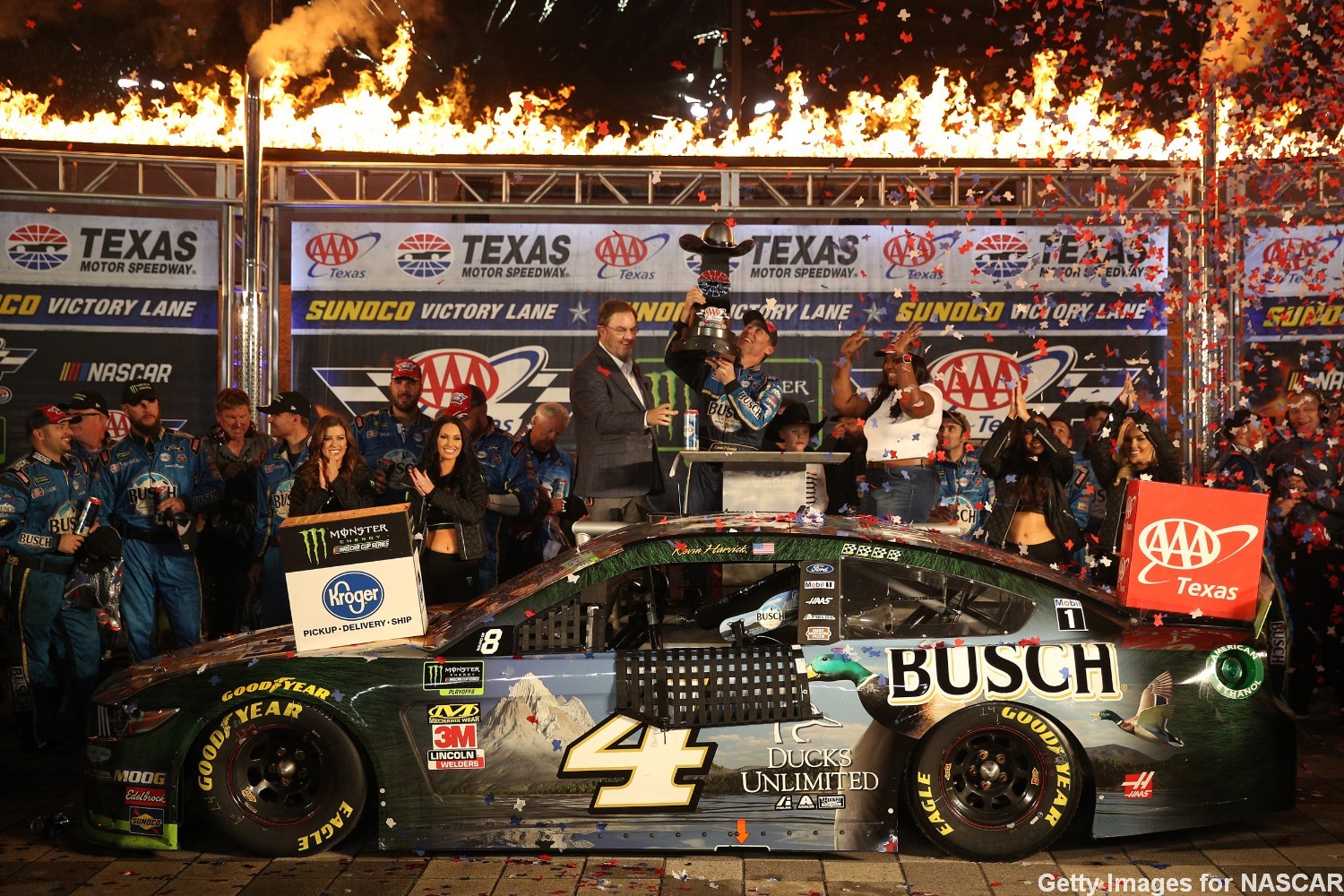 Kevin Harvick, driver of the #4 Busch Beer/Ducks Unlimited Ford, celebrates in Victory Lane after winning the Monster Energy NASCAR Cup Series AAA Texas 500
There was just no denying Kevin Harvick on Sunday night at Texas Motor Speedway.
Harvick powered to the lead on lap 255 of the Monster Energy NASCAR Cup Series AAA Texas 500, and drove away from the pack to score the victory.
More importantly, it punches his ticket to the Championship 4 with just one race remaining until the season finale at Homestead-Miami Speedway. Harvick came into the day under the cutoff line, and can go to next week's race at Phoenix with no Playoff worries.
Harvick said he and his team were already prepping for Homestead.
"Well, we've already been going down the road. They've already built the car, picked a direction," he said. "Like we talked about earlier, we've got so many things that – so many things that you had to choose from an aero standpoint, and Homestead is such a unique racetrack.
[adinserter name="GOOGLE AD"]"We've already been to the simulator, we've already built the car, and now we've just got to make sure that we do what we think is right and go with our gut and see what happens."
It marks the third straight Texas Playoff victory for Harvick, not to mention the fourth win of the season and 49th of his series career. That ties him with team owner Tony Stewart for 14th on the series all-time win list.
It was not as easy as it might have seemed, however. After winning the first segment of the race, a slow pit stop put Harvick back in the pack. Later in the event, a penalty for having equipment over the wall too early again put Harvick in the back of the pack.
He raced his way forward again, and on the final restart of the night on lap 250, Harvick used a bold three-wide move to get to the third spot behind leader Almirola and Suarez.
One lap later, he powered around Suarez for second. On lap 255, he would move to the inside of Almirola to challenge for the lead. Almirola battled back, but Harvick was able to close the deal. From there, he went virtually untouched the rest of the way.
"Well, we had a bad restart one time when we got buried back there, but I think as we came in, we put another set of tires on, we were really able to make up some time," Harvick said. "Our car was just so fast through 3 and 4, as long as I could keep my momentum up, I could get up beside him. So it was definitely fast, and speed made up for our Ducks Unlimited Busch Beer Ford Mustang tonight what we lacked a little bit in handling."
It was a statement night for all of Stewart-Haas Racing, as Harvick, Almirola and Suarez swept the top three.
"Yeah, for a little while I thought we had a car capable of winning," Almirola said. "When Harvick got a good restart there and was able to keep pace with us I knew I was in trouble. His car was a good bit faster than ours in clean air."
"That was a very solid night and I am very happy with the performance and speed that we brought from the shop," Suarez said. "Everyone back at the shop did a great job. We knew we would be fast here. We had a solid performance here last time. We did a good job. We had good execution and a good clean day."
Playoff contender Joey Logano finished in fourth, with Alex Bowman in fifth.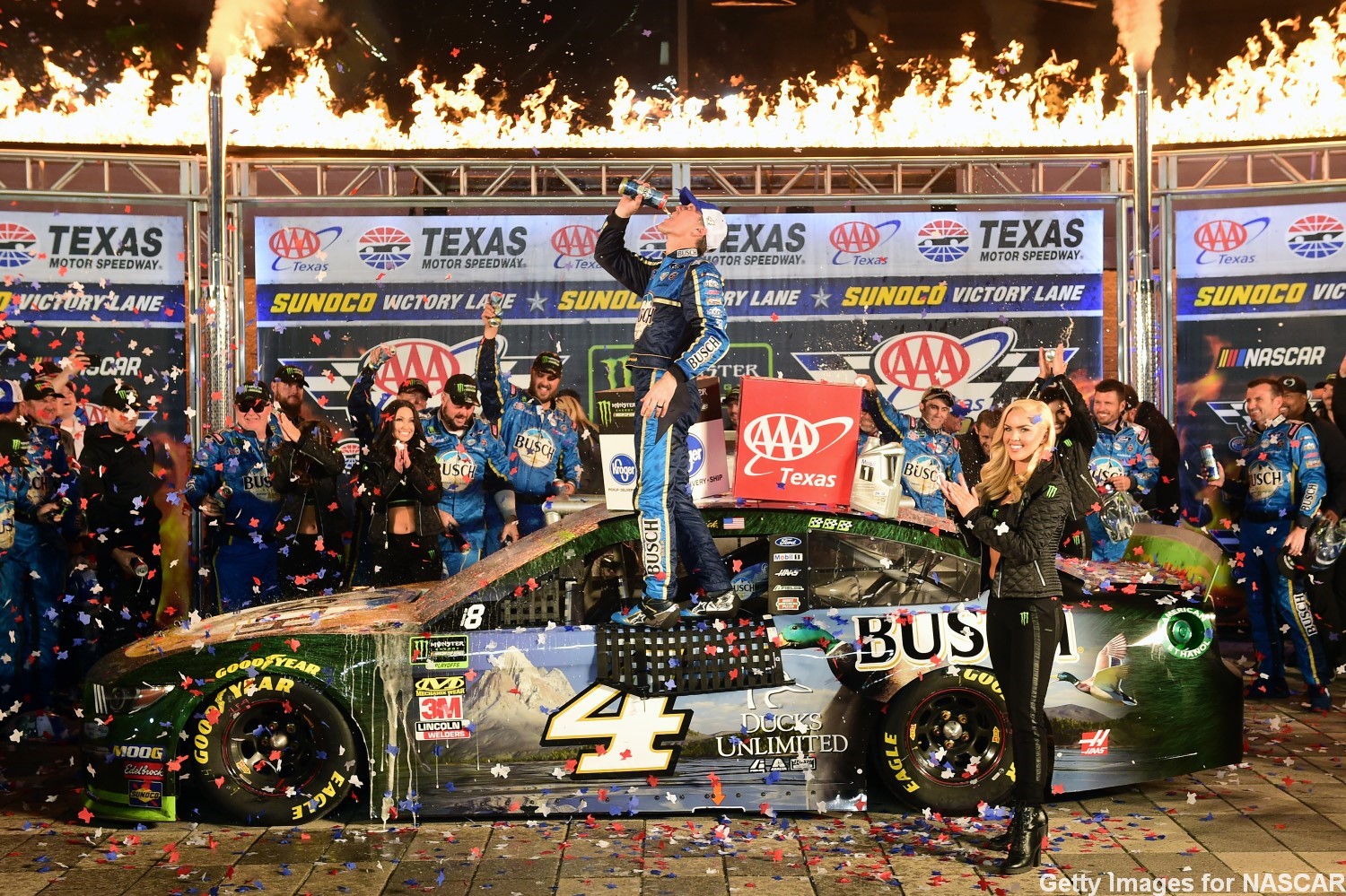 Kevin Harvick, driver of the #4 Busch Beer/Ducks Unlimited Ford, celebrates in Victory Lane after winning the Monster Energy NASCAR Cup Series AAA Texas 500
Martin Truex, Jr., Kyle Busch, Ryan Blaney, Erik Jones and Kurt Busch rounded out the top ten.
It was a very hard day in the Lone Star State for two of the Cup Playoff contenders, thanks in part to the traction compound officials put down in hopes of making the racing more competitive.
Instead, just as the night before in the NASCAR Xfinity Series race, the compound made the upper groove slick and treacherous for the first half of the race.
Dawsonville, Georgia's Chase Elliott came into the weekend in a must-win scenario to make the Championship 4. He leaves in the same boat.
Elliott brought out the first caution of the day on lap nine when his car got loose in turn 2 while running in the compound, making hard contact with the outside wall. After making extensive repairs, Elliott soldiered home to a 32nd place finish, 22 laps down to the leaders.
"I made a mistake, got loose and crashed. I really hate that happened," Elliott said. "Obviously, it's not good and not what you're looking for. It's just my mistake and there's really no excuse for it. It's just all eyes on Phoenix."
Denny Hamlin came into the weekend appearing to be in strong shape to make the cut. He leaves probably needing a very strong run – if not a win – to make the Championship 4.
On lap 81, Hamlin's car got into the compound in turn four. His car broke loose, spinning down the front stretch and into the grass. He made contact with a portion of the infield quarter-mile track, leaving his No. 11 Toyota extensively damaged.
After making repairs, Hamlin finished seven laps down in 28th.
Just got up in that stuff before it was really broke in. Just lost control," Hamlin said. "That's all there is to it. Proud of the whole FedEx team for putting their best effort forward so we could be there at the end. Did the best we could and we'll go to Phoenix and try to win."
Truex, Jr. and Harvick go into the final cutoff race next weekend in Phoenix locked into the Championship 4. Kyle Busch sits in third place, two points above Logano and 22 points above the cutline. Logano sits in the final transfer spot, 20 points ahead of Hamlin.
Blaney and Larson both trail Logano by 23 points, with Elliott now 78 points behind, needing nothing short of a win to make the cut.
Two non-playoff drivers had a scary moment on lap 52. Brad Keselowski's No. 2 Ford spun in the compound in turn four, hitting the outside wall. Ricky Stenhouse, Jr. got on the brakes in an attempt to avoid Keselowski, but his Ford broke loose as well, making hard contact with both the wall and Keselowski's car.
Both drivers were eliminated from the race.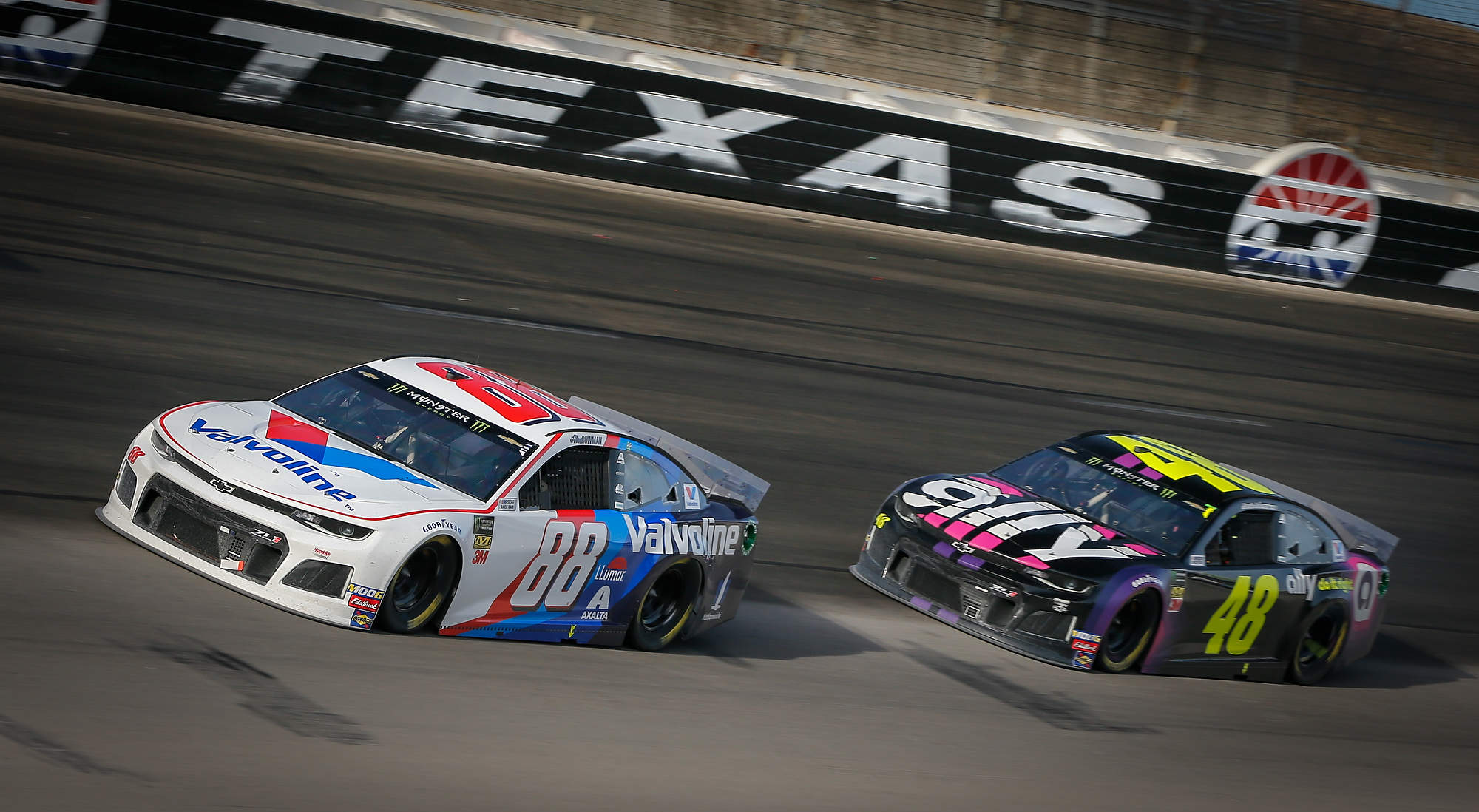 #48 Jimmie Johnson just needs to retire. He's either slow, or he looses control and crashes, like he did today. It's sad to watch
"I just busted my butt," Keselowski said. "I feel terrible for Ricky (Stenhouse, Jr.), he didn't deserve to get caught up in it. I was just real loose and trying to make something happen. When you are getting passed by other cars you kind of lose your confidence and you try something and I knew better. My butt told me I would wreck if I do that. I was getting passed and swung for the fence and I hit it. It just sucks. I am kind of embarrassed to do that. I was just trying to make something happen for my team and swung too hard."
"We got our car better there and we were running top-five but with the flip-flop of track position we made an adjustment and I got running 1 and 2 really good and passed some really good cars," said Stenhouse, Jr. "Then we got around to Brad (Keselowski) there in 1 and 2 and he got loose underneath me and almost crashed us down there. We lost a lot of track position. Then going into turn 3 there I was running the top and saw him getting loose. When I checked up my car got loose as well. I was just trying to avoid him and it got mine sideways. It is a bummer of a weekend."
Jimmie Johnson appeared to have the best run of his season in hand, as he led several laps during the second segment of the race. But it all came apart on lap 185 when Johnson's car broke loose in turn one, making heavy contact with the outside wall in turn two.
After attempting repairs, Johnson was unable to meet minimum speed, and was parked by NASCAR officials for the rest of the day.
Results
| | | | | | | |
| --- | --- | --- | --- | --- | --- | --- |
| Fin | Str | No. | Driver | Team | Laps | Status |
| 1 | 1 | 4 | Kevin Harvick (P) | Busch Beer/Ducks Unlimited Ford | 334 | Running |
| 2 | 6 | 10 | Aric Almirola | Smithfield Ford | 334 | Running |
| 3 | 7 | 41 | Daniel Suarez | Walmart Family Mobile Ford | 334 | Running |
| 4 | 11 | 22 | Joey Logano (P) | AAA Insurance Ford | 334 | Running |
| 5 | 5 | 88 | Alex Bowman | Valvoline Chevrolet | 334 | Running |
| 6 | 17 | 19 | Martin Truex Jr. (P) | Bass Pro Shops Toyota | 334 | Running |
| 7 | 12 | 18 | Kyle Busch (P) | M&M's Toyota | 334 | Running |
| 8 | 15 | 12 | Ryan Blaney (P) | Wabash National Ford | 334 | Running |
| 9 | 4 | 1 | Kurt Busch | Monster Energy Chevrolet | 334 | Running |
| 10 | 2 | 20 | Erik Jones | Sport Clips Toyota | 334 | Running |
| 11 | 24 | 14 | Clint Bowyer | Mobil 1/Rush Truck Centers Ford | 334 | Running |
| 12 | 13 | 42 | Kyle Larson (P) | McDonald's Chevrolet | 334 | Running |
| 13 | 21 | 3 | Austin Dillon | RigUp Chevrolet | 334 | Running |
| 14 | 10 | 95 | Matt DiBenedetto | Procore Toyota | 334 | Running |
| 15 | 25 | 6 | Ryan Newman | Roush Performance Ford | 333 | Running |
| 16 | 16 | 8 | Daniel Hemric # | Cat Dozers Chevrolet | 333 | Running |
| 17 | 18 | 24 | William Byron | Axalta Chevrolet | 333 | Running |
| 18 | 19 | 13 | Ty Dillon | GEICO Military Chevrolet | 333 | Running |
| 19 | 20 | 37 | Chris Buescher | Slim Jim Chevrolet | 333 | Running |
| 20 | 31 | 21 | Paul Menard | Menards/Jack Links Ford | 333 | Running |
| 21 | 29 | 36 | John Hunter Nemechek(i) | Speedy Cash Ford | 333 | Running |
| 22 | 30 | 96 | * Parker Kligerman(i) | TRD 40th Anniversary Toyota | 332 | Running |
| 23 | 28 | 47 | Ryan Preece # | Kroger Chevrolet | 331 | Running |
| 24 | 22 | 43 | Bubba Wallace | Covert Auto Group Chevrolet | 331 | Running |
| 25 | 27 | 34 | Michael McDowell | Love's Travel Stops Ford | 329 | Running |
| 26 | 34 | 53 | * JJ Yeley(i) | Factor One Source Pharmacy Ford | 329 | Running |
| 27 | 32 | 00 | Landon Cassill(i) | Pop-A-Lock Chevrolet | 328 | Running |
| 28 | 3 | 11 | Denny Hamlin (P) | FedEx Office Toyota | 328 | Running |
| 29 | 38 | 15 | Joe Nemechek(i) | Xchange of America Chevrolet | 327 | Running |
| 30 | 39 | 51 | Josh Bilicki(i) | Jacob Companies Chevrolet | 323 | Running |
| 31 | 35 | 27 | * Ross Chastain(i) | Low T Center Chevrolet | 319 | Running |
| 32 | 14 | 9 | Chase Elliott (P) | NAPA Auto Parts Chevrolet | 312 | Running |
| 33 | 37 | 77 | Quin Houff | Chevrolet | 202 | Hub |
| 34 | 23 | 48 | Jimmie Johnson | Ally Chevrolet | 199 | DVP |
| 35 | 26 | 38 | David Ragan | Mystik Lubricants Ford | 189 | Accident |
| 36 | 36 | 52 | Garrett Smithley(i) | Victory Lane/Kendall Oil Ford | 188 | Accident |
| 37 | 40 | 66 | * Timmy Hill(i) | TEX TALK Toyota | 156 | Engine |
| 38 | 33 | 32 | Corey LaJoie | Schluter Systems Ford | 67 | Accident |
| 39 | 8 | 2 | Brad Keselowski | Wurth Ford | 52 | Accident |
| 40 | 9 | 17 | Ricky Stenhouse Jr. | Fastenal Ford | 52 | Accident |