Bottas wins USGP from pole for another Mercedes 1-2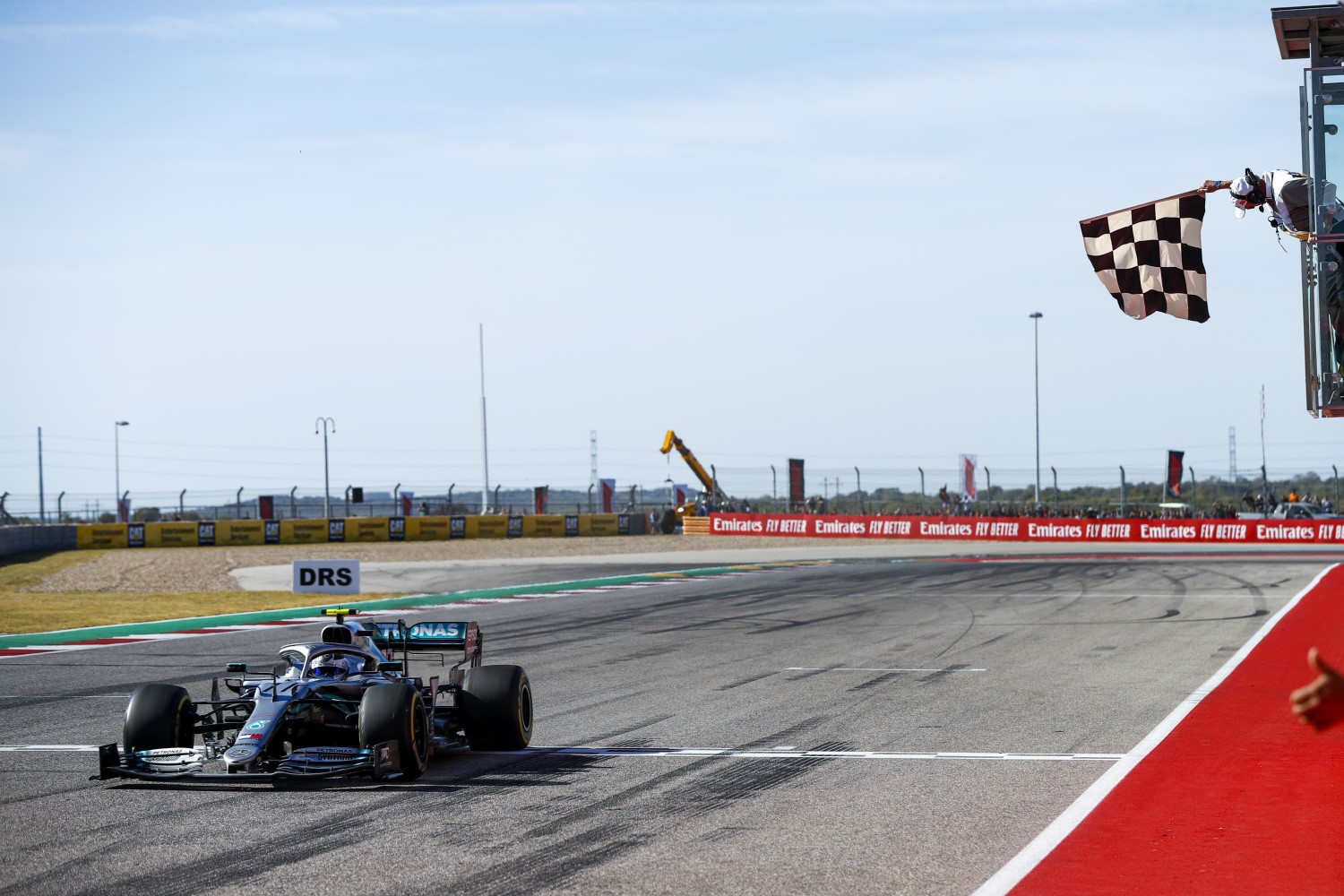 Valtteri Bottas takes his 4th win of season
Valtteri Bottas took his 4th win of the 2019 F1 season leading the USGP most of the way in his #77 Mercedes.
Bottas was 4.1 seconds ahead of his Mercedes teammate Lewis Hamilton in 2nd, but that was enough for Hamilton to lock up his 6th F1 title. He is so blessed to have been driving the best car in F1 for 5 straight years.
Max Verstappen finished 1-second behind Hamilton in third for Red Bull. Ferrari had a disastrous race with Charles Leclerc 52 seconds behind in 4th while his teammate fell out early with a broken right-rear suspension.
Alex Albon rounded out the top-5 in the 2nd Red Bull but he was 78 seconds behind.
[adinserter name="GOOGLE AD"]"It's a nice win, feels good. It was the only thing I could focus on this week, obviously it wasn't enough and Lewis has the title… Big congrats to him. He deserves it, he had a strong season," said Bottas
"Overwhelming. It was such a tough race today, Valtteri did a fantastic job. I didn't think the one stop was going to be possible," Hamilton said afterward
"They were a little bit faster today. It was a good race, it was fun. We had good pace today. The yellow flag on the back straight – otherwise I think we could have been second today," stated Verstappen.
Another fantastic race from Renault's Daniel Ricciardo saw the Australian finishing sixth, keeping the McLaren duo of Lando Norris and Sainz at bay, while the sister Renault of Nico Hulkenberg was ninth.
Toro Rosso's Daniil Kvyat crossed the line in P10, but was almost immediately handed a five-second time penalty for a late collision with Racing Point's Sergio Perez, dropping him to 12th and lifting the Mexican into the final points slot.
A scary moment for Sebastian Vettel, meanwhile, saw him eliminated on Lap 8 of the race meanwhile, the Ferrari driver – who'd started P2 – suffering sudden suspension.
Bottas 2 Stops vs 1 for Hamilton
Bottas made a 2-stop strategy work, but just barely as Hamilton came a close second using a 1-stop strategy.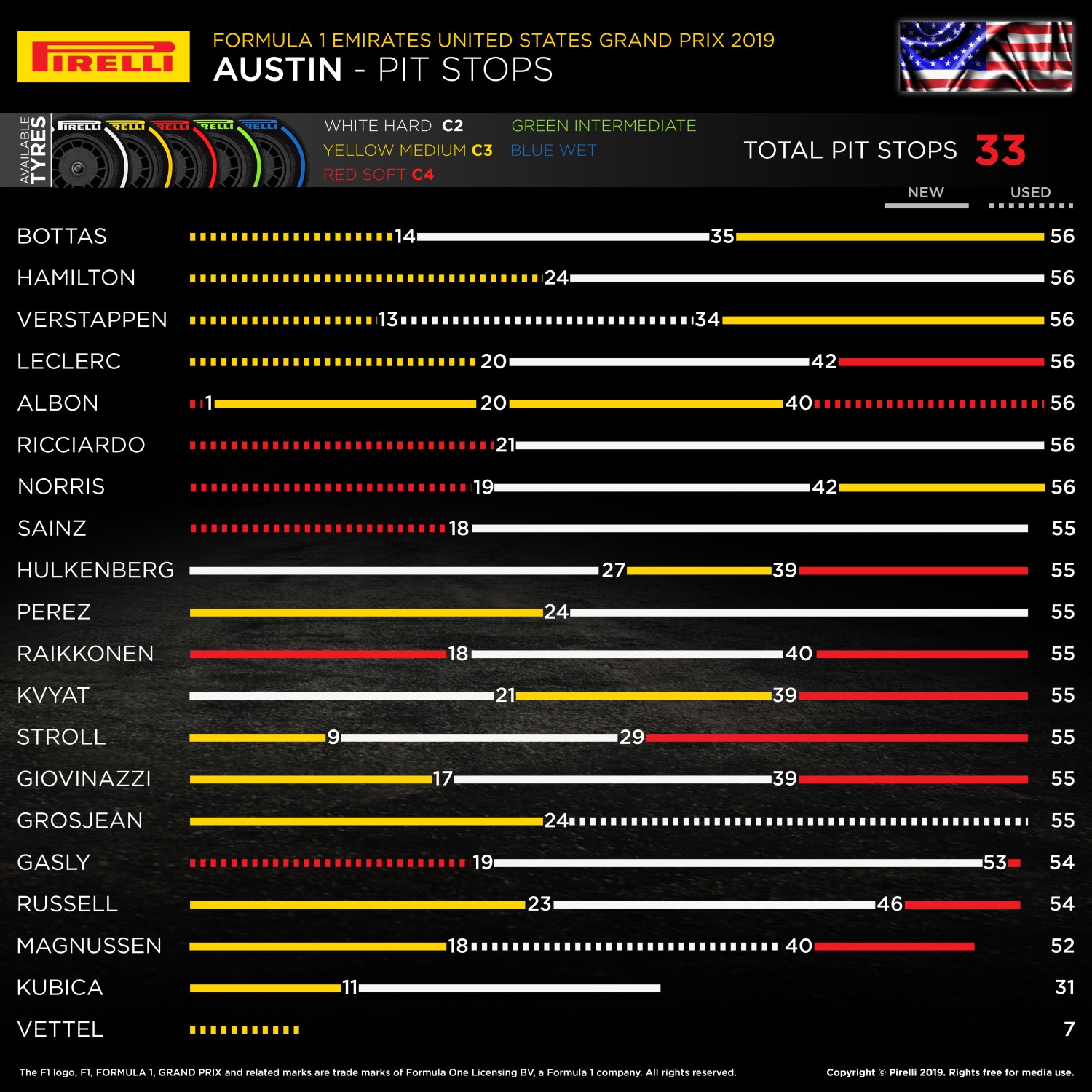 Click to enlarge
Race News Bits
Once again Hamilton wins another title in the best car

Valtteri Bottas has now won four races in 2019 – the most of any season in his F1 career. He has also now surpassed his best-ever points total for a season (his previous best was 305 points in 2017).

Lewis Hamilton's sixth world championship moved him past the five of Juan-Manuel Fangio and leaves him trailing only the seven of Michael Schumacher, the driver he replaced at Mercedes at the start of 2013.
Hamilton claimed the 150th podium finish of his career, just five short of Michael Schumacher's record.
Hamilton secured the world title in the 1,000th world championship race to feature a British driver.
Max Verstappen – in his 100th Grand Prix start – finished in the top three on the road at COTA for the third year in a row (a post-race penalty relegated him to fourth in 2017)
With Charles Leclerc over 50 seconds adrift of the race winner in fourth place, and Sebastian Vettel retiring with suspension failure, this was the first race since July in which Ferrari did not feature on the podium.
It was Vettel's first-ever retirement in his nine US Grands Prix to date, and his second DNF in the last four races due to a mechanical failure (he also retired in Russia).
Alex Albon maintained his record of finishing in the top five in all seven of his Red Bull starts, during which he has outscored team mate Verstappen 68 points to 54.
Daniel Ricciardo's sixth place matched Renault's best-ever result at COTA, and was his first finish on this track since 2016.
Team mate Nico Hulkenberg in ninth made it two cars in the top 10 for Renault. Had he not been disqualified at Suzuka, he would now have a seven-race scoring streak.
With Lando Norris seventh and Carlos Sainz eighth, McLaren saw both cars come home in the points for the sixth time this season.
Quotes
Valtteri Bottas
First of all huge congratulations to Lewis – six championships is an impressive achievement! He had a strong season and he deserves the title, he was better overall. Lewis is a tough opponent, he has very few weaknesses, makes almost no mistakes and drives very consistently. But I've been gaining some good momentum, so I'm looking forward to another close fight with him next year. It's been a really good weekend for me and the team. I struggled at this track in previous years, so it was great to cross the line in first place. It was not an easy race; I had a strong start and a good first stint, but we had to switch to a two-stop to cover Max and I was a bit worried that Lewis on the one-stop might be on the better strategy. It was a proper fight and quite a bit of fun; I had to really push, but my pace was strong and I managed to catch Lewis towards the end. We had a good battle on track and I passed him to secure the win. It feels really good to win the race like that when you have to really fight for it.
Lewis Hamilton
It's hard to explain what I'm feeling right now, to be honest. Cloud nine doesn't even get close, it's somewhere far above that. It's been the hardest year I can remember; it's been so challenging, going through the ups and downs, so right now I'm just so full of emotion, it's overwhelming. I feel truly humbled, and really, really grateful to everyone back at the factories, the entire Daimler family and everyone at PETRONAS – everyone who has worked so hard to enable us to do what we do and achieve this. It's such a privilege and honour to work for this team, to be able to go out there and have the platform to put in performances like today. And Niki, I miss him so much. Today, he'd have taken his cap off. I wouldn't have been able to do this without Niki, he's here with us in spirit. I saw my parents right after the race and seeing my dad's smile, it says it all. My family have supported me since day one, they worked so hard for me to be here today. I'm so glad they could all come out here, together. Yesterday was a difficult day and today I just wanted to recover and deliver a one-two for the team. Valtteri did a fantastic job, so huge congratulations to him.
Toto Wolff
I'm so proud of everyone – what an incredible achievement! There's a massive amount of work behind the scenes to secure a result like this, where one driver claims the Championship and the other one wins the race. A massive thank you to everyone who contributed to this – here at the track, back at home in Brackley and Brixworth, at Daimler in Stuttgart and at PETRONAS in Kuala Lumpur. Taking his sixth drivers' title is a truly remarkable and special achievement. You can see how motivated Lewis still is, he wants to win every race and get the best result possible. It's not been an easy year, with tough competition and the loss of Niki. I'd like to think Niki's looking down on us, tipping his cap after today's result. Valtteri drove an absolutely faultless race today, he has been on incredible form all weekend and he thoroughly deserved the victory. Lewis fought back in style and put in a great drive to go from P5 to P2.
James Allison
The amount of effort it takes to win a championship is huge, so when it all comes to the final fruition, you just swell up with great, great pleasure – and to have the cherry on the cake of standing on that podium looking out on our team and everybody in the crowd was fantastic. It's brilliant to be part of this team – it makes you really keen to work, it takes you way above and beyond what you would normally give because you're surrounded by all these people that you don't want to let down and you enjoy being in an environment that is supporting you, letting you take risks, letting you screw up, but not slapping you in the face for it, just urging you on collectively as you go. It's an exciting place to be and it tends to make people want to be in it. Today, we all think of Niki who was such an important part of our team. Losing him was quite a massive blow, particularly to Toto who spent so much of his working life with him, but for all of us as well, because Niki was someone with such a big personality, such a huge figure in our sport and such a friend to the team. I think he would have appreciated this – doing it in such fine style this year, he would have seen this as a team at the top of its game. He'd probably be telling us to work on next years car now, but I think we've done him proud this season.
Race Results
| | | | | | |
| --- | --- | --- | --- | --- | --- |
| POS | NO | DRIVER | CAR | LAPS | BEHIND |
| 1 | 77 | Valtteri Bottas | Mercedes | 56 | +0.000s |
| 2 | 44 | Lewis Hamilton | Mercedes | 56 | +4.148s |
| 3 | 33 | Max Verstappen | Red Bull Racing Honda | 56 | +5.002s |
| 4 | 16 | Charles Leclerc | Ferrari | 56 | +52.239s |
| 5 | 23 | Alexander Albon | Red Bull Racing Honda | 56 | +78.038s |
| 6 | 3 | Daniel Ricciardo | Renault | 56 | +90.366s |
| 7 | 4 | Lando Norris | McLaren Renault | 56 | +90.764s |
| 8 | 55 | Carlos Sainz | McLaren Renault | 55 | +1 lap |
| 9 | 27 | Nico Hulkenberg | Renault | 55 | +1 lap |
| 10 | 26 | Daniil Kvyat | Scuderia Toro Rosso Honda | 55 | +1 lap |
| 11 | 11 | Sergio Perez | Racing Point Bwt Mercedes | 55 | +1 lap |
| 12 | 7 | Kimi Raikkonen | Alfa Romeo Racing Ferrari | 55 | +1 lap |
| 13 | 18 | Lance Stroll | Racing Point Bwt Mercedes | 55 | +1 lap |
| 14 | 99 | Antonio Giovinazzi | Alfa Romeo Racing Ferrari | 55 | +1 lap |
| 15 | 8 | Romain Grosjean | Haas Ferrari | 55 | +1 lap |
| 16 | 10 | Pierre Gasly | Scuderia Toro Rosso Honda | 54 | DNF |
| 17 | 63 | George Russell | Williams Mercedes | 54 | +2 laps |
| 18 | 20 | Kevin Magnussen | Haas Ferrari | 52 | DNF |
| NC | 88 | Robert Kubica | Williams Mercedes | 31 | DNF |
| NC | 5 | Sebastian Vettel | Ferrari | 7 | +16.748s |