Vinales wins Malaysian MotoGP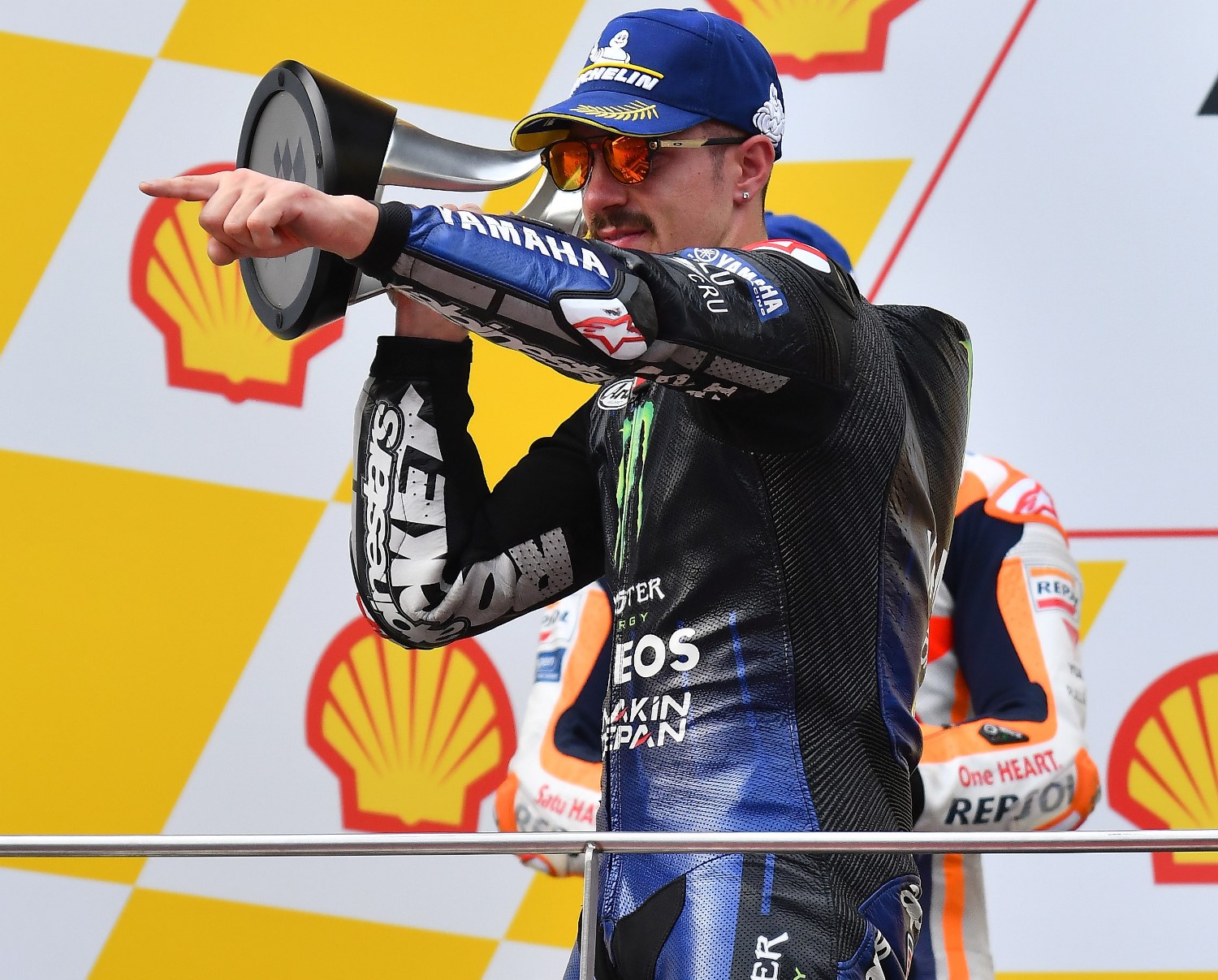 Maverick Vinales
Yamaha rider Maverick Vinales staved off MotoGP world champion Marc Marquez's spectacular charge to win the Malaysian Grand Prix for his second win of the 2019 season at the Sepang International Circuit on Sunday.
A week after crashing out in the final lap at Phillip Island to allow Marquez win the season's penultimate race in Australia, Vinales built an early lead and raced clear of his fellow Spaniard, who finished second after starting 11th following a crash in Q2 qualifying.
[adinserter name="GOOGLE AD"]Ducati's Andrea Dovizioso finished third, denying Yamaha's Valentino Rossi a podium place.
Yamaha's Fabio Quartararo finished a disappointing seventh, failing to reproduce the speed which earned him pole position on Saturday.
Vinales did exactly what he had planned yesterday. He had a good start, hung on in second place through the first corners and soon battled his way to the front. Once he hit the number-one spot, the Spaniard was off and gradually built a solid lead of 1.5s.
The number-12 rider's campaign was all about focus. Riding on his own in the hot and humid Sepang conditions, he had to remain fully concentrated as he set the pace and managed the gap to Marc Marquez in second place. Vinales didn't put a foot wrong all race and took a text-book victory, with a 3.059s advantage over second.
The Yamaha rider dedicated the win to the late Indonesian rider Afridza Munandar, who was his favorite in the Idemitsu Asia Talent Cup. Yamaha once again extend their sincere condolences to the family, friends, and loved ones of Munandar.
Marquez continued to break records in Sepang, his 395 points after finishing second becomes the highest points scored in a single MotoGP season.
After the unfortunate death of Idemitsu Asia Talent Cup rider Afridza Munandar on Saturday, the MotoGP Championship rallied together to remember him with fantastic racing at the Sepang International Circuit.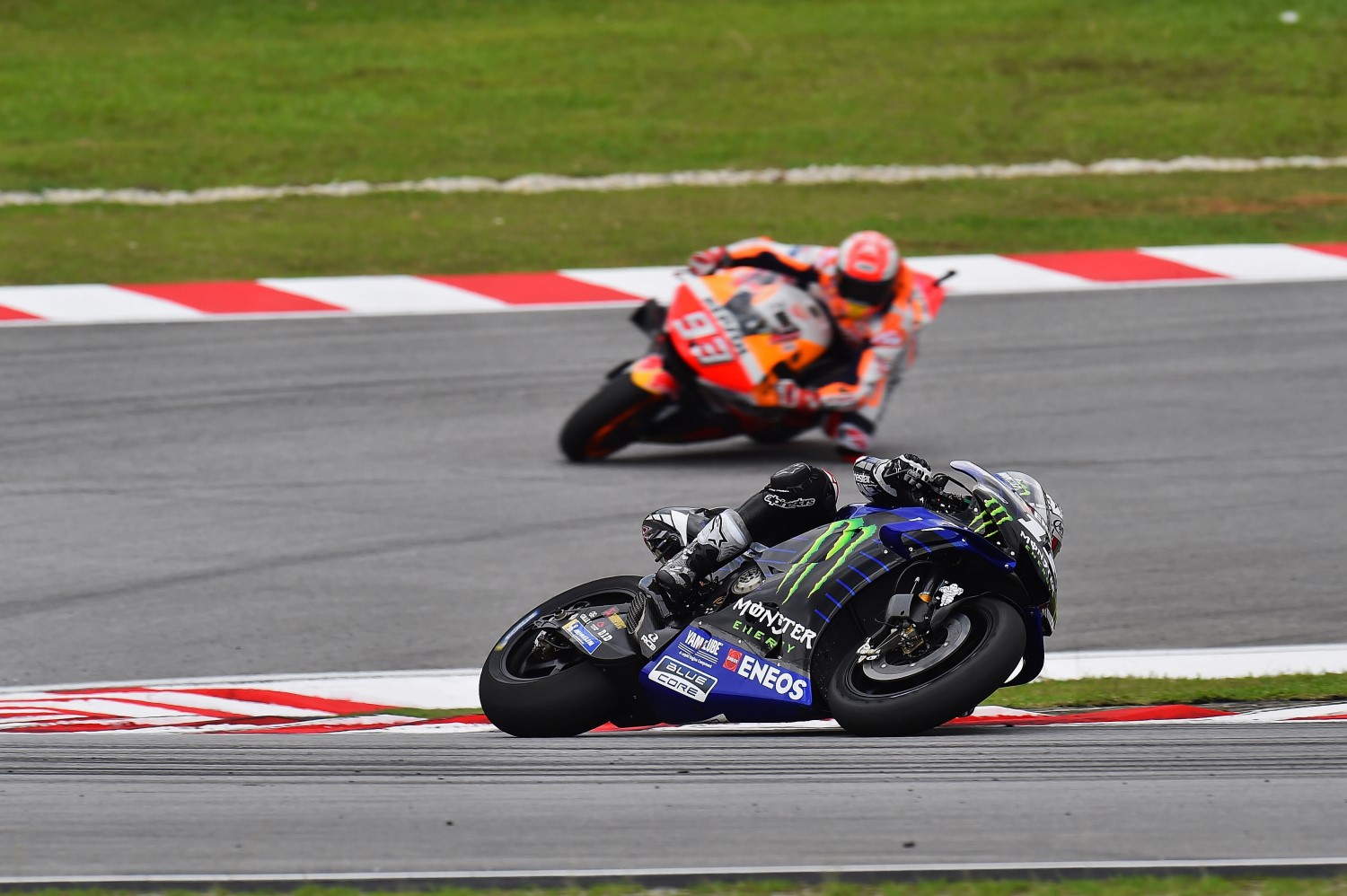 Marquez hunts down Vinales
There was no stopping Marc Marquez who bounced back from his biggest crash of the year to put in a champion's performance. Lightning off the line, the 55-time MotoGP race winner gained six positions in the first two corners alone and ended the first lap in second place.
With nine places gained, the reigning World Champion settled in behind Jack Miller for a short while. After muscling past the Australian, Marquez began to work on closing the 1.6 second gap to Vinales.
With the gap not reducing after several laps in the 1m59s, Marquez eased his pace to take a well-earned second place in the blazing Malaysian heat. Returning to Europe with 395 points, Marquez now holds the record for most points scored in a single season and passes Jorge Lorenzo's record of 383 World Championship points from 2010.
The result in Malaysia also earns Marquez the honor of being the first rider in history to score 17 MotoGP class podium finishes in a single season, extending his unbroken run of top-two finishes to 15. Marquez's last finish outside of the top two came at the Czech GP in 2018 when he was third.
Maverick Vinales, 1st
"It was an incredible race. We prepared for the race really well all weekend. I felt I had a big potential after the first lap. I took the lead after the first two splits and I kept pushing, pushing, and pushing. Honestly, I'm so happy. We did a good job. What a shame in Australia, because that was a race where I felt I had a lot of potential too, but being in first place here is amazing. I would like to dedicate this race to Munandar, the kid that passed away yesterday. He was my favorite in the Idemitsu Asia Talent Cup. I offer my condolences to all the family."
Malaysian Grand Prix Race Results
| | | | | | | | |
| --- | --- | --- | --- | --- | --- | --- | --- |
| Pos. | Rider | Num | Nat | Pts | Team | Make | Gap |
| 1 | VINALES Maverick | 12 | SPA | 25 | Monster Energy Yamaha MotoGP | Yamaha | 0.000s |
| 2 | MARQUEZ Marc | 93 | SPA | 20 | Repsol Honda Team | Honda | 3.059 |
| 3 | DOVIZIOSO Andrea | 4 | ITA | 16 | Ducati Team | Ducati | 5.611 |
| 4 | ROSSI Valentino | 46 | ITA | 13 | Monster Energy Yamaha MotoGP | Yamaha | 5.965 |
| 5 | RINS Alex | 42 | SPA | 11 | Team Suzuki Ecstar | Suzuki | 6.350 |
| 6 | MORBIDELLI Franco | 21 | ITA | 10 | Petronas Yamaha SRT | Yamaha | 9.993 |
| 7 | QUARTARARO Fabio | 20 | FRA | 9 | Petronas Yamaha SRT | Yamaha | 12.864 |
| 8 | MILLER Jack | 43 | AUS | 8 | Pramac Racing | Ducati | 17.252 |
| 9 | PETRUCCI Danilo | 9 | ITA | 7 | Ducati Team | Ducati | 19.773 |
| 10 | MIR Joan | 36 | SPA | 6 | Team Suzuki Ecstar | Suzuki | 22.854 |
| 11 | ESPARGARO Pol | 44 | SPA | 5 | Red Bull KTM Factory Racing | KTM | 24.821 |
| 12 | BAGNAIA Francesco | 63 | ITA | 4 | Pramac Racing | Ducati | 30.251 |
| 13 | ESPARGARO Aleix | 41 | SPA | 3 | Aprilia Racing Team Gresini | Aprilia | 30.447 |
| 14 | LORENZO Jorge | 99 | SPA | 2 | Repsol Honda Team | Honda | 34.215 |
| 15 | KALLIO Mika | 82 | FIN | 1 | Red Bull KTM Factory Racing | KTM | 34.461 |
| 16 | SYAHRIN Hafizh | 55 | MAL | 0 | Red Bull KTM Tech 3 | KTM | 44.319 |
| 17 | ABRAHAM Karel | 17 | CZE | 0 | Reale Avintia Racing | Ducati | 47.343 |
| 18 | ZARCO Johann | 5 | FRA | 0 | LCR Honda | Honda | DNF |
| 19 | CRUTCHLOW Cal | 35 | GBR | 0 | LCR Honda | Honda | DNF |
| 20 | IANNONE Andrea | 29 | ITA | 0 | Aprilia Racing Team Gresini | Aprilia | DNF |
Rider Standings
| | | | | | | |
| --- | --- | --- | --- | --- | --- | --- |
| Pos. | Rider | Num | Nat | Pts | Team | Make |
| 1 | MARQUEZ Marc | 93 | SPA | 395 | Repsol Honda Team | Honda |
| 2 | DOVIZIOSO Andrea | 4 | ITA | 256 | Ducati Team | Ducati |
| 3 | VINALES Maverick | 12 | SPA | 201 | Monster Energy Yamaha MotoGP | Yamaha |
| 4 | RINS Alex | 42 | SPA | 194 | Team Suzuki Ecstar | Suzuki |
| 5 | PETRUCCI Danilo | 9 | ITA | 176 | Ducati Team | Ducati |
| 6 | QUARTARARO Fabio | 20 | FRA | 172 | Petronas Yamaha SRT | Yamaha |
| 7 | ROSSI Valentino | 46 | ITA | 166 | Monster Energy Yamaha MotoGP | Yamaha |
| 8 | MILLER Jack | 43 | AUS | 149 | Pramac Racing | Ducati |
| 9 | CRUTCHLOW Cal | 35 | GBR | 133 | LCR Honda | Honda |
| 10 | MORBIDELLI Franco | 21 | ITA | 115 | Petronas Yamaha SRT | Yamaha |
| 11 | ESPARGARO Pol | 44 | SPA | 94 | Red Bull KTM Factory Racing | KTM |
| 12 | MIR Joan | 36 | SPA | 83 | Team Suzuki Ecstar | Suzuki |
| 13 | NAKAGAMI Takaaki | 30 | JPN | 74 | LCR Honda | Honda |
| 14 | ESPARGARO Aleix | 41 | SPA | 56 | Aprilia Racing Team Gresini | Aprilia |
| 15 | BAGNAIA Francesco | 63 | ITA | 54 | Pramac Racing | Ducati |
| 16 | IANNONE Andrea | 29 | ITA | 43 | Aprilia Racing Team Gresini | Aprilia |
| 17 | OLIVEIRA Miguel | 88 | POR | 33 | Red Bull KTM Tech 3 | KTM |
| 18 | ZARCO Johann | 5 | FRA | 30 | LCR Honda | Honda |
| 19 | LORENZO Jorge | 99 | SPA | 25 | Repsol Honda Team | Honda |
| 20 | RABAT Tito | 53 | SPA | 18 | Reale Avintia Racing | Ducati |
| 21 | BRADL Stefan | 6 | GER | 16 | Repsol Honda Team | Honda |
| 22 | PIRRO Michele | 51 | ITA | 9 | Ducati Team | Ducati |
| 23 | SYAHRIN Hafizh | 55 | MAL | 8 | Red Bull KTM Tech 3 | KTM |
| 24 | GUINTOLI Sylvain | 50 | FRA | 7 | Team Suzuki Ecstar | Suzuki |
| 25 | ABRAHAM Karel | 17 | CZE | 7 | Reale Avintia Racing | Ducati |
| 26 | KALLIO Mika | 82 | FIN | 3 | Red Bull KTM Factory Racing | KTM |
Team Standings
| | | |
| --- | --- | --- |
| Pos. | Team | Points |
| 1 | Ducati Team | 432 |
| 2 | Repsol Honda Team | 430 |
| 3 | Monster Energy Yamaha MotoGP | 367 |
| 4 | Petronas Yamaha SRT | 287 |
| 5 | Team Suzuki Ecstar | 281 |
| 6 | LCR Honda | 210 |
| 7 | Pramac Racing | 203 |
| 8 | Red Bull KTM Factory Racing | 124 |
| 9 | Aprilia Racing Team Gresini | 99 |
| 10 | Red Bull KTM Tech 3 | 41 |
| 11 | Reale Avintia Racing | 25 |
| 12 | HRC Test Team | 6 |
| 13 | Suzuki Test Team | 3 |
Constructor Standings
| | | |
| --- | --- | --- |
| Pos. | Team | Points |
| 1 | Honda | 401 |
| 2 | Ducati | 302 |
| 3 | Yamaha | 301 |
| 4 | Suzuki | 223 |
| 5 | KTM | 105 |
| 6 | Aprilia | 81 |