Bell Locked Into Championship 4 With Texas NXS Win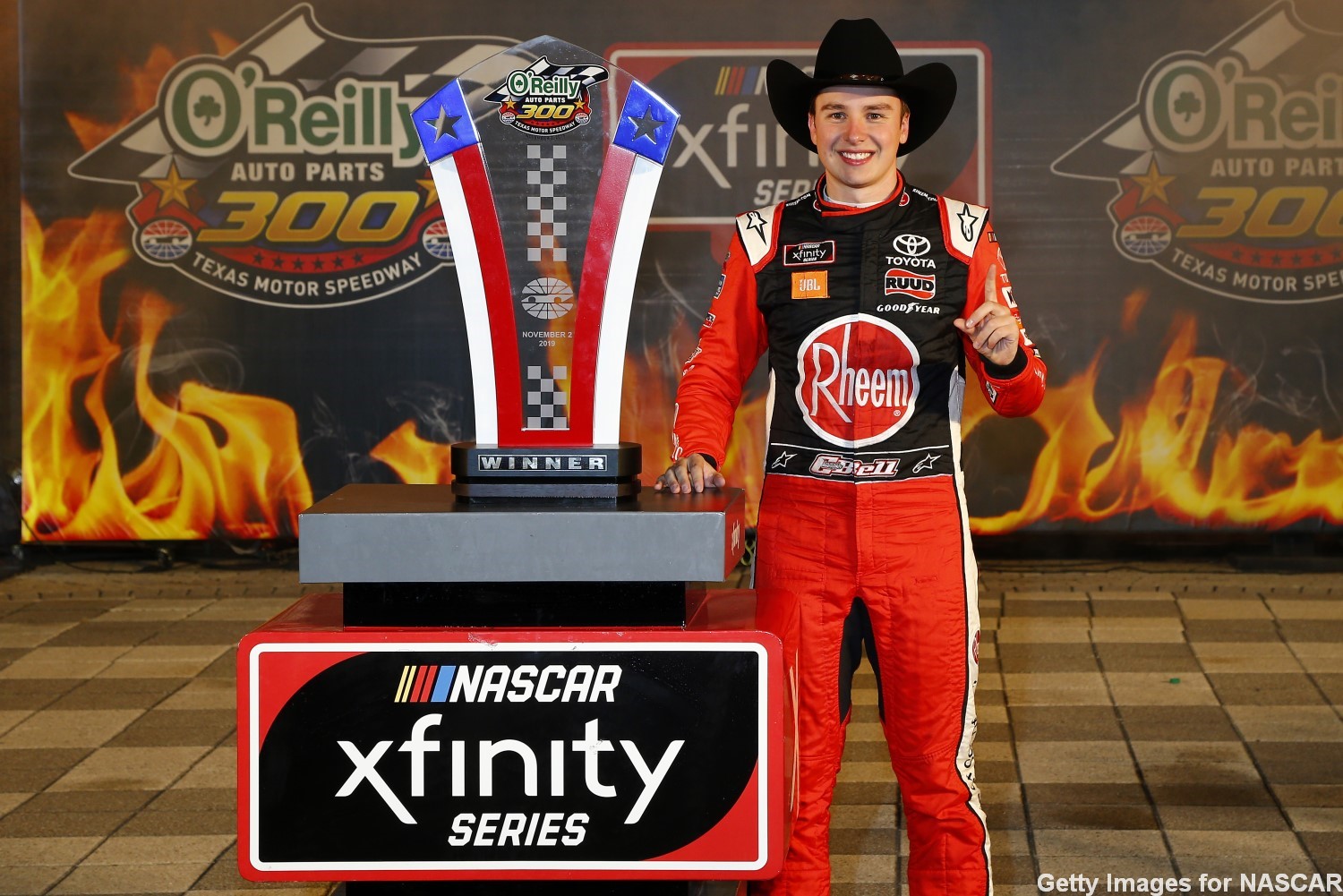 Christopher Bell poses with the trophy in Victory Lane after winning Saturday night's NASCAR Xfinity Series race at Texas Motor Speedway
Christopher Bell made it a Lone Star sweep at Texas Motor Speedway on Saturday night.
Bell made the final pass for the lead with a shove from Austin Cindric on the final restart with 30 laps to go in the O'Reilly Auto Parts 300. From there, he drove away from all competition to score the NASCAR Xfinity Series victory at the Fort Worth, Texas Raceway.
"That's pretty special to win here at Texas," said Bell. "I have a lot of family here."
Bell won both earlier race segments, but found himself buried in the top ten after other teams played pit strategy.
Bell also had to overcome a potential brake issue during the final segment of the race. But his No. 20 had plenty of speed down the stretch to take his eighth win of the season and the 15th of his series career.
It also punches his ticket to the Championship 4 in two weeks at Homestead-Miami Speedway.
"I knew we were very competitive, and then I began having brake problems," said Bell, who led 101 of the race's 200 laps. "And then whenever I got those brake problems, I just wasn't as good. I couldn't keep the car underneath me and I was really loose. So I had to work a little harder, and that red flag helped me and my brakes came back. We were able to drive away."
Ross Chastain used pit strategy to take the lead on lap 141, and looked to have a strong hand to play the role spoiler with a win as a non-Playoff driver late in the going. In the end, he finished in second position.
[adinserter name="GOOGLE AD"]After that push to help Bell to the point, Cindric dropped back to third, a spot he had to fight for with Justin Allgaier, Brandon Jones, and John Hunter Nemechek over the closing laps.
"We had a fast enough Discount Tire Ford Mustang to win the race, no doubt," said Cindric. "Given the right track position we could have done it. We had great execution all day. Wish we hadn't gotten unlucky on some of those restarts and maybe been on the front row for a couple of those final restarts. I knew my job was to be the best pusher and clear the 20 and I did that but I wasn't able to clear the 10. We will move on and go try to win Phoenix. I haven't seen the points yet but if you win, you are in."
While it was a strong night for Bell, it was a rough night for other title hopefuls.
Tyler Reddick had contended for the win until he spun into the inside wall on the backstretch after trying to avoid the slowing car of Chase Briscoe ahead of him. He made heavy contact with the wall, taking out his radiator and ending his night. He was credited with a 29th place finish.
Reddick sits 36 points ahead of the cutoff, and should be safe going into next weekend's race at Phoenix.
Briscoe suffered a cut tire late in the going, and would finish three laps down in 22nd. He now sits below the Playoff cut line by 18 points.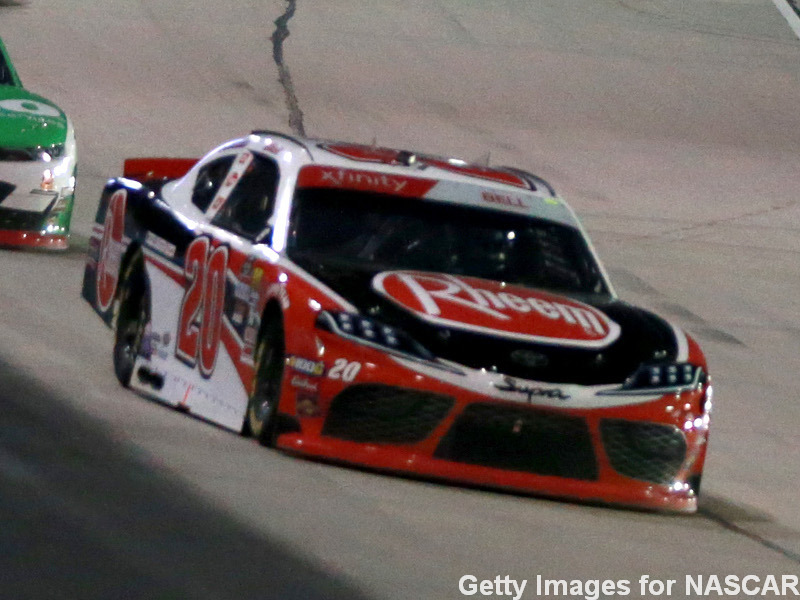 Christopher Bell leads a pack of cars during Saturday night's NASCAR Xfinity Series race at Texas Motor Speedway
Noah Gragson spun on the front stretch off the front bumper of Harrison Burton on lap 150. The infield grass left the No. 9 Chevrolet with heavy front end damage. That led to a red flag condition to allow for track clean up.
Gragson would be credited with a 30th place finish. He now sits eighth in the Playoff standings, and will need a win next weekend at Phoenix to make the Championship 4.
With Bell locked into the Championship 4 with the win, Cole Custer is a virtual lock as he sits 52 points above the cutline. Reddick should make the cut barring a catastrophe with his 36 point advantage, while Justin Allgaier sits 18 points ahead of Briscoe in the final transfer spot.
Michael Annett, who finished the night in 11th, sits 28 points below the cutoff in sixth, followed by Cindric in seventh (-31) and Gragson in eighth (-47).
Allgaier finished in sixth on Saturday night, with Harrison Burton, Cole Custer, Jeb Burton and Ryan Sieg rounding out the top ten.
CHRISTOPHER BELL, No. 20 Rheem Toyota Supra, Joe Gibbs Racing
Finishing Position: 1st
How confident do you feel now walking out of here with a win?
"I like where we are at, that's for sure. There a couple of places earlier in the year that the car drove really, really nice and we were just weren't able to compete with some of the other competitiors, but right now, I feel like we can be a little off on balance and still be competitive. So that's means whenever we hit it we are going to be really good. I feel like the 2 (Tyler Reddick) was really good there with us and obviously he ran into some bad luck there and crashed, but winning is always outstanding."
How strong was your car throughout the night?
"Well, I was struggling early. I was fast, but I didn't really feel that great. We had some issues, and the brakes started going away, and whenever the brakes started going away, I really started struggling. So then, we had a couple long reds, or one long red and another really long yellow that really helped the brakes come back and the handle came back."
How do you feel going into Phoenix?
"Well, this group here loves going to Phoenix, and now we can go to Phoenix with one thing on our mind and that's trying to win. I'm very thankful about that."
Is this excitement or relief after what you went through last year in Phoenix?
"Excitement. I can't wait. I can't wait to get to Phoenix. I love that race track and now I get to focus on one thing, and that is winning the race. I don't know if Jason (Ratcliff, crew chief) was thinking points tonight, but we are definitely not going to have to think points next week."
You are now locked in and you don't have to worry about anything.
"It's nice. The Homestead car has sitting there. It has been getting touched a little bit, but obviously we still have priorties in line, where now, I believe Homestead becomes the number one focus."