Verstappen stripped of pole for Mexican GP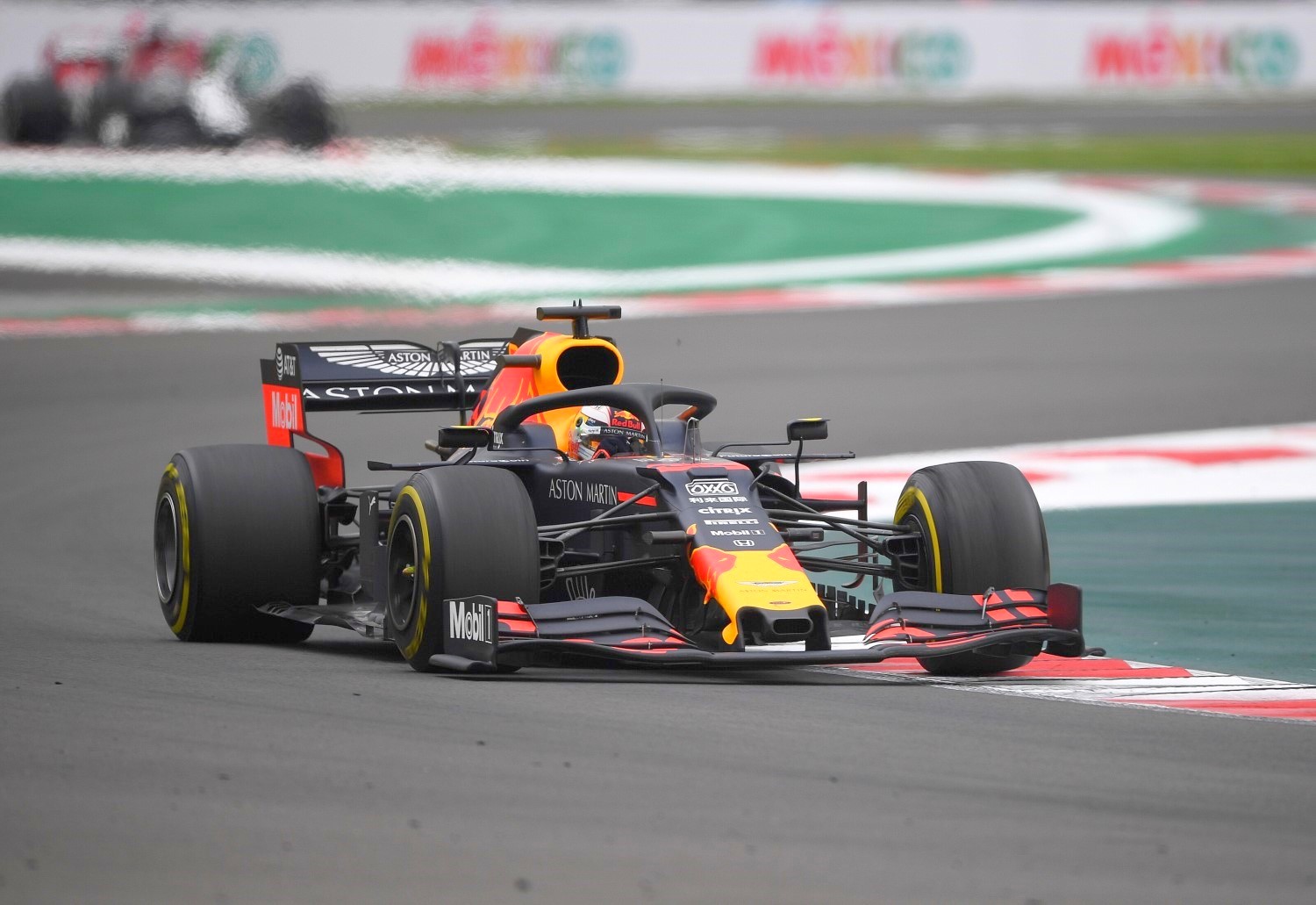 Max Verstappen races to pole, then loses it for cheating
Max Verstappen has been stripped of pole position for failing to slow sufficiently for a yellow flag in the wake of Valtteri Bottas' crash during qualifying in Mexico, with Charles Leclerc promoted to top spot.
Verstappen, already on provisional pole, improved on his effort and set a purple time through the final sector, in which a single yellow flag was shown due to Bottas' crash moments beforehand.
Verstappen in the press conference emphasized that he did not back off.
Stewards subsequently summoned Verstappen to a hearing and deemed his actions worthy of a three-place grid penalty.
Stewards deemed that video, audio and telemetry evidence "clearly showed that the driver attempted to set a meaningful lap time and failed to reduce his speed in the relevant marshaling sector.
"Driver of Car 33 (Verstappen) admitted that he was aware that Car 77 (Bottas) crashed and did see the car on the left-hand-side of the track, but was not aware of the waved yellow flag.
"He also admitted not reducing his speed on the yellow sector.
"The stewards noted from the onboard images of Car 33 that the waved yellow flag was clearly visible and was shown with enough notice.
"Car 5 – Sebastian Vettel reduced speed significantly as per the regulations."
——————————————–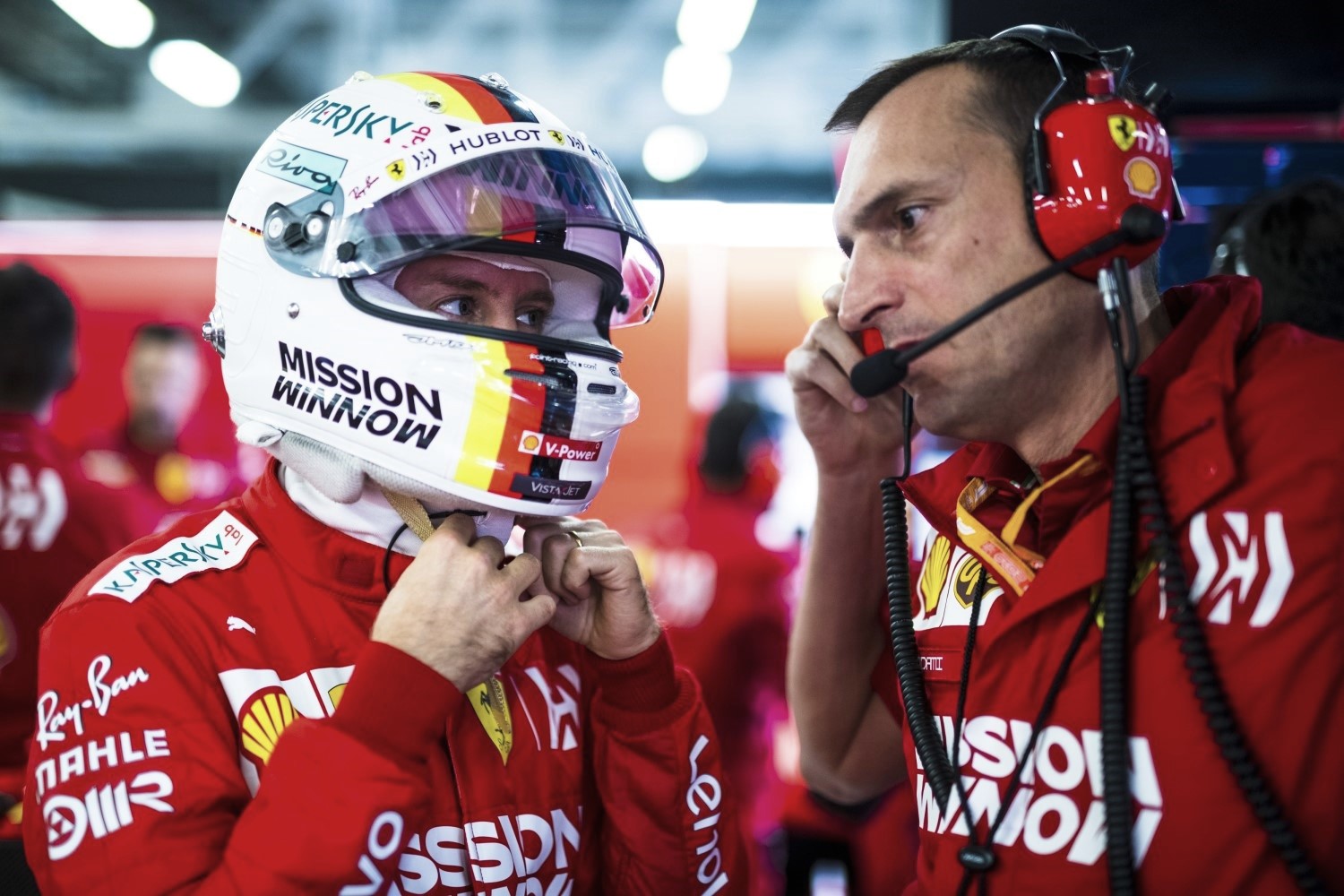 Vettel slowed, Verstappen did not
The winner of the last two Mexican GPs, Max Verstappen, put himself in perfect position for a three-peat with pole position for the Mexican GP. However, the Dutchman actually went fastest of all through the final sector on his last run according to the timing screens, and might be called to the stewards to explain that. After Bottas crashed, the double yellows were waved and thus everyone should have lifted in that sector.
There is a good chance Verstappen will lose is fastest lap of 1m14.758s but his 2nd quick lap of 1m14.9s will still put him on pole unless the Stewards disqualify him from Q3.
Charles Leclerc was 2nd quick in the #16 Ferrari but would not have been if not for Valtteri Bottas crashing in the final corner on the final lap, which forced Sebastian Vettel to back off and he remained third quick in the 2nd Ferrari.
"I had a mistake on my first run, I was confident on my second run I could make up for it but with the double yellow I had to slow down," said Vettel
Lewis Hamilton was 4th for Mercedes while Alex Albon rounded out the top-5 in the 2nd Red Bull Honda.
Bottas hit the barriers hard and it knocked the wind out of him. He was limping and his breathing indicated a heavy impact. He will need to be cleared fit to race, but that car will require quite the rebuild and thus might incur grid penalties. If not, he will start 6th.
Carlos Sainz Jr. once again was best of the rest as he sealed a strong seventh, three-tenths clear of McLaren teammate Lando Norris in eighth.
Completing the top 10 were the Toro Rosso pairing of Daniil Kvyat and Pierre Gasly, with the latter battling illness to set a time good enough for 10th on the grid and just a tenth slower than his teammate.
Home-favorite Sergio Perez missed out Q3 by just 0.008s as he finished 11th in his Racing Point, narrowly pipping the Renault duo of Nico Hulkenberg and Daniel Ricciardo in 12th and 13th.
Quotes
Mercedes AMG Petronas Motorsport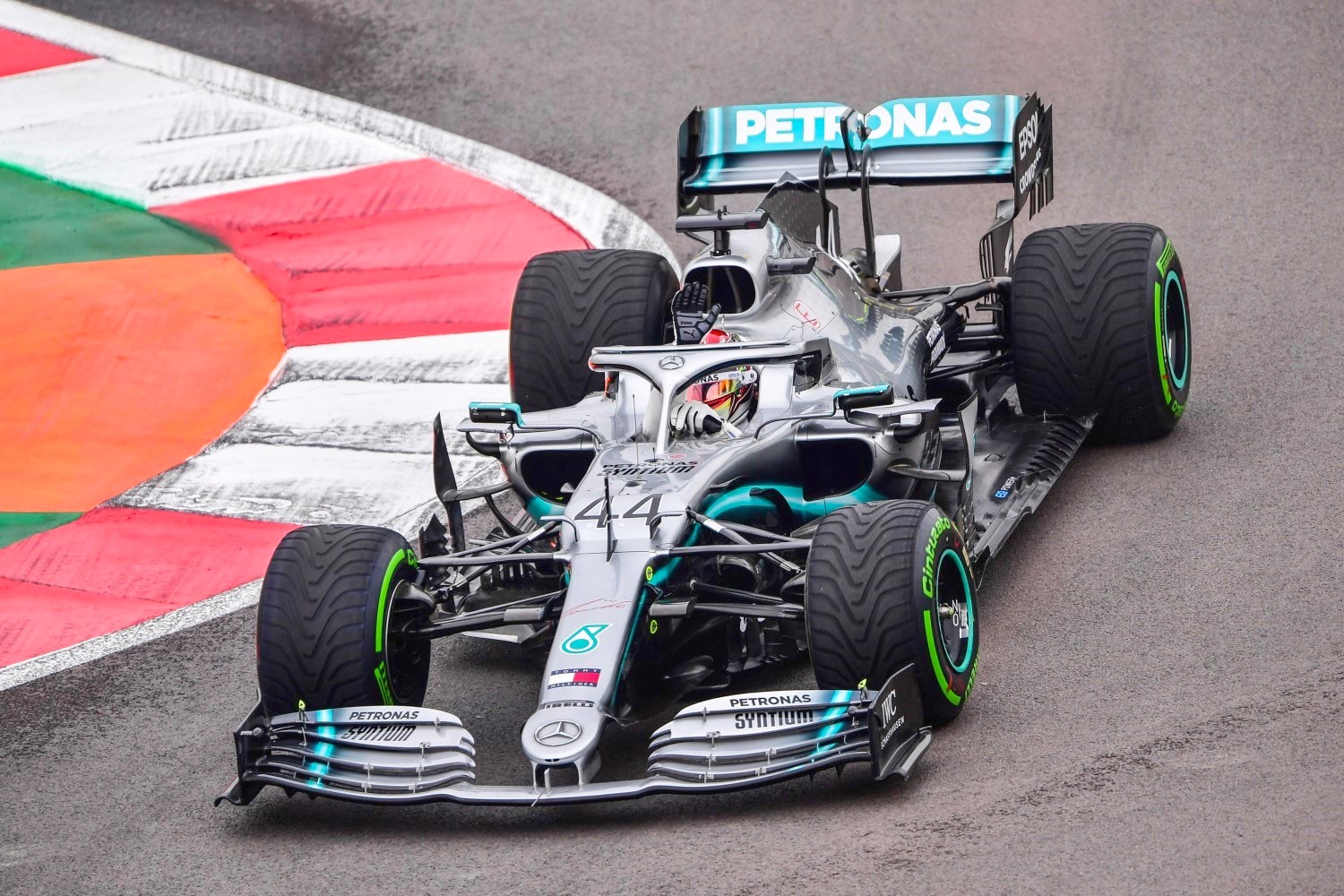 Lewis Hamilton
Lewis Hamilton (4th, 1:15.262): "We knew coming to Mexico that this track would be difficult for us. I gave it everything today and I think I managed to extract the maximum from the car, but it simply wasn't enough for pole. I think third place was maybe possible, but not more. P4 still puts us in a good fighting position for Sunday and I hope I get a good start. This race is always a hard one for us and I don't anticipate it to be easy tomorrow. Maybe we'll do the rain dance tonight for a wet track which could spice things up a little bit. But it's going to be a real hard challenge, the Red Bulls were fastest in the long runs, so it will be very hard to keep up with them. There won't be a huge amount of strategic variation, but it will be interesting to see whose tires last long – that'll be the name of the game. We'll try to hold on to the top players, the Red Bulls and Ferraris, and I'm looking forward to that fight."
Valtteri Bottas (6th, 1:15.338): "That was obviously not an ideal end to a day that was otherwise going okay. The car felt better today, we made some progress with the set-up. I was happier with the stability of the car today and could push it harder. Qualifying was pretty straightforward, we set the fastest time in Q2 on the Mediums as we planned and the performance on those tires seemed good. I knew that I had to risk it in the last run of Q3 to gain positions, so I tried to squeeze everything out of the car. The lap was good until the last corner where I went a bit wide on the exit on the dusty part of the track and that's where I lost it and hit the wall. I'm all okay, but I've unfortunately given the boys in the garage some extra work to do tonight. Hopefully we can avoid taking any penalties for tomorrow. It's annoying because looking at the times, I think I had a chance at qualifying third. But it's a new day tomorrow and it'll be a very different story where tire management will be crucial. Let's see what tomorrow brings, but we will for sure give it everything."
Toto Wolff, Team Principal: "We always knew that this track would be difficult for us and today confirmed our expectations. We were not in the fight for pole and while we might have improved in the second run of Q3, I don't think we had a shot at a front row place. Both Lewis and Valtteri were on decent laps at the end of Q3 before Valtteri lost it on the exit of the last corner and crashed. Thankfully he's ok, but unfortunately his car took a bit of a beating. We're assessing the damage at the moment and hope that we don't have to change any parts that would result in a grid penalty. Lewis will start from P4 which is not ideal, but tomorrow will be all about tire life, so this might create some opportunity for us. We know we are usually stronger on Sunday, so we look forward to the challenge."
Andrew Shovlin: "Being half a second off pole is not great but nor is it something we can easily explain. There's no particular corner that we are struggling with, it just looks like our tires are not quite ready at the start of the lap and that they are done by the final sector. There's almost nothing on the straights to Red Bull so we need to be looking at how we are using the tires, how the chassis is working to understand where we can improve. Valtteri was also suffering with the tires dropping in the last few corners of the final run, and just ran onto the curb which dragged him into the wall. It looked pretty bad at first but at least he's ok and we're hoping we can get the car back together without taking penalties. We'd made quite a few changes overnight to improve our race pace and haven't had a chance to check those so tomorrow will be a journey of discovery. However, the tire degradation here will open up some options on strategy so we're not ready to give up hope just yet. We've shown good race pace at almost every track so we are optimistic we can get ourselves back into the mix tomorrow."
Scuderia Ferrari
Charles Leclerc (2nd, 1:15.024): "We knew that our competitors would be strong this weekend. After FP3, we realized that we might have a shot at pole but when they put it all together in qualifying today they were just too quick. Even if I did a lap that I was quite happy with on my first run in Q3, I was still a tenth behind Max so I tried to go out with a different setup for the last lap. Unfortunately, I ended up having some oversteer and lost time, especially in the last sector. It is a bit of an odd situation starting from pole now after finishing qualifying in second, but our approach will stay the same. It will be very important to retain the lead after the start. The one who is first after turn 3 will have a huge plus because cooling is a big factor for everyone here, putting the following car at a disadvantage. The straight to turn 1 is very long, so I will have to try to capitalize on our straight line speed there. I will give it my all and hope to have an exciting race tomorrow."
Sebastian Vettel (3rd, 1:15.170): "I am not entirely happy with today, because I could have had a better result if it had not been for the yellow flags for Bottas' accident. On the first run I was probably a bit too cautious in sector 2 after a very good first sector, then I lost my rhythm a bit and was too aggressive in the final part of the lap and had a big snap in the last corner. I felt quite confident that I could find more time on my second run, but then the yellow flags came out. That can happen some times. The key tomorrow will be to have a car that works well, to look after the tires and to choose the right strategy. The top three teams all start on the same tire, but it will be a very close race."
Mattia Binotto, Team Principal: "We are very happy to have secured our sixth consecutive pole position with both cars on the front row. It will be a tough race and, as we saw on Friday, tire degradation will be a significant factor. All the top teams opted to start the race on the Mediums as a consequence of this degradation, so it could be a one or a two stop race. We will see different strategies come into play. The qualifying time sheet shows that we are all very evenly matched, so it will be a tense and difficult race with everything to play for and strategy will definitely play an important role."
Aston Martin Red Bull Racing
Max Verstappen (1st, 1:14.758): "It's been a very good weekend so far and we have improved in every session. I enjoy driving here but of course everything needs to be working well together to get a good performance which it was today. I'm very happy to get pole and with the recent form of Ferrari I didn't expect it to be honest but the car was working really well. I have to say a big thank you to the Team because the last three races have been a little more tricky for us but everyone kept pushing hard and never gave up on trying to understand what we could do better. This weekend we really showed that the hard work paid off and we have a very good car. It is very disappointing to be handed a grid penalty for the race and Ferrari will be very quick tomorrow so tire life will be important but we have a really good race car so it should be a close fight."
Alexander Albon (5th, 1:15.336): "Qualifying P5 was not great but not bad either. Considering the crash in FP2 yesterday, I'm quite happy and I think it was a good comeback. We didn't have many laps in FP3 so I only really had FP1 to learn the track which meant it was going to be difficult coming into qualifying. I'm obviously happy for the Team and Max to get pole but I left a bit on the table on my side. Max proved the car is better than P5 but I'm there fighting with the guys, I would have just liked to be a bit closer, but let's see what we can do tomorrow. I think it should be a good one and there's a long run into Turn 1 so anything can happen. Max's race pace looked very good yesterday and the car is quick so I'll do some homework tonight and study the data. We saw yesterday that the tire degradation is really high so let's see how tomorrow unfolds. I think a lot of tire management will be needed and hopefully we can make up some positions."
Christian Horner, Sporting Director: "Max put in a phenomenal performance throughout qualifying. He was quickest in Q1, second quickest in Q2 and quickest in Q3 to achieve his second pole position of the season. It is a great shame that Max has lost pole position and will now start from fourth place on the grid following a penalty for being found to not slow sufficiently following Bottas' incident. For Alex, after losing it in FP2 yesterday and reducing his track time on his first visit here it was a great recovery from him to qualify P5 and very close to Lewis ahead. We have some strong grid positions for tomorrow's Grand Prix and track position is important here because it's very difficult to overtake and follow another car at this circuit. Now let's see what tomorrow brings."
Renault Sport Formula One Team
Nico Hulkenberg (12th, 1:16.885): "Given the circumstances, we'll take twelfth on the grid. It was difficult to prepare for qualifying without the morning run, so it was a bit of a cold start for us. The mechanics did a great job to prepare the car in time so credit to them for their effort. I think we have a race on our hands tomorrow, especially as we have a free choice of tires and some flexibility on strategy. It might work in our favor as our race pace has looked good recently."
Daniel Ricciardo (13th, 1:16.933): "It's frustrating not to have finished higher up, but I just couldn't execute it today. Firstly, the team did an awesome job to get ourselves out of a difficult situation. It wasn't easy out there, but we made a good start in Q1, which was relatively smooth, but Q2 was just a bit messy. We'll try and bounce back tomorrow. I'm sure to be feeling fired up."
Alan Permane, Sporting Director: "We were only missing a very small amount of time to go through to Q3 and not having any running this morning certainly hurt us. But, credit to the team and mechanics from both sides of the Channel, who had a very challenging day. To get the cars ready for qualifying was excellent and the drivers did an incredible job to go into qualifying with minimal preparation. We're looking to do our best from where we are tomorrow; we've had good race pace in previous races so there's everything to play for."
Haas F1 Team
Kevin Magnussen (17th, 1:18.436): "We had kind of predicted this, which doesn't make it good, but it's what we expected. We had oversteer, understeer, a bit of everything. We're competitive people, you always go into each session to try your best, but it wasn't to be today. We'll just try and get out of it what we can tomorrow. We'll try and be in the best position to take whatever comes our way."
Romain Grosjean (18th, 1:18.599): "Last night we made a fair bit of change to the car, and in FP3 the car felt really good in terms of rear-end, so we were lacking front-end. I thought if we could balance the front-end and keep that rear-end, we're going to make it to Q2. I was confident of one lap pace, I thought we can do this. We rebalanced everything, we got into qualifying, and I got into Turn One and I spun – just on braking. The changes we've got to do from one session to another is huge, it's not something you normally do. We have to try to understand everything, we haven't quite got on top of it. Hopefully we can find something."
Guenther Steiner, Team Principal: "No big surprise to me about this qualifying performance, I saw it coming, but that still doesn't make it right. At this level of altitude, we just don't carry enough downforce to let us do a decent run – nothing new. We need to work on our aerodynamics and just try to limit the damage this year, and not carry this performance into next year. Everybody's working hard on getting it better for next year. That's the only thing we can and have to do."
McLaren F1 Team
Carlos Sainz (7th, 1:16.014): "It's been a good day for us. The fact that I gave it a go on the Medium tire in Q2 is a sign that we are on the right path and it just shows the confidence that we have in the car. Without the traffic in sector 3, I would have been close to the cut, but risking Q3 with a second run on the Medium was a bit unnecessary given the pace I knew I had on the Soft. Anyway, another final good lap means I start behind the top teams tomorrow and that gives us a good fighting position. We will have to manage the tires carefully but I'm very happy with today's result. I'm proud of the whole team and of how we keep on pushing. Hopefully tomorrow we can finish it off."
Lando Norris (8th, 1:16.322): "I'm pretty happy with the outcome. I struggled this weekend in terms of just not having a great feeling in the car. Finished up P8 and I don't think it could have been much better than that with Carlos in P7. The team here in Mexico and the guys back at the factory have done a great job. Now we focus on tomorrow. My aim is for a good start and to have a clean race and try to grab some points."
Andreas Seidl, Team Principal: "Another very good qualifying session for Carlos and Lando together with the team maximizing the potential of our cars. We continued our good form in Free Practice this morning and carried that momentum through into qualifying. Starting P7 and P8 puts us in a very good position tomorrow again to score good points. We are looking forward to another exciting Mexican Grand Prix, which might see some different strategies tomorrow potentially mixing up the order we have seen after qualifying."
Racing Point F1 Team
Sergio Perez (11th, 1:16.687): "I think that P11 is a great place to start my home race. Considering the pace that we've had this weekend, it's a result that gives us a good chance for tomorrow. We will have a free choice of tires at the start so we can look at all the strategy options and choose the one that works best. Hopefully, that will give us the opportunity to score some important points. I want a good result tomorrow for the fans because they have given me a tremendous amount of support this week. They always make this event so special and the atmosphere is amazing around the whole circuit. I'm really looking forward to putting together a strong race."
Lance Stroll (16th, 1:18.065): "I am very disappointed. We had looked competitive, but we were quicker in final practice on a damp track than in qualifying, so we need to look into what happened and understand where we missed out. We made some changes to the set-up ahead of qualifying, but we didn't achieve the balance we wanted, which is why we were so far off the pace. I just didn't get the car switched on: I had no grip, no balance, so it was very frustrating. We have plenty of work to do now to recover tomorrow, but there is a long race ahead of us. Hopefully tomorrow will be a better day."
Otmar Szafnauer, Chief Operating Officer: "A very closely fought qualifying session today. Sergio will start from P11, which means he will be the first driver with a free choice of starting tire. We need to make that count when we evaluate the strategy options this evening. Lance just missed out on progressing to Q2 and he will start from P16, also with a free tire choice. He had a lock-up on his first run and wasn't as happy with the car compared to yesterday. Lance needs a good start tomorrow, which will give him a chance to score points. The indications from yesterday's long runs are that we have competitive race pace – certainly comparable to the teams we are fighting in the championship. I remain confident we can come away with points."
Alfa Romeo Racing
Kimi Raikkonen (14th, 1:16.967): "P14 is not what we wanted but that's how it is. The margin to finishing in a higher position wasn't big: it's disappointing as the car has been pretty ok all weekend and we looked more competitive in the earlier sessions. We'll have to see how it goes tomorrow: we have the chance to start with a different tire to some of the cars in front of us, so hopefully we can make it work in our favor."
Antonio Giovinazzi (15th, 1:17.269): "It was a difficult qualifying for us. I did a mistake in the final sector and that cost me a few tenths, but I don't think it would have changed much in the end. Tomorrow will not be an easy race, but we have to look at the opportunities we can get. Degradation will be high, especially for those starting on softs, so choosing our own starting compound is the one positive of our qualifying position. Finding the right strategy and managing the tires will be important if we are to make up some ground."
Frederic Vasseur, Team Principal: "After our promising start of the weekend, it's disappointing to qualify in P14 and P15. These are not the starting positions we were expecting, but we must not forget that this race has seen plenty of drivers making their way through the field thanks to the strategy. Our focus is fully on anticipating tomorrow's conditions, especially when it comes to the tires, and finding a plan that allows us to climb some places."
Red Bull Toro Rosso Honda
Daniil Kvyat (9th, 1:16.469): "I'm pretty happy with today's performance and all of my laps were quite competitive. I haven't been super confident in Qualifying lately, as we've been having some problems, but now it's good to be back in shape over one lap again. Only McLaren was in front of us today, so it's been a good result and it's great when you can put everything together. I think it will be a tricky race for everyone tomorrow, so we will see how things pan out. I hope we can make good use out of our starting position in the race and stay inside the top 10."
Pierre Gasly (10th, 1:16.586): "Overall, I'm pretty happy with my performance to make it through to Q3 for the second time in a row after Suzuka and I think we can be quite pleased with that. The car worked well the whole weekend so far and it's been quite a good day. It's not been an easy day though as I haven't been feeling great, but I'll rest up tonight and feel as good as I can tomorrow. It's going to be tricky to start on the Softer compound with Sergio right behind us on presumably the Prime, but we still have a chance to score some points tomorrow."
Guillaume Dezoteux, Head of Vehicle Performance: "After a strong showing on Friday, Free Practice 3 was looking more difficult with a damp track at the start and with Pierre not feeling totally well in the morning. After a run on intermediate tires to check the cars and perform a couple of practice starts, we elected to do two runs on the Soft tires on a track that was improving fast. Despite hitting a lot of traffic, both cars were able to put in some good lap times, confirming yesterday's competitiveness. Qualifying has been strong for the team, with both cars in Q3. We tried to qualify on the Medium tire in Q2, but we were just not fast enough and only the top six cars were actually able to pass through on the yellow tire. Both drivers kept improving on the Softs, run after run, to finish close to the McLarens on the last attempt. The race will be challenging for the PU, tires and brake management, as is always the case here in Mexico. Some of our direct competitors are close to us on the grid with a free tire choice, so we will review all the options tonight to defend our positions and bring home some good points."
Toyoharu Tanabe, Honda F1 Technical Director: "This was an excellent qualifying session with Max taking his and our second pole of the season after Hungary and it is particularly satisfying to have got all four of our cars into the top ten for the first time since Monaco. All our drivers did well, Alex getting his best ever qualifying result while Pierre deserves a special appreciation for doing so well on a day when he was not feeling well and along with Daniil they both got the most out of their package. In the unique conditions that we race in here in Mexico, we produced an excellent package of chassis and PU. But it's tomorrow that counts and we must be prepared for any situation although the chance of rain seems to be getting smaller. However, it will be a very tricky race, with tire performance being the most critical factor. Given our grid positions, we must aim for the best possible result tomorrow."
ROKiT Williams Racing
George Russell (19th, 1:18.823): "It was really tricky out there for everybody, but I was pleased with the lap. There was still a bit more in there, but we are definitely going in the right direction. I think our long run pace is better than our single lap pace, especially versus the Haas cars and the Alfa Romeos, so we will have to see what we can do tomorrow."
Robert Kubica (20th, 1:20.173): "It was a difficult qualifying session in Mexico. Unfortunately, I felt no grip in the car today and the laptime reflected that. We will have to see what we can do tomorrow in the race."
Dave Robson, Senior Race Engineer: "As forecast, the track was damp and cold for FP3 and there was little opportunity to learn anything useful ahead of qualifying. Therefore, we opted to check our race setup and so both cars completed longer runs. Qualifying was warmer and again the tire behavior changed. We took the opportunity to complete three runs with each driver as we looked for the best way to prepare the tires for a lap. The team did an excellent job to give both drivers good opportunities to prepare their tires and complete clean laps. George did a good job, finding time with each run to finish frustratingly close to Kevin Magnussen and Romain Grosjean. Robert struggled a little more and made a mistake on his second run, which lost him some momentum. Tomorrow will be a difficult day for the field, with PU, brake and tire management all potentially tricky. On Friday we were more competitive on high fuel than we were on low fuel and so we will look to race the cars ahead, with the Haas and Alfa Romeos in particular being realistic opponents."
Qualifying Results
| | | | | | | | |
| --- | --- | --- | --- | --- | --- | --- | --- |
| POS | NO | DRIVER | CAR | Q1 | Q2 | Q3 | LAPS |
| 1 | 33 | Max Verstappen | Red Bull Racing Honda | 1:15.949 | 1:16.136 | 1:14.758 | 15 |
| 2 | 16 | Charles Leclerc | Ferrari | 1:16.364 | 1:16.219 | 1:15.024 | 17 |
| 3 | 5 | Sebastian Vettel | Ferrari | 1:16.696 | 1:15.914 | 1:15.170 | 17 |
| 4 | 44 | Lewis Hamilton | Mercedes | 1:16.424 | 1:15.721 | 1:15.262 | 20 |
| 5 | 23 | Alexander Albon | Red Bull Racing Honda | 1:16.175 | 1:16.574 | 1:15.336 | 18 |
| 6 | 77 | Valtteri Bottas | Mercedes | 1:17.062 | 1:15.852 | 1:15.338 | 18 |
| 7 | 55 | Carlos Sainz Jr. | McLaren Renault | 1:17.044 | 1:16.267 | 1:16.014 | 19 |
| 8 | 4 | Lando Norris | McLaren Renault | 1:17.092 | 1:16.447 | 1:16.322 | 20 |
| 9 | 26 | Daniil Kvyat | Scuderia Toro Rosso Honda | 1:17.041 | 1:16.657 | 1:16.469 | 22 |
| 10 | 10 | Pierre Gasly | Scuderia Toro Rosso Honda | 1:17.065 | 1:16.679 | 1:16.586 | 22 |
| 11 | 11 | Sergio Perez | Racing Point BWT Mercedes | 1:17.465 | 1:16.687 | – | 14 |
| 12 | 27 | Nico Hulkenberg | Renault | 1:17.608 | 1:16.885 | – | 14 |
| 13 | 3 | Daniel Ricciardo | Renault | 1:17.270 | 1:16.933 | – | 14 |
| 14 | 7 | Kimi Raikkonen | Alfa Romeo Racing Ferrari | 1:17.225 | 1:16.967 | – | 14 |
| 15 | 99 | Antonio Giovinazzi | Alfa Romeo Racing Ferrari | 1:17.794 | 1:17.269 | – | 14 |
| 16 | 18 | Lance Stroll | Racing Point BWT Mercedes | 1:18.065 | – | – | 8 |
| 17 | 20 | Kevin Magnussen | Haas Ferrari | 1:18.436 | – | – | 9 |
| 18 | 8 | Romain Grosjean | Haas Ferrari | 1:18.599 | – | – | 9 |
| 19 | 63 | George Russell | Williams Mercedes | 1:18.823 | – | – | 10 |
| 20 | 88 | Robert Kubica | Williams Mercedes | 1:20.179 | – | – | 9 |
[adinserter name="GOOGLE AD"]