FALSE ALARM: Noose found hanging in Bubba Wallace's garage stall at Talladega (2nd Update)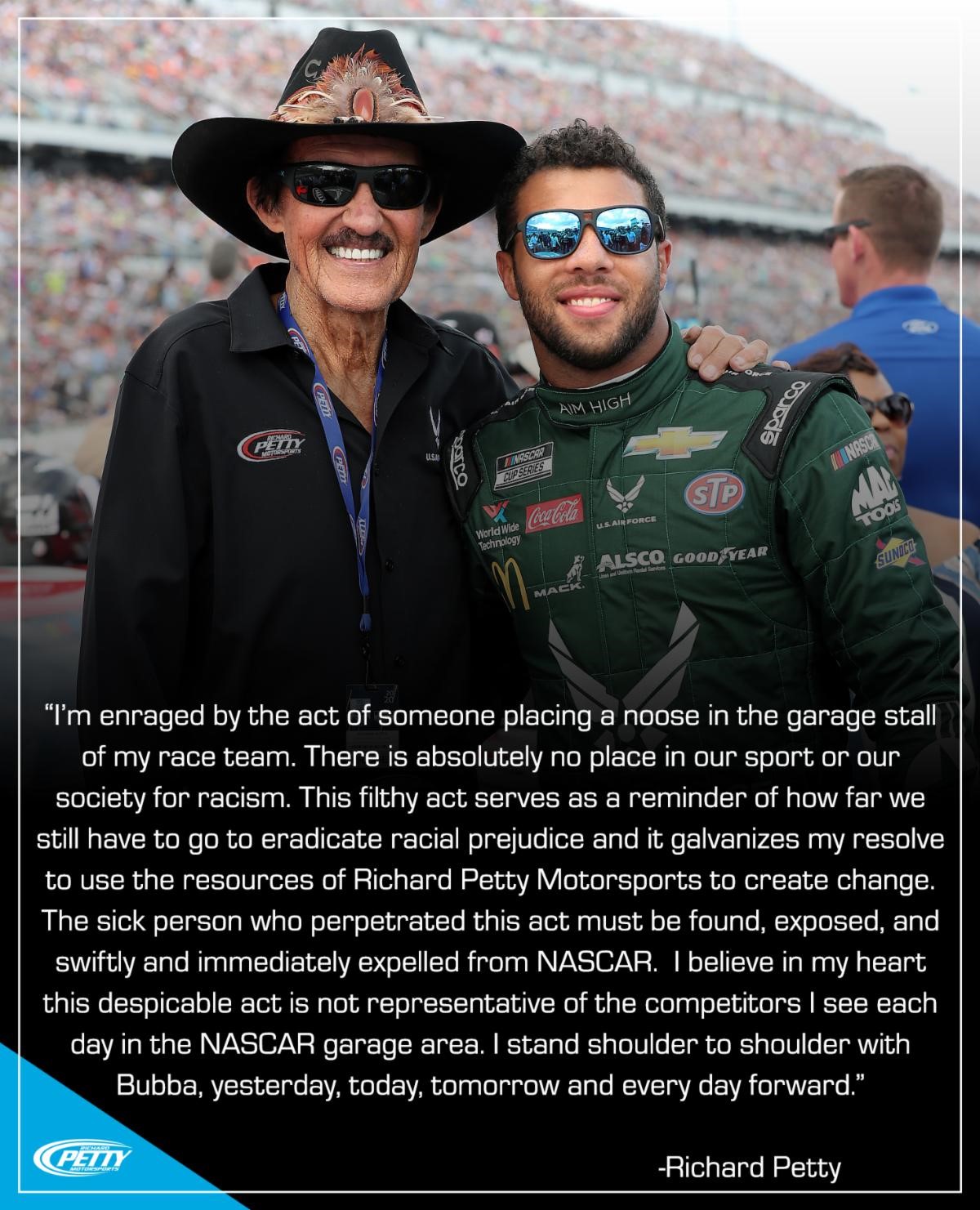 Hanging Noose found in Bubba Wallace's garage in Talladega was there from 2019
UPDATE The noose found hanging in Bubba Wallace's garage stall at Talladega Superspeedway had been there since at least last October, federal authorities said Tuesday in announcing there will be no charges filed in an incident that rocked NASCAR and its only fulltime Black driver.
U.S. Attorney Jay Town and FBI Special Agent in Charge Johnnie Sharp Jr. said an investigation determined "although the noose is now known to have been in garage number 4 in 2019, nobody could have known Mr.. Wallace would be assigned to garage number 4 last week."
A crew member for Richard Petty Motorsports discovered the noose Sunday at the Alabama race track. NASCAR was alerted and contacted the FBI, which sent 15 agents to the track to investigate. They determined no federal crime was committed.
Who cut the noose down and called the FBI?
NASCAR has issued the following statement:
"The FBI has completed its investigation at Talladega Superspeedway and determined that Bubba Wallace was not the target of a hate crime. The FBI report concludes, and photographic evidence confirms, that the garage door pull rope fashioned like a noose had been positioned there since as early as last fall. This was obviously well before the 43 team's arrival and garage assignment. We appreciate the FBI's quick and thorough investigation and are thankful to learn that this was not an intentional, racist act against Bubba. We remain steadfast in our commitment to providing a welcoming and inclusive environment for all who love racing."
06/22/20 Richard Petty released the following statement (shown right) today after a hanging noose was found in the Richard Petty team garage at Talladega Sunday morning.
Someone is trying to send a message to Wallace who does not approve of the whole Black Lives Matter movement.
06/22/20 NASCAR announced it was investigating after a noose was found hanging in driver Bubba Wallace's garage stall Sunday at Talladega, nearly two weeks after prohibiting any images or displays of the Confederate flag at events.
"Late this afternoon, NASCAR was made aware that a noose was found in the garage stall of the 43 team," NASCAR said in a statement Sunday. "We are angry and outraged, and cannot state strongly enough seriously we take this heinous act. We have launched an immediate investigation and will do everything we can to identify the person(s) responsible and eliminate them from the sport."
Wallace, 26, the only black driver in the NASCAR Cup Series, responded on Twitter late Sunday. He said the sport has made a commitment to shaping an inclusive community, adding that "we will not be deterred by the reprehensible actions of those who seek to spread hate."
"Today, the despicable act of racism and hatred leaves me incredibly saddened and serves as a painful reminder of how much further we have to go as a society and how persistent we must be in the fight against racism," Wallace, who drove in a Black Lives Matter car on June 10, wrote.
"As my mother told me today, 'They are just trying to scare you. This will not break me, I will not give in nor will I back down. I will continue to proudly stand for what I believe in."
Earlier this month, Wallace said his father, who is white, was worried about his safety, while also being proud of everything he was doing off the track.